A Newsletter for the Members of the District of Columbia College of Emergency Physicians
July 2019 

Jessica Galarraga, MD, MPH
President
Executive Director
Phone: 855.261.4285 | Website
Table of Contents
Leadership & Adovacy Conference - Update
States Find Tool for Quick Legislative Response
New Policy Statements, PREP and Information Paper
Two New Clinical Policy Courses from ACEP eCME
Free Annals of EM ACEP eCME Course
Point of Care Tools
Articles of Interest in Annals of Emergency Medicine - Spring 2019
Registration open for the ACEP/CORD Resident's Teaching Fellowship
EMBRS - Emergency Medicine Basic Reserach Skills
Jessica Galarraga, MD, MPH
I would like to give a warm welcome to new members joining our DC ACEP community and thank all of our returning members for their continued support and participation in our chapter. It is a sincere privilege to serve as your President of DC ACEP this year and champion the interests of emergency physicians across the District of Columbia and the patients we care for.
This past year, under the leadership of our Immediate Past-President, Natalie Kirilichin, we furthered our partnerships with our ACEP colleagues in Maryland and Virginia to enhance the breadth of opportunities for educational content and community engagement for our chapter. As president, I look forward to continuing this collaborative momentum with our colleagues in the DMV area. This forthcoming year, it is also my mission to enhance the value of our membership and engagement across our chapter. In the spirit of that mission, our popular annual LLSA conference in the spring will be at no-cost to chapter members going forward, which is a valuable benefit available to all members that supports the maintenance of our ABEM certification. Our 12th Annual DC ACEP LLSA Review Conference was held in April 2019 and was one of the most productive we have had. The success of this event was largely due to the dedication of two amazing chapter members, Dr. Alexa Gale and Dr. Aaron Drake, and to the twelve excellent presentations given by many of you. Your efforts contributed substantially to the quality of the conference.
In addition, there is a lot of fantastic work being spearheaded across the District by our chapter members that we would like to share among our community. To highlight your efforts across diverse domains that relate to emergency medicine, including advocacy, medical education, research, practice innovations, and community outreach, your Chapter Board is setting up a Twitter account. We envision this account will also be an avenue to connect chapter members with similar interests and efforts to advance emergency care in the District. If you are interested in serving as chapter ambassador for the Twitter account, please send us an email telling us of your interest.
To kick off the year, we will be hosting our first CME event this year. The Sickle Cell CME Event will be held on Wednesday, August 14th at 6:30pm. We are planning for this dinner to take place at Officina on the serene southwest waterfront. This will be an opportunity to receive CME credit and learn about new innovations and current therapies in treating sickle cell disease in the ED, all while enjoying the tasty offerings on Officina's menu. To RSVP, send an email to our Chapter Executive, Adriana Alvarez. I hope to see you there!
It is also with excitement that I introduce to you DC ACEP's 2019-2020 board:
PRESIDENT - Jessica E. Galarraga, MD, MPH
PRESIDENT ELECT - Natasha N. Powell, MD, MPH
SECRETARY/TREASURER - Allen F. Wang, MD, MPH
DIRECTOR - Leah E. Steckler, MD
IMMEDIATE PAST PRESIDENT - Natalie L. Kirilichin, MD, MPH
Our past-president and fearless leader representing the District, Dr. Aisha Liferidge, also continues to serve on ACEP's Board of Directors at the national level.  
If you have suggestions for chapter events, advocacy, or other activities or would like to submit any questions or concerns, please share them with the District of Columbia ACEP Chapter Board by emailing our Chapter Executive, Adriana Alvarez.
Leadership & Advocacy Conference - Update
Allen Wang, MD, MPH
Every spring, the American College of Emergency Physician hosts the Leadership and Advocacy Conference that congregates the specialty leaders in our nation's capital to discuss the big picture issues affecting the specialty and solutions with our legislators on the Hill. 
In this year's session, there was deep discussion on the future financial challenges. Our specialty is proud to provide healthcare access to anyone, regardless of ability to pay, 365 days of the year, day or night. We make this mission work through four general revenue mechanisms.* 
1. Self pay from uninsured (They pay $23 for $100 worth of provider services)
2. State Medicaid payments (They pay $50 for $100 worth of provider services)
3. Medicare payments for Medicare beneficiaries (They pay $97 for $100 worth of provider services)
4. Private insurance through either the ACA individual market or employer sponsored insurance (They pay $273 for $100 worth of provider services) 
*data shared by TeamHealth Chairman Lynn Massingale MD 
To meet the costs of providing this service, we cross subsidize the underpayments through the first three payments mechanisms with the fourth mechanism, private insurance payments. 
This presents an obvious mismatch when the private insurance payments has started to undercut their payments. You may have heard of recent hot topics such as balanced billing, the loosening of ACA individual insurance plan requirements that emergency visits be covered, or the rise of high deductible health plans. These topics all merit their individual discussions but the big picture is that they will all negatively affect private insurance reimbursement, which will financially strain the practice of emergency medicine as it strives to deliver care to patients in their moment of need. 
So how do we reach a solution? It requires a multi-faceted strategy of 
1. continued political advocacy with our legislators and regulators - both local and national
2. a public relations campaign to change the public narrative from surprise bills to unfair coverage
3. close watch of legal litigations against retrospective denial of payments by insurers 
If this subject peaks your interest, please be sure to join in the conversation by registering for the ACEP19 in the fall and the Leadership and Advocacy Conference next spring on April 26 - 29, 2020. 
Herman S. Kalsi, MD
How to be well, do swell, and excel in Emergency Medicine
As the hours of sunlight are increasing and the days with freezing overnight temperatures are decreasing, summer is right around the corner. However, medical learners have more to look forward to this summer than just the nice weather. In just a few short months, medical learners will be going through a transition. Medical students will be graduating and beginning their residencies, junior residents will become senior residents, and senior residents will be moving on to become fellows and attendings. While this is an exciting time in the career of any learner, it can quickly become a stressful time. Particular attention should be paid to ensure that one's wellness is not being compromised.
The ACEP Wellness website, which can be accessed here, can serve as an initial resource for those looking to learn more about wellness. For some more focused guidance, one can turn to the ACEP wellness guide, accessible here, for even more suggestions.
A few of my personal favorites tips are:
1. It's important to set aside time for yourself in your weekly calendar and protect it like you would any other high-priority activity. Schedule activities which bring you joy such as listening to music, reading your favorite genre, going for a walk, etc. 
2. Being involved within your profession is also a way of finding additional meaning to your work, and can help prevent burnout. Find something that you are passionate about at work, and set aside time to work on it. This can be protective against burnout as you are spending time doing something that you enjoy as part of your day-to-day duties.
3.As we know, sleep deprivation impairs short term recall, decreases performance on intensive tasks, increases distractibility, and can contribute to errors. It's important to employ a pre-sleep routine to ensure you're well-rested. Try to avoid caffeine and alcohol before bed, which can lead to disruptive sleep. After working a night shift, it's important to retire to a room that is quiet, dark, and free from interruptions. I personally use an eye mask, ear plugs, and a white noise machine!
At the end of the day, it's very important for us to remember that in order to take care of others, we must first take care of ourselves. 
Sonia Kumar
An Update on Measles
According to the CDC, there have been over 880 individual cases of measles confirmed in 24 states since January 1, 2019 to May 17, 2019. This is the greatest number of cases reported in the U.S. since 1994 and since measles was declared eliminated in 2000. 
ACEP has created a useful fact sheet to help guide emergency physicians on recognizing and managing a possible outbreak while keeping other patients and staff safe. Below are important points to consider when encountering a patient who is suspected to have measles: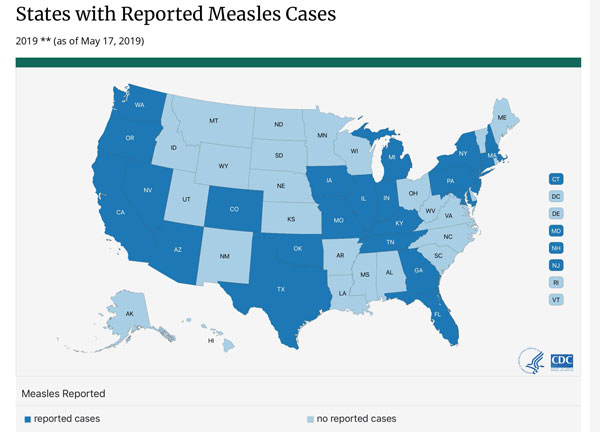 Patient Presentation
*Patients are considered to be contagious from 4 days before to 4 days after the rash appears
4 Clinical Stages:
1. Incubation – Following exposure, approximately 90% of susceptible individuals will develop measles. The incubation is 6 to 21 days (median 13 days).
2. Prodrome – A 2 to 4 day prodrome phase is characterized by fever, malaise, and anorexia, followed by conjunctivitis, coryza, and cough. If present, Koplik spots (picture 1), typically occurs approximately 48 hours prior to the exanthem.
3. Exanthem – The characteristic exanthem arises approximately 2 to 4 days after onset of fever; it consists of a red maculopapular rash, which classically begins on the face and head and spreads downward (picture 2A-B). Early on, the lesions are blanching but in later stages, they are not. (The rash resolves in 5 to 6 days, fading in the order it appeared)
4. Recovery – Cough may persist for 1-2 weeks after measles.
The occurrence of fever beyond the 3 to 4 day of rash suggests a measles-associated complication. 
Implications in the ED:
Patients should be isolated for 4 days after they develop a rash and immediate airborne precautions should be followed. The measles virus remains infectious on surfaces and in the air for up to 2 hours after an infectious person leaves the area. Regardless of presumptive immunity status, all healthcare staff entering the room should use respiratory protection consistent with airborne infection control precautions (use of an N95 respirator or a respirator with similar effectiveness in preventing airborne transmission). Guidelines for post-exposure prophylaxis for close contacts and healthcare professionals can be found on the CDC website. 
Useful Links:
References:
Gans, H., & Maldonado, Y. (2019). Measles: Clinical manifestations, diagnosis, treatment, and prevention. UpToDate. Retrieved on May 20, 2019 from
American College of Emergency Physicians. (2019). ACEP Fact Sheet: Measles (Rubeola). Retrieved from
Centers for Disease Control and Prevention. Measles Cases and Outbreaks.
Accessed May 20, 2019
Have you ever traveled to another country to provide emergency care? If you have, please share your experience. We'd love to hear about it!

Join us in Washington, DC, for the 2019 Total Tox Course presented by the American College of Medical Toxicology! The 3-day course will focus on medical toxicology topics of interest to emergency providers, including toxicological issues of current clinical and public health importance. Prominent experts in medical toxicology and emergency medicine will share cutting-edge updates on the evaluation and initial management of poisoned patients and exposure to medications, drugs of abuse, chemical terrorism, environmental toxins, and more.
Get details and see the agenda.
States Find Tool for Quick Legislative Response
Harry J. Monroe, Jr. Director, ACEP State and Chapter Relations 
Those of us that work on state legislation often struggle with the pace of activity, particularly as deadlines approach for bills to get out of committee or as the end of the session nears. When ACEP rolled out engagED as a new social media platform for member communication and collaboration, I am not sure that it was really thought of as a new tool for advocacy efforts, but its value has been shown by at least a couple of chapters. READ MORE
New Policy Statements, PREP and Information Paper
During their April 2019 meeting, the ACEP Board of Directors approved the following new or revised policy statements/PREP/information paper:
New Policy Statements: 
Salary and Benefits Considerations for Emergency Medical Services Professionals
Small Motorized Recreational Vehicles
Violence Prevention and Intervention in Emergency Medical Services Systems 
Revised Policy Statements:
Revised Policy Resource and Education Papers (PREPs): 
Resource Utilization in the Emergency Department: The Duty of Stewardship  
New Information Paper: 
Articles of Interest in Annals of Emergency Medicine - Spring 2019
Sam Shahid, MBBS, MPHPractice Management Manager, ACEP
ACEP would like to provide you with very brief synopses of the latest articles and articles coming soon to Annals of Emergency Medicine. Some of these have not appeared in print. These synopses are not meant to be thorough analyses of the articles, simply brief introductions. Before incorporating into your practice, you should read the entire articles and interpret them for your specific patient population. View synopses here.
Point of Care Tools
ACEP's point-of-care tools are transforming care at the bedside. We've recruited the field's top experts and thought-leaders to develop tools our members can trust and deploy in the clinical setting. The evidence-based, clinical content provided in these tools ensures that you are providing the best possible care to the patients in your emergency department. Tools can be found on topics:
 AFIB – Management of Atrial Fibrillation
ADEPT – Confusion and Agitation in the Elderly 
BUPE – Use of Buprenorphine in the ED 
DART – Recognition and Treatment of Sepsis
ICAR2E – Identification of Suicidal patients
And more..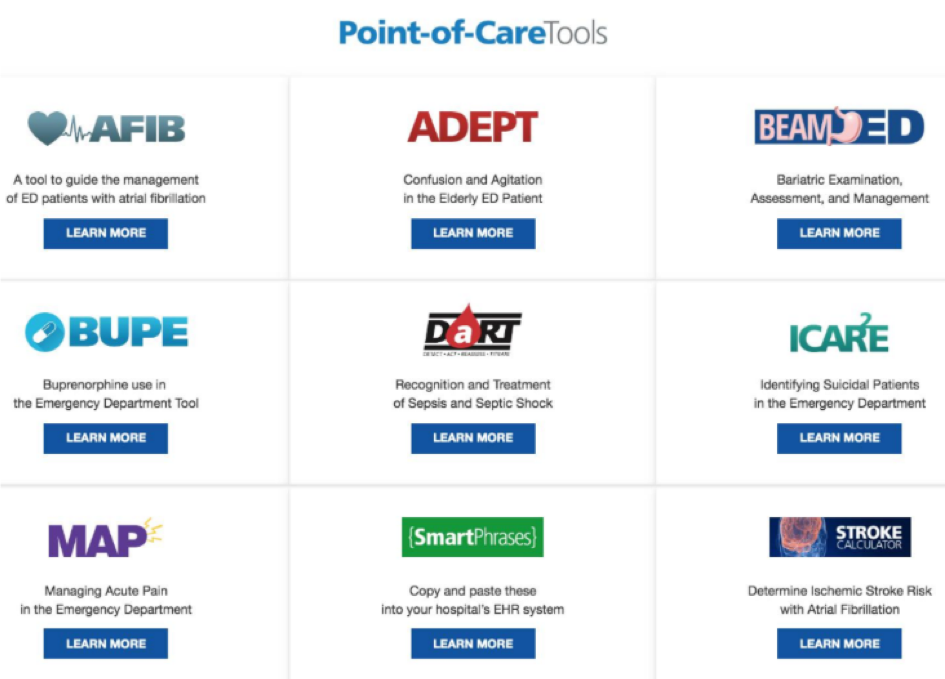 Registration open for the ACEP/CORD Resident's Teaching Fellowship
Do you have a resident aspiring to an academic career? Want to give them the jump start they need?  Spots still open for the ACEP/CORD Residents Teaching Fellowship this fall (Aug. 6-8 2019) – sign up soon as these seats go fast! Register here. 

Registration Open for the EMBRS Course
Emergency Medicine Basic Research Skills (EMBRS) is a 9-day, 2-session program where participants learn how to identify clinical research opportunities and become familiar with clinical research and outcomes. Participants are also eligible to receive an EMF/EMBRS grant based on their research grant application. Click here to learn more or email ACEP's Academic Affairs to register.  The next course will take place Dec. 2-7th, 2019 (session 1) and April 14-16, 2020 (session 2) in Dallas, Texas. 
District of Columbia Chapter
c/o National ACEP
4950 West Royal Lane
Irving, Texas 75063-2524
© 2021 District of Columbia Chapter ACEP. All rights reserved.
Getting too many emails? Update your ACEP Email Subscription Center and select only what you want to receive.