A Newsletter for the Members of the Mississippi Chapter - Summer 2020

Utsav Nandi, MD, MSCI
President
Patrick O'Brien
Executive Director
601-984-5582 | Website
MS ACEP President's Farewell Letter
Philip L. Levin, MD
Some say Joe Biden is too old to be president. If elected, he'll be 77. Donald Trump is 74. Me, I'll be 67 in September. Age brings experience, but also dulls the reflexes, the recall, and the fine motor skills. Two months ago, my employer told me I was too old to continue working in their emergency room. It was time to make room for the younger folks.
I've been an emergency room physician for 42 years now, beginning in my internship with its all-night shifts in the E.R. I've worked in roughly thirty different emergency rooms during my career, the last seventeen years at my home base trauma center. Changes occurred every day, and certainly yearly. I remember when E.R. was the stepchild of the hospital, staffed by retired F.P.s, psychiatrists, and moonlighting residents. I remember when, to order a CAT scan of the head, we had to obtain permission from the neurologist. I remember when we treated heart attacks with lidocaine infusion and bedrest.
Among the many changes I've witnessed, perhaps the most disheartening has been the progressive disinterest in political commitment to organized medicine. In the 1980s, county medical society meetings packed the room, over a hundred in attendance, many bemoaning the socialization of medicine. As president of the Coast County Medical Society, from 2014-2016, I pledged to increase attendance. Instead, despite bringing in stimulating lecturers, excellent venues with exciting food, and even bands and entertainment, attendance continued to seep away. Talking to my colleagues in the Emergency Department, they brush off my attempts to recruit them to join AMA, MSMA, and/or ACEP. They had no interest in my perspective, if you don't vote, then what right have you to complain when your interests are impinged?
I've finished my two years as president of the MS Chapter of ACEP in August. We focused on lobbying our state legislators on hot topics such as scope of practice, vaccine exemptions, and Medicaid expansion. We won the first two but made no progress on the last. Our publicity perhaps helped stop BC/BS from implementing retrospective denial in our state, a big achievement.
Then came Covid. Frontline defenders if ever there was some, E.R. doctors have always realized that exposure to infectious disease came with the job. Heck, I've been on medical missions in several third-world countries where I treated malaria, tularemia, typhoid, brucellosis, and leprosy. Now faced with this new bug-a-boo, we ER doctors merely shrugged, donned our PPE, and kept working.
I'm handing over my spot in the E.R. to eager, well-trained, scrub-faced youngsters, along with the presidency reigns to a very competent E.R. doctor, a younger man with progressive ideas. It's time for me to move out of the E.R. I'll miss the excitement of intubation, the adrenaline rush of inserting a chest tube, and the thrill of successful cardioversion. What I'll continue to have, moving out to a clinic setting somewhere, is the intellectual stimulation and the joy of compassionate discussion with patients, explaining what their symptoms mean, how to manage their disease, and what to expect from their treatments. What is it they say about old doctors? They don't die, they just lose their patience? I have plenty of patience left; I just need patients. I suppose treating patients is what emergency medicine is all about. Anywhere, anytime, anybody. ACEP is our voice, even for those leaving the field. I'm grateful for what organized medicine has done to protect all of us in our specialty, and hope that my part has been a bit of a help.  
Welcome New Members!
Mohamed Alfaris, MD
Sabrina Azavedo, MD
William Bishop, DO
Heath Jude Broussard, II, DO
Carlos Cambo Cortes, DO
Bennett Davis, MD
Gustavo Samuel Garcia
Mark A Gilbert, MD, FACEP
Jonah C Gunalda, MD
Laura K Hanson, DO
Lloyd M Harrington, MD, FACEP
Jeff S Hudgens, MD
Brandi Hyatt, DO
Max Keeling, DO
Daniel Krebs
Kelsey Mercedes Kunk, RN, CEN, PMHN
Claudia Gloria Lares Romero, MD, FAAP
Marc Damon Lingle, DO
Taylor Lynch
Frank Howard Redd, III
Courtney Kathleen Rich, MD, MBBCh
Samantha G Sales, MD
Ian Grant Scott, DO
Laura Vearrier, MD, DBe, FACEP
Logan Armond Wilson, MD
William David Wynn, MD

Stay current with the COVID-19 Center. It's your one-stop-shop for clinical and legislative updates. Quick Links: Physician Wellness Hub | COVID-19 Field Guide
Get PPE through Project N95
With member concerns about the quality of N95 masks on the open market, ACEP has joined with Project N95 to offer PPE to you at volume prices. This exclusive benefit for ACEP members is available only through August 26. Registration opens at 4 p.m. ET today Wednesday, August 19 and is only available to members in the 50 states of the US, DC and Puerto Rico. 
ACEP & EMRA Launch Diversity Mentoring Initiative on August 15
This collaboration between the ACEP Diversity, Inclusion and Health Equity Section (DIHE) and EMRA's Diversity & Inclusion Committee that supports leadership and career development for diverse medical students, residents, fellows, academic attendings and community emergency physicians in the EM community. The first 200 mentees have been matched with 100 mentors from across the EM community. If you're interested in being part of the next cohort, slots will open up in six months. Follow #mentorsofEM and #menteesofEM on Twitter to keep tabs on the program's progress, and learn more at mentor.acep.org. 
New Policy Statements and Information Papers
During their June 2020 meeting, the ACEP Board of Directors approved the following new policy statements and information/resource papers. For a full list of the College's current policy statements, consult the ACEP Policy Compendium. 
New Policy Statements: 
Expert Witness Cross-Specialty Testimony for Standard of Care
Leadership and Volunteers Conduct Policy
Revised Policy Statements: 
2020 Compendium of ACEP Policy Statements on Ethical Issues (page two of the Code of Ethics)
Guidelines Regarding the Role of Physician Assistants and Nurse Practitioners in the Emergency Department
Role of the Emergency Physician in Injury Prevention and Control for Adult and Pediatric Patients
New Information/Resource Papers (Smart Phrases)
Antitussive Medications for Children
Coronavirus Concern — Confirmed or Suspected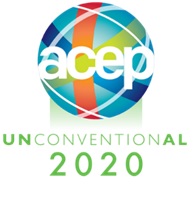 ACEP20 is a CME Jackpot + Announcing Special Guest: Dr. Anthony Fauci! 
ACEP20 will include more than 250 hours of CME education, but here's the best part: Attendees get access to this education and CME for THREE YEARS after the event! All of the live events will be debuting during the original dates: Oct. 26-29. We are happy to announce our first special guest at ACEP20 – Dr. Anthony Fauci, NIAID Director. We'll be unveiling other celebrity keynote speakers throughout August, so follow ACEP's social media channels for those exciting announcements. Click here for more information and to register.  
Upcoming Webinars and Trainings: Opioids and Pediatrics
Get EM-Focused MAT Waiver Training on Zoom
August 25, 2020 - 9am-5:30pm CT
ACEP is hosting another free online MAT waiver training (EM-specific). Get your DEA DATA-2000 X Waiver. Open to: MD, DO (including residents), NP/PAs (including NP/PA in training and medical students). CME provided. Register here. 
Virtual Grant Rounds: Pediatrics
August 26, 2020 - 10am-3pm CT | Must be registered by 8am CT 
Sessions on sepsis, managing maltreatment, asthma and managing crashing neonates. Register here. 
Opioid Use Disorder: A Regulatory Perspective
August 31, 2020 - 1pm-2pm CT
Join us for "The Long and Winding Road of an Epidemic: Prescription Opioids, Heroin, and Beyond", the first installment in a 6-part free webinar series on opioid use disorder, federal and state regulations/regulatory considerations and state initiatives. Click here to register.
For more information, please email Mari Houlihan at mhoulihan@acep.org.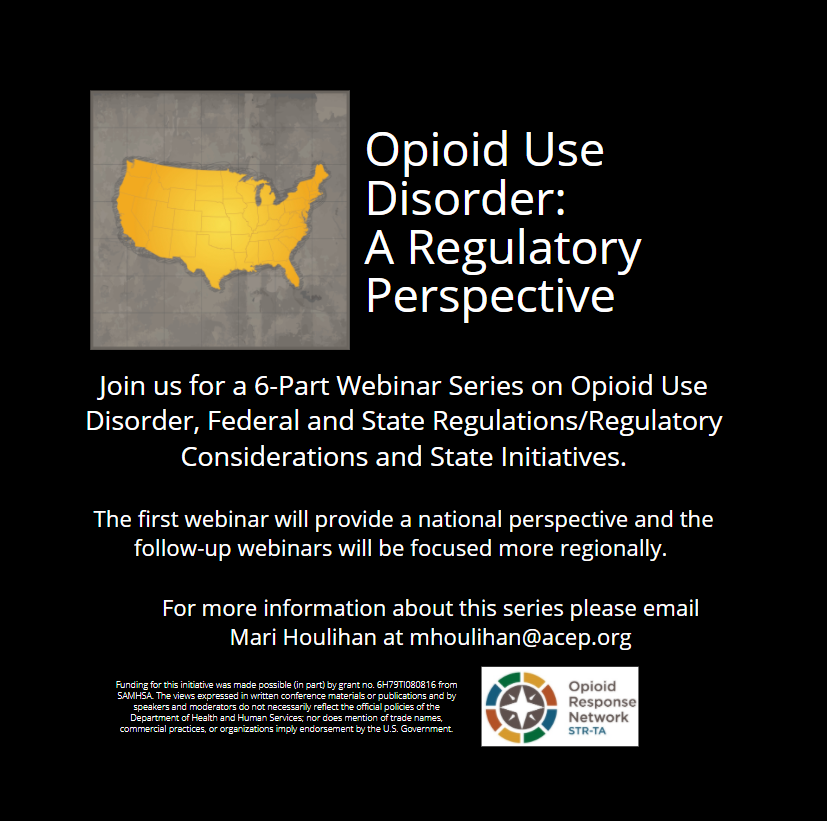 Regulatory Updates
Check out our Regs & Eggs blog for the latest regulatory updates. 
2021 Physician Fee Schedule Proposed Rule: What You Need To Know
ACEP recently published a new comprehensive summary of the 2021 Physician Fee Schedule Proposed Rule and its potential effect on emergency medicine. Last week, we sent a letter expressing our concerns with the proposed cuts and calling on Congress to waive budget neutrality requirements to avert the cuts that pose a significant threat to EM physicians and the health care safety net. Voice your concerns by joining the thousands of ACEP members who have urged their legislators waive the budget neutrality requirement for calendar years 2021 and 2022 by signing on to a bipartisan "Dear Colleague" letter. 
HHS Reopens Application Process for Provider Relief Funding
Most EM groups were eligible to receive funding from the Medicare General Distribution. If you missed the original June 3 deadline, you may be eligible to apply now. Note: If you already received funding from the "General Distribution" and kept it, you cannot apply for additional funding. The cap in funding is still 2% of your annual patient revenues.
CMS Delays AUC Program to 2022
CMS recently announced that it would delay the full implementation of the Appropriate Use Criteria (AUC) program until at least the start of calendar year (CY) 2022. ACEP has long advocated for emergency physicians to be exempted from this program. Learn more about the AUC program.
As of Aug. 1, all laboratories must report certain data elements for all COVID-19 tests (including patient demographic data). The responsibility of collecting this information may fall on emergency physicians. 
What President Trump's Executive Order on Rural Health and Telehealth Means for EM
On August 3, President Trump issued an executive order (EO) that calls on the Department of Health and Human Services (HHS) to develop new payment models aimed at transforming how clinicians practicing in rural areas are reimbursed under Medicare. Further, the President states in the EO that he believes that many of the telehealth flexibilities available during the COVID-19 public health emergency (PHE) should be made permanent and asks HHS to issue a reg that would examine which services should continue to be provided to patients via telehealth after the PHE ends. On the same day the EO was issued, the (CY) 2021 Physician Fee Schedule (PFS) and Quality Payment Program (QPP) proposed reg was released, which includes a robust set of proposed telehealth policies. Last week's regulatory blog digs in to the telehealth proposals and what they could mean for emergency physicians.
Related News: New Analysis Reveals Worsening Shortage of Emergency Physicians in Rural Areas
Urge Congress: Please Support Mental Health Resources and Protections for COVID-19 Health Care Providers
ACEP applauds last week's introduction of the Lorna Breen Health Care Provider Protection Act in the Senate. We worked closely with the legislators on the development of this bill and encourage ACEP members to contact their legislators to ask for their support. Read our latest Member Alert for information about this legislation and the other bills ACEP is supporting that advocate for the wellbeing of frontline health care workers.
Marking Physician Suicide Awareness Day
Physician Suicide Awareness Day is coming up on Sept. 17. ACEP will be providing updates on the Dr. Lorna Breen Health Care Provider Protection Act and additional tools and resources to mark this solemn occasion. As we advocate against barriers that prevent EM physicians from seeking mental health care, ACEP encourages members to visit the Wellness Hub at acep.org/wellness-hub for multiple pathways to help you find the support you need during this challenging season for our profession.
The Innovation in Suicide Prevention Award recognizes promising and innovative acute care activities in the area of suicide prevention that improve patient outcomes and improve lives of patients and/or providers. Nominations are due Sept. 1.  
NEMPAC Charity Match
For a limited time, your NEMPAC contribution of $100 or more will be matched 10 cents on the dollar by ACEP to a charitable cause that provides resources to the COVID-19 front lines. The more you give, the more we give back! You can choose from one of three charities after making your contribution online: EMF COVID-19 Research Fund, GetUsPPE.org or the American Foundation for Suicide Prevention. Click here to join your fellow ACEP members today to support meaningful political and charitable involvement.
Be Accredited to Provide Pain & Addiction Care in the ED
Show your community that your ED is part of the solution. ACEP is now accepting applications for the Pain & Addiction Care in the ED (PACED) Accreditation Program, developed for EM physicians by EM physicians. 
PACED, the nation's only specialty-specific accreditation program, will provide the education, tools & resources you need to provide better care for patients in pain & those with substance misuse. 
Elevate the quality of patient care with innovative treatments, alternative modalities, and impactful risk reduction strategies in a collaborative team setting, resulting in positive outcomes for your patients, families, providers, and communities. Learn more at www.acep.org/PACED or contact us at paced@acep.org
Mississippi Chapter ACEP
2500 N. State St.
Jackson, MS 39216
© 2020 Mississippi Chapter ACEP. All rights reserved.