A Newsletter for the Members of the Tennessee College of Emergency Physicians
Spring 2020

Sudave Mendiratta, MD FACEP
President
Christine Lenihan
Executive Director
615.460.1653 | TCEP Website
A Report from the President of TCEP
Sudave Mendiratta, MD FACEP
President, Tennessee Chapter, American College of Emergency Physicians
Chair and Chief, Emergency Medicine, UT/Erlanger
On behalf of the Tennessee Chapter of the American College of Emergency Physicians, I would like to offer my deepest gratitude to our members for their service to their communities during the COVID-19 pandemic and recent severe weather events. We have bravely faced the challenges of an unfamiliar virus and consistently provided high-quality care across the state in a dynamic environment, and you are to be commended for your ongoing work. The ACEP website has curated a number of high-quality resources regarding all aspects of COVID, and it is updated on a daily basis. Please take a moment to visit the site as it provides unbiased information for physicians and patients.
The Tennessee Chapter has been engaged in the COVID-19 response across our state with members organizing community responses, managing PPE distribution, rewriting hospital protocols, providing telehealth visits, engaging legislators, and authoring scientific literature. Despite our efforts, we must continue to work together to ensure our patients have ongoing access to emergency care. Read More.
A Report from TCEP's Past-President
Sullivan K. Smith, MD, FACEP
Past-President, Tennessee Chapter, American College of Emergency Physicians
Let me begin by explaining my absence from the second day of the TCEP meeting. As many of you are now probably aware, my hometown, Cookeville, was hit by an F 4 tornado on Monday night of the TCEP meeting. I went home in the middle of the night to help in a department that was in full disaster mode. Read More. 
A Report on TCEP's Annual Scientific Meeting held March 2-3, 2020 in Chattanooga, TN
Thom R. Mitchell, MD, FACEP
The Chapter Board met Sunday March 1, 2020. Highlights of that meeting included a membership report of 474 members. If you practice with partners who are not members of ACEP and the Tennessee chapter, please encourage them to join. Past president Sandy Herman presented the financial report. We are in very solid financial standing, including greater than $130,000 in investments. Sandy Herman, who serves as the Community Behavioral Health Medical Director for the State of Tennessee Department of Mental Health, and Chapter President Sullivan Smith, discussed mental health issues and what actions are being taken by the state to improve circumstances on the ground. A new draft of the chapter Bylaws was approved, and there was open discussion regarding the possibility of redeveloping a meeting in Memphis. Read More.
A Report on the Behavioral Health Presentation at TCEP's Annual Scientific Meeting (March 2, 2020 at the Westin Hotel in Chattanooga, TN)
Sandy Herman, MD, MS, FACEP
Community Behavioral Health Medical Director, TDMHSAS
During the 2019 SA, I told the group that I would not have a panel discussion concerning behavioral health patients presenting to our shops and often boarded much longer than other medical patients. However, circumstances made me feel we needed to do it again. In fact, the usual boarding for a psychiatric patient is three to four times longer than other patients. This has caused significant back up in our Emergency Departments. It was noted in 2012 that there was a sharp rise in the number of behavior health patients presenting to the ED. It is now estimated that 15-20% of those in our departments have some underlying BH issue. Since September, I have been the Community Behavioral Health Medical Director and have been charged with going to all of our Departments in Tennessee. Read More. 
TCEP's 2020 Legislative/Regulatory Summary
John Proctor, MD, FACEP
Uppdates on mandatory check of the Controlled Substance Monitoring Database (CSMD), Tennessee's statutory cap on noneconomic damages in civil cases, balance billing, telehealth, and Tennessee Professional Privilege Tax. View the full report.
Welcome New Members!
Nicole Bakhoum
James Skylar Dean, II
Jarrett Foster
Mekdes M Getaneh
Madeleine Kaye Haase
Kristen Holst
Anna Koh
Jarred Tucker Millard, EMT-P
James Mwangi
Daniel Peters
Dustin Phan
Xian Shen
Yenisleidy Paez Perez, DO

New COVID-19 Website, Plus Updates to COVID-19 Field Guide
Featuring more than 400 resources, our revamped COVID-19 website will help you find what you need, when you need it. Our most popular resource, the ACEP Field Guide for Managing COVID-19 in the ED, has grown to more than 230 pages and been translated to 5 additional languages. The following sections are newly updated: decontamination/cleaning, HCW checklist, HFNO, treatment and management.
Contact Congress to Urge Due Process Rights for Emergency Physicians
H.R. 6910, critical bipartisan legislation to ensure every emergency physician has medical staff due process rights, was recently introduced by emergency physician and member of Congress, Rep. Raul Ruiz, MD (D-CA), and Rep. Roger Marshall, MD (R-KS). The legislation would require the Secretary of Health and Human Services to issue regulations that would provide due process rights for physicians providing emergency medical services.
ACEP worked closely with the sponsor representatives' offices on developing legislation on this important issue for ACEP members. Now we need you to reach out to your own members of Congress to urge their support!
Click here to send a message to your U.S. House member urging co-sponsorship of H.R. 6910.
Capital Minute
Tune into our newly formatted Capital Minute webinar as we continue to bring you updates on our latest efforts to support and protect emergency physicians in the fight against COVID-19. Click here to view the Capital Minute. Click here to register for the next live ACEP Capital Minute on Thursday, June 11.
Medicare Telehealth Flexibilities…Are They Here to Stay?
We are seeing an expansion of telehealth that we have never seen before, and it is hard to imagine ever going back to where we were before. However, for us to keep up the momentum and not return to the pre-pandemic telehealth world, a few things need to happen---read this week's Regs & Eggs blog to find out what.
COVID-19 Financial Survival Guide: What You Need to Know
ACEP is standing up for our members who, despite serving on the frontlines of the COVID-19 pandemic, are having their livelihoods threatened. Cutting benefits, reducing shifts or canceling contracts in today's environment is akin to signing a 'Do Not Resuscitate' order for many emergency departments and the physicians who care for patients, especially those in rural or underserved areas. Access the guide.
TJC Statement Supports Removing Barriers to Mental Health Care for Clinicians and Health Care Staff
ACEP recently met with The Joint Commission to discuss physicians being penalized by state licensing boards and other entities for seeking mental health support. On May 12, TJC released a statement that supports "the removal of any barriers that inhibit clinicians and health care staff from accessing mental health care services, including eliminating policies that reinforce stigma and fear about the professional consequences of seeking mental health treatment." View more wellness and crisis support resources. 
Related Resources: 
Physician Crisis Support: ACEP collaborated with the American Association of Emergency Psychiatry on a webinar and podcast related to physician wellness and mental health during COVID-19.

ACEP Member Benefit: Free Counseling and Support
Did You See This Broadway Tribute to Emergency Medicine?
ACEP and ENA were asked to join the "Resilient Project," featuring more than 60 Broadway theatre artists to virtually perform "Resilient" as a thank you to emergency healthcare professionals worldwide. Watch for cameos from several EM physicians and nurses in the video, which also aims to raise money for COVID-19 research through EMF.
Member Benefits: COVID-19 No Cost, Discount & Other Offers
You are risking your lives to care for patients from this unprecedented pandemic, and we all appreciate the additional stress on you and your families. We want to help. And, so do a lot of companies out there. So, thanks to you and thanks to the companies willing to support our healthcare heroes. View the benefits.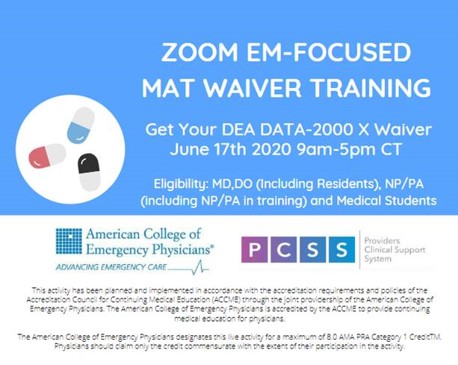 Opioid Updates
COVID-19 Special Edition of Critical Decisions in EM
Our newest CDEM features lifesaving lessons focused on the ED evaluation and management of COVID-19, including timely information on risk factors, common examination findings, valuable diagnostic tests, and the safe use of pharmacological treatments. The issue also takes a deep dive into PPE, the provision of respiratory support, and what interventions should be avoided when managing these vulnerable patients. Learn more. 
EM Research during a Pandemic + Call for Research Forum Abstracts
Our latest podcast discusses conducting EM research during a pandemic. 

Submit your abstracts to ACEP's Research Forum 2020 by June 11. Abstracts will be peer reviewed for presentation at the 2020 Research Forum during ACEP's Scientific Assembly. See abstract requirements.
Be Accredited to Provide Pain & Addiction Care in the ED
Show your community that your ED is part of the solution. ACEP is now accepting applications for the Pain & Addiction Care in the ED (PACED) Accreditation Program, developed for EM physicians by EM physicians. 
PACED, the nation's only specialty-specific accreditation program, will provide the education, tools & resources you need to provide better care for patients in pain & those with substance misuse. 
Elevate the quality of patient care with innovative treatments, alternative modalities, and impactful risk reduction strategies in a collaborative team setting, resulting in positive outcomes for your patients, families, providers, and communities. Learn more at www.acep.org/PACED or contact us at paced@acep.org. 
Tennessee College of Emergency Physicians
Tennessee Medical Association
701 Bradford Ave
Nashville, TN 37204
© 2020 Tennessee Chapter ACEP. All rights reserved.