A Newsletter for the Members of the Nevada Chapter Spring 2020

Bret Frey, MD, FACEP
President
Jen Rivera
Executive Director
469.499.0258
The Value of Membership in NV ACEP
Bret Frey, MD, FACEP
Dear NV ACEP Members,
Thank you all for taking the time to read this newsletter. I am optimistic this one will make an impact not only on your decision to retain your membership but may also inspire you to reach out to your colleagues and discuss the value proposition and ROI of NV ACEP. Currently, we have 325 members, and the NV ACEP Board of Directors appreciates each and every one of you. We exist to serve you, represent you, and keep you abreast of issues such as Out of network, KODIN, and Opiate legislation. NV ACEP has affected SIGNIFICANT change in these areas, and without your historic and current commitment to membership and the representation it affords us, the practice of emergency medicine in Nevada would look very different today.
We all have been more than busy these past eight weeks ramping up for the Covid-19 surge and seemingly getting beyond the first phase of this pandemic as our state reopens. We know this is likely the first half of the first quarter, and autumn may be a perfect storm depending upon timing and severity of influenza coupled with a resurgence of coronavirus. Time will tell. National ACEP has done a great job...Click here to read more!
Legislative Update, LAC 2020
Gregory Alan Juhl, MD, FACEP
Well, like every other conference in the era of "Rona" curve-flattening, this year's LAC pivoted to a virtual meeting.  To be sure it is a lot of fun cruising around (and under) Capitol Hill to meet our legislators, but like most Nevadans, I do not appreciate the heat and humidity of D.C., particularly while wearing a jacket and tie.  So, attending a meeting in shorts and the comfort of my home was quite enjoyable!
We met with two of our four representatives, including Rep Horsford on the call, and both senators, including Sen Cortez Masto on the call. 
There were no specific bills that we were pushing this year, but instead, there were a number of issues that we wanted to discuss:
PPE was front and center. Basically,...Click here to read more!
Covid-19 and Carson City: A Reflection on the Initial Experience
Kathleen OBrien MD, MPH, RDMS 
James Freed
Though the future impact from the coronavirus outbreak is still uncertain, many Carson City emergency physicians believe our facility may have been spared the devastation of COVID-19 seen elsewhere. The exact reasons remain unclear. Perhaps luck or maybe a life-saving combination of a low population density, and citizens truly heeding the recommendation to stay home. Either way, we have not been hit by the pandemic like some of our comrades. Initially, local physicians feared the worst as the pandemic spread, knowing our particular patient demographic to be elderly and chronically ill. Thankfully, we have not seen a vast outbreak. Benjamin Franklin said, "By failing to prepare, you are preparing to fail." At Carson Tahoe Regional Medical Center...Click here to read more!
Residents Corner
PGY-1 residents
University Medical Center of Southern Nevada
This past year Dr. Matthew Earle, PGY-2, created the difficult airway bag. Dr. Earle realized the department needed to have advanced airway equipment consolidated in one easy to access organized location to be better prepared for the inevitable difficult airways in the department.
He worked with Dr. Christian Young, Assistant Program Director, to plan, implement, and teach the department about his project. The bag is designed to supplement the airway equipment that residents take to all floor and ICU intubations that they respond to, where equipment can be difficult to obtain in a timely fashion. Some of the items contained in the bag include Shiley trachs, epistaxis control kits, supraglottic airways, cricothyroidotomy set, trach exchangers, and additional suction equipment. In addition, Dr. Earle worked with nursing and ancillary staff to ensure the organization of the bag is maintained with its continued use and restocking.
Dr. Earle's difficult airway bag has been used countless times to help provide timely airway management for patients throughout the hospital. Dr. Earle shared his process for planning, developing, and implementing his kit in the emergency department here: https://www.aliem.com/building-equipment-kits-streamlined/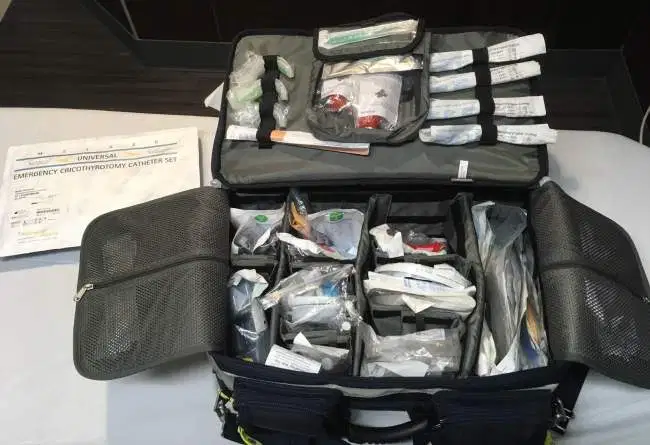 Dr. Patrick Wallace, PGY-2, and Pauline Terbio, PGY-1, have been busy...Click here to read more!
Welcome New Members!
Noah Delone, MD
Andrew John Dobrowski
Starlette Marie Gordon, RN
Lillian Paige Harry
Omair Ilyas
Amanda Jordan, MD, FACEP
Russell Lauver, DO
David Louis Lemak, MD, FACEP
Aaron Ackers
Steven Scott Mowen
Quin Tyson Newby
Henry Matthew Santos
Jino Soriano
Michael Kenneth Taylor
Kealanalani R Thompson, MD
Timothy E VanDuzer, MD
Jason Wang
FROM NATIONAL ACEP


New COVID-19 Website, Plus Updates to COVID-19 Field Guide
Featuring more than 400 resources, our revamped COVID-19 website will help you find what you need, when you need it. Our most popular resource, the ACEP Field Guide for Managing COVID-19 in the ED, has grown to more than 230 pages and been translated to 5 additional languages. The following sections are newly updated: decontamination/cleaning, HCW checklist, HFNO, treatment and management.
Public Poll: Emergency Care Concerns Amidst COVID-19
There is a worrisome trend across ERs of people who are avoiding getting the medical care they need. While it's important to stay home and follow social distancing guidelines, it's critical to always know when to go to the emergency department. Read more. 
A 'Return To Normal' Will Reverse Our Progress
Dr. William P. Jaquis, president of ACEP, writes, "Across the country, people are asking, 'When can life go back to normal?' Even as states re-open, the answer is, 'Not yet.' At least, not without risking tens of thousands more lives. I lead an organization representing nearly 40,000 emergency physicians from across the country." Read more.  
ACEP Tackles Federal and Regulatory Barriers to COVID-19 Care
Our mission statement says it loud and clear: ACEP is the leading advocate for emergency physicians, their patients, and the public. And never has our mission been more important than during this COVID-19 pandemic. While you have been digging in on the front lines, we have been deep in the federal trenches, pressing for physician safety and regulatory improvements to help you save more lives. This ACEP Now article summarizes all of the progress made and discusses ongoing concerns.
'COVID-19 and Pediatrics' Webinar on June 1
We're hosting a new webinar at 11 a.m. CT on June 1 - Register Here.
Panelists include Marianne Gausche-Hill, MD, FACEP, Tress Goodwin, MD, Joshua Rocker, MD, and Mohsen Saidinejad, MD, MBA, FACEP. 
COVID 4.0 Package and More in the latest Capital Minute
Tune into the reimagined ACEP Capital (30) Minutes every other Thursday at 3 p.m. ET to get federal advocacy updates and answers to your questions in real-time. In the latest edition, we're covering the most recent regulatory changes and funding updates, The Joint Commission statement on mental health that came out earlier this week and what you need to know about the COVID 4.0 package. Watch this week's ACEP Capital Minute here and register for the next edition here. 
Medicare Telehealth Flexibilities…Are They Here to Stay?
We are seeing an expansion of telehealth that we have never seen before, and it is hard to imagine ever going back to where we were before. However, for us to keep up the momentum and not return to the pre-pandemic telehealth world, a few things need to happen---read this week's Regs & Eggs blog to find out what.
COVID-19 Financial Survival Guide: What You Need to Know
ACEP is standing up for our members who, despite serving on the frontlines of the COVID-19 pandemic, are having their livelihoods threatened. Cutting benefits, reducing shifts or canceling contracts in today's environment is akin to signing a 'Do Not Resuscitate' order for many emergency departments and the physicians who care for patients, especially those in rural or underserved areas. Access the guide.
TJC Statement Supports Removing Barriers to Mental Health Care for Clinicians and Health Care Staff
ACEP recently met with The Joint Commission to discuss physicians being penalized by state licensing boards and other entities for seeking mental health support. On May 12, TJC released a statement that supports "the removal of any barriers that inhibit clinicians and health care staff from accessing mental health care services, including eliminating policies that reinforce stigma and fear about the professional consequences of seeking mental health treatment." View more wellness and crisis support resources. 
Related Resources: 
Physician Crisis Support: ACEP collaborated with the American Association of Emergency Psychiatry on a webinar and podcast related to physician wellness and mental health during COVID-19.

ACEP Member Benefit: Free Counseling and Support
Did You See This Broadway Tribute to Emergency Medicine?
ACEP and ENA were asked to join the "Resilient Project," featuring more than 60 Broadway theatre artists to virtually perform "Resilient" as a thank you to emergency healthcare professionals worldwide. Watch for cameos from several EM physicians and nurses in the video, which also aims to raise money for COVID-19 research through EMF.
Member Benefits: COVID-19 No Cost, Discount & Other Offers
You are risking your lives to care for patients from this unprecedented pandemic, and we all appreciate the additional stress on you and your families. We want to help. And, so do a lot of companies out there. So, thanks to you and thanks to the companies willing to support our healthcare heroes. View the benefits.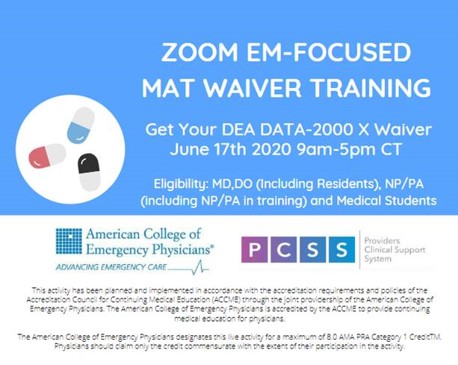 Opioid Updates
COVID-19 Special Edition of Critical Decisions in EM
Our newest CDEM features lifesaving lessons focused on the ED evaluation and management of COVID-19, including timely information on risk factors, common examination findings, valuable diagnostic tests, and the safe use of pharmacological treatments. The issue also takes a deep dive into PPE, the provision of respiratory support, and what interventions should be avoided when managing these vulnerable patients. Learn more. 
EM Research during a Pandemic + Call for Research Forum Abstracts
Our latest podcast discusses conducting EM research during a pandemic. 

Submit your abstracts to ACEP's Research Forum 2020 by June 11. Abstracts will be peer reviewed for presentation at the 2020 Research Forum during ACEP's Scientific Assembly. See abstract requirements.
Be Accredited to Provide Pain & Addiction Care in the ED
Show your community that your ED is part of the solution. ACEP is now accepting applications for the Pain & Addiction Care in the ED (PACED) Accreditation Program, developed for EM physicians by EM physicians. 
PACED, the nation's only specialty-specific accreditation program, will provide the education, tools & resources you need to provide better care for patients in pain & those with substance misuse. 
Elevate the quality of patient care with innovative treatments, alternative modalities, and impactful risk reduction strategies in a collaborative team setting, resulting in positive outcomes for your patients, families, providers, and communities. Learn more at www.acep.org/PACED or contact us at paced@acep.org. 
Nevada Chapter ACEP
4950 W. Royal Lane Irving, TX 75063-2524
© 2020 Nevada Chapter ACEP. All rights reserved.