A Newsletter for the Members of the Minnesota Chapter - Summer 2020

Timothy Johnson, MD, FACEP
President
Shari Augustin
Executive Director
507.384.3164 | Website
President's Message
Tim Johnson, MD, FACEP
Twelve days after the submission deadline for last quarter's Minnesota ACEP newsletter, George Floyd was senselessly killed on May 25 by then-Minneapolis police officer Derek Chauvin, flooding cities with thousands of protesters. George Floyd's killing, along with other recent high-profile police killings
of blacks who were either doing NOTHING wrong (Philando Castile, Botham Jean, Stephon Clark, Atatiana Jefferson, Breonna Taylor, etc.) or were involved in minor incidents (too many to list) have led to a call for police reform if not disbandment. Vigilante murders of innocent blacks (Ahmaud Arbrey, Trayvon Martin, etc.) along with cell phone videos of "Karen" (and "Ken") racist behavior have made us all see that the problem is hardly confined to the police, and that until black lives really matter, all lives never really will. Prejudice is part of being human but must be constantly pruned back to preserve our humanity. Far better than trying to convince everyone that you are not a racist/sexist/bigot is to convince yourself that maybe, just a little, you are, and that by accessing a piece of that and working on it today, the world gets better. To help us all get started on that, Minnesota ACEP (which had previously decided against doing our annual autumn conference virtually) has now made a very different decision and is currently planning a virtual conference on healthcare disparities with some focus on emergency medicine. The conference will be free to all members, and it likely will not have CME available.  You will be notified of the date very soon with plenty of advance notice. Since this pivot just happened, planning has just started. If you have a passion for this topic and would like to teach or have ideas on what you would like to be taught, please contact mnacep@gmail.com as soon as possible and help us all to edify ourselves. 
By the time you read this, the primary elections on August 11 will already have taken place. Hopefully, you voted and I really hope you vote in the general election on November 3. Encourage your family, friends, and your patients to vote. There is an innovative program started by an emergency physician in Boston called "Vot-ER" that was highlighted in the June issue of ACEP Now. You can get your free "healthy democracy" kit that comes with a nametag backer badge that encourages voting and has a QR code on it that streamlines the voting registration process for your patients. Check it out. 
What should you be demanding of your U.S. senators and members of Congress? Three great ideas off the top of my head are supporting the bipartisan bicameral Dr. Lorna Breen Health Care Provider Protection Act, suspending the budget neutrality requirement for the next 2 years (hopefully the length of the worst of the pandemic) to avoid kicking you in the teeth with a 5% Medicare pay cut and the lowest Medicare conversion factor in 25 years at the same time that you are still reeling from the effects of the pandemic, and creating some liability protection for the duration of the public health emergency. What should you be demanding of your governor and legislators? Temporary liability protection. An avoidance of the knee-jerk impulse to get money to balance the state budget with a hike in the medical provider tax (now at 1.8%, previously 2% but this could go even higher). Strong enforcement of the public mask and distancing mandate so that businesses can stay open but aren't on the hook to get stupid or selfish people to do the right thing.
Covid-19: by the time you read this, there will have been 61,000 cases in Minnesota causing 1700 deaths with 300-330 people currently hospitalized, half of those in the ICU. Daily deaths at 7-10 per day. Expect that to increase as mask and isolation fatigue sets in and school starts this fall. A recent poll asked people if they would accept a hypothetical coronavirus vaccine that was free, 100% safe, and 100% effective, and available today: 30-plus percent declined. So, I have dim hope that this thing abates much within the next two years. On that note, ACEP, AAEM, SAEM, CORD, etc. have all issued a joint statement that the emergency department is not the appropriate place for patients to seek a note authorizing a mask exemption. Tell your medical director. While you can refer your patient back to their primary care provider for this, do not throw them under the bus by creating the expectation that their provider is going to do it either.
There is an opportunity to get out from under the MIPS program this year and get a sure-thing zero percent fine in exchange for a zero-percent bonus (spoiler: since losers pay winners, the bonus will be between zero and one percent even if you log an exceptional performance). The details are too nerdy to include in this letter, but I am happy to help you offline. Contact mnacep@gmail.com soon if you want to know more.
One final plea: Minnesota ACEP is trying like crazy to demonstrate its value and relevance to you at a time when the pandemic prevents us from meeting you face-to-face on Capitol Hill, at ACEP20, and at our annual fall conference. The only way to fix that, ironically, is to actually ask you to do more. Garbage in, garbage out. Nothing in, nothing out. There are a dozen fires burning: everything I mentioned above plus balance billing, telehealth, the recent Washington Post op-ed by a neurologist and two fellows asserting the ACEP white paper on excited delirium is a racist excuse for a condition made up by emergency physicians too cozy with the police which wrong-headedly threatens the use of ketamine and other pre-hospital sedation for patient safety in the same way that the Michael Jackson overdose threatened the use of propofol in the emergency department a few years ago. If you have a passion for any one of these things, I need you. For as much as you can do, no more. 
Take good care of yourself. Thanks for all you do for your patients. I hope I hear from you soon. 
Legislative Update
Buck McAlpin, Legislative Consultant
The Minnesota Legislature began the second special session of the 91st Legislature on Monday, July 13th, with hopes of striking a deal on a public works package, police reform, and tax breaks. Little was accomplished that day, with no indication of compromise on key bills. The day concluded with plans for both the House and Senate to work independently until the next planned meeting, July 20th, with the intent to have multiple deals on the table to discuss. After working separately for a week, the House and Senate reconvened and reached a deal on police reform, but failed to pass a public works/bonding package or tax breaks. READ MORE. 
Welcome New Members!
Josiah Bardwell
Nathan Brunken, MD
Sara J. Burdash, MD, FACEP
Paige Cardin, MD
David John Thor Collins
Jacob Douglas Collins, MD
Alexis del Vecchio, MD
Kenneth Wayne Dodd, MD
Ashraf Gerges, MD
Lukas Gladstone, DO
Jeffrey Gonzalez, MD
Brian Goodman, MD
Jonathan W Heimler, MD
Andrea L Hlady, MD, PhD
Isaak M Jones
Douglas Klein, MD
Margaret L Kreider Carlson, MD
Donnell Philippe Octavio Lazaro Paulina, MD
Kysa Z McSky, MD
Florian Merkle, MD
John Murray, DO
Michelle Mary Olson
Joe Pasquarella
Andrea Lynn Patineau, MD, FACEP
Andrea Lyn Patten, MD
Paul C Peterson, MD, FACEP
Sahini Pothireddy, MD
Dayle Quigley, MD
Anthony R Rauschenbach, MD
Margot Jane Samson, MD
Annika Jean Strand, MD
Emily Stratton, MD
Dac Teoli, MD
Dale Till, MD
Shannon Tomfohrde
Timothy L Vo, MD
Marcus Voss
Abigail Rose Winn, MD
Paul Joseph Young, MD

Stay current with the COVID-19 Center. It's your one-stop-shop for clinical and legislative updates. Quick Links: Physician Wellness Hub | COVID-19 Field Guide
Get PPE through Project N95
With member concerns about the quality of N95 masks on the open market, ACEP has joined with Project N95 to offer PPE to you at volume prices. This exclusive benefit for ACEP members is available only through August 26. Registration opens at 4 p.m. ET today Wednesday, August 19 and is only available to members in the 50 states of the US, DC and Puerto Rico. 
ACEP & EMRA Launch Diversity Mentoring Initiative on August 15
This collaboration between the ACEP Diversity, Inclusion and Health Equity Section (DIHE) and EMRA's Diversity & Inclusion Committee that supports leadership and career development for diverse medical students, residents, fellows, academic attendings and community emergency physicians in the EM community. The first 200 mentees have been matched with 100 mentors from across the EM community. If you're interested in being part of the next cohort, slots will open up in six months. Follow #mentorsofEM and #menteesofEM on Twitter to keep tabs on the program's progress, and learn more at mentor.acep.org. 
New Policy Statements and Information Papers
During their June 2020 meeting, the ACEP Board of Directors approved the following new policy statements and information/resource papers. For a full list of the College's current policy statements, consult the ACEP Policy Compendium. 
New Policy Statements: 
Expert Witness Cross-Specialty Testimony for Standard of Care
Leadership and Volunteers Conduct Policy
Revised Policy Statements: 
2020 Compendium of ACEP Policy Statements on Ethical Issues (page two of the Code of Ethics)
Guidelines Regarding the Role of Physician Assistants and Nurse Practitioners in the Emergency Department
Role of the Emergency Physician in Injury Prevention and Control for Adult and Pediatric Patients
New Information/Resource Papers (Smart Phrases)
Antitussive Medications for Children
Coronavirus Concern — Confirmed or Suspected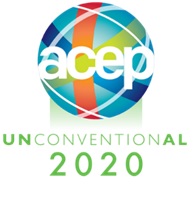 ACEP20 is a CME Jackpot + Announcing Special Guest: Dr. Anthony Fauci! 
ACEP20 will include more than 250 hours of CME education, but here's the best part: Attendees get access to this education and CME for THREE YEARS after the event! All of the live events will be debuting during the original dates: Oct. 26-29. We are happy to announce our first special guest at ACEP20 – Dr. Anthony Fauci, NIAID Director. We'll be unveiling other celebrity keynote speakers throughout August, so follow ACEP's social media channels for those exciting announcements. Click here for more information and to register.  
Upcoming Webinar: The Long and Winding Road of an Epidemic: Prescription Opioids, Heroin, and Beyond
Join us on August 31, 2020 from 1pm - 2pm CT for the first installment in a 6-part free webinar series on opioid use disorder, federal and state regulations/regulatory considerations and state initiatives. Click here to register.
Moderator and Panelists:
Chadd K Kraus, DO, DrPH, MPH, FACEP, Director, Emergency Medicine Research Core Faculty, Geisinger Medical Center, EM Residency Associate Professor of Medicine, Geisinger Commonwealth School of Medicine

Harry Monroe, Director, Chapter and State Relations, ACEP

Jeffrey Davis, Regulatory Affairs Director, ACEP
The webinar will be recorded and link to recording will be made available to all registrants. For more information, please email Mari Houlihan at mhoulihan@acep.org.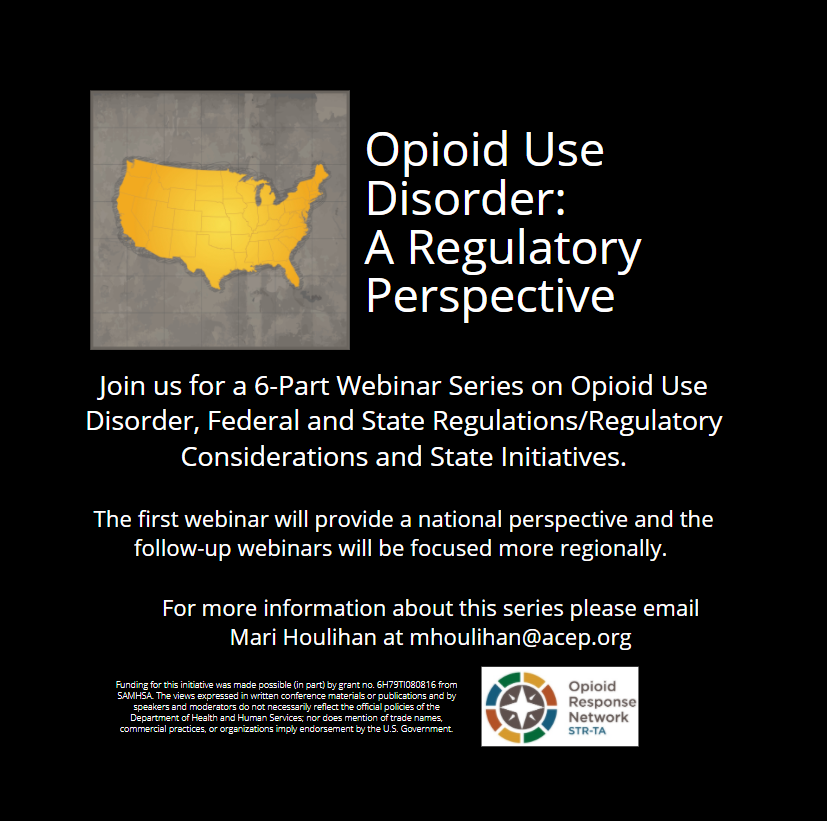 Regulatory Updates
Check out our Regs & Eggs blog for the latest regulatory updates. 
2021 Physician Fee Schedule Proposed Rule: What You Need To Know
ACEP recently published a new comprehensive summary of the 2021 Physician Fee Schedule Proposed Rule and its potential effect on emergency medicine. Last week, we sent a letter expressing our concerns with the proposed cuts and calling on Congress to waive budget neutrality requirements to avert the cuts that pose a significant threat to EM physicians and the health care safety net. Voice your concerns by joining the thousands of ACEP members who have urged their legislators waive the budget neutrality requirement for calendar years 2021 and 2022 by signing on to a bipartisan "Dear Colleague" letter. 
HHS Reopens Application Process for Provider Relief Funding
Most EM groups were eligible to receive funding from the Medicare General Distribution. If you missed the original June 3 deadline, you may be eligible to apply now. Note: If you already received funding from the "General Distribution" and kept it, you cannot apply for additional funding. The cap in funding is still 2% of your annual patient revenues.
CMS Delays AUC Program to 2022
CMS recently announced that it would delay the full implementation of the Appropriate Use Criteria (AUC) program until at least the start of calendar year (CY) 2022. ACEP has long advocated for emergency physicians to be exempted from this program. Learn more about the AUC program.
As of Aug. 1, all laboratories must report certain data elements for all COVID-19 tests (including patient demographic data). The responsibility of collecting this information may fall on emergency physicians. 
What President Trump's Executive Order on Rural Health and Telehealth Means for EM
On August 3, President Trump issued an executive order (EO) that calls on the Department of Health and Human Services (HHS) to develop new payment models aimed at transforming how clinicians practicing in rural areas are reimbursed under Medicare. Further, the President states in the EO that he believes that many of the telehealth flexibilities available during the COVID-19 public health emergency (PHE) should be made permanent and asks HHS to issue a reg that would examine which services should continue to be provided to patients via telehealth after the PHE ends. On the same day the EO was issued, the (CY) 2021 Physician Fee Schedule (PFS) and Quality Payment Program (QPP) proposed reg was released, which includes a robust set of proposed telehealth policies. Last week's regulatory blog digs in to the telehealth proposals and what they could mean for emergency physicians.
Related News: New Analysis Reveals Worsening Shortage of Emergency Physicians in Rural Areas
Urge Congress: Please Support Mental Health Resources and Protections for COVID-19 Health Care Providers
ACEP applauds last week's introduction of the Lorna Breen Health Care Provider Protection Act in the Senate. We worked closely with the legislators on the development of this bill and encourage ACEP members to contact their legislators to ask for their support. Read our latest Member Alert for information about this legislation and the other bills ACEP is supporting that advocate for the wellbeing of frontline health care workers.
Marking Physician Suicide Awareness Day
Physician Suicide Awareness Day is coming up on Sept. 17. ACEP will be providing updates on the Dr. Lorna Breen Health Care Provider Protection Act and additional tools and resources to mark this solemn occasion. As we advocate against barriers that prevent EM physicians from seeking mental health care, ACEP encourages members to visit the Wellness Hub at acep.org/wellness-hub for multiple pathways to help you find the support you need during this challenging season for our profession.
The Innovation in Suicide Prevention Award recognizes promising and innovative acute care activities in the area of suicide prevention that improve patient outcomes and improve lives of patients and/or providers. Nominations are due Sept. 1.  
NEMPAC Charity Match
For a limited time, your NEMPAC contribution of $100 or more will be matched 10 cents on the dollar by ACEP to a charitable cause that provides resources to the COVID-19 front lines. The more you give, the more we give back! You can choose from one of three charities after making your contribution online: EMF COVID-19 Research Fund, GetUsPPE.org or the American Foundation for Suicide Prevention. Click here to join your fellow ACEP members today to support meaningful political and charitable involvement.
Be Accredited to Provide Pain & Addiction Care in the ED
Show your community that your ED is part of the solution. ACEP is now accepting applications for the Pain & Addiction Care in the ED (PACED) Accreditation Program, developed for EM physicians by EM physicians. 
PACED, the nation's only specialty-specific accreditation program, will provide the education, tools & resources you need to provide better care for patients in pain & those with substance misuse. 
Elevate the quality of patient care with innovative treatments, alternative modalities, and impactful risk reduction strategies in a collaborative team setting, resulting in positive outcomes for your patients, families, providers, and communities. Learn more at www.acep.org/PACED or contact us at paced@acep.org
Minnesota Chapter ACEP
6 Greenhaven Bay #289
Faribault, MN 55021
© 2021 Minnesota Chapter ACEP. All rights reserved.