A Newsletter for the Members of the Minnesota Chapter - Spring 2019 

Shari Augustin
Executive Director
507.384.3164 | Website
Drew Zinkel, MD, FACEP
President
President's Message
Drew Zinkel, MD, FACEP
Many of MNACEP's board members took the opportunity to represent Minnesota at ACEP's national Leadership and Advocacy Conference in Washington, D.C. in May. We also had one resident from each of the three MN EM residency programs attend and enjoy the EMRA programming available at this conference. While there we met with state legislators and their aides to discuss issues important for emergency physicians on a national level. This included asking them to sign on to a bipartisan-supported bill going through the House of Representatives, the "Improving Mental Health Access from the Emergency Department Act," HR 2519 sponsored by Representative Raul Ruiz, MD (D-CA). This act promotes increasing the supply of inpatient psychiatric beds and alternative care settings such as regional emergency psychiatric units, expedites transitions to post-emergency care through expanded coordination and networking infrastructure development, and expanding approaches to providing psychiatric care in the emergency department through tele-psychiatry.
The second ask was to support the Protecting People from Surprise Medical Bills Act. READ MORE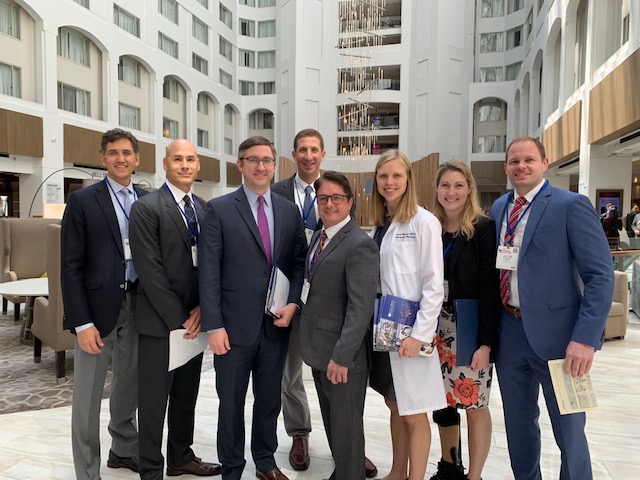 MNACEP members heading to the Capitol to meet with MN legislators: Drs. Rob Thomas, Tom Wyatt, Drew Zinkel, Paul Allegra, Tim Johnson, Tracy Marco, Regions Resident, Teresa Dunphy, Hennepin Resident; Jake Voelkel, Mayo Resident
Legislative Update
Buck McAlpin, Legislative Consultant
Again, this legislative session ended with a whimper and not a bang. After nearly 6 months of committee hearings and work, the legislature adjourned for the year only accomplishing the passage of one budget bill. 
Legislative leaders and the Governor did not reach their own deadline of having budget targets agreed to by May 6, which puts additional pressure on the legislature to get things done by May 20. The leaders from the House and Senate continued to negotiate with the Governor to agree to budget targets for each area of the budgets. The leadership came up with a budget deal Sunday evening prior to adjourning on Monday. The main sticking points continued to be the Provider Tax at 2% sunset repeal, the .20 cents per gallon gas tax proposal, and tax increases on the top earners. The Senate Republicans held strong and would not agree to a gas tax increase in the end. READ MORE
Welcome New Member! 
Olivia Katherine Eckhoff
FROM NATIONAL ACEP

States Find Tool for Quick Legislative Response
Harry J. Monroe, Jr. Director, ACEP State and Chapter Relations 
Those of us that work on state legislation often struggle with the pace of activity, particularly as deadlines approach for bills to get out of committee or as the end of the session nears. When ACEP rolled out engagED as a new social media platform for member communication and collaboration, I am not sure that it was really thought of as a new tool for advocacy efforts, but its value has been shown by at least a couple of chapters. READ MORE
New Policy Statements, PREP and Information Paper
During their April 2019 meeting, the ACEP Board of Directors approved the following new or revised policy statements/PREP/information paper:
New Policy Statements: 
Salary and Benefits Considerations for Emergency Medical Services Professionals
Small Motorized Recreational Vehicles
Violence Prevention and Intervention in Emergency Medical Services Systems 
Revised Policy Statements:
Revised Policy Resource and Education Papers (PREPs): 
Resource Utilization in the Emergency Department: The Duty of Stewardship  
New Information Paper: 
Articles of Interest in Annals of Emergency Medicine - Spring 2019
Sam Shahid, MBBS, MPHPractice Management Manager, ACEP
ACEP would like to provide you with very brief synopses of the latest articles and articles coming soon to Annals of Emergency Medicine. Some of these have not appeared in print. These synopses are not meant to be thorough analyses of the articles, simply brief introductions. Before incorporating into your practice, you should read the entire articles and interpret them for your specific patient population. View synopses here.
Point of Care Tools
ACEP's point-of-care tools are transforming care at the bedside. We've recruited the field's top experts and thought-leaders to develop tools our members can trust and deploy in the clinical setting. The evidence-based, clinical content provided in these tools ensures that you are providing the best possible care to the patients in your emergency department. Tools can be found on topics:
 AFIB – Management of Atrial Fibrillation
ADEPT – Confusion and Agitation in the Elderly 
BUPE – Use of Buprenorphine in the ED 
DART – Recognition and Treatment of Sepsis
ICAR2E – Identification of Suicidal patients
And more..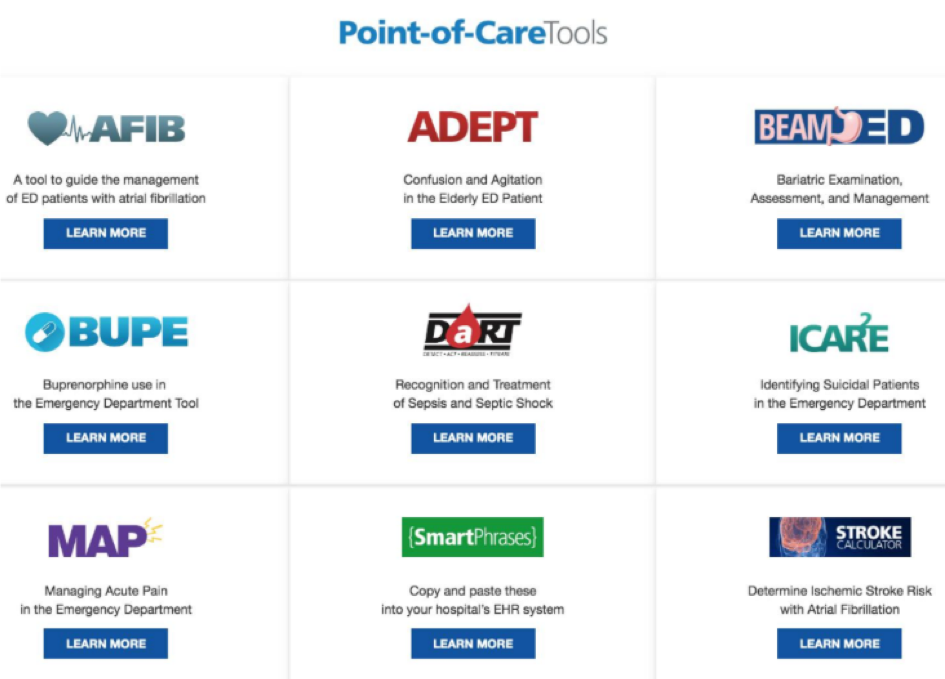 Registration open for the ACEP/CORD Resident's Teaching Fellowship
Do you have a resident aspiring to an academic career? Want to give them the jump start they need?  Spots still open for the ACEP/CORD Residents Teaching Fellowship this fall (Aug. 6-8 2019) – sign up soon as these seats go fast! Register here. 

Registration Open for the EMBRS Course
Emergency Medicine Basic Research Skills (EMBRS) is a 9-day, 2-session program where participants learn how to identify clinical research opportunities and become familiar with clinical research and outcomes. Participants are also eligible to receive an EMF/EMBRS grant based on their research grant application. Click here to learn more or email ACEP's Academic Affairs to register.  The next course will take place Dec. 2-7th, 2019 (session 1) and April 14-16, 2020 (session 2) in Dallas, Texas. 
Minnesota Chapter ACEP
6 Greenhaven Bay #289
Faribault, MN 55021
© 2021 Minnesota Chapter ACEP. All rights reserved.