A Newsletter for the Members of the Minnesota Chapter - Spring 2020

Timothy Johnson, MD, FACEP
President
Shari Augustin
Executive Director
507.384.3164 | Website
President's Message
Tim Johnson, MD, FACEP
Dear Minnesota ACEP Members,
I usually like to be a little light and glib, but the coronavirus pandemic has left me a little short on both. It is truly the last thing I want to talk about, but it eclipses everything else I read or think or see or do. On the day I write this, Minnesota has had 614 deaths due to COVID-19.
There are 496 patients hospitalized with the disease today, and there have been 12,494 cases in our state, 1436 of them are healthcare workers. Some of our emergency departments are stabilizing many critically ill patients every day while a handful of others may not be certain that they have seen a verified coronavirus case yet. All emergency departments have drastically lower volumes and many of us are taking furloughs or cuts in pay. Governor Walz's lockdown is slated to expire within the next week, but while it is likely to be a gradual and staged re-opening it will inevitably lead to an increase in cases, how many more we have yet to know. My prayer is that you and your loved ones are safe. 
Minnesota ACEP's mission is to help its members preserve health and save lives in Minnesota by promoting the highest quality of emergency care. The value it strives to add to your professional life is through the three pillars of education, advocacy, and reimbursement. Here is a brief report on those three areas. 
Legislative Update
Buck McAlpin, Legislative Consultant
Well I guess the saying goes, if you live long enough you see everything at the Minnesota State Legislature. The onset of the COVID-19 Pandemic put the legislature in a bizarre position to basically shut down all public access to the Capitol on roughly March 1st. For the first time in my lobbying career the usual face to face interaction with legislators quickly turned into phone calls, text messages and e-mails. The legislature worked quickly to set up safety zones within the House, Senate Chambers, and remote rooms to recognize social distancing while maintaining the integrity of the vote. The floor sessions have become very lengthy and painful to watch the process as they debate bills and introduce amendments. Read More.
Welcome New Members!
Catherine Bledsoe
Amanda Jo Carlson, MD
Brendan Carr, MD
Kristina M Colbenson, MD
Sean J Condon, MD
River Hayes Cook, MD
Christine I Delmonico, MD
Elizabeth Ann DeYoung, DO
Kelsey Echols, MD
Hannah Fuher
Jonathan C Grimes, MD
Amanda M Jurvis, DO
Hannah M Kelley, MD
Robert C LeFevere, MD, FACEP
Joshua Frantz Loiseau, MD
Craig Mason, MD
Alejandra Melgarego
Daniel Michelson
April Miller, MD
Kalpit Modi
Daniel Osarfo-Akoto
Steven Palm, MD
Ellen Pappas
Noah Sanders
Nicholas Joseph Sausen
Nathan Selstad
Ashley Sievers, MD, FACEP
Samuel J Southgate, MD
Daniel Zachary Hewette Stone, MD
Logan James Van Hon
Ann Marie Westbrook Vreeland, MD
Kyle Yeager, MD
FROM NATIONAL ACEP


New COVID-19 Website, Plus Updates to COVID-19 Field Guide
Featuring more than 400 resources, our revamped COVID-19 website will help you find what you need, when you need it. Our most popular resource, the ACEP Field Guide for Managing COVID-19 in the ED, has grown to more than 230 pages and been translated to 5 additional languages. The following sections are newly updated: decontamination/cleaning, HCW checklist, HFNO, treatment and management.
Public Poll: Emergency Care Concerns Amidst COVID-19
There is a worrisome trend across ERs of people who are avoiding getting the medical care they need. While it's important to stay home and follow social distancing guidelines, it's critical to always know when to go to the emergency department. Read more. 
National EMS Week is here!
We are proud to partner with NAEMT to feature National EMS Week (May 17-23) as an initiative to create significantly greater visibility of EMS among health professions and communities. ACEP thanks the generous organizations supporting this year's initiatives. 
TJC Statement, COVID 4.0 Package and More in this Week's Capital Minute
Tune into the reimagined ACEP Capital (30) Minutes every other Thursday at 3 p.m. ET to get federal advocacy updates and answers to your questions in real-time. In the latest edition, we're covering the most recent regulatory changes and funding updates, The Joint Commission statement on mental health that came out earlier this week and what you need to know about the COVID 4.0 package. Watch this week's ACEP Capital Minute here and register for the next edition here. 
Medicare Telehealth Flexibilities…Are They Here to Stay?
We are seeing an expansion of telehealth that we have never seen before, and it is hard to imagine ever going back to where we were before. However, for us to keep up the momentum and not return to the pre-pandemic telehealth world, a few things need to happen---read this week's Regs & Eggs blog to find out what.
COVID-19 Financial Survival Guide: What You Need to Know
ACEP is standing up for our members who, despite serving on the frontlines of the COVID-19 pandemic, are having their livelihoods threatened. Cutting benefits, reducing shifts or canceling contracts in today's environment is akin to signing a 'Do Not Resuscitate' order for many emergency departments and the physicians who care for patients, especially those in rural or underserved areas. Access the guide.
TJC Statement Supports Removing Barriers to Mental Health Care for Clinicians and Health Care Staff
ACEP recently met with The Joint Commission to discuss physicians being penalized by state licensing boards and other entities for seeking mental health support. On May 12, TJC released a statement that supports "the removal of any barriers that inhibit clinicians and health care staff from accessing mental health care services, including eliminating policies that reinforce stigma and fear about the professional consequences of seeking mental health treatment." View more wellness and crisis support resources. 
Upcoming Virtual Grand Rounds Focused on Physician Wellness
Join us May 27 for our Virtual Grand Rounds! From 10 a.m. – 2:45 p.m. CT, we'll cover physician wellness, second victim syndrome in COVID times, emergency mindfulness, overcoming self-judgment with self-compassion, and how to support your team during times of crisis. Register by 8 a.m. CT on May 27. 
Related Resources: 
Physician Crisis Support: ACEP collaborated with the American Association of Emergency Psychiatry on a webinar and podcast related to physician wellness and mental health during COVID-19.

ACEP Member Benefit: Free Counseling and Support
Did You See This Broadway Tribute to Emergency Medicine?
ACEP and ENA were asked to join the "Resilient Project," featuring more than 60 Broadway theatre artists to virtually perform "Resilient" as a thank you to emergency healthcare professionals worldwide. Watch for cameos from several EM physicians and nurses in the video, which also aims to raise money for COVID-19 research through EMF.
Member Benefits: COVID-19 No Cost, Discount & Other Offers
You are risking your lives to care for patients from this unprecedented pandemic, and we all appreciate the additional stress on you and your families. We want to help. And, so do a lot of companies out there. So, thanks to you and thanks to the companies willing to support our healthcare heroes. View the benefits.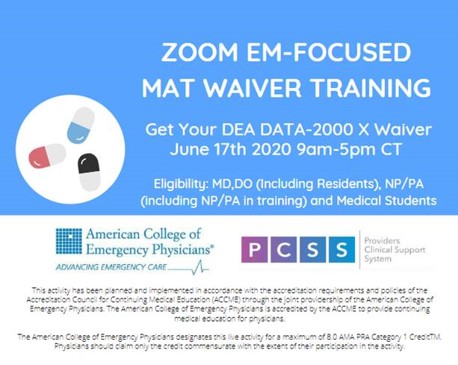 Opioid Updates
COVID-19 Special Edition of Critical Decisions in EM
Our newest CDEM features lifesaving lessons focused on the ED evaluation and management of COVID-19, including timely information on risk factors, common examination findings, valuable diagnostic tests, and the safe use of pharmacological treatments. The issue also takes a deep dive into PPE, the provision of respiratory support, and what interventions should be avoided when managing these vulnerable patients. Learn more. 
EM Research during a Pandemic + Call for Research Forum Abstracts
Our latest podcast discusses conducting EM research during a pandemic. 

Submit your abstracts to ACEP's Research Forum 2020 by June 11. Abstracts will be peer reviewed for presentation at the 2020 Research Forum during ACEP's Scientific Assembly. See abstract requirements.
Be Accredited to Provide Pain & Addiction Care in the ED
Show your community that your ED is part of the solution. ACEP is now accepting applications for the Pain & Addiction Care in the ED (PACED) Accreditation Program, developed for EM physicians by EM physicians. 
PACED, the nation's only specialty-specific accreditation program, will provide the education, tools & resources you need to provide better care for patients in pain & those with substance misuse. 
Elevate the quality of patient care with innovative treatments, alternative modalities, and impactful risk reduction strategies in a collaborative team setting, resulting in positive outcomes for your patients, families, providers, and communities. Learn more at www.acep.org/PACED or contact us at paced@acep.org. 
Minnesota Chapter ACEP
6 Greenhaven Bay #289
Faribault, MN 55021
© 2021 Minnesota ACEP. All rights reserved.