Danielle Graff, MD MSc
Beth Spurlin, MD PhD MBA
Co-Chairs, Pediatric EM Committee
PEM and the Community 
Pediatric visits make up around 20% of all community ED visits and most of these patients will be treated and discharged. However, ~5% will require higher level of care or admission, requiring transportation to the local children's hospital. There have been studies that show there is variability in the pediatric training that Emergency Medicine residents receive during their residency. Combined with the less frequently seen pediatric patient can lead to angst not only for the physician but also nursing and rest of the staff.   
To help with such concerns, a Pediatric outreach education program has been implemented by the Just for Kids Transport team through Norton Children's Hospital in connection with University of Louisville this past year. While the program had to be momentarily interrupted by Covid-19 pandemic, it is with hope that the program can be re-started as soon as the Spring of 2021. The program focuses on didactics and/or simulations in a multitude of scenarios including sepsis, anaphylaxis, respiratory disorders, cardiac diseases, and status epilepticus, among many others. Didactics can help re-familiarize the differences as well as current practices in pediatric management while the simulations concentrate on drug therapies and skill set. Simulations are held in YOUR ED in-order to have familiarity with your location/supplies as well as the ability to have multiple people, including physicians, nurses, respiratory therapists and technicians participate.  
If interested please contact Beth Spurlin or our clinical coordinator, Donna Callahan . 
MIS-C: It's the abbreviation for miscellaneous for a variety of reasons!
The COVID-19 virus has created many obstacles over the past year, including the evolving progression of severe illness in children. One such concern has been on a rare, but serious complication, multi-inflammatory syndrome in children (MIS-C). This can provide multiple clinical challenges for a provider in that it presents with symptoms similar to those seen in other childhood illnesses such as Kawasaki Disease and Toxic Shock Syndrome. To further complicate matters, definitions and diagnostic criteria vary for MIS-C and the myocardial dysfunction that may be seen insidiously is a major source of morbidity and mortality. It has been noted that that there has been an increase in the number of pediatric myocarditis cases seen over the past year in Kentucky.  >> READ MORE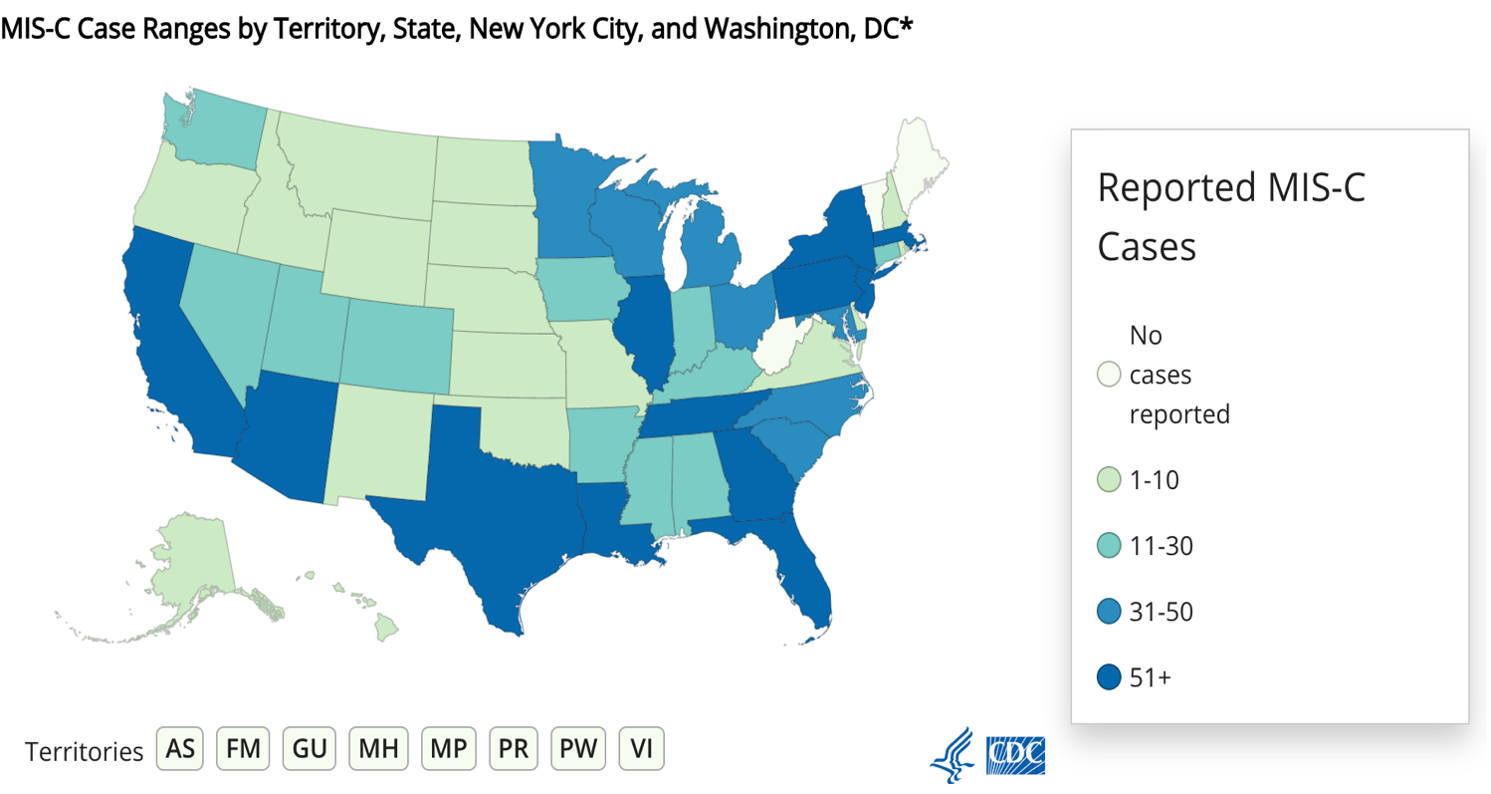 Emergency Medicine Education During This Pandemic 
Isaac Shaw, MD
KACEP, Education Committee Chair
There have been substantial changes in education delivery in the last year for resident physicians across all specialties. Understanding resident perceptions of these changes can help emergency medicine educators discover what needs improvement and which changes have been effective.
In a survey of residents at seven EM residencies, 65% of students felt that COVID-19 had a negative impact on their education and 68.1% reported overall negative effects on their wellness1. Junior residents reported feeling the pandemic had a negative impact on their clinical experience at higher rates than junior residents. Factors influencing this are that residents frequently had rotations cancelled or moved, had less frequent procedural exposure, and more frequent operational and systems changes1. We should find time to engage our more junior learners on-shift in order to mitigate these impacts. Also, we should understand that they may have had different clinical experiences than residents of past years. 
Some of these negative perceptions will be improved by returning to in-person didactics. Residents have reported in-person lectures provide more effective engagement with presenters and peers than online lectures2. However, online lectures can still be engaging. Residents felt answering chat questions was the most effective way to engage with lecturers, followed by small-group sessions and then gamified lectures2. 
Despite the challenges of the last year, residents have reported higher levels of satisfaction with EM as a career choice. Additionally, they report that the pandemic has generated a positive view of our specialty1. Maintaining a focus on adapting to these challenges and maintaining high quality education will help reinforce this career satisfaction and these positive perceptions. 
Ford, R Tabitha et al. Beyond the Emergency Department: Effects of COVID-19 on Emergency Medicine Resident Education. AEM Education and Training. 2021; 00:1-12. 
Weber W, Ahn J et al. COVID-19 Conferences: Resident Perceptions of Online Synchronous Learning Environments. West J Emerg Med. 2020 Dec 14;22(1):115-118.
Update from the ACEP Board of Directors
Ryan Stanton MD, FACEP
Board of Directors, American College of Emergency Physicians
I hope all is well and everyone has weathered the winter experience of ongoing COVID with our local additions of ice, snow, and rain. I wanted to provide an update with regard to the work of the College.
The ACEP Board of Directors met at the end of January with topics regarding updates on EMTALA, MIPS, legislative update/priorities, OUD treatment, droperidol, progress of the group ownership task force, and many others. I want to remind everyone that as an ACEP member, you are welcome to attend (in-person or virtual based on the pandemic status) the Board meetings and see the work of the College. The next full meeting is in April. 
As we move forward through 2021, we want to highlight some of the key take home points. First, more meetings will be in-person this year, starting with EMerald Coast Conference in Destin and then LAC in DC. There will likely be hybrid options for most of the national offerings. ACEP will continue to expand the COVID resources as more information and recommendations are available. Our DC staff will also be working on several initiatives including the details on the OON billing legislation that passed at the end of 2020 and continued efforts to eliminate the x-waiver as a barrier to OUD treatment. Finally, we will soon have a report from the workforce task force as well as ongoing work regarding rural emergency medicine, MLP/APP task force, and the group ownership task force. 
There is a ton of work going on to support emergency physicians and our patients. The resources and tools available to support you and your practice are available through the ACEP website or you can contact me, and I can get you in touch with the right person(s) within the ACEP staff. Thank you for everything you do and for continuing to fight on the frontlines of the COVID pandemic. 
Move. Rest. Nutrition. Wisdom. Community.
Build resilience.
Be present.
Martin Huecker, MD
KACEP Chair, Wellness Committee
Hey everyone! Hope you had a fulfilling month. Here are some ideas for wellness practice. 
Get your mind right
Which is worse: The time you spend thinking about work while at work, or the time you spend thinking about work while at home? Therapist Guy Winch has 3 TED talks; this one covers rumination and the work-life balance dilemma. He tells a story about getting stuck in an elevator with someone who freaks out, and instead of calming the person down, he snaps at him. This is how he realized he was burned out early in his career.
Ruminating about work leads to poor sleep, unhealthy diet, worse mood, and more cardiovascular disease. "Ruminating always feels like we are doing something important, but we are doing something harmful." Telecommuting, thus losing the physical boundary between work and home, is now increasing the problem.
But thinking about work in creative or problem-solving ways does not cause problems. "I have so much work to do" is not a problem to be solved. "How can I work 30 minutes into my schedule to complete this one task" has a concrete solution. 
2021 GCEP Rural Emergency Practice Conference - VIRTUAL EDITION
The Georgia College of Emergency Physicians invites KACEP members to attend their virtual Rural EM Practice Conference. This isn't your typical VIRTUAL MEETING. Find out why the 2021 Rural Emergency Practice Conference & Virtual Procedures Lab is going to be THE COURSE TO ATTEND. View the latest agenda on the GCEP Website and click here for course information and to register.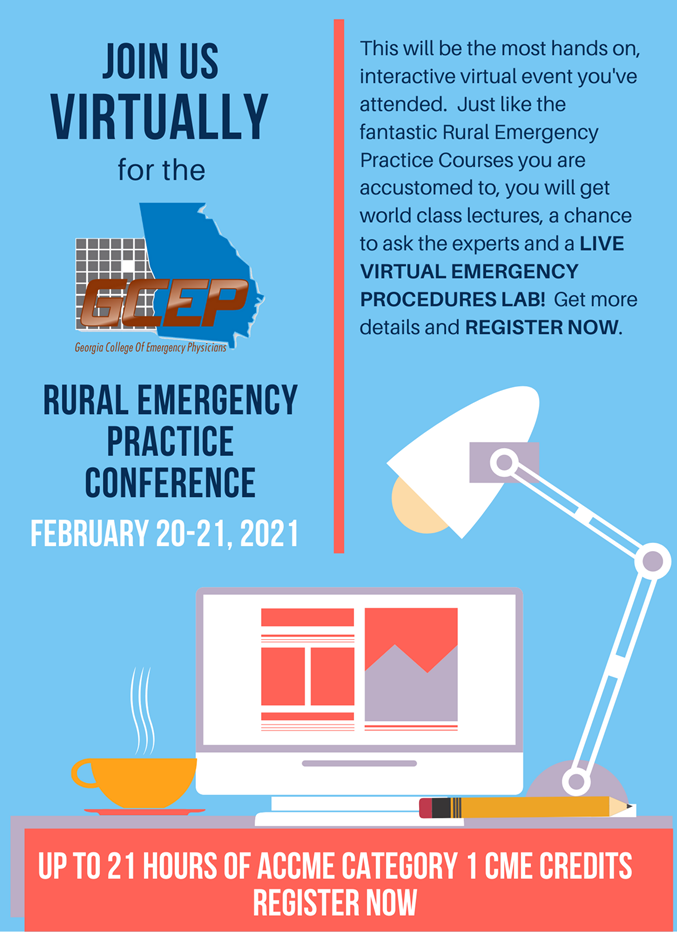 Zachary Brown
Monica Joy Brunk
Meghan M Christie
Gena L Cooper, MD
Erin Davren, MD
Jessica Nichole Fisher
Justin Thomas Geralds, MD
Dylan C Goldsmith
Aqeel Jawahir
Ajsa Karacic
Stacy Karem
Paul A Khalil, MD
Payton Malone
Nicole Steele Mitchell
Erica Nobles
Javed Zahed Osmani
John Pidakala
Douglas F Smith, MD, FACEP
Beth Spurlin, MD, PhD, MBA
Zachary Tarter
Alex Turner
Dustin William Wells


Stay current with the COVID-19 Center. It's your one-stop-shop for clinical and legislative updates.  
New Resource: COVID-19 Data Visualizations
ACEP's newest resource provides visualizations of U.S. emergency department data across three categories: total visits, COVID-like illness visits, and influenza-like illness visits. The data are available at both national and Health and Human Services (HHS) regional resolutions and across several timescales (e.g., 7-day, 30-day, 90-day). It's sortable by time and region. Data is updated weekly. View the visualizations. 
The February 10 edition of the Capital (30) Minutes webinar provided updates on COVID relief, physician mental health and more.
Quick Links: COVID-19 Field Guide | COVID-19 Vaccination Toolkit | COVID-19 Microlearning Education
It's vital to prioritize your own mental health and this is an especially vulnerable time of year in an extremely stressful environment. Take advantage of these resources whenever you need them: 
Did you know your ACEP membership comes with three free counseling or coaching sessions available through phone, text or online chat? And for a small extra fee, you can add on financial and/or legal assistance.

The Physician Wellness Hub can help you find the right support, whether you'd like to talk with a peer or a professional counselor. 
It's a great time to gently check in with your friends, family and colleagues. Worried about saying the wrong thing? Read these peer support basics. 
Want to remind your team about on-site support options? Create a mental health care access map. Already have one? Resend the map so your coworkers know how to find support during the challenging weeks ahead. 
ACEP hosted two Theater of War performances in 2020 and recently partnered with the Infectious Disease Society of America on a podcast discussing how these performances can help EM physicians process the unprecedented hardships of working in the ED during a pandemic. Learn more.
Last but not least: If you're passionate about peer support in emergency medicine, we invite you to join ACEP's Peer Support Project.
Answering Your Questions About the New Medicare Add-on for MAT in the ED
EM physicians can start getting reimbursed by Medicare for MAT services you deliver in the emergency department (ED)! This is a policy that ACEP strongly advocated for and helped secure in the 2021 Medicare physician fee schedule regulation (the major annual reg that impacts Medicare payments for physicians and other health care practitioners). In that reg, the Centers for Medicare & Medicaid Services (CMS) finalized a proposal to create a new add-on code for MAT (G2213) that can be billed in addition to an ED evaluation and management (E/M) code during an ED visit. READ MORE
Catch up on the latest federal regulatory news with ACEP's Regs and Eggs blog: 
Litigation Resources: The majority of physicians will be sued during their career, and the experience – or even just the prospect of being sued – can be very stressful. On top of that reality, COVID-19 presents new concerns that could make it even more complicated. These resources are here to help.
Prepare for your continuous EM board certification with Critical Decision's 2020 LLSA Literature Review issue (free member benefit). Get the highlights from each ABEM article to make your studying faster and more productive. 
Podcast fans: ACEP's podcast family includes Frontline, ACEP Now, Annals of EM, Critical Decisions and JACEP Open + EMergence, a new EM innovation podcast.
Latest Pain Management and Opioid-Related Resources:
PEER Can Help You Cram for the ConCert Exam
Getting ready for the spring ConCert Exams? ACEP has tools that can help! PEER is the leading resource for review and self-assessment. You can check your readiness with a free PEER pretest. Learn more.
Save the Dates: Virtual PEM21 and LAC21
ACEP's Annual Leadership & Advocacy Conference is now scheduled for July 25-27 in Washington, D.C. This is your chance to advocate for your specialty, engage with new members of Congress and connect with your peers. Join the Interest List for updates.
While you're marking your calendars, make plans to join us for this year's Virtual Advanced Pediatric Emergency Medical Assembly April 19-21, 2021. Learn what's new and gain the skills you need to take on your next pediatric emergency.
CORD is excited to launch its 'Virtually Unstoppable' Academic Assembly on April 12-15, 2021. Registration information coming soon! Visit www.cordem.org for updates.
From the Emergency Medicine Foundation:
ABEM Issues Statement on its Commitment to Maintaining Certification Standards
Feb 08, 2021
The American Board of Emergency Medicine (ABEM) understands that this past year was particularly challenging for emergency physicians, especially early career physicians. Every physician member of the ABEM Board of Directors is clinically active and understands the disruptions caused by the COVID-19 pandemic. The disruptions affecting our specialty have also affected ABEM certification. Read the full statement here. 
Kentucky Chapter ACEP
P.O. Box 2831
Louisville, KY 40201
© 2021 Kentucky Chapter ACEP. All rights reserved.