A Newsletter for the Members of the Utah Chapter - Summer 2020

Alison Smith, MD, MPH – President
Sean Slack, DO – Secretary/Treasurer
Paige DeMille
Executive Secretary
801.747.3500 | Website
Dear Colleagues,
As we approach the middle of August it is hard to believe all that we have been through over the past few months. COVID-19 reared its ugly head throughout many parts of Utah, and our emergency departments experienced an unprecedented amount of change over this time. From new protocols and entire shifts spent in PPE coupled with decreased volumes and financial pressures, we were continuously adjusting to a new way of practicing medicine while trying to protect ourselves, our patients, and our staff. We hope the worst is behind us. The rapid adaptation has been impressive, and we seem to have some sense of the "new normal," with volumes picking up and a more fluent flow to our emergency medicine practice during a pandemic. We would like to commend all of you for being on the front lines, continuing to provide exceptional care, and always doing what is best for the patient, first and foremost. This has no doubt been hard on you as well as your families Know that UCEP is here for you, continuing to advocate on your behalf. Please reach out to us if there is anything more we can do to help. 
Utah Medical Association (UMA) House of Delegates
The annual UMA House of Delegates meeting is rapidly approaching on September 11th and 12th. This is a meeting where representatives from every major specialty in the state debate and decide on resolutions that will dictate UMA's policies and agenda for the coming year. We currently have six representatives from the UCEP board slated to represent Utah emergency physicians: Jim Antinori, Mike Hart, Kathleen Lawliss, Matt Hollifield, Dave Mabey, and Alison Smith. We are granted 11 delegate positions and would love to have any interested members join to help advocate for our profession and engage in the process of advocacy and policymaking. The meeting is virtual this year, so you will be able to participate from anywhere. The board has submitted four resolutions for review by the House of Delegates this year. This is a great opportunity to get involved beyond usual clinical work in the emergency department. Please reach out to UCEP President Dr. Alison Smith (alisonsmith01@gmail.com) by August 26th if you are interested in participating. 
The four proposed resolutions submitted by UCEP are as follows: 
Health Care Quality Improvement Care Act by Peer Review Protection at the Physician Practice Level 

Optional COVID-19 Testing for Physicians

Rapid Approval of Emergency Hospital Privileges for Healthcare Workers in Systems Severely Impacted by the COVID-19 Pandemic

Utah Physician-Supported State Mask Mandate
With regard to resolution four, we would like your opinion as we decide whether to move forward with this resolution for the House of Delegates. We realize there are some varying opinions on a state-wide mask mandate. Please watch your email inbox for a brief survey on the issue and let your voice by heard.  
Multisystem Inflammatory Syndrome in Children (MIS-C)
Many school systems around the state are approaching the first day of the new school year. While local districts vary on their reopening plans, there is an expected increase in COVID-19 spread amongst school age children. MIS-C is a novel process similar to Kawasaki Disease but felt to be related to the SARS-CoV-2 virus, and is seen only in children. Keep an eye out for this as the kids go back to school and find out more information using the links below. 
The CDC issued a Health Advisory on May 14, 2020 that outlines the following case definition for MIS-C:
An individual aged <21 years presenting with fever, laboratory evidence of inflammation and evidence of clinically severe illness requiring hospitalization, with multisystem (≥2) organ involvement (cardiac, renal, respiratory, hematologic, gastrointestinal, dermatologic, or neurological); AND

No alternative plausible diagnoses; AND

Positive for current or recent SARS-CoV-2 (COVID-19) infection by RT-PCR, serology, or antigen test; or COVID-19 exposure within the 4 weeks prior to the onset of symptoms.
Concerning Labs:
CRP > 3 

ESR > 40

WBC > 15,000

Lymphopenia < 1000

Platelets < 150k

Na < 135
CDC: Multisystem Inflammatory Syndrome in Children (MIS-C) Associated with Coronavirus Disease 2019 (COVID-19)
American Academy of Pediatrics: Multisystem Inflammatory Syndrome in Children (MIS-C) Interim Guidance
ACEP National Faculty Teaching Award
Dr. Megan Fix, Assistant Program Director of the University of Utah Emergency Medicine Residency Program as well as the Faculty Director for Student Mentoring, was one of seven clinical educators chosen to receive the ACEP National Faculty Teaching Award for 2020. Having been fortunate to train under Dr. Fix, we can attest to her outstanding teaching both in the classroom and at the bedside. To receive this award, Dr. Fix was nominated by her peers and had supporting letters written on her behalf from a multitude of colleagues and residents. Throughout the COVID-19 pandemic, Dr. Fix has continued to be a stalwart educator for both students and residents developing novel teaching techniques in the era of remote learning. 
"I am inspired every day by our colleagues, our residents and our students.  I was reflecting on the pandemic, also, how it inspired us to be innovative and creative with our delivery of education - transitioning to zoom, learning breakout rooms over zoom, socially distanced sessions in HSEB 4300 for airway, etc).  For the student capstone course, we needed to move to all online so rapidly found things for them to do like the Full CODE app to simulate cases, virtual simulation over zoom, and mock pages.  I was reflecting during the early days of the pandemic with some residents that even though our volumes were low, we had amazing cases which totally inspired me, the patients who came in were sick from COVID or non-COVID reasons.  I still find medicine fascinating and have such joy in learning together with the residents." 
Congratulations to Dr. Fix on an outstanding job and well-deserved award!
Intermountain Unveils Remote Patient Monitoring (RPM) for COVID-19 Patients
With the dynamic nature of the COVID-19 virus, it is not uncommon to encounter a patient that is not sick enough to require admission, but whose potential clinical progression is cause for concern. Enter the RPM program, where patients who qualify can receive a pulse-oximeter to take home and be monitored in real time via a phone app. The app can transmit pulse-ox data in real time to a remote, 24-hour monitoring site where abnormalities can be detected quickly with a goal for early intervention with signs of deterioration.
For more information on the program, contact Dr. Sean Slack (sslack@utahep.com) and I can further direct you.  
University of Utah's Newest Fellowship Program: Emergency Medical Services
An exciting new fellowship program at the University of Utah is in its inaugural year. I had a chance to talk with EMS program director Dr. Hill Stoecklein and maiden fellow Dr. Andrew Pugh to learn more.
Dr. Stoecklein, what prompted the origination of this fellowship?
Starting the EMS fellowship made sense for a few reasons. First, we have had multiple faculty members at the U for a long time with expertise and experience in EMS at local, state, and national levels and it made sense to use this collective knowledge to train new EMS physicians. Second, there are relatively few EMS fellowships in the Western US outside of the west coast so adding this training opportunity fills a void in our part of the country.
In the past, most emergency physicians have qualified to be EMS directors. Are things changing? 
The path to obtaining board certification in EMS, while previously open to physicians with experience in EMS but no EMS-specific training and those who had completed an unaccredited fellowship and had 2 years of practical EMS experience, is now limited to physicians who have completed an ACGME-accredited fellowship. 
Can you elaborate on the training?
Prehospital medicine is unique in the breadth of conditions treated but also in its position at the intersection of traditional healthcare, public health, and public safety. Being an EMS physician with specific training in this unique setting allows someone to simultaneously oversee medical care, address local public health and social needs, conduct research, and develop and operate within larger systems of care like regional trauma and stroke systems. Focused training during an EMS fellowship allows someone to develop this skill set and put it to use immediately in our communities.
Dr. Pugh, what role will you play in responding to scene calls while on duty?
As this is the first year, it will be a bit of an evolution but I envision being an active member of the team and responding regularly to calls. My primary unit with be Salt Lake City Fire Department and with time I hope to develop an active role in on-scene resuscitation. 
Do you have a research interest for your fellowship?
My research will revolve predominantly around out of hospital cardiac arrest, specifically, paramedic shock accuracy in OOHCA. We are also interested in innovative technologies in out of hospital cardiac arrest, such as the feasibility of out of hospital TTE (transthoracic echo).
Best of luck to Drs. Stoecklein and Pugh, and congratulations on getting this program up and running. For more information, go to https://medicine.utah.edu/surgery/emergency-medicine/fellowships/ems/
Welcome New Members!
Allison Abma, DO
Jeremy K Baird, DO, FACEP
Scott W Berndt, MD
John Remington Betz
Shahrzad R Dow, DO
Jimmy Frazier
Robert W Graham, DO
Astrid Haaland, MD
Conrad T Hilton, DO
John Christopher Jacobs, Jr, MD
Jared Scott Jones, DO
Rowan Hall Kelner, MD
Raymond Kwong
Joeann K R Leong, MD
Marija Lum, MD
Cameran Mecham
Jonathan R Nichol, DO
Jared Arjun Patel, DO
Jacob R Porter, DO
Jordan Rode, MD
Ryan Schumacher, DO
Christopher E Sciarretta
Dean Tanner, MD
Kelseys Tolbert
Benjamin Joseph Verseman, MD
Caroline Vines, MD

Stay current with the COVID-19 Center. It's your one-stop-shop for clinical and legislative updates. Quick Links: Physician Wellness Hub | COVID-19 Field Guide
Get PPE through Project N95
With member concerns about the quality of N95 masks on the open market, ACEP has joined with Project N95 to offer PPE to you at volume prices. This exclusive benefit for ACEP members is available only through August 26. Registration opens at 4 p.m. ET today Wednesday, August 19 and is only available to members in the 50 states of the US, DC and Puerto Rico. 
ACEP & EMRA Launch Diversity Mentoring Initiative on August 15
This collaboration between the ACEP Diversity, Inclusion and Health Equity Section (DIHE) and EMRA's Diversity & Inclusion Committee that supports leadership and career development for diverse medical students, residents, fellows, academic attendings and community emergency physicians in the EM community. The first 200 mentees have been matched with 100 mentors from across the EM community. If you're interested in being part of the next cohort, slots will open up in six months. Follow #mentorsofEM and #menteesofEM on Twitter to keep tabs on the program's progress, and learn more at mentor.acep.org. 
New Policy Statements and Information Papers
During their June 2020 meeting, the ACEP Board of Directors approved the following new policy statements and information/resource papers. For a full list of the College's current policy statements, consult the ACEP Policy Compendium. 
New Policy Statements: 
Expert Witness Cross-Specialty Testimony for Standard of Care
Leadership and Volunteers Conduct Policy
Revised Policy Statements: 
2020 Compendium of ACEP Policy Statements on Ethical Issues (page two of the Code of Ethics)
Guidelines Regarding the Role of Physician Assistants and Nurse Practitioners in the Emergency Department
Role of the Emergency Physician in Injury Prevention and Control for Adult and Pediatric Patients
New Information/Resource Papers (Smart Phrases)
Antitussive Medications for Children
Coronavirus Concern — Confirmed or Suspected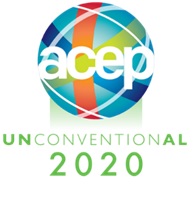 ACEP20 is a CME Jackpot + Announcing Special Guest: Dr. Anthony Fauci! 
ACEP20 will include more than 250 hours of CME education, but here's the best part: Attendees get access to this education and CME for THREE YEARS after the event! All of the live events will be debuting during the original dates: Oct. 26-29. We are happy to announce our first special guest at ACEP20 – Dr. Anthony Fauci, NIAID Director. We'll be unveiling other celebrity keynote speakers throughout August, so follow ACEP's social media channels for those exciting announcements. Click here for more information and to register.  
Upcoming Webinar: The Long and Winding Road of an Epidemic: Prescription Opioids, Heroin, and Beyond
Join us on August 31, 2020 from 1pm - 2pm CT for the first installment in a 6-part free webinar series on opioid use disorder, federal and state regulations/regulatory considerations and state initiatives. Click here to register.
Moderator and Panelists:
Chadd K Kraus, DO, DrPH, MPH, FACEP, Director, Emergency Medicine Research Core Faculty, Geisinger Medical Center, EM Residency Associate Professor of Medicine, Geisinger Commonwealth School of Medicine

Harry Monroe, Director, Chapter and State Relations, ACEP

Jeffrey Davis, Regulatory Affairs Director, ACEP
The webinar will be recorded and link to recording will be made available to all registrants. For more information, please email Mari Houlihan at mhoulihan@acep.org.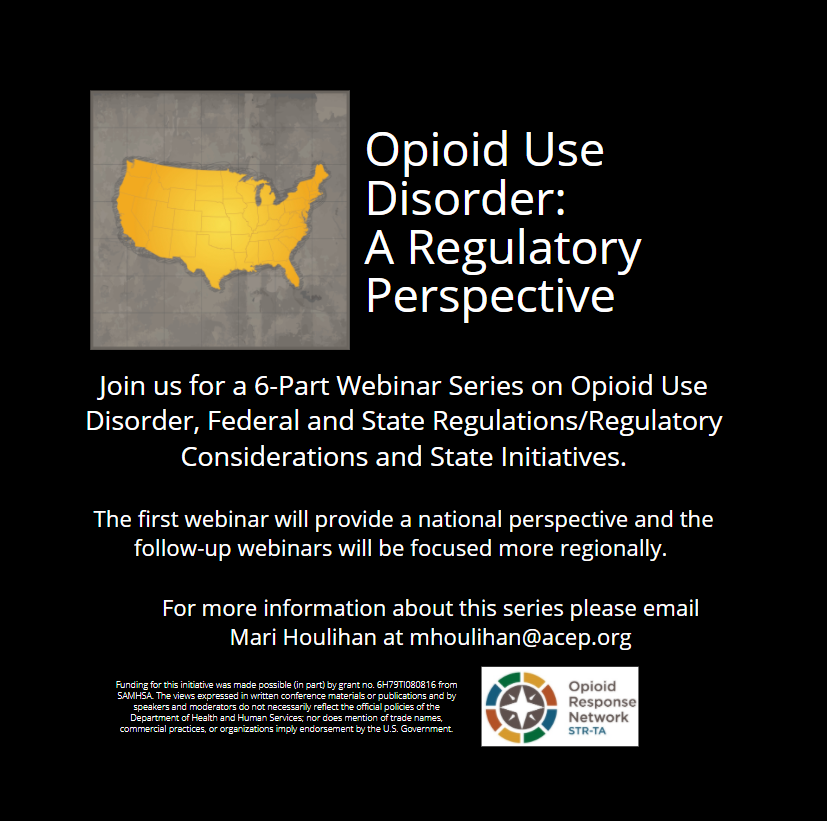 Regulatory Updates
Check out our Regs & Eggs blog for the latest regulatory updates. 
2021 Physician Fee Schedule Proposed Rule: What You Need To Know
ACEP recently published a new comprehensive summary of the 2021 Physician Fee Schedule Proposed Rule and its potential effect on emergency medicine. Last week, we sent a letter expressing our concerns with the proposed cuts and calling on Congress to waive budget neutrality requirements to avert the cuts that pose a significant threat to EM physicians and the health care safety net. Voice your concerns by joining the thousands of ACEP members who have urged their legislators waive the budget neutrality requirement for calendar years 2021 and 2022 by signing on to a bipartisan "Dear Colleague" letter. 
HHS Reopens Application Process for Provider Relief Funding
Most EM groups were eligible to receive funding from the Medicare General Distribution. If you missed the original June 3 deadline, you may be eligible to apply now. Note: If you already received funding from the "General Distribution" and kept it, you cannot apply for additional funding. The cap in funding is still 2% of your annual patient revenues.
CMS Delays AUC Program to 2022
CMS recently announced that it would delay the full implementation of the Appropriate Use Criteria (AUC) program until at least the start of calendar year (CY) 2022. ACEP has long advocated for emergency physicians to be exempted from this program. Learn more about the AUC program.
As of Aug. 1, all laboratories must report certain data elements for all COVID-19 tests (including patient demographic data). The responsibility of collecting this information may fall on emergency physicians. 
What President Trump's Executive Order on Rural Health and Telehealth Means for EM
On August 3, President Trump issued an executive order (EO) that calls on the Department of Health and Human Services (HHS) to develop new payment models aimed at transforming how clinicians practicing in rural areas are reimbursed under Medicare. Further, the President states in the EO that he believes that many of the telehealth flexibilities available during the COVID-19 public health emergency (PHE) should be made permanent and asks HHS to issue a reg that would examine which services should continue to be provided to patients via telehealth after the PHE ends. On the same day the EO was issued, the (CY) 2021 Physician Fee Schedule (PFS) and Quality Payment Program (QPP) proposed reg was released, which includes a robust set of proposed telehealth policies. Last week's regulatory blog digs in to the telehealth proposals and what they could mean for emergency physicians.
Related News: New Analysis Reveals Worsening Shortage of Emergency Physicians in Rural Areas
Urge Congress: Please Support Mental Health Resources and Protections for COVID-19 Health Care Providers
ACEP applauds last week's introduction of the Lorna Breen Health Care Provider Protection Act in the Senate. We worked closely with the legislators on the development of this bill and encourage ACEP members to contact their legislators to ask for their support. Read our latest Member Alert for information about this legislation and the other bills ACEP is supporting that advocate for the wellbeing of frontline health care workers.
Marking Physician Suicide Awareness Day
Physician Suicide Awareness Day is coming up on Sept. 17. ACEP will be providing updates on the Dr. Lorna Breen Health Care Provider Protection Act and additional tools and resources to mark this solemn occasion. As we advocate against barriers that prevent EM physicians from seeking mental health care, ACEP encourages members to visit the Wellness Hub at acep.org/wellness-hub for multiple pathways to help you find the support you need during this challenging season for our profession.
The Innovation in Suicide Prevention Award recognizes promising and innovative acute care activities in the area of suicide prevention that improve patient outcomes and improve lives of patients and/or providers. Nominations are due Sept. 1.  
NEMPAC Charity Match
For a limited time, your NEMPAC contribution of $100 or more will be matched 10 cents on the dollar by ACEP to a charitable cause that provides resources to the COVID-19 front lines. The more you give, the more we give back! You can choose from one of three charities after making your contribution online: EMF COVID-19 Research Fund, GetUsPPE.org or the American Foundation for Suicide Prevention. Click here to join your fellow ACEP members today to support meaningful political and charitable involvement.
Be Accredited to Provide Pain & Addiction Care in the ED
Show your community that your ED is part of the solution. ACEP is now accepting applications for the Pain & Addiction Care in the ED (PACED) Accreditation Program, developed for EM physicians by EM physicians. 
PACED, the nation's only specialty-specific accreditation program, will provide the education, tools & resources you need to provide better care for patients in pain & those with substance misuse. 
Elevate the quality of patient care with innovative treatments, alternative modalities, and impactful risk reduction strategies in a collaborative team setting, resulting in positive outcomes for your patients, families, providers, and communities. Learn more at www.acep.org/PACED or contact us at paced@acep.org
Utah Chapter ACEP
310 E 4500 South #500
Salt Lake City, UT 84107
© 2021 Utah Chapter ACEP. All rights reserved.