A Newsletter for the Members of the Utah Chapter - Spring 2020

Alison Smith, MD, MPH
President
Paige DeMille
Executive Secretary
801.747.3500 | Website
President's Update
Alison Smith, MD, MPH
Fellow Utah Physicians: 
First and foremost, I hope you and your families are healthy and well. Spring has arrived in full force and we are starting to see glimpses of pre-COVID life again as restrictions slowly ease and we cautiously start to re-open the state. As you likely know, Utah has moved from its current Orange Level (Moderate Health Risks) to the Yellow Level (Low Health Risks) as of Thursday, May 21st with the exception of Salt Lake City, Magna, and West Valley City. The areas that remain in the Orange level will be re-evaluated daily to see if COVID transmission continues to trend downward.
From the Utah Medical Association's MediByte email update on May 15th: 
Even with the change in risk level for COVID-19, several guidelines stay the same:
K-12 Schools will remain closed through the end of this school year.

Individuals in high-risk categories, including older adults and those who are immunocompromised, and those who care for them, need to continue to follow "high risk" protocols.

Utahns are still encouraged to practice excellent hygiene, social distance, use masks in public where social distancing is not possible. The state still encourages telework where possible.
But some restrictions are eased under the lower risk level: 
Although schools will remain closed, opportunities for driver education will be returning.

The guidance to "leave home infrequently" disappears.

The size limit for private social interactions will raise from 20 to 50 people.

Team sports will be allowed with symptom checking and spectators socially distanced.

There is some relaxation of guidelines at swimming pools.
Visit the state's coronavirus website for more information about the specific recommendations for Moderate and Low health risk designations.
ACEP EngagED Utah Community Forum
Looking for a place to share dialogue and experience with your fellow Utah emergency physicians? ACEP's EngagED website has a community site specifically for Utah that is password-protected and allows you to post or respond to questions, ideas, concerns, documents, videos, and other COVID or non-COVID related items. You can find this resource at this link and set your preferences and alerts. 
Utah Physicians Share Their Experience Working in New York
Three upstanding Utah emergency physicians—Brian Galovic, Eric Shenfeld, and Cabe Clark—recently shared their experience of volunteering to work in New York to help embattled health care workers in the hardest hit area of the country during a live stream University of Utah EM Residency conference. The session was recorded and with their permission, we have posted a link to the video on the EngagED Utah Chapter ACEP community forum. 
Virtual Legislative and Advocacy Day on Capitol Hill
Each spring, ACEP holds a Legislative and Advocacy Conference (LAC) in Washington, DC. At this conference, hundreds of emergency physicians from around the nation, including a delegation from Utah, participate in educational advocacy and leadership seminars and forums for two days and then go to Capitol Hill for a day to inform our legislators about issues affecting emergency medicine and patient care. Due to COVID, this year's LAC could not be in person, but instead was held virtually. Drs. David Mabey, Forrest Wells, Jordan Mabey, Sean Slack, and I had four 30-minute calls with Senator Mike Lee and legislative aides for Rep. John Curtis, Rep. Chris Stewart, and Senator Mitt Romney regarding four timely emergency medicine topics. Read More
UMA Letter to DOH and the Media Regarding Emergency Care
ED and inpatient volumes around the country plunged during the COVID pandemic, as patients were fearful of being exposed to the virus by coming to hospitals for medical care. Great concern exists that patients who need medical services continue to delay or avoid care, causing increased long-term mortality and morbidity. On behalf of its multi-specialty membership, including Utah emergency physicians, UMA sent a letter to the Utah Department of Health and the media in late April emphasizing that those experiencing emergencies should not let fear of contracting COVID cause them to delay seeking care, particularly if having symptoms including the following:
• Chest pain • Loss of consciousness or change in mental status (confusion, unusual behavior) • Difficulty breathing • Severe head pain or injury – including loss of vision • Uncontrolled bleeding • Severe burns • Feeling suicidal or homicidal • Sudden, severe, or extreme pain – particularly if the cause is unknown • Suspected poisoning or drug overdose • Severe abdominal pain or pressure • Severe or persistent vomiting • Injury from serious motor vehicle accident, burns, deep large wounds or other serious injuries
The letter further stated that individuals should also not delay seeking care for serious health conditions, such as chronic conditions including diabetes, lung or heart disease, chronic kidney disease, mental health disorders and many others. View the complete letter here. 
Thank you for your dedication, commitment, and passion. Please let me know if UCEP can help you or your practice in any way; we exist to serve and to advocate for you and our patients. 
Sincerely, 
Alison Smith, MD, MPH
UCEP President
Welcome New Members!
Matthew Ashton, MD
Amanda Barrett
Jennifer A Cotton, MD
Kenneth Deitch, DO, FACEP
Zachary Fica
John M Hendrick, MD
Conrad T Hilton, DO
Michael Larochelle, MD
Skylar M Larsen
Chad Wendall LeBlanc, DO, FACEP
Joeann K R Leong, MD
Thomas C Macfarlane, MD
Benjamin Moody
Mary Casey Murphy, MD
Patrick M Ockerse, MD
Cameron A Symonds
Rachel Elizabeth Tsolinas
Julius Ulugia
Michael Woodruff, MD
FROM NATIONAL ACEP


New COVID-19 Website, Plus Updates to COVID-19 Field Guide
Featuring more than 400 resources, our revamped COVID-19 website will help you find what you need, when you need it. Our most popular resource, the ACEP Field Guide for Managing COVID-19 in the ED, has grown to more than 230 pages and been translated to 5 additional languages. The following sections are newly updated: decontamination/cleaning, HCW checklist, HFNO, treatment and management.
Public Poll: Emergency Care Concerns Amidst COVID-19
There is a worrisome trend across ERs of people who are avoiding getting the medical care they need. While it's important to stay home and follow social distancing guidelines, it's critical to always know when to go to the emergency department. Read more. 
National EMS Week is here!
We are proud to partner with NAEMT to feature National EMS Week (May 17-23) as an initiative to create significantly greater visibility of EMS among health professions and communities. ACEP thanks the generous organizations supporting this year's initiatives. 
COVID-19 and Pediatrics Webinar on June 1
Panelists include Marianne Gausche-Hill, MD, FACEP, Tress Goodwin, MD, Joshua Rocker, MD, and Mohsen Saidinejad, MD, MBA, FACEP. 
11 a.m. CT on June 1 - Register Here.
TJC Statement, COVID 4.0 Package and More in this Week's Capital Minute
Tune into the reimagined ACEP Capital (30) Minutes every other Thursday at 3 p.m. ET to get federal advocacy updates and answers to your questions in real-time. In the latest edition, we're covering the most recent regulatory changes and funding updates, The Joint Commission statement on mental health that came out earlier this week and what you need to know about the COVID 4.0 package. Watch this week's ACEP Capital Minute here and register for the next edition here. 
Medicare Telehealth Flexibilities…Are They Here to Stay?
We are seeing an expansion of telehealth that we have never seen before, and it is hard to imagine ever going back to where we were before. However, for us to keep up the momentum and not return to the pre-pandemic telehealth world, a few things need to happen---read this week's Regs & Eggs blog to find out what.
COVID-19 Financial Survival Guide: What You Need to Know
ACEP is standing up for our members who, despite serving on the frontlines of the COVID-19 pandemic, are having their livelihoods threatened. Cutting benefits, reducing shifts or canceling contracts in today's environment is akin to signing a 'Do Not Resuscitate' order for many emergency departments and the physicians who care for patients, especially those in rural or underserved areas. Access the guide.
TJC Statement Supports Removing Barriers to Mental Health Care for Clinicians and Health Care Staff
ACEP recently met with The Joint Commission to discuss physicians being penalized by state licensing boards and other entities for seeking mental health support. On May 12, TJC released a statement that supports "the removal of any barriers that inhibit clinicians and health care staff from accessing mental health care services, including eliminating policies that reinforce stigma and fear about the professional consequences of seeking mental health treatment." View more wellness and crisis support resources. 
Upcoming Virtual Grand Rounds Focused on Physician Wellness
Join us May 27 for our Virtual Grand Rounds! From 10 a.m. – 2:45 p.m. CT, we'll cover physician wellness, second victim syndrome in COVID times, emergency mindfulness, overcoming self-judgment with self-compassion, and how to support your team during times of crisis. Register by 8 a.m. CT on May 27. 
Related Resources: 
Physician Crisis Support: ACEP collaborated with the American Association of Emergency Psychiatry on a webinar and podcast related to physician wellness and mental health during COVID-19.

ACEP Member Benefit: Free Counseling and Support
Did You See This Broadway Tribute to Emergency Medicine?
ACEP and ENA were asked to join the "Resilient Project," featuring more than 60 Broadway theatre artists to virtually perform "Resilient" as a thank you to emergency healthcare professionals worldwide. Watch for cameos from several EM physicians and nurses in the video, which also aims to raise money for COVID-19 research through EMF.
Member Benefits: COVID-19 No Cost, Discount & Other Offers
You are risking your lives to care for patients from this unprecedented pandemic, and we all appreciate the additional stress on you and your families. We want to help. And, so do a lot of companies out there. So, thanks to you and thanks to the companies willing to support our healthcare heroes. View the benefits.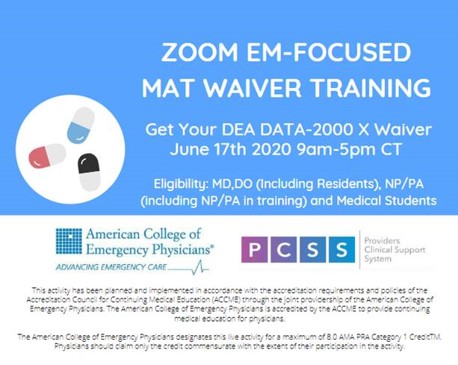 Opioid Updates
COVID-19 Special Edition of Critical Decisions in EM
Our newest CDEM features lifesaving lessons focused on the ED evaluation and management of COVID-19, including timely information on risk factors, common examination findings, valuable diagnostic tests, and the safe use of pharmacological treatments. The issue also takes a deep dive into PPE, the provision of respiratory support, and what interventions should be avoided when managing these vulnerable patients. Learn more. 
EM Research during a Pandemic + Call for Research Forum Abstracts
Our latest podcast discusses conducting EM research during a pandemic. 

Submit your abstracts to ACEP's Research Forum 2020 by June 11. Abstracts will be peer reviewed for presentation at the 2020 Research Forum during ACEP's Scientific Assembly. See abstract requirements.
Be Accredited to Provide Pain & Addiction Care in the ED
Show your community that your ED is part of the solution. ACEP is now accepting applications for the Pain & Addiction Care in the ED (PACED) Accreditation Program, developed for EM physicians by EM physicians. 
PACED, the nation's only specialty-specific accreditation program, will provide the education, tools & resources you need to provide better care for patients in pain & those with substance misuse. 
Elevate the quality of patient care with innovative treatments, alternative modalities, and impactful risk reduction strategies in a collaborative team setting, resulting in positive outcomes for your patients, families, providers, and communities. Learn more at www.acep.org/PACED or contact us at paced@acep.org. 
Utah Chapter ACEP
310 E 4500 South #500
Salt Lake City, UT 84107
© 2021 Utah Chapter ACEP. All rights reserved.