A Newsletter for the Members of the New Mexico Chapter - Fall 2019 


Tatsuya Norii, MD, FACEP
President
Sylvia Lyon
Executive Director
505.821.4583 | Website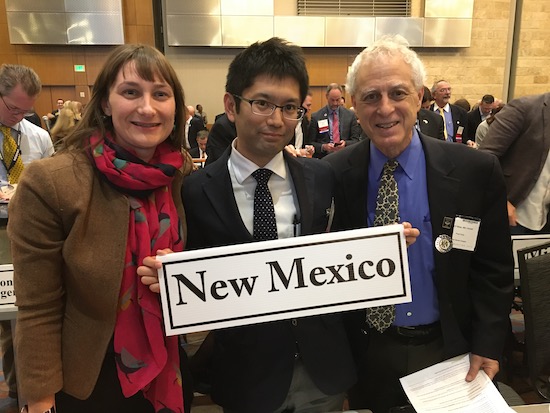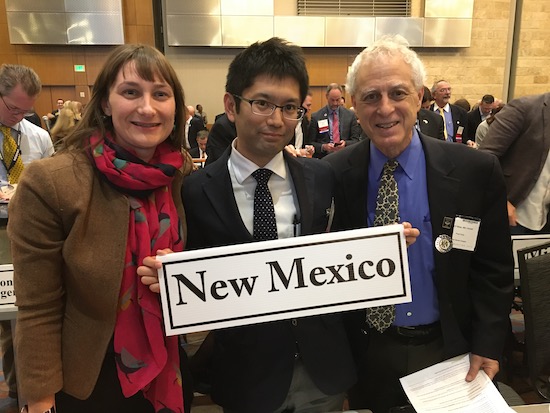 President's Message
Tatsuya Norii, MD, FACEP
Hello New Mexico ACEP members,
The annual ACEP Scientific Assembly and Council meeting were held in Denver in the last week of October. Denver was freezing cold with lots of snow. We sent two councilors, Dr. Eric Ketcham (Presbyterian) and myself, and one alternate councilor, Dr. Margaret Greenwood-Ericksen (University of New Mexico) to the Council.
The NM ACEP chapter co-sponsored two resolutions: 1. Establish a Rural Emergency Care Advisory Board and 2. Allow Emergency Physicians to Prescribe Buprenorphine. The first resolution aims to work with state leadership and already established chapters with rural sections to provide a mechanism for providers in rural settings to expresses concerns, support, and feedback on how legislation will affect their communities. Nearly half of emergency departments are located in rural settings. We believe that establishing a mechanism for rural providers to represent their populations will have a positive impact on their communities. You know the issues around prescribing buprenorphine quite well, so I am not discussing the rationale for the second resolution here. I will simply say, we believe removing the waiver ("X-waiver") requirement for buprenorphine is a good thing for emergency providers and our communities. 
We gave testimony to support our resolutions at the reference committees and, fortunately, both were adopted. In addition, we discussed over 50 resolutions at the meeting. If you are interested in reading those resolutions, you can find them n the Council page of the ACEP website. 
At the local level, Dr. Margaret Greenwood-Ericksen was elected as the president-elect at our last quarterly meeting. Her term as president will start in April 2020. As a part of next generation leadership development in NM, we supported Mr. Andrew Bivin's trip, one of the medical students at UNM, to ACEP in Denver. He attended multiple leadership meetings and met national ACEP leaders. He wrote an essay about his experience in this newsletter, so please check it out!
As I promised earlier this year, we used teleconference technology at the last quarterly meeting on September 26th. Our next quarterly meeting and annual meeting will be held on January 15th and May 2nd respectively, and we will continue using teleconference technology for members. I hope I will see many of you at NM ACEP meetings in 2020.
New Mexico Surprise Billing Update
Sylvia Lyon, Executive Director, New Mexico ACEP
At the most recent quarterly meeting of the ACEP membership, it was noted that SB 337, the Surprise Billing act, will go into effect on January 1, 2020. The membership voiced concern that no one has received any rules or regs regarding the bill and asked me to reach out to the New Mexico Office of the Superintendent of Insurance to see when they would be published. I was able to contact Paige Duhamel, Healthcare Policy Manager for OSI, and she stated they don't plan on issuing separate regulations to deal with the Surprise Billing legislation. However, they have issued a bulletin naming the database from which the surprise billing reimbursement rate will be derived. If your accountant or CPA would like further clarification, I suggest you contact Paige at the OSI office directly at 505-660-7108. In case you are interested in the language in the final bill here is the link to the PDF.
ACEP19 Through the Eyes of a Medical Student
Andrew Bivin
My name is Andrew Bivin, and I am a medical student at the University of New Mexico. In about six months, I will be a resident emergency physician. I have worked with New Mexico ACEP since I started medical school in 2015, and it has been a privilege. I get so much out of it: I get to learn about the issues facing my specialty, learn how to bring about change, and see the power of advocacy in action. 
I was recently invited to attend the ACEP Council meeting and Scientific Assembly in Denver alongside Dr. Ketcham, Dr. Norii, and Dr. Greenwood-Ericksen. This was an incredible opportunity for me to learn about the issues that emergency physicians face on a national level - issues that I will face very soon. I learned about parliamentary procedure and how such a large endeavor is organized. I saw hundreds of emergency physicians motivated to bring about change, and I saw change enacted right in front of me. For example, I witnessed physicians advocate for and against adding naloxone to the prescription monitoring program and for removal of the X-waiver. Just prior to traveling to this meeting, I watched the AMA eliminate the Standardized Video Interview at the behest of Emergency Medicine's leadership. 
I want to say thank you to absolutely everyone who is involved in New Mexico ACEP. I appreciate your support, your mentorship, and your teaching. I will take what I have learned from you all as I continue my training and begin my career. I have no idea where I will go, but I promise I will continue to be as motivated as you are to improve my practice and advocate for my patients.
It has been an honor to meet you all, to see what you do, and to learn from you. You have all been amazing role models, and I hope to pay it forward one day soon.
Welcome New Members! 
Carrie Aletta Bakunas, MD
Neil Bobenhouse
Jared Borrego
Sarah Karee Brown
Addie Bugas, MD
David A Cheever
Gregory Davis, MD
J Michael Disney, Jr, MD
Kathryn L Egly, MD, FACEP
Cameron E Jernigan
Eli Edward Johnson
Noah Jordahl, MD
Makenzie A Kamm, DO
Damek S Maurice, DO
Benjamin Monge
Long Nguyen, MD
Adriana Padilla
Joseph Pagador
Priyanka Ravindran
Elin Ritchie, MD
Joseph Donald Sheets, III, MD
Ellen Stein, MD
Benjamin Veloor Thomas
Monisha  Veerapaneni
Tewodros T Wodajo
FROM NATIONAL ACEP


Take Action to Prevent Reimbursement Cut
Your Medicare reimbursements will be cut unless Congress acts before the end of the year. Help us urge Congress to take action to improve MACRA and to stop the upcoming cuts to ensure Medicare patients continue to have access to high quality emergency care. Click here to learn more and send a message to Congress today.
CMS Releases Final 2020 Medicare Physician Fee Schedule
Recently, CMS released its final 2020 Medicare Physician Fee Schedule (PFS) rule that includes changes that will affect Medicare physician payments and MIPS starting Jan. 1. The Regs & Eggs blog breaks down the final rule, emphasizing policies that apply to EM.
New Surprise Billing Toolkit Helps You Advocate Against a Rushed Solution
ACEP believes patients need a real cure for surprise billing, not a hurried, band-aid solution. Please contact your legislators to urge them to be thoughtful about passing the best solution rather than rushing something through. Our member advocacy toolkit has been updated.
Do You Give-A-Shift?
The number one issue facing emergency medicine in Congress today is surprise medical billing. ACEP is working hard to make sure that your voice is heard in this debate and that Congress finds the right solution that takes patients out of the middle and levels the playing field between physicians and insurers. In this critical time in emergency medicine, political action is more important than ever. You can make a difference on this issue by joining the fight with NEMPAC. Help ACEP fix surprise billing the right way by supporting NEMPAC today.
New Member Benefit for Physician Wellness & Assistance
The ACEP Wellness & Assistance Program was rolled out during ACEP19. It offers ACEP members exclusive access to 3 FREE confidential counseling or wellness sessions. Support is available 24/7, and sessions can be face-to-face, over the phone, or via text and online messaging. Includes 30-minute consultations for individual legal/financial matters. Learn more.
ACEP Introduces Citizen First Responder Program
ACEP's new first responder training program, Until Help Arrives, was officially unveiled during ACEP19 in Denver with a series of events to highlight how emergency physicians can positively impact their communities by conducting training sessions to teach the public basic life-saving skills. Read more.
New Resources to Help Small Groups
ACEP has developed new resources specifically to benefit small groups. A new Small Group Advisory Group is a team of seasoned small group members who have volunteered to support the small group practice model by sharing their expertise with other small group members who are looking for guidance or wanting to tap into the experience of others as they face various challenges unique to small groups. If your small group is dealing with an issue that you'd like to ask the advisory group about, just send us an email at smallgroups@acep.org. ACEP has also developed an online community for small group members to share ideas and discuss issues. To joint that group and see the other small group resources available, go to www.acep.org/smallgroups
ACEP and ENA Team Up to Tackle Violence in the ED
ACEP and ENA have joined forces to combat violence in the emergency department through a new campaign entitled "No Silence on ED Violence."  The campaign is aimed at raising public awareness of the frequency and severity of assaults against emergency physicians and nurses, and to advocate for action by stakeholders and policymakers to meaningfully address this crisis. Learn more about the campaign and help us demonstrate how widespread this problem is by sharing your story at www.stopEDviolence.org. 
ACEP-Supported Bill to Prevent ED Violence Passes House
ACEP applauds the House passage of the bipartisan, "Workplace Violence Prevention for Health Care and Social Service Workers Act," sponsored by Rep. Joe Courtney (D-CT), which requires certain health care employers to implement plans to prevent violence against health care workers. "The epidemic of violence in our nation's emergency departments is unacceptable," said ACEP President Dr. Bill Jaquis. "ACEP appreciates Representative Courtney's unwavering leadership on this critical issue." 
Nominate an Outstanding Medical Student
The ACEP/EMRA National Outstanding Medical Student Award recognizes 4th-year EM-bound medical students who excel in professionalism, leadership, service, research and academic excellence. Nominate a deserving student by Jan. 1.
New online course on opioid use disorder is approved by ABEM for "Part IV"—and it's free
You already know that opioid-related deaths have risen to epidemic proportions. And that your emergency department is the only point of access many at-risk patients have to lifesaving interventions. A new ACEP course—free, thanks to a SAMHSA grant—can teach you how to provide better care, make an immediate impact, save lives, and satisfy your ABEM PI requirement. Learn more about the ABEM-approved pathway and the optional education module now. Approved for AMA PRA Category 1 CreditsTM
ACEP seeks task force members for a new Point of Care App: emPOC 
Now is your chance to get involved!  
Working with no network? Are you offline? This FREE, native app with helpful bedside tools can be accessed even with the absence of an internet connection. emPOC is available exclusively to ACEP Members as a benefit to membership. All tools can be accessed on our website. If you are interested in helping steer the direction of emPOC and giving expert advice on how ACEP's new and exciting app can be an even greater asset to our membership, please email Riane Gay at rgay@acep.org to receive more information on how you can get involved.
EMF Announces 2020/2021 Grant Opportunities
The Emergency Medicine Foundation (EMF) has announced its 2020/2021 research grant opportunities. Review the request for proposals and apply for funding by the February 7, 2020 deadline. Four new directed research grants are available on Nasal High Flow Therapy for Respiratory Compromised Patients in the ED, Reducing Burnout through ED Design, Better Prescribing Better Treatment Program, and Diagnostics Research, in addition to EMF partnered grants. 
Psych Coalition to Host Behavioral Emergencies Workshops
The Coalition on Psychiatric Emergencies is hosting an interactive pre-conference workshop Dec. 11 in Scottsdale, AZ in advance of the National Update on Behavioral Emergencies. The early bird rate ($179) expires Dec. 1.
Geriatric Emergency Department Accreditation: Delivering Geriatric Care Standardization
Older adults account for 46 percent of all emergency department visits resulting in hospitalization. Approximately one out of every 10 hospital admissions are potentially avoidable, and the majority (60 percent) of those admissions are for patients 65 and older. Read More about GEDA in the latest SAEM Pulse issue.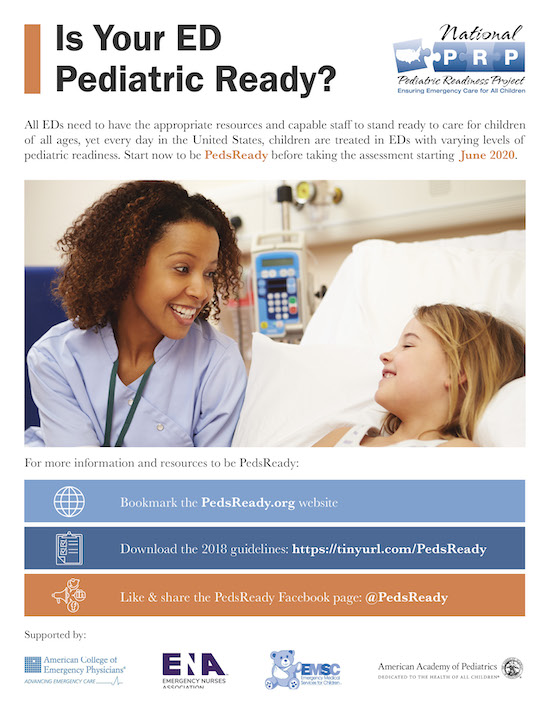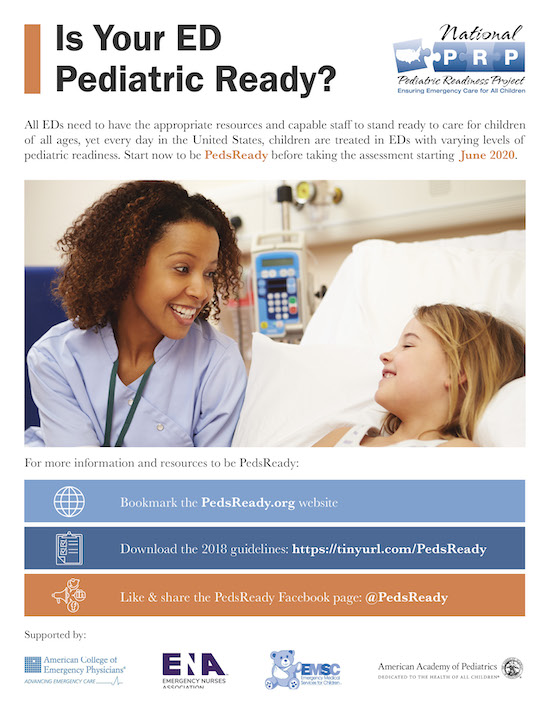 New Mexico Chapter ACEP
c/o Greater Albuquerque Medical Association
7770 Jefferson NE, #420
Albuquerque, NM 87109
© 2021 New Mexico Chapter ACEP. All rights reserved.