A Newsletter for the Members of the Alabama Chapter - Spring 2019 

Michael Bindon, MD, FACEP
President
Denise Louthain
Executive Director
877-225-2237 | Website
President's Message
Michael Bindon MD, FACEP
As the weather is warming, that can only mean that our newly rebranded EMerald Coast Conference is right around the corner. We are so excited to see everyone from June 3rd to June 6th in Sandestin. If you have not had a chance yet, go ahead and head to www.emeraldcoast2019.com and don't forget to use the group code to get you discount on booking your rooms.
Dr. Sorrentino and her crew have put together another phenomenal conference with a great group of lectures as well as the annual Dr. Sam Heard Memorial Golf Tournament and a wine tasting with student/resident poster presentations.  While the conference is always full of great didactics and CME, it is also a great opportunity for us to come together and share our stories. It is always great to reconnect with old colleagues while also getting the opportunity to meet new ones. Together we are all stronger, and I love hearing how my colleagues have solved issues in their department that I can bring back to mine. Our chapter's mission is to be the voice of EM in our state as well as responding to the practice needs of our members through education, information, and advocacy. While our annual conference is the most visible fulfillment of the education portion of our mission, ALACEP has been busy in other areas as well throughout the year. Here are some of the highlights: 
Invested in the future of EM in Alabama by providing scholarships to two residents to attend ACEP's Leadership and Advocacy Conference
Guided MASA discussion regarding a proposed Baker Act of Alabama
Provided ongoing support to efforts to bring an Emergency Department Information Exchange to the state
Supported MASA's continued efforts to limit the scope of practice expansion being pursued by midlevels
Established a committee to take the lead on opioid prescribing data collections
The best way for us to accomplish our mission is through having lots of active member involvement. The ALACEP general membership meeting on Sunday June 2nd at 4:00P in the conference center is an excellent opportunity to get involved or to bring up issues that are important to you. As always, thank you for allowing us to serve you, and thank you for everything you do for our state each day as Emergency Medicine physicians!
Ultrasound Use in Diagnosis of Ectopic Pregnancy
David Pigott, MD, RDMS, FACEP
Co-Director Emergency Ultrasound, UAB
This 31F patient presented to the UAB Emergency Department with 4 hours of worsening lower abdominal pain in the setting of early pregnancy. She was 7 weeks pregnant by dates. Per EMS, she was tachycardic to the 120s and on arrival was hypotensive, with SBP in the 70s, and diaphoretic. READ MORE
Purple Lips: A Case of Acne Treatment Gone Awry
Brown, J MD; Smith A MD; Arnold J MD, Rushton W MD
Department of Emergency Medicine, UAB School of Medicine
A 25-year-old female presented to the emergency department complaining of shortness of breath for 24 hours. Her dermatologist had prescribed Dapsone three times a day for dermatitis herpetiformis 36 hours ago. She reported ingesting three doses and subsequently became short of breath at rest and with exertion. Her presentation was notable for "purple lips," palpitations, headache, and presyncope. READ MORE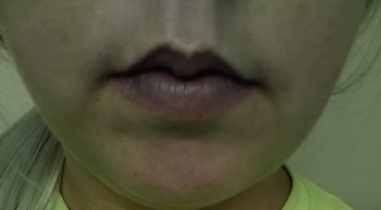 Case: Oh No! Another Rash
Linda B Thompson, MD, FACEP, FAAEM
Department of Emergency Medicine, UAB School of Medicine
A 52-year-old Caucasian male who works as a construction worker presented to an Alabama emergency department (ED) with myalgias, fevers, rash, headache and neck stiffness that began four days prior. Two days into the illness, he noticed a necrotic lesion on his right flank which prompted him to visit his primary care doctor. He was given a steroid injection and discharged with a Medrol dose pack. For several hours after the steroid shot he felt improved. However, he presented to the ED when the underlying mild headache become more intense, the necrotic lesion became more painful, and a diffuse maculopapular erythematous rash developed. READ MORE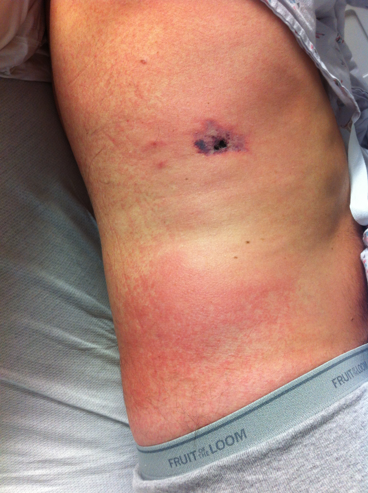 FROM NATIONAL ACEP

States Find Tool for Quick Legislative Response
Harry J. Monroe, Jr. Director, ACEP State and Chapter Relations 
Those of us that work on state legislation often struggle with the pace of activity, particularly as deadlines approach for bills to get out of committee or as the end of the session nears. When ACEP rolled out engagED as a new social media platform for member communication and collaboration, I am not sure that it was really thought of as a new tool for advocacy efforts, but its value has been shown by at least a couple of chapters. READ MORE
New Policy Statements, PREP and Information Paper
During their April 2019 meeting, the ACEP Board of Directors approved the following new or revised policy statements/PREP/information paper:
New Policy Statements: 
Salary and Benefits Considerations for Emergency Medical Services Professionals
Small Motorized Recreational Vehicles
Violence Prevention and Intervention in Emergency Medical Services Systems 
Revised Policy Statements:
Revised Policy Resource and Education Papers (PREPs): 
Resource Utilization in the Emergency Department: The Duty of Stewardship  
New Information Paper: 
Articles of Interest in Annals of Emergency Medicine - Spring 2019
Sam Shahid, MBBS, MPHPractice Management Manager, ACEP
ACEP would like to provide you with very brief synopses of the latest articles and articles coming soon to Annals of Emergency Medicine. Some of these have not appeared in print. These synopses are not meant to be thorough analyses of the articles, simply brief introductions. Before incorporating into your practice, you should read the entire articles and interpret them for your specific patient population. View synopses here.
Point of Care Tools
ACEP's point-of-care tools are transforming care at the bedside. We've recruited the field's top experts and thought-leaders to develop tools our members can trust and deploy in the clinical setting. The evidence-based, clinical content provided in these tools ensures that you are providing the best possible care to the patients in your emergency department. Tools can be found on topics:
 AFIB – Management of Atrial Fibrillation
ADEPT – Confusion and Agitation in the Elderly 
BUPE – Use of Buprenorphine in the ED 
DART – Recognition and Treatment of Sepsis
ICAR2E – Identification of Suicidal patients
And more..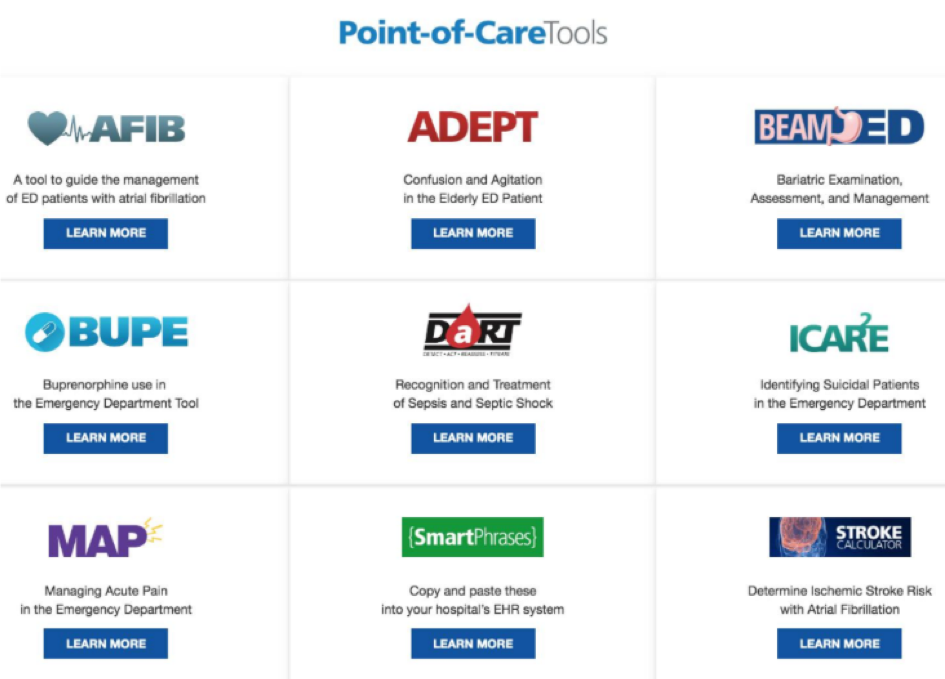 Registration open for the ACEP/CORD Resident's Teaching Fellowship
Do you have a resident aspiring to an academic career? Want to give them the jump start they need?  Spots still open for the ACEP/CORD Residents Teaching Fellowship this fall (Aug. 6-8 2019) – sign up soon as these seats go fast! Register here. 

Registration Open for the EMBRS Course
Emergency Medicine Basic Research Skills (EMBRS) is a 9-day, 2-session program where participants learn how to identify clinical research opportunities and become familiar with clinical research and outcomes. Participants are also eligible to receive an EMF/EMBRS grant based on their research grant application. Click here to learn more or email ACEP's Academic Affairs to register.  The next course will take place Dec. 2-7th, 2019 (session 1) and April 14-16, 2020 (session 2) in Dallas, Texas. 
Alabama ACEP, P. O. Box 1265, Dothan, AL 36302
© 2021 Alabama Chapter ACEP. All rights reserved.