A Newsletter for the Members of the Alabama Chapter - Spring 2020

Michael Bindon, MD, FACEP
President
Denise Louthain
Executive Director
877-225-2237 | Website
President's Letter
Michael Bindon, MD FACEP
President, Alabama Chapter of ACEP
Thank you so much for everything you do in Emergency Medicine and thank you especially for what you have been doing during this COVID-19 pandemic. While these have been challenging time, I have never been more proud to be a part of Emergency Medicine than during these past few months. We are truly the frontline of medicine and our state is lucky to have each of you putting yourself at risk to continue caring for patients. I know many of you have been putting in countless hours not just fighting on the frontlines, but also working outside the ED with your hospitals and communities to help plan and implement your COVID-19 response. Our skill set of doing more with less has definitely been on display whether it was working with PPE shortages, lack of testing, or lack of treatment spaces. Our contributions are not going unnoticed, and I'm sure many of you have received more appreciation for the hard job we do than ever before.  
I know each of you is also more than just an EM physician, and this has been a challenging time for all of us personally as well. Some of us have been isolated and staying at home by ourselves, while others have been overwhelmed with suddenly homeschooling multiple small children every day in between shifts. Many of us have dealt with the anxiety of possibly bringing home a dangerous infection to loved ones. All of us have had our lives changed drastically during these times, and it is so important that now more than ever you make physician wellness (your wellness!) a priority. ACEP has many resources available to help including free counseling sessions that can be found by clicking here.  
One of the unfortunate changes we have experienced during this pandemic is not having our annual EMerald Coast meeting this year. It was a hard decision that involved great deliberations on the ALACEP Board with a tight deadline to make the decision. I know it was just as disappointing for many of you as it was for us. Hopefully it will make next year's Emerald Coast meeting even more special as we all come together and enjoy wonderful lectures while catching up with each other. Please go ahead and mark your calendars for June 7-10, 2021 and be sure to come join us. We will still be having our general membership meeting this year, albeit in a much less scenic location. With the recent changes from Governor Ivey, our current plans are to meet at the MASA building in Montgomery on Thursday, June 11th, at 9:30A. Please check the ALACEP website closer to the meeting, as we may have to change to a virtual meeting if the state updates their guidelines for gatherings.
It has been an honor and a pleasure to serve as your ALACEP President for these past two years. I look forward to seeing all of the great things in store for ALACEP and know that you will be in wonderful hands with our new President, Dr. Bryan Balentine! 
Tianeptine: An Emerging Alabama Public Health Threat
Edgar J,1 Eversull J,1 Rivera J,2 Rushton W1,2, 3
Department of Emergency Medicine, University of Alabama Birmingham
Office of Medical Toxicology, University of Alabama Birmingham
Alabama Poison Information Center, Children's of Alabama
Introduction - The frequency of calls to United States poison control centers reporting tianeptine exposure have increased during recent years.1 Despite being marketed as an antidepressant and dietary supplement, this drug is not regulated by the Food and Drug Administration. Its abuse continues to grow in popularity and accessibility, posing a serious public health risk. This report presents two cases of severe tianeptine toxicity. Read More. 
COVID-19 Update: Smartphone Pulse Oximeters are Unreliable
Walter A. Schrading, MD, FACEP, FAWM
Associate Professor, Department of Emergency Medicine
University of Alabama at Birmingham
The role of simple handheld pulse oximetry for home testing during the COVID-19 pandemic has been debated, nevertheless they are in use.  The effectiveness of such a strategy, however, is only as good as the technology.  Clearly, oxygen saturation is an important 5th vital sign when evaluating a patient with symptoms of COVID-19.   Our emergency department has experienced multiple patients who look relatively well yet are severely hypoxic.  A patient's oxygen saturation drives many of the decisions for further treatment, including supplemental oxygen, hi-flow nasal cannula, BiPAP, and intubation.  In an opinion piece written in the NY Times, a well-known emergency medicine airway management expert, Rich Levitan, advocated for the use of widespread or home pulse-oximetry screening as an early warning sign of worsening of the clinical course of COVID-19. Mentions in the lay press of the use of pulse oximetry since the beginning of the pandemic spiked sales of pulse oximeters by 527% as early as January 20th, 2020. This demand has made the devices hard to find. Read More. 
Erbil, IRAQ 2020
Greg Jacobs, DO, FACEP
Fellow in International Emergency Medicine/Global Health at UAB 
Staff Emergency Physician at Southeast Health in Dothan Alabama
Pictures courtesy of Greg Jacobs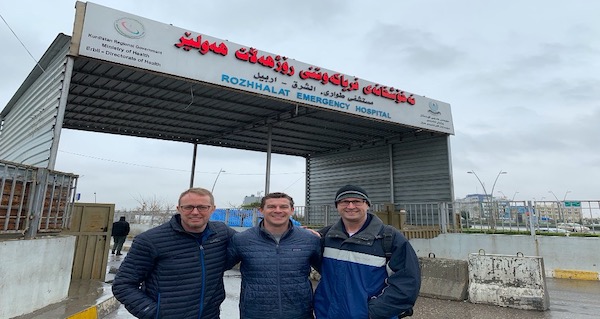 Returning to Iraq this time was different. Having invested over the last year in continued correspondence with those we had met previously on our first visit, we are building relationships and returned as friends and colleagues. Erbil, Iraq is a region where warm hospitality and complex volatile circumstances coexist. A region with a large influx of displaced refugees from areas of violent extremism and hatred. However, despite this reality, our experience was one of celebrity status welcomes and family like inclusion.  John Miller with OneVision International, Bryan Balentine, MD, FACEP and I returned to Iraq to link two often misperceived groups of people together through the practice of medicine. Read More.
Ultrasound Case of Interest
David Pigott MD RDMS FACEP
Co-Director UAB Emergency Ultrasound
Case Presentation:51M who denied PMH other than smoking presented with shortness of breath. He had been hospitalized 2 weeks prior at an OSH for "pneumonia and fluid in his lungs" but left AMA the next day. He says he was sent home on oral levofloxacin. He now reports 3 days of worsening dyspnea. On exam, the patient was afebrile, tachypneic, tachycardic to 110, with an oxygen sat of 95% on room air. Lungs were clear and cardiac exam was rapid and regular. No peripheral edema was noted and the patient was alert and nonfocal. Read More.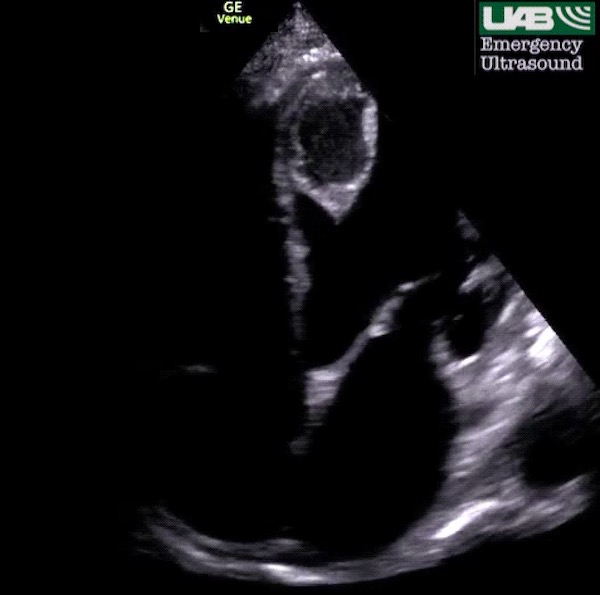 Physicians Liability Protection from COVID-19 Lawsuits
Niko Corley
Director, Legislative Affairs 
Deputy Director, Alabama Medical PAC (ALAPAC)
Medical Association of the State of Alabama 
334-261-2000 (o) | 334-462-7304 (c)
Gov. Ivey Provides Physicians Liability Protection from COVID-19 Lawsuits
On Friday, May 8, Governor Kay Ivey issued an executive order protecting physicians, their staff, and their practices from lawsuits related to COVID-19. The governor's order, the eighth such supplemental emergency order issued by her administration since the pandemic began, provides a "safe harbor" for services affected by COVID-19 or Alabama's response to the pandemic and from other COVID-19 related claims. 
"As one of many Alabamians on the front lines of this pandemic, I thank Gov. Ivey for working with the Medical Association to provide this much-needed liability protection for these unprecedented circumstances affecting care provisions that are far beyond any of our control," Medical Association President John Meigs, Jr., M.D., said. Read More.
Welcome New Members!
Reza John Atras
Kat Baldwin
David Christopher Booker, Jr
Danielle Egbe
Jordi Garcia-Diaz
Sullivan Clyde Hanback
Kyle W Johnson
Elise Kahn
Ric Anthony Koler, DO
Nicholas Linares
Matthew Monaco
Albert Nakayama
Japhet Walker Nylen
Patrick Joseph O'Hare, MD
Brian Overman
Collin Patterson
Jessica O Rogers, DO
Andrew Christian Smith
Kaitlin Ashlee Tidmore
Josh Wild
FROM NATIONAL ACEP


New COVID-19 Website, Plus Updates to COVID-19 Field Guide
Featuring more than 400 resources, our revamped COVID-19 website will help you find what you need, when you need it. Our most popular resource, the ACEP Field Guide for Managing COVID-19 in the ED, has grown to more than 230 pages and been translated to 5 additional languages. The following sections are newly updated: decontamination/cleaning, HCW checklist, HFNO, treatment and management.
Public Poll: Emergency Care Concerns Amidst COVID-19
There is a worrisome trend across ERs of people who are avoiding getting the medical care they need. While it's important to stay home and follow social distancing guidelines, it's critical to always know when to go to the emergency department. Read more. 
National EMS Week is here!
We are proud to partner with NAEMT to feature National EMS Week (May 17-23) as an initiative to create significantly greater visibility of EMS among health professions and communities. ACEP thanks the generous organizations supporting this year's initiatives. 
COVID-19 and Pediatrics Webinar on June 1
Panelists include Marianne Gausche-Hill, MD, FACEP, Tress Goodwin, MD, Joshua Rocker, MD, and Mohsen Saidinejad, MD, MBA, FACEP. 
11 a.m. CT on June 1 - Register Here.
TJC Statement, COVID 4.0 Package and More in this Week's Capital Minute
Tune into the reimagined ACEP Capital (30) Minutes every other Thursday at 3 p.m. ET to get federal advocacy updates and answers to your questions in real-time. In the latest edition, we're covering the most recent regulatory changes and funding updates, The Joint Commission statement on mental health that came out earlier this week and what you need to know about the COVID 4.0 package. Watch this week's ACEP Capital Minute here and register for the next edition here. 
Medicare Telehealth Flexibilities…Are They Here to Stay?
We are seeing an expansion of telehealth that we have never seen before, and it is hard to imagine ever going back to where we were before. However, for us to keep up the momentum and not return to the pre-pandemic telehealth world, a few things need to happen---read this week's Regs & Eggs blog to find out what.
COVID-19 Financial Survival Guide: What You Need to Know
ACEP is standing up for our members who, despite serving on the frontlines of the COVID-19 pandemic, are having their livelihoods threatened. Cutting benefits, reducing shifts or canceling contracts in today's environment is akin to signing a 'Do Not Resuscitate' order for many emergency departments and the physicians who care for patients, especially those in rural or underserved areas. Access the guide.
TJC Statement Supports Removing Barriers to Mental Health Care for Clinicians and Health Care Staff
ACEP recently met with The Joint Commission to discuss physicians being penalized by state licensing boards and other entities for seeking mental health support. On May 12, TJC released a statement that supports "the removal of any barriers that inhibit clinicians and health care staff from accessing mental health care services, including eliminating policies that reinforce stigma and fear about the professional consequences of seeking mental health treatment." View more wellness and crisis support resources. 
Upcoming Virtual Grand Rounds Focused on Physician Wellness
Join us May 27 for our Virtual Grand Rounds! From 10 a.m. – 2:45 p.m. CT, we'll cover physician wellness, second victim syndrome in COVID times, emergency mindfulness, overcoming self-judgment with self-compassion, and how to support your team during times of crisis. Register by 8 a.m. CT on May 27. 
Related Resources: 
Physician Crisis Support: ACEP collaborated with the American Association of Emergency Psychiatry on a webinar and podcast related to physician wellness and mental health during COVID-19.

ACEP Member Benefit: Free Counseling and Support
Did You See This Broadway Tribute to Emergency Medicine?
ACEP and ENA were asked to join the "Resilient Project," featuring more than 60 Broadway theatre artists to virtually perform "Resilient" as a thank you to emergency healthcare professionals worldwide. Watch for cameos from several EM physicians and nurses in the video, which also aims to raise money for COVID-19 research through EMF.
Member Benefits: COVID-19 No Cost, Discount & Other Offers
You are risking your lives to care for patients from this unprecedented pandemic, and we all appreciate the additional stress on you and your families. We want to help. And, so do a lot of companies out there. So, thanks to you and thanks to the companies willing to support our healthcare heroes. View the benefits.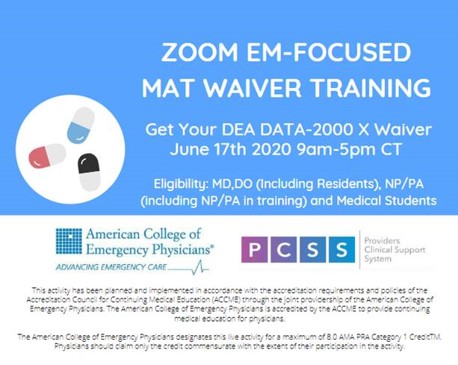 Opioid Updates
COVID-19 Special Edition of Critical Decisions in EM
Our newest CDEM features lifesaving lessons focused on the ED evaluation and management of COVID-19, including timely information on risk factors, common examination findings, valuable diagnostic tests, and the safe use of pharmacological treatments. The issue also takes a deep dive into PPE, the provision of respiratory support, and what interventions should be avoided when managing these vulnerable patients. Learn more. 
EM Research during a Pandemic + Call for Research Forum Abstracts
Our latest podcast discusses conducting EM research during a pandemic. 

Submit your abstracts to ACEP's Research Forum 2020 by June 11. Abstracts will be peer reviewed for presentation at the 2020 Research Forum during ACEP's Scientific Assembly. See abstract requirements.
Be Accredited to Provide Pain & Addiction Care in the ED
Show your community that your ED is part of the solution. ACEP is now accepting applications for the Pain & Addiction Care in the ED (PACED) Accreditation Program, developed for EM physicians by EM physicians. 
PACED, the nation's only specialty-specific accreditation program, will provide the education, tools & resources you need to provide better care for patients in pain & those with substance misuse. 
Elevate the quality of patient care with innovative treatments, alternative modalities, and impactful risk reduction strategies in a collaborative team setting, resulting in positive outcomes for your patients, families, providers, and communities. Learn more at www.acep.org/PACED or contact us at paced@acep.org. 
Alabama ACEP
P. O. Box 1265
Dothan, AL 36302
© 2021 Alabama Chapter ACEP. All rights reserved.