A Newsletter for the Members of the Alabama Chapter - Summer 2019 


Michael Bindon, MD, FACEP
President
Denise Louthain
Executive Director
877-225-2237 | Website
President's Message
Michael Bindon MD, FACEP
Thanks to everyone who came down to the EMerald Coast Conference in June! It was a great conference and we look forward to seeing even more of you next year. I hope everyone is still enjoying the last few days of summer as the medical wheel continues to turn. Newly graduated attendings should be starting to get their legs under them. First year med students should be struggling to get the formaldehyde smell out of their clothes. New interns should be figuring out where the bathrooms are and where to find the best snack food on call. So, it's a big time for all of us in Emergency Medicine. It's also a big time for our legislators and what they are about to do either to or hopefully for Emergency Medicine.
In our last newsletter, we reviewed some of the items that ALACEP has been working on for you as our members. This time, though, I want to specifically ask each of you for your help to advocate for our specialty. By now you have probably all heard about Surprise Billing. This issue is going to affect all EM physicians whether you are in academics, a partner in a small private group, a hospital employee, or an independent contractor in a large national group because the outcome is going to have a big effect on what we as EM physicians can collect for our services. There have been a lot of proposals on the table and some of them are downright scary, like letting an insurance company unilaterally decide what they think is a reasonable reimbursement for the work we do.    
As a smaller state, sometimes it can feel like our voice is not always heard in the national debates, but this is one where we as Alabama EM physicians have a chance to make a big impact. We are actually one of the states that has a legislator on the Education and Labor Committee which is a small committee that will help shape this discussion. This means that we really need to speak up here and now, while they are in their August recess before the next session. There are so many ways that ACEP has made it easy for you to help listed below. If some of it sounds overwhelming, then just please at least take the 30 seconds to click on the "send an email to your legislators" link, and it will generate an email to your specific legislators with virtually no effort on your part. Here are ways you can help:
Thank you for allowing us to serve you, and thank you for every thing you do each shift for your patients as Emergency Medicine physicians!
Ultrasound Case of Interest
David Pigott, MD., RDMS, FACEP
Co-Director UAB Emergency Ultrasound
This patient is a 40-year-old female with a history of uncontrolled DM and IV heroin use who presents with 4 weeks of worsening redness, swelling and pain over her R clavicle. She reports her sugars have been "too high to read." She had a recent I&D of an abscess on her R wrist but denies injecting heroin into the affected area on her chest wall. Labs were remarkable for a WBC 16.9K and glucose >800 without an anion gap acidosis. Broad-spectrum antibiotics and an insulin infusion were started, along with IV fluid resuscitation. READ MORE.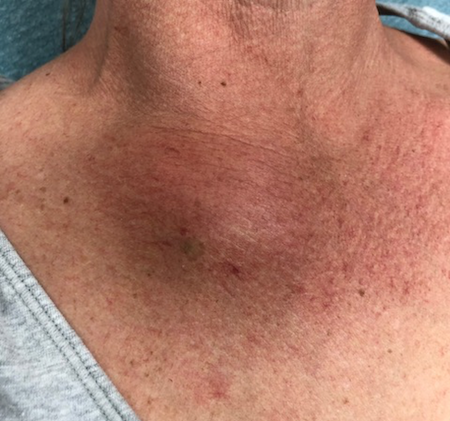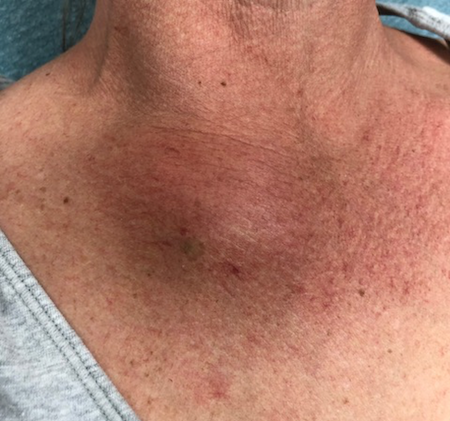 Messy but Effective: Calcium Carbonate Treatment for Dermal Hydrofluoric Acid Burns
Cornelia McDonald MD., Joel Butler MD., William Rushton MD
UAB Office of Toxicology
Case:
A 45-year-old male presented to the Emergency Department complaining of severe pain and swelling to his second and third digits that started 20 hours prior. He first noticed his symptoms after getting home from work the day before which continued to progress rapidly over the next three hours. He reported having used an industrial wheel cleaning solution bare handed prior to onset of symptoms. READ MORE. 
Snakes alive!
Walter A. Schrading, MD, FACEP, FAWM
Director Office of UAB Wilderness Medicine
Imagine that you are backpacking with a friend in the Talladega National Forest when suddenly you hear a rustling next to the trail and a warning rattle. Your friend calls out in pain and you see a large snake slithering into the brush. Your friend has sustained two small puncture wounds to the lateral left ankle, and the area soon becomes increasingly swollen and painful. This is the snake that you saw.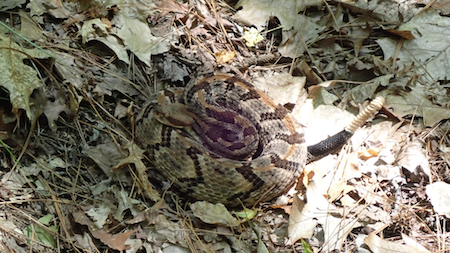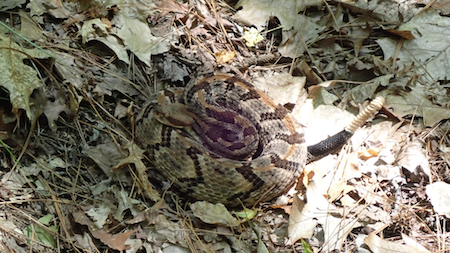 What do you do? You are about 6 miles from the trail head where you started your hike and about 3 hours away from the nearest road where you could summon help. There is no cell service. READ MORE. 
Physicians did it!
Niko Corley
Director, Legislative Affairs
Deputy Director, Alabama Medical PAC (ALPAC
Medical Association of the State of Alabama
Grassroots worked, and they can work again
Alabama's 2019 legislative session was one for the books. Never before have so many egregious scope of practice expansions been introduced in the same session, with bills to allow optometric surgery, to abolish the need for a medical diagnosis before PT and to abolish the physician oversight of CRNA-administered anesthesia, being but a few of the dangerous bills introduced. READ MORE. 
Working together, physicians can continue to protect patients and advocate for sound state health policies that place safety and quality first, so long as the medical community remains involved. Connecting with local legislators is easy, and the Medical Association can help; simply send an email to ncorley@alamedical.org.
Welcome New Members! 
Nitin Aggarwal, MD
Tom-meka Archinard, MD, FACEP
Bastien Bacro-Duverger, MD
Timothy P Chamberlain, MD
Abby Cook
John Michael Cook
Brandon Delavar, MD
Jessica W Edgar, MD
Jason Eversull, MD
Jeremias Georgiadis
Benjamin Wade Gibson
Travis Bedsole Goodloe, III
Daniel Holleyman, MD
Blakeley K Hudson, MD
Stephen William Knight, MD
Kaitlyn Marie Kutz
Foy G Mann, III, DO
Cyrus Massouleh, MD
Laine Mcdonald
Gregory Melish, MD
Briana Danielle Miller
Deanna Minisee-Ryce, MD
Kellie Amber Mitchell
Keegan J Nicodemus, MD
Geoffrey Lyle Odom, MD
Raymond R Oldham
John R Owen, MD
Amie Rose, MD
Benjamin L Stalnaker, MD
James Statler, MD
Jonathan Swanson, MD
Joshua Z Symes, MD
Patrick Eugene Tomeny, III, MD
Jeremy R Towns
Anna Trujillo
Benjamin Von Schweinitz
Christine Lynn White, MD
Christopher White, MD
Melissa M Willett, MD
Andrew S Wilson, MD
FROM NATIONAL ACEP


Congress Needs to Hear from Emergency Physicians about Surprise Billing
The ACEP DC office hosted an ACEP members only Surprise Billing Advocacy townhall on August 5th. Laura Wooster, Associate Executive Director, ACEP Public Affairs, provided an update on Congressional activity and spoke about the importance of utilizing the August congressional recess while legislators are back home to advocate for emergency physicians and patients. ACEP offered tips to effectively engage your legislators and a toolkit with resources to facilitate effective outreach. A link to the archived townhall is available here. And, you can login here to access the ACEP members-only surprise billing advocacy toolkit. Related resources are available to view and share here. For updates on ACEP's federal advocacy activities, join the ACEP 911 Grassroots Network here. 
Explaining the AUC Exemption
We've heard that some of your hospitals are already implementing the 2020 AUC requirements, so we drafted a sample letter you can personalize to help you explain the emergency exemption to your administrators. Download it on the AUC section of our EHR advocacy page.
FACEP Deadline Extended to Sept. 1
More than 4,000 ACEP members meet minimum membership requirements – three years of continuous membership post-training – to become a Fellow of the College. Is that you? Apply today, and be recognized at a ceremony on Oct. 26, the day before ACEP19 in Denver. If you can't make it to ACEP19, no worries. You will be included in the program and can start using your new FACEP credential immediately. Learn More Here!
Point-of-Care Tools - 3 New Smart Phrases
3 new Smart Phrases are available on the ACEP Website on Suicide Prevention, Tobacco Cessation and Why Antibiotics Were Not Prescribed for a Viral Infection. Smart Phrases are blocks of text that can be copied and pasted into a hospital's electronic health record (EHR) system to automatically create discharge papers for common ED presentations. We've created these smart phrases to help you seamlessly disseminate the most important information your patients will need to manage their conditions after leaving the ED. View all Smart Phrases. 
Articles of Interest in Annals of Emergency Medicine - Summer 2019
Sam Shahid, MBBS, MPH
Practice Management Manager, ACEP
ACEP would like to provide you with very brief synopses of the latest articles and articles coming soon to Annals of Emergency Medicine. Some of these have not appeared in print. These synopses are not meant to be thorough analyses of the articles, simply brief introductions. Before incorporating into your practice, you should read the entire articles and interpret them for your specific patient population. View synopses here.
New Policy Statements and Information Papers
During their June 2019 meeting, the ACEP Board of Directors approved the following new policy statements and Information papers. For a full list of the College's current policy statements, consult the ACEP Policy Compendium. 
New Policy Statements: 
Advanced Practice Provider Point-of-Care Ultrasound Guidelines
Compensated Time for Faculty Academic Administration and Teaching Involvement
Safe Discharge from the Emergency Department
Separation of Children from Caregivers
The Role of Emergency Physicians in the Completion of Death Certificates
New Information Papers: 
Best Practices in Testing Adults and Adolescents for Chlamydia and Gonorrhea in the Emergency Department
Models for Addressing Transitions of Care for Patients with Opioid Use Disorder


Care Under Fire: EDs, Gun Violence and Threat Assessment
ACEP19 Pre-Conference
Saturday October 26th from 1:00 – 5:00 PM
Threat management is an evidence-based, multidisciplinary team approach to identifying people at risk of engaging in targeted violence – including mass shootings – and intervening before they attack. Cost: $250. Learn More Here!  
Approved for AMA PRA Category 1 CreditTM
ACEP EM Specific X-Waiver COURSE
ACEP19 Pre-Conference
Saturday October 26th from 8:00 AM – 5:30 PM
This course will provide the tools to turn lives around with best practice addiction treatments and satisfies 8 hours of training required by federal law to prescribe buprenorphine, the most effective treatment for opioid use disorder.
While most "X Waiver" training courses are developed for and led by psychiatrists and office-based addiction specialists, this recently approved version of the course was written by a team of EM docs, specifically for EM Docs. The MAT-EM course minimizes lecture in favor of case-based discussion and participants will emerge from the course not only credentialed to register for their DATA 2000 (X) waiver but prepared to manage all aspects of emergency care of OUD patients.
Approved for AMA PRA Category 1 CreditTM
ACEP Members: $70 | Residents: $50 | Non-Members: $100. Register Here.
Funding for this initiative was made possible (in part) by grant no. 1H79TI081968 from SAMHSA. The views expressed in written conference materials or publications and by speakers and moderators do not necessarily reflect the official policies of the Department of Health and Human Services; nor does mention of trade names, commercial practices, or organizations imply endorsement by the U.S. Government.




Registration Open for the EMBRS Course
Interested in research but not sure where to start? The Emergency Medicine Basic Research Skills (EMBRS) is a 9-day, 2-session program where participants learn how to identify clinical research opportunities and become familiar with clinical research and outcomes. Participants are also eligible to receive an EMF/EMBRS grant based on their research grant application. This course targets: Junior faculty with limited research experience; Physicians in academic and community centers who are interested in research basics; Physicians who have as part of their duties involvement in research, including mentoring young researchers; Fellows in non-research fellowships. Click here to learn more and to register. The next course will take place Dec. 2-7th, 2019 (session 1) and April 14-16, 2020 (session 2).
News from the American Board of Emergency Medicine
August 2010
ABEM Security Systems Enhancements
ABEM takes the protection of all our users' data and information seriously. We will soon be undertaking system enhancements to help maintain the security of your data. The change most users will notice is the need to reset their password the first time they sign in. 
See You at ACEP19!
ABEM will be attending ACEP19, and will have a booth in the exhibit hall. Visit booth # 2012 and have an ABEM director or staff member answer your questions. Hope to see you there!


Nominations to the Board of Directors
Do you know someone who would be a great addition to the ABEM Board of Directors? Then nominate the ABEM-certified physician of your choice! The physician must be clinically active. Click here to view nominee requirements and required documentation. Nominations are due December 1, 2019, and the Board will elect two new members at its February 2020 meeting. 
Alabama ACEP, P. O. Box 1265, Dothan, AL 36302
© 2021 Alabama Chapter ACEP. All rights reserved.