A Newsletter for the Members of the Alabama Chapter - Summer 2020

Bryan L Balentine, MD, FACEP
President
Denise Louthain
Executive Director
877-225-2237 | Website
ALACEP President's Letter
Bryan Balentine MD
President, Alabama Chapter of ACEP
Dear ALACEP members, 
After 15 years of involvement on the Board, I am pleased to serve again as your president. I sincerely appreciate the work Dr. Michael Bindon of Mobile completed over the last two years during his term creating big shoes for me to fill. Thankfully, I will partner with an amazing group of Board members with a combined experience of 2000 years in EM. They represent you from all corners of the state and various sub-specialties to relay challenges faced and how we can collaborate to affect positive change. 
Speaking of change, have you experienced ANY this year??? How many times have you heard "unprecedented"? Probably enough to vomit. COVID has impacted us in many ways professionally and personally. Did you also hear how our partners in the Medical Association of the State of Alabama (MASA) successfully defended us against poor legislation? Probably not. These are just two attacks on our specialty. We need you voice and involvement now more than ever. 
How can you accomplish this?
Please reference your chapter website at ALACEP.org for quarterly meeting dates and times. Some of these are held by Zoom and super convenient for you. All state chapter members are invited. While voting is reserved for Board members, this is a great forum to voice your opinion and join the conversation. We also have several committees in which you can serve now. These are listed on the chapter website as well. 
Running our chapter requires high-quality staff and financial stewardship. We have been blessed historically with an outside revenue stream that may diminish soon. To keep your chapter financially viable, we researched your annual state chapter dues history. We discovered two things:
The last ALACEP annual dues increase was 23 years ago. 

The surrounding state chapter dues range from $100 to $425.     With this information, we increased the annual dues from $150/year to $200. This was not an easy decision to make. We will continue to pinch every penny and look for additional revenue streams. 
So what do you receive for your money?
An expert office staff that can easily connect you with resources across the state

Partnership with MASA through our legislative advocate that attends every Board meeting and provides critical updates

A voice at the table that competes with millions of dollars donated by trial lawyers to fund their agenda

The best national and regional educational conferences with high-quality CME

Connections to national ACEP committees

Help with FACEP applications

A great opportunity to network for your next dream job or promotion

Amazon Business Account for direct access to PPE

The opportunity to make a difference at the state and national levels that improves the health of your patients…just to name a few. 
While there are multiple benefits to your involvement at the state and national levels, our organization's greatest asset….is YOU. Please join me at our next meeting. 
Ultrasound Case of Interest
David Pigott MD., RDMS, FACEP
Co-Director UAB Emergency Ultrasound
23F transferred from outside hospital for evaluation of possible abdominal pregnancy at ~37 weeks. Clearly, this diagnosis is very rare (1-2% of ectopic pregnancies, or around 1:10,000 to 1:30,000 pregnancies) and warrants special attention. The patient reportedly knew she was pregnant but did not seek routine prenatal care. On arrival, the patient complained of severe abdominal pain. VS were notable for HR 110 but otherwise normal. Bedside ultrasound was performed. READ MORE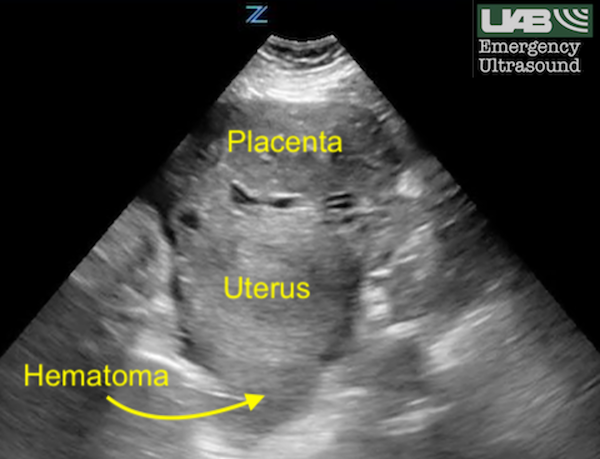 An Update from Erbil, IRAQ 2020
A Letter to the Editor
Bryan Balentine MD
Dr. Greg Jacobs and I went to Iraq again in January 2020 and certified 70 providers in ACLS (maybe the first in the country). On the way back, we stopped in Istanbul for 3 days. While there we shot several videos and ended up posting it on YouTube as a travel show. It is light and supposed to be entertaining. 
The reason for offering this link is not just for another laugh but all profit from the video will go towards international people we serve. Viewers not only need to watch the video but click Subscribe as well.  Hope you enjoy it.  :)
A Tiny Clot Will Fool You-A Focused Approach to a Hematological Emergency
Laura Goyack MD, Rachel Skains MD, Robert Buckingham MD
Department of Emergency Medicine, University of Alabama at Birmingham
Introduction
Hematologic emergencies are rare and often difficult to diagnosis due to nebulous presentations that can lead to acute life-threatening conditions and severe hemodynamic compromise. A comprehensive knowledge of prompt diagnostic evaluation with immediate therapeutic intervention is critical in EM practice. The case below highlights the importance of developing a rapid, systematic approach to the diagnosis and treatment in a patient with suspected hematologic emergency. READ MORE
Phased Array Transducer in the Suprasternal Notch: Evaluating for Aortic Dissection
Taylor Payne MD
Department of Emergency Medicine, University of Alabama at Birmingham
Introduction
Aortic dissection is a dangerous and easily missed diagnosis. There are many reports of the addition of bedside point-of-care ultrasound to the ED physician's armamentarium as a rapid way of assessing the patient's aorta in time-sensitive scenarios.   The gold standard for identification of aortic dissection is CT angiography of the chest and abdomen.  However, this can be time consuming as it sometimes takes valuable minutes to coordinate staffing and patient transportation to and from the CT scanner.  Also, these patients can become rapidly unstable making it less than ideal to remove them from critical care treatment areas. Type A Aortic dissection has a devastating mortality profile with a mortality rate of 1% every hour that the dissection does not get surgical correction.[1] Point-of-care ultrasound has become widely used to evaluate for aortic aneurysm and has more recently become utilized for evaluating aortic dissection.[2,3] There have also been some case studies demonstrating specifically the suprasternal view to visualize the aortic arch to evaluate for dissection.[4,5]  This case below demonstrates this technique and shows the images that we acquired on a patient presenting with a known aortic dissection. READ MORE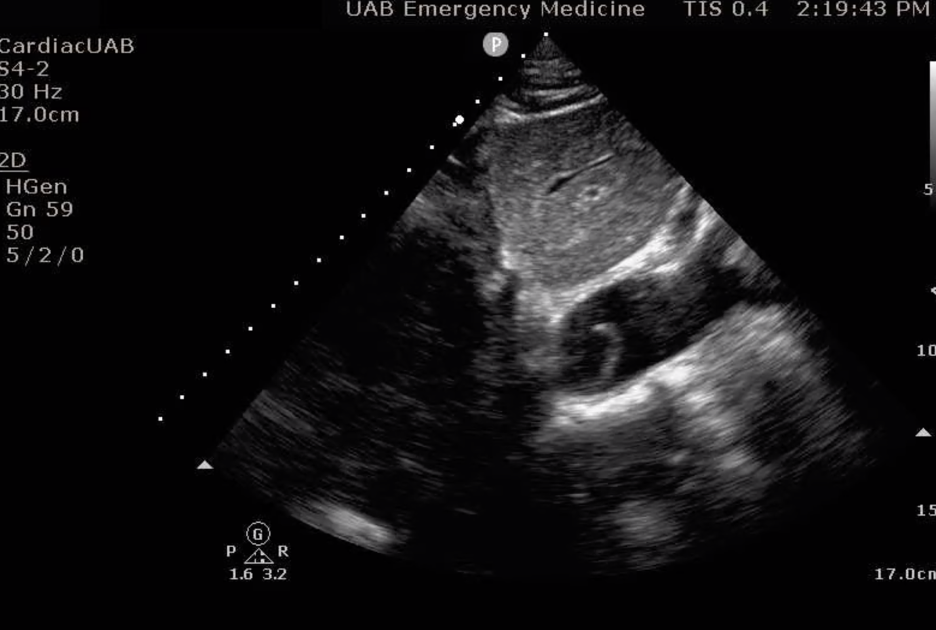 Atypical Appendicitis
Chris White MD and Jason King MD
Department of Emergency Medicine, University of Alabama at Birmingham
Introduction
Appendicitis is a very commonly diagnosed condition in the emergency department that affects up to 1 in 10 individuals over a lifetime (1). The migratory appendiceal base can move into retrocecal, subcecal, and other pelvic positions which is one factor proposed to increase the complexity in diagnosing appendicitis in patients with atypical symptoms. In this report we present an atypical presentation and diagnosis of acute complicated appendicitis. READ MORE
Hydroxocobalamin: New Frontiers as a Nitric Oxide Scavenger in Refractory Shock? 
William Rushton; Jessica Rivera 
Alabama Poison Information Center, Children's of Alabama 
Office of Medical Toxicology, University of Alabama Birmingham
Background
Hydroxocobalamin is an FDA approved drug for the treatment of cyanide toxicity. Adult dosing usually requires 5gms run over 15 mins for suspected toxicity, binding cyanide, and forming nontoxic cyanocobalamin, otherwise known as B12. Phase 1 trials of hydroxocobalamin, however, showed an interesting side effect. In addition to the commonly described reddish discoloration to the urine and the skin, healthy volunteers in the study experienced transient increases of blood pressure that would take up to 4 hours to return back to baseline [1]. Subsequent studies were notable for a unique finding with hydroxocobalamin: in addition to binding cyanide, it could also act as a scavenger for nitric oxide, an important second messenger involved in arterial dilation [2].  READ MORE

Welcome New Members!
Sukhshant K Atti, MD
Andrew D Bloom, MD
Harvey Dewayne Browning
Neal Bucher, MD
Andrew J Burandt, DO
Joseph Michael Cortopassi, Jr, MD
Richard Francis Garri, MD
Gabrielle Gostigian, MD
Matthew Waye Hall, MD
Matthew Patrick Kelly, MD, FACEP
Shane Koler
Nikki Lauderback
Andrew Colby Loff, DO
Christina D Mattingly, MD
Joe Mcilwain
Larry Bruce Mellick, MD, FACEP
Kaleigh Elizabeth Miller, MD
Evgenia Rayelle Nokovich
Gregory Pettaway, MD
Justin Pinkston, MD
Rafael A Raya, MD
Robert Chase Ruffo, MD
Dominique Marie Saturno
Aaron Schaffner
Jelaina N Scott, MD
Sylvia Sontheimer
Sidrah Ali Syed, MD
Tate Vernon
Browning S Wayman, MD, FACEP

Stay current with the COVID-19 Center. It's your one-stop-shop for clinical and legislative updates. Quick Links: Physician Wellness Hub | COVID-19 Field Guide
Get PPE through Project N95
With member concerns about the quality of N95 masks on the open market, ACEP has joined with Project N95 to offer PPE to you at volume prices. This exclusive benefit for ACEP members is available only through August 26. Registration opens at 4 p.m. ET today Wednesday, August 19 and is only available to members in the 50 states of the US, DC and Puerto Rico. 
ACEP & EMRA Launch Diversity Mentoring Initiative on August 15
This collaboration between the ACEP Diversity, Inclusion and Health Equity Section (DIHE) and EMRA's Diversity & Inclusion Committee that supports leadership and career development for diverse medical students, residents, fellows, academic attendings and community emergency physicians in the EM community. The first 200 mentees have been matched with 100 mentors from across the EM community. If you're interested in being part of the next cohort, slots will open up in six months. Follow #mentorsofEM and #menteesofEM on Twitter to keep tabs on the program's progress, and learn more at mentor.acep.org. 
New Policy Statements and Information Papers
During their June 2020 meeting, the ACEP Board of Directors approved the following new policy statements and information/resource papers. For a full list of the College's current policy statements, consult the ACEP Policy Compendium. 
New Policy Statements: 
Expert Witness Cross-Specialty Testimony for Standard of Care
Leadership and Volunteers Conduct Policy
Revised Policy Statements: 
2020 Compendium of ACEP Policy Statements on Ethical Issues (page two of the Code of Ethics)
Guidelines Regarding the Role of Physician Assistants and Nurse Practitioners in the Emergency Department
Role of the Emergency Physician in Injury Prevention and Control for Adult and Pediatric Patients
New Information/Resource Papers (Smart Phrases)
Antitussive Medications for Children
Coronavirus Concern — Confirmed or Suspected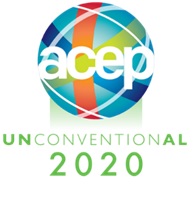 ACEP20 is a CME Jackpot + Announcing Special Guest: Dr. Anthony Fauci! 
ACEP20 will include more than 250 hours of CME education, but here's the best part: Attendees get access to this education and CME for THREE YEARS after the event! All of the live events will be debuting during the original dates: Oct. 26-29. We are happy to announce our first special guest at ACEP20 – Dr. Anthony Fauci, NIAID Director. We'll be unveiling other celebrity keynote speakers throughout August, so follow ACEP's social media channels for those exciting announcements. Click here for more information and to register.  
Upcoming Webinar: The Long and Winding Road of an Epidemic: Prescription Opioids, Heroin, and Beyond
Join us on August 31, 2020 from 1pm - 2pm CT for the first installment in a 6-part free webinar series on opioid use disorder, federal and state regulations/regulatory considerations and state initiatives. Click here to register.
Moderator and Panelists:
Chadd K Kraus, DO, DrPH, MPH, FACEP, Director, Emergency Medicine Research Core Faculty, Geisinger Medical Center, EM Residency Associate Professor of Medicine, Geisinger Commonwealth School of Medicine

Harry Monroe, Director, Chapter and State Relations, ACEP

Jeffrey Davis, Regulatory Affairs Director, ACEP
The webinar will be recorded and link to recording will be made available to all registrants. For more information, please email Mari Houlihan at mhoulihan@acep.org.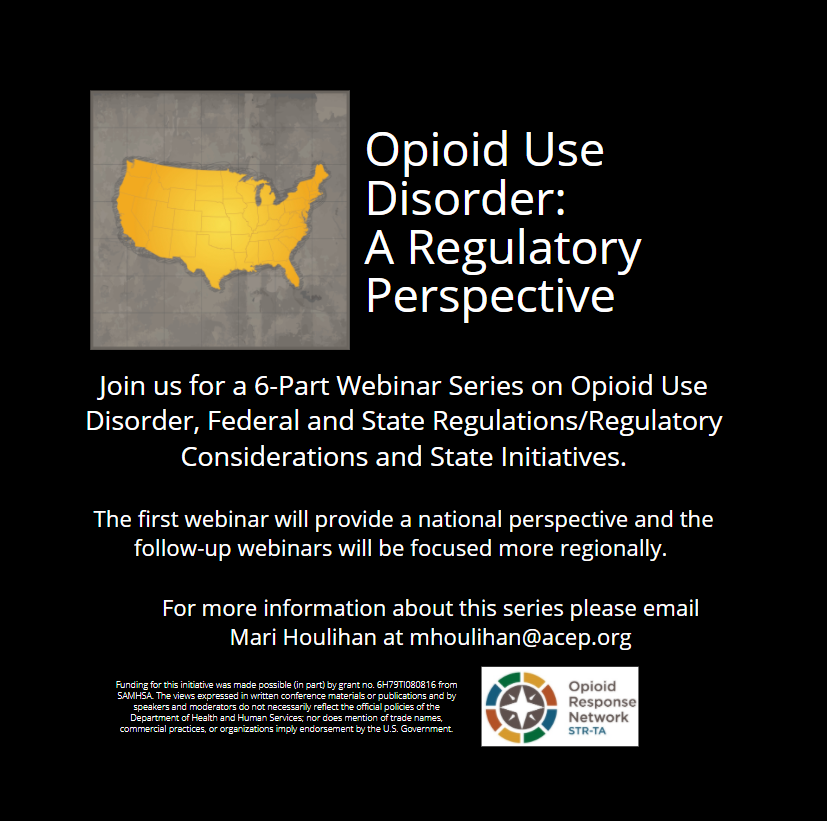 Regulatory Updates
Check out our Regs & Eggs blog for the latest regulatory updates. 
2021 Physician Fee Schedule Proposed Rule: What You Need To Know
ACEP recently published a new comprehensive summary of the 2021 Physician Fee Schedule Proposed Rule and its potential effect on emergency medicine. Last week, we sent a letter expressing our concerns with the proposed cuts and calling on Congress to waive budget neutrality requirements to avert the cuts that pose a significant threat to EM physicians and the health care safety net. Voice your concerns by joining the thousands of ACEP members who have urged their legislators waive the budget neutrality requirement for calendar years 2021 and 2022 by signing on to a bipartisan "Dear Colleague" letter. 
HHS Reopens Application Process for Provider Relief Funding
Most EM groups were eligible to receive funding from the Medicare General Distribution. If you missed the original June 3 deadline, you may be eligible to apply now. Note: If you already received funding from the "General Distribution" and kept it, you cannot apply for additional funding. The cap in funding is still 2% of your annual patient revenues.
CMS Delays AUC Program to 2022
CMS recently announced that it would delay the full implementation of the Appropriate Use Criteria (AUC) program until at least the start of calendar year (CY) 2022. ACEP has long advocated for emergency physicians to be exempted from this program. Learn more about the AUC program.
As of Aug. 1, all laboratories must report certain data elements for all COVID-19 tests (including patient demographic data). The responsibility of collecting this information may fall on emergency physicians. 
What President Trump's Executive Order on Rural Health and Telehealth Means for EM
On August 3, President Trump issued an executive order (EO) that calls on the Department of Health and Human Services (HHS) to develop new payment models aimed at transforming how clinicians practicing in rural areas are reimbursed under Medicare. Further, the President states in the EO that he believes that many of the telehealth flexibilities available during the COVID-19 public health emergency (PHE) should be made permanent and asks HHS to issue a reg that would examine which services should continue to be provided to patients via telehealth after the PHE ends. On the same day the EO was issued, the (CY) 2021 Physician Fee Schedule (PFS) and Quality Payment Program (QPP) proposed reg was released, which includes a robust set of proposed telehealth policies. Last week's regulatory blog digs in to the telehealth proposals and what they could mean for emergency physicians.
Related News: New Analysis Reveals Worsening Shortage of Emergency Physicians in Rural Areas
Urge Congress: Please Support Mental Health Resources and Protections for COVID-19 Health Care Providers
ACEP applauds last week's introduction of the Lorna Breen Health Care Provider Protection Act in the Senate. We worked closely with the legislators on the development of this bill and encourage ACEP members to contact their legislators to ask for their support. Read our latest Member Alert for information about this legislation and the other bills ACEP is supporting that advocate for the wellbeing of frontline health care workers.
Marking Physician Suicide Awareness Day
Physician Suicide Awareness Day is coming up on Sept. 17. ACEP will be providing updates on the Dr. Lorna Breen Health Care Provider Protection Act and additional tools and resources to mark this solemn occasion. As we advocate against barriers that prevent EM physicians from seeking mental health care, ACEP encourages members to visit the Wellness Hub at acep.org/wellness-hub for multiple pathways to help you find the support you need during this challenging season for our profession.
The Innovation in Suicide Prevention Award recognizes promising and innovative acute care activities in the area of suicide prevention that improve patient outcomes and improve lives of patients and/or providers. Nominations are due Sept. 1.  
NEMPAC Charity Match
For a limited time, your NEMPAC contribution of $100 or more will be matched 10 cents on the dollar by ACEP to a charitable cause that provides resources to the COVID-19 front lines. The more you give, the more we give back! You can choose from one of three charities after making your contribution online: EMF COVID-19 Research Fund, GetUsPPE.org or the American Foundation for Suicide Prevention. Click here to join your fellow ACEP members today to support meaningful political and charitable involvement.
Be Accredited to Provide Pain & Addiction Care in the ED
Show your community that your ED is part of the solution. ACEP is now accepting applications for the Pain & Addiction Care in the ED (PACED) Accreditation Program, developed for EM physicians by EM physicians. 
PACED, the nation's only specialty-specific accreditation program, will provide the education, tools & resources you need to provide better care for patients in pain & those with substance misuse. 
Elevate the quality of patient care with innovative treatments, alternative modalities, and impactful risk reduction strategies in a collaborative team setting, resulting in positive outcomes for your patients, families, providers, and communities. Learn more at www.acep.org/PACED or contact us at paced@acep.org
Alabama ACEP
P. O. Box 1265
Dothan, AL 36302
© 2021 Alabama Chapter ACEP. All rights reserved.