A Newsletter for the Members of the Alabama Chapter - Fall 2019 


Michael Bindon, MD, FACEP
President
Denise Louthain
Executive Director
877-225-2237 | Website
ALACEP President's letter
Michael Bindon, MD FACEP
President, Alabama Chapter of ACEP
I love when I'm presented with a problem and quickly discover that someone else has already solved it for me. It's like putting on a jacket you haven't worn since last year and reaching into a pocket only to find some unexpected cash. Several weeks ago, I had that experience after receiving an e-mail from a well-meaning hospital administrator regarding our ED complying with the Appropriate Use Criteria (AUC) Program that would go into effect in January. If your hospital hasn't mentioned it yet (and they will), the AUC was created in 2014 and will require physicians ordering advanced imaging (CTs, MR, Nuclear Medicine) for Medicare patients to first consult AUC through approved clinical decision support mechanisms in order for the furnishing provider to be able to receive payment. In other words, physicians will need to answer a series of questions justifying their order for any CT or MR they order on a Medicare patient. The unintended consequences of this would obviously place a large burden on ED physicians while also delaying care and potentially causing harm to patients in emergent situations.
Luckily, ACEP had already solved this problem before many of us even knew it existed. ACEP had been fighting hard and got an exemption from the AUC for all patients with emergency conditions. ACEP then continued their efforts to get further clarification regarding emergency conditions. As a result of ACEP's lobbying and advocacy, CMS recently clarified that "exemptions granted for an individual with an emergency medical condition include instances where an emergency medical condition is suspected, but not yet confirmed. This may include, for example, instances of severe pain or severe allergic reactions. In these instances, the exception is applicable even if it is determined later that the patient did not have an emergency medical condition." ACEP had even developed a sample letter that you can send to your hospital to help educate them about the exemption for emergent patients that you can find here.  
Using ACEP's resources, I was able to give an educated response and am now helping to implement a plan that complies with AUC while not placing an unnecessary and potentially dangerous burden on my ED physicians. This is just one example of the many issues that ACEP continues to advocate for on our behalf.  You can read about other federal advocacy focuses as well.
Even though the weather is finally starting to cool off, summer will be here before you know it. Go ahead and start making plans to join us in Sandestin for the EMerald Coast Conference from June 1st to June 4th.
Thank you for allowing us to serve you, and thank you for everything you do each shift for your patients as Emergency Medicine physicians!  
Safety and Use of Push-Dose Vasopressors in the ED
Pasquale M, Sochovka Johnson E, Coan Farmer K, Rivera J, Green Vance E
Department of Pharmacy, UAB Hospital, Birmingham, Alabama.
The corresponding author may be reached at efgreen@uabmc.edu.
The practice of using push-dose or bolus vasopressors (also known as push-dose pressors and will be referred to as PDP or PDPs) has sparked a great deal of commentary in the FOAMEd (Free Open Access Medical Education) and traditional literature environments. As the practice of preparing appropriate concentrations of PDP medications is considered very high risk for error for a multitude of reasons, the authors summarize appropriate use of PDPs and what we feel are best practices for use and preparation of PDPs. Read More. 
A Hot Mistake! A Case Report of Severe Hyperthermia from Suspected Paramethoxyamphetamine Ingestion
Turner, Hannah MD1; Shufflebarger, Erin MD1; Rushton, William MD1,2
1. Department of Emergency Medicine, University of Alabama-Birmingham 
2. Office of Medical Toxicology, University of Alabama-Birmingham
Background: Paramethoxyamphetamine (PMA) is a potent central nervous system stimulant that can be inadvertently ingested during attempted ingestion of 3,4-methylenedioxymethamphetamine (MDMA). PMA is known to cause severe multi-system organ failure and hyperthermia secondary to uncoupling of oxidative phosphorylation.
Case: A 15-year-old healthy female was transported to the emergency department for altered mental status after she was found at a friend's house running around naked. In route to the hospital, she became minimally responsive and vital signs upon arrival were notable for a pulse of 188 beats/min, oral temperature 107 °F (41.6°C), blood pressure 85/30 mmHg, and oxygen saturation 90% on room air. On exam, she was weakly following commands, pupils were approximately 4mm bilaterally, and there was no clonus. Point-of-care glucose revealed mild hypoglycemia at 58mg/dL. She was given 2mg naloxone and 12.5gm of 50% dextrose without improvement in mental status. She had an episode of supraventricular tachycardia, which aborted following parenteral 6mg adenosine. She was subsequently intubated, cold fluid gastric lavage was commenced, and was transferred to the pediatric intensive care unit on Propofol for sedation. Read More. 
Ultrasound Case of Interest
David Pigott, MD., RDMS, FACEP
Co-Director UAB Emergency Ultrasound
This 63 yo F with metastatic squamous cell carcinoma was diagnosed with bilateral lower extremity DVT in the ED. She was also noted to have a moderate-sized pericardial effusion.
Note the presence of color Doppler signal within the adjacent femoral arteries as well as the lack of collapse of the femoral veins with compression (right image in the dual screen images attached). Remember, the presence of visible thrombus within the vein is not necessary for the diagnosis of DVT. The lack of collapsibility, as in this case, is sufficient to confirm the diagnosis. Increasing the grey-scale gain, however, can often improve the visualization of intravenous thrombus.
Additional history revealed that the patient had been recently diagnosed with a RLE DVT and started on warfarin. On ED evaluation, her INR was 9. Remember that the presence of anticoagulant therapy cannot exclude the diagnosis of venous thromboembolic disease.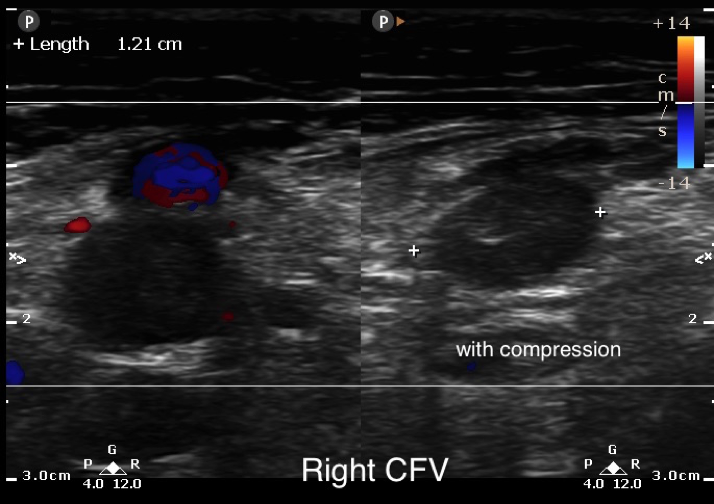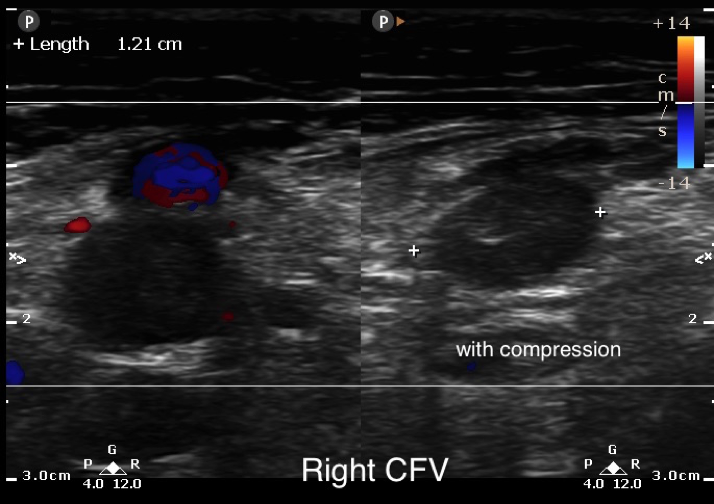 Copyright permission has been obtained from the UAB Department of Emergency Medicine Division of Ultrasound, Dr. David C. Pigott MD Co-Director of UAB EM Emergency Ultrasound.
2019 Legislative Roundtable a Success 
Niko Corley
Director, Legislative Affairs 
Deputy Director, Alabama Medical PAC (ALAPAC)
Medical Association of the State of Alabama 
334-261-2000 (o) | 334-462-7304 (c)
On November 2, 2019, the Medical Association held a "Legislative Roundtable" in Birmingham to discuss the Association's 2020 legislative agenda. Nearly every specialty of medicine in Alabama was present, with representatives traveling in some instances from hours away to take part in the important meeting. Representing AL-ACEP was Linda Thompson, M.D., who provided the invaluable perspective of a practicing emergency physician for the group.
The meeting was called to order by Medical Association President John Meigs, M.D., a family physician from Centreville, who welcomed the specialties and spoke about the importance of unity within the house of medicine. As the staff of the Association's Government Relations Department discussed the 2019 Session, it became clear that many of the "scope creep" bills that were proposed this year will return again in 2020. The upcoming 2020 Session was the main focus of the meeting, as physicians from various specialties talked through existing agenda items from the current year and offered their input. Anytime physicians from multiple specialties can sit down, face-to-face, and discuss issues affecting their patients and their practices and work toward solutions, it should be encouraged. AL-ACEP's participation, and the input of every other specialty taking part in the meeting, strengthens the Medical Association legislative agenda and advocacy capabilities.
While the "scope creep" bills will all return in 2020, other bills affecting emergency physicians are also expected. While several local bills that were county-specific passed this year regarding involuntary commitment of individuals deemed to be a threat to themselves or others, it is anticipated a statewide version of those bills may also be proposed. Drafted incorrectly, such a bill could not only create significant liability problems for emergency physicians but also strain hospital department staff and resources.
In addition, as the drug abuse epidemic continues, expect to see more misguided "opioid bills" that purport to help solve the problem but in reality only make it worse. As well, bills dictating in state law what the standard of care for various medical conditions must be and what steps physicians must follow when treating such conditions, are almost always guaranteed to be introduced.
As medicine looks to the start of the 2020 Session on February 4, stay tuned for more from the Medical Association. Only by being a member can you ensure emergency physicians' concerns are heard and taken into consideration. If you have any questions or would like to become more involved, contact Niko Corley, Director of Legislative Affairs for MASA, at ncorley@alamedical.org.
ALACEP's Annual Conference Reminder
For all those making summer plans, please remember our EMerald Coast Conference will be held June 1-4, 2020 at the Sandestin Golf and Beach Resort. This is a great opportunity to combine a family trip and earn CME all at a reasonable cost. Plan on attending and bringing the family. Details to be forthcoming in the next several weeks.
Welcome New Members!
Syed A Akbar
Alexander Angelidis, DO
Kyle Beasley
Ashley Carter
Kyle Alan Cohen, NRP
Thomas Joseph Dacey
Elizabeth Mercy Ekpo, MD
Christine Fernandez
Sally A. Harrison
Andrew David Housholder, MD, FACEP
Kai Jacobson, MD
Chandler J Kemp
Joshua Lacey
Ashley Diana Lopez, MS
Tyler Brant Miller
Annamalai Nadarajan, MD
Avery Newcomb 
Matthew D Nicholls, MD
Elizabeth Phillips, MD, FACEP
Alex Piszker
Jessica O Rogers, DO
Hakan Alp Sahinoglu
Christopher Allen Sawyer
Antonia Schmitt, DO
Heath Miller Scott, MS
Matthew Sorensen
Justin Thomas, MD
Andrew M Warner, MD
Robert Wians
Christopher H Williams, MD
FROM NATIONAL ACEP


Take Action to Prevent Reimbursement Cut
Your Medicare reimbursements will be cut unless Congress acts before the end of the year. Help us urge Congress to take action to improve MACRA and to stop the upcoming cuts to ensure Medicare patients continue to have access to high quality emergency care. Click here to learn more and send a message to Congress today.
CMS Releases Final 2020 Medicare Physician Fee Schedule
Recently, CMS released its final 2020 Medicare Physician Fee Schedule (PFS) rule that includes changes that will affect Medicare physician payments and MIPS starting Jan. 1. The Regs & Eggs blog breaks down the final rule, emphasizing policies that apply to EM.
New Surprise Billing Toolkit Helps You Advocate Against a Rushed Solution
ACEP believes patients need a real cure for surprise billing, not a hurried, band-aid solution. Please contact your legislators to urge them to be thoughtful about passing the best solution rather than rushing something through. Our member advocacy toolkit has been updated.
Do You Give-A-Shift?
The number one issue facing emergency medicine in Congress today is surprise medical billing. ACEP is working hard to make sure that your voice is heard in this debate and that Congress finds the right solution that takes patients out of the middle and levels the playing field between physicians and insurers. In this critical time in emergency medicine, political action is more important than ever. You can make a difference on this issue by joining the fight with NEMPAC. Help ACEP fix surprise billing the right way by supporting NEMPAC today.
New Member Benefit for Physician Wellness & Assistance
The ACEP Wellness & Assistance Program was rolled out during ACEP19. It offers ACEP members exclusive access to 3 FREE confidential counseling or wellness sessions. Support is available 24/7, and sessions can be face-to-face, over the phone, or via text and online messaging. Includes 30-minute consultations for individual legal/financial matters. Learn more.
ACEP Introduces Citizen First Responder Program
ACEP's new first responder training program, Until Help Arrives, was officially unveiled during ACEP19 in Denver with a series of events to highlight how emergency physicians can positively impact their communities by conducting training sessions to teach the public basic life-saving skills. Read more.
New Resources to Help Small Groups
ACEP has developed new resources specifically to benefit small groups. A new Small Group Advisory Group is a team of seasoned small group members who have volunteered to support the small group practice model by sharing their expertise with other small group members who are looking for guidance or wanting to tap into the experience of others as they face various challenges unique to small groups. If your small group is dealing with an issue that you'd like to ask the advisory group about, just send us an email at smallgroups@acep.org. ACEP has also developed an online community for small group members to share ideas and discuss issues. To joint that group and see the other small group resources available, go to www.acep.org/smallgroups
ACEP and ENA Team Up to Tackle Violence in the ED
ACEP and ENA have joined forces to combat violence in the emergency department through a new campaign entitled "No Silence on ED Violence."  The campaign is aimed at raising public awareness of the frequency and severity of assaults against emergency physicians and nurses, and to advocate for action by stakeholders and policymakers to meaningfully address this crisis. Learn more about the campaign and help us demonstrate how widespread this problem is by sharing your story at www.stopEDviolence.org. 
ACEP-Supported Bill to Prevent ED Violence Passes House
ACEP applauds the House passage of the bipartisan, "Workplace Violence Prevention for Health Care and Social Service Workers Act," sponsored by Rep. Joe Courtney (D-CT), which requires certain health care employers to implement plans to prevent violence against health care workers. "The epidemic of violence in our nation's emergency departments is unacceptable," said ACEP President Dr. Bill Jaquis. "ACEP appreciates Representative Courtney's unwavering leadership on this critical issue." 
Nominate an Outstanding Medical Student
The ACEP/EMRA National Outstanding Medical Student Award recognizes 4th-year EM-bound medical students who excel in professionalism, leadership, service, research and academic excellence. Nominate a deserving student by Jan. 1.
New online course on opioid use disorder is approved by ABEM for "Part IV"—and it's free
You already know that opioid-related deaths have risen to epidemic proportions. And that your emergency department is the only point of access many at-risk patients have to lifesaving interventions. A new ACEP course—free, thanks to a SAMHSA grant—can teach you how to provide better care, make an immediate impact, save lives, and satisfy your ABEM PI requirement. Learn more about the ABEM-approved pathway and the optional education module now. Approved for AMA PRA Category 1 CreditsTM
ACEP seeks task force members for a new Point of Care App: emPOC 
Now is your chance to get involved!  
Working with no network? Are you offline? This FREE, native app with helpful bedside tools can be accessed even with the absence of an internet connection. emPOC is available exclusively to ACEP Members as a benefit to membership. All tools can be accessed on our website. If you are interested in helping steer the direction of emPOC and giving expert advice on how ACEP's new and exciting app can be an even greater asset to our membership, please email Riane Gay at rgay@acep.org to receive more information on how you can get involved.
EMF Announces 2020/2021 Grant Opportunities
The Emergency Medicine Foundation (EMF) has announced its 2020/2021 research grant opportunities. Review the request for proposals and apply for funding by the February 7, 2020 deadline. Four new directed research grants are available on Nasal High Flow Therapy for Respiratory Compromised Patients in the ED, Reducing Burnout through ED Design, Better Prescribing Better Treatment Program, and Diagnostics Research, in addition to EMF partnered grants. 
Psych Coalition to Host Behavioral Emergencies Workshops
The Coalition on Psychiatric Emergencies is hosting an interactive pre-conference workshop Dec. 11 in Scottsdale, AZ in advance of the National Update on Behavioral Emergencies. The early bird rate ($179) expires Dec. 1.
Geriatric Emergency Department Accreditation: Delivering Geriatric Care Standardization
Older adults account for 46 percent of all emergency department visits resulting in hospitalization. Approximately one out of every 10 hospital admissions are potentially avoidable, and the majority (60 percent) of those admissions are for patients 65 and older. Read More about GEDA in the latest SAEM Pulse issue.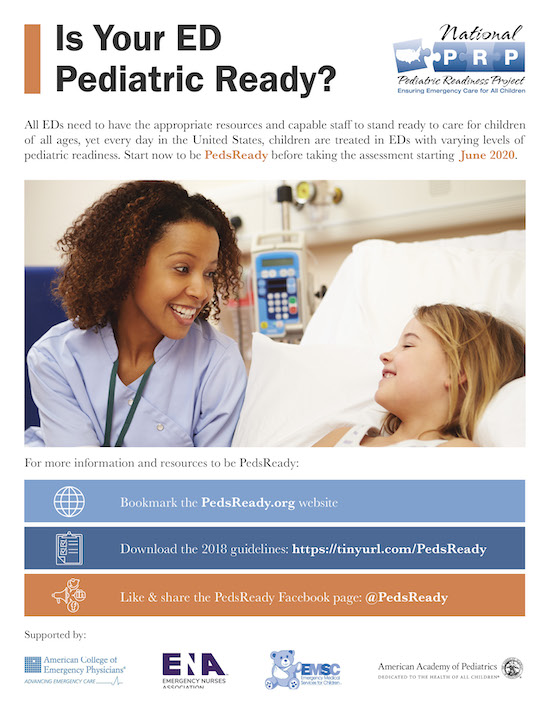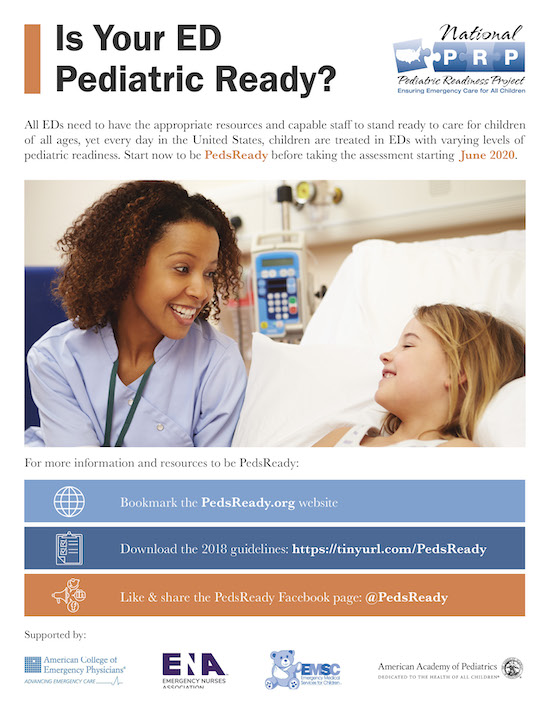 Alabama ACEP
P. O. Box 1265
Dothan, AL 36302
© 2021 Alabama Chapter ACEP. All rights reserved.