A Newsletter for the Members of the Oklahoma College of Emergency Physicians
Spring 2020

Chad Phillips, MD, FACEP
President
Gabe Graham
Executive Director
918-809-9464
From the OCEP President
Chad Phillips, MD, FACEP
Last month marked the 25th Anniversary of the bombing of the Alfred P Murrah Federal Building. I remember hearing the news as I walked home from class while I was a student at Oklahoma State University in Stillwater. As I made my way home to watch the aftermath on TV, I felt exposed and helpless. I watched the memorial service with my kids last month, there was mention of "the Oklahoma Standard". It was the acts of service during this tragedy, the running toward darkness, pain, and destruction that visiting rescue workers and journalists called "the Oklahoma Standard".
As Oklahomans, we see this played out again and again as we repeatedly get beat down by mother nature. We see it today as we anxiously wait to see if our medical system will bear the brunt of Covid-19 like our Yankee friends. It looks now like we may not see the volumes of Covid-19 patients that other metropolitan areas have seen. However, we will still see patients battling for life and others battling with trying to make a living amongst the economic fallout. Oklahomans will not just manage. We will thrive. We will lift each other up. We ARE being lifted up. The support for the medical community has been tremendous. I have had dentists and orthodontic friends bring masks. Friends, neighbors, and strangers have showered our department with meals, cards, and words of encouragement. The love from the community has been displayed to the extent that I almost feel guilty. Almost.
They call us heroes. 
I don't feel like a hero. I feel like I'm doing what I signed up to do. As an ER doctor, we take care of the sick, injured, and dying. We manage disasters on a daily basis. It may be a mass casualty situation from a tornado. It may be a 7 ambulance bolus when you don't have an available room because your department is full of admission holds. Don't take this the wrong way. Am I proud of what I do? Absolutely. As emergency physicians, we stare deadly infectious diseases in the face for breakfast. Few professions deal with more violence in the workplace. We never have the luxury of our service being "capped". We manage disasters on a smaller scale every day. Is this Covid-19 thing a little different than what we have seen in recent years? Yep. Am I scared? I would describe my feeling as "energized". I feel like I'm suited up (literally suited up) for the big game against a heavily favored opponent. As Oklahomans… As ER physicians… We step up.  
My goals as President are to enlist, educate, and encourage. I now am encouraging you to enlist! Enlist your colleagues to membership in ACEP. As emergency physicians, it is of vast importance that we advocate for that which we value. We can do this more efficiently and effectively with a collective voice. That voice can and should be, at least in part, our OCEP chapter. If you find value in your membership, I challenge you to share this with the colleagues that may have let their membership lapse. If you struggle to see the value of your membership dues, I encourage you to contact me or a board member. Let us know how we can better serve our membership. Whether through the frequent devastation of tornados or the less frequent infectious pandemic or act of terrorism, we repeatedly get to demonstrate to the outside world what we value. We value each other. We value life. Continue to fight the good fight.
Welcome New Members!
Mark Bannon
William H Bickell, MD
Gabriel Bolender, MPH
Chelsea Lyn Bowman
Taylor Campbell
Edwin H J Carns, MD, FACEP
Harrison Diep
Danial Gebreili
Mary Carolyn Greenough, MS
Hyemin Kim
Rebecca Cherie Massey, DO
Joshuah Steven Mayo
Brent A Mefford, MD, FACEP
Mary K Moore, DO
Lloyd Moore, MD
Jack L Morgan, DO, PhD
Tooba Huda Naeem, DO
Joshua Wayne Taylor
James T Woodson, MD, FACEP
Shelly Renea Zimmerman, DO, FACOEP, FACEP
FROM NATIONAL ACEP


New COVID-19 Website, Plus Updates to COVID-19 Field Guide
Featuring more than 400 resources, our revamped COVID-19 website will help you find what you need, when you need it. Our most popular resource, the ACEP Field Guide for Managing COVID-19 in the ED, has grown to more than 230 pages and been translated to 5 additional languages. The following sections are newly updated: decontamination/cleaning, HCW checklist, HFNO, treatment and management.
Public Poll: Emergency Care Concerns Amidst COVID-19
There is a worrisome trend across ERs of people who are avoiding getting the medical care they need. While it's important to stay home and follow social distancing guidelines, it's critical to always know when to go to the emergency department. Read more. 
National EMS Week is here!
We are proud to partner with NAEMT to feature National EMS Week (May 17-23) as an initiative to create significantly greater visibility of EMS among health professions and communities. ACEP thanks the generous organizations supporting this year's initiatives. 
TJC Statement, COVID 4.0 Package and More in this Week's Capital Minute
Tune into the reimagined ACEP Capital (30) Minutes every other Thursday at 3 p.m. ET to get federal advocacy updates and answers to your questions in real-time. In the latest edition, we're covering the most recent regulatory changes and funding updates, The Joint Commission statement on mental health that came out earlier this week and what you need to know about the COVID 4.0 package. Watch this week's ACEP Capital Minute here and register for the next edition here. 
Medicare Telehealth Flexibilities…Are They Here to Stay?
We are seeing an expansion of telehealth that we have never seen before, and it is hard to imagine ever going back to where we were before. However, for us to keep up the momentum and not return to the pre-pandemic telehealth world, a few things need to happen---read this week's Regs & Eggs blog to find out what.
COVID-19 Financial Survival Guide: What You Need to Know
ACEP is standing up for our members who, despite serving on the frontlines of the COVID-19 pandemic, are having their livelihoods threatened. Cutting benefits, reducing shifts or canceling contracts in today's environment is akin to signing a 'Do Not Resuscitate' order for many emergency departments and the physicians who care for patients, especially those in rural or underserved areas. Access the guide.
TJC Statement Supports Removing Barriers to Mental Health Care for Clinicians and Health Care Staff
ACEP recently met with The Joint Commission to discuss physicians being penalized by state licensing boards and other entities for seeking mental health support. On May 12, TJC released a statement that supports "the removal of any barriers that inhibit clinicians and health care staff from accessing mental health care services, including eliminating policies that reinforce stigma and fear about the professional consequences of seeking mental health treatment." View more wellness and crisis support resources. 
Upcoming Virtual Grand Rounds Focused on Physician Wellness
Join us May 27 for our Virtual Grand Rounds! From 10 a.m. – 2:45 p.m. CT, we'll cover physician wellness, second victim syndrome in COVID times, emergency mindfulness, overcoming self-judgment with self-compassion, and how to support your team during times of crisis. Register by 8 a.m. CT on May 27. 
Related Resources: 
Physician Crisis Support: ACEP collaborated with the American Association of Emergency Psychiatry on a webinar and podcast related to physician wellness and mental health during COVID-19.

ACEP Member Benefit: Free Counseling and Support
Did You See This Broadway Tribute to Emergency Medicine?
ACEP and ENA were asked to join the "Resilient Project," featuring more than 60 Broadway theatre artists to virtually perform "Resilient" as a thank you to emergency healthcare professionals worldwide. Watch for cameos from several EM physicians and nurses in the video, which also aims to raise money for COVID-19 research through EMF.
Member Benefits: COVID-19 No Cost, Discount & Other Offers
You are risking your lives to care for patients from this unprecedented pandemic, and we all appreciate the additional stress on you and your families. We want to help. And, so do a lot of companies out there. So, thanks to you and thanks to the companies willing to support our healthcare heroes. View the benefits.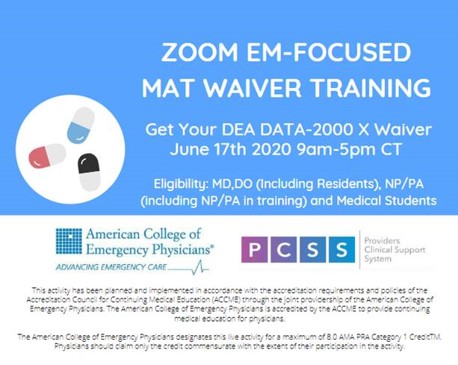 Opioid Updates
COVID-19 Special Edition of Critical Decisions in EM
Our newest CDEM features lifesaving lessons focused on the ED evaluation and management of COVID-19, including timely information on risk factors, common examination findings, valuable diagnostic tests, and the safe use of pharmacological treatments. The issue also takes a deep dive into PPE, the provision of respiratory support, and what interventions should be avoided when managing these vulnerable patients. Learn more. 
EM Research during a Pandemic + Call for Research Forum Abstracts
Our latest podcast discusses conducting EM research during a pandemic. 

Submit your abstracts to ACEP's Research Forum 2020 by June 11. Abstracts will be peer reviewed for presentation at the 2020 Research Forum during ACEP's Scientific Assembly. See abstract requirements.
Be Accredited to Provide Pain & Addiction Care in the ED
Show your community that your ED is part of the solution. ACEP is now accepting applications for the Pain & Addiction Care in the ED (PACED) Accreditation Program, developed for EM physicians by EM physicians. 
PACED, the nation's only specialty-specific accreditation program, will provide the education, tools & resources you need to provide better care for patients in pain & those with substance misuse. 
Elevate the quality of patient care with innovative treatments, alternative modalities, and impactful risk reduction strategies in a collaborative team setting, resulting in positive outcomes for your patients, families, providers, and communities. Learn more at www.acep.org/PACED or contact us at paced@acep.org. 
Oklahoma College of Emergency Physicians
44065 E. 221st Street S, Porter, OK 74454
© 2020 OCEP. All rights reserved.