A Newsletter for the Members of the Oklahoma College of Emergency Physicians - Fall 2019


Chad Phillips, MD, FACEP
President
Gabe Graham
Executive Director
702.259.1228
gabegraham11@gmail.com
President's Message: Enlist, Educate, Encourage
Chad Phillips, MD
Greetings!  I am proud to serve as the President for the Oklahoma College of Emergency Physicians. I would classify myself as super-busy, working and leading a very high-acuity emergency department. I have a wife, 3 kids at home, and lots of other worthy demands for my time. Why in the world would I want to take on the responsibly of this leadership position? I couldn't possibly expect to look competent in front of my colleagues trying to fill the shoes of an Emergency Medicine stalwart like Dr Jeff Goodloe. What was I thinking? 
First, a little about me…I grew up in Booker, Texas, a small farming community in the panhandle about 20 miles south of Beaver, Oklahoma.  After stops for education in Stillwater, Dallas (UT Southwestern) and North Carolina (Wake Forest), I made my way to Tulsa where I have have been practicing medicine at St John Medical Center for the last 15 years.  I have served as the Chairman of Emergency Medicine and Co-director of the emergency department for the last 10 years.  I love my job.  I still get excited about going to work.  In addition to my administrative duties, I see patients 14 days per month. Aside from work, I spend time hunting, mentoring fathers, coaching junior high football, watching my daughter perform in musicals, and am half way through my 21st year of being the husband to a beautiful, godly woman.
My perspective and attitude toward politics beyond my neighborhood and hospital were forever changed after a call from a buddy in March of 2017.  He told me he was going to step away from his mortgage business, run for Governor, and he wanted me to be the Treasurer of his campaign.  It is this type of boldness that can turn around a state.  My front row seat to state politics has been a game-changer. Consider me inspired. Until the last couple years, state and national related policy and politics was for those who didn't have a life outside work.  My eyes have been opened to the critical importance of being informed about the issues that affect our profession.  We have people that love our state and country in positions of influence that need us. They need our input and expertise.  My goals as president are to enlist the resources and expertise of our membership, educate healthcare providers, legislators, and public about the current issues that affect the practice of emergency medicine, and encourage our membership. Oklahoma needs us. We make a difference. Together we must steward relationships within our profession and with our elected officials.  This is a "must' that will better all those who deliver emergency care and improve the lives of our patients.  
Immediate Past President Message
Jeffrey M. Goodloe, MD, FACEP
Much to the dismay of many loyal OCEP newsletter readers, make that a few loyal OCEP newsletter readers….okay….so my mother may miss me writing these OCEP President Messages. Actually, I'm pretty sure my mother is very confused about what I've done since leaving medical school.  And by leaving, I mean graduating, Bo Burns! So there. My mother makes some association with me and ambulances….and that's about it. Close enough, mom.  Now, what was my point?  Oh yes….
My primary point is I'm thrilled to help announce that Chad Phillips, MD is our new OCEP President as of November 1st! Chad has penned a self-introductory message that you'll have hopefully read by now. For those of you lucky enough to work with Chad and/or know Chad, you'll already know what I'm sharing in the next paragraph. Read More
New OCEP Officers Elected
The following officers were elected at the 2019 OCEP Business Meeting held in Tulsa on October 7th:
President (2-year term): Chad Phillips, MD    
St. John Medical Center – Tulsa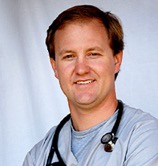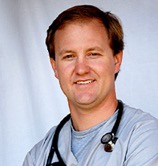 Vice-President (2-year term): Cecilia Guthrie, MD, FACEP, FAAP
The Children's Hospital – OU Medical Center – Oklahoma City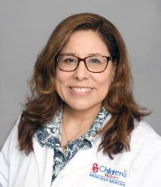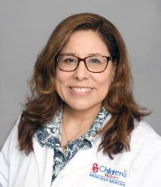 Secretary/Treasurer (2-year term): Timothy Hill, MD, FACEP – incumbent
Councillors for the 2020 ACEP Council: 
Chad Phillips, MD, FACEP – St. John Medical Center – Tulsa

Cecilia Guthrie, MD, FACEP, FAAP –The Children's Hospital–OU Medical Center–OKC - incumbent    

Jeffrey Johnson, MD, FACEP – Green Country Emergency Physicians – NE Oklahoma - incumbent 

TBD
Alternate Councillor(s) for the 2020 ACEP Council:
Resident Member Position – TBD
2019 ACEP Council Report to OCEP Members
Jeffrey M. Goodloe, MD, FACEP - OCEP Immediate Past President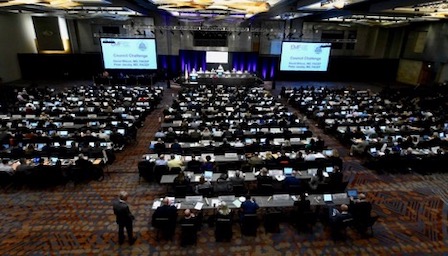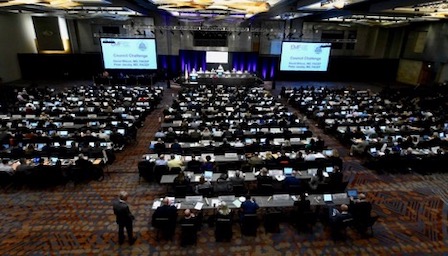 The 433 Councillors of the 2019 ACEP Council at work in Denver, Colorado on October 25th.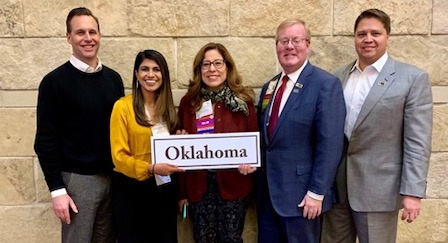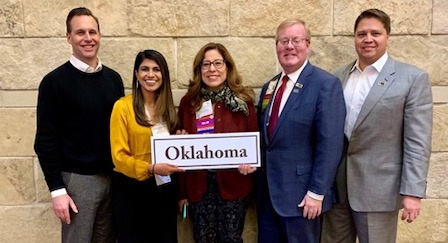 Your OCEP delegation to the 2019 ACEP Council. Drs. Jeff Johnson, Sabha Momin (OCEP resident member/Alternate Councillor), Cecilia Guthrie, Jeffrey M. Goodloe, and Jim Kennedye.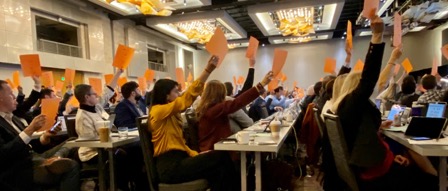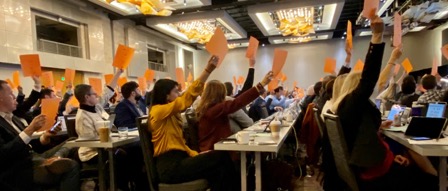 Democracy in action at the 2019 ACEP Council. Many resolution votes are cast using individually issued orange voting cards. Close votes, Council Officer, Board of Directors, and President-Elect elections are decided using individually issued electronic keypads.
This year's ACEP Council was particularly efficient. Of note, nearly all resolutions not adopted or withdrawn were because the work of intent is already being done by ACEP or is outside the feasible scope of ACEP. The ethical violations procedural resolution is strongly supported by your national BOD but was withdrawn due to a technicality in the processing of the resolution and will be re-introduced after Bylaws Committee review for the 2020 ACEP Council. We do have a long-standing, functional process to address ethical violations among ACEP members. Referred resolutions are those that the Council referred to the national BOD for further action, once majority will of the Council was evident. Read More
And Finally from Denver…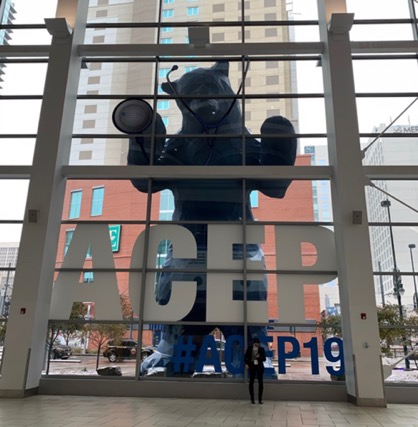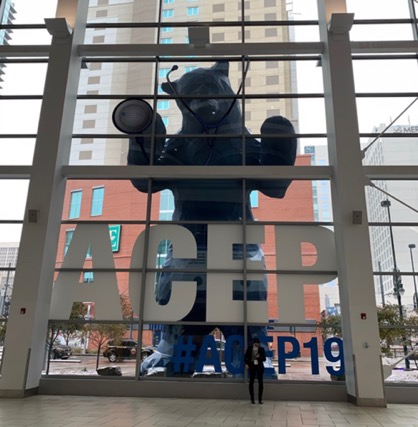 Denver Convention Center's Big Blue Bear (formally titled "I See What You Mean") says that's a wrap on ACEP19 and wants to see you at ACEP20 in Dallas, Texas! This is the closest the national ACEP meeting has ever been to us in Oklahoma so make those travel plans early for October 26-29!
Welcome New Members!
Rachel Marie Cook
Dylan Tyler Roberts
Shelby Madolyn Willis
Trevor Arlen Bickford
Hunter Ellard, M.S.
Eric Timothy Hogan
Robin Rainey Kiehl
Robert Gary Kramer, III
Alex Michael Mckitrick
Eric A Reddick, MD
Austin N Zearley
Chelsey M Beathard
Jiaxing Jiang
Joshua M Day
Alex Riggs, DO
FROM NATIONAL ACEP


Take Action to Prevent Reimbursement Cut
Your Medicare reimbursements will be cut unless Congress acts before the end of the year. Help us urge Congress to take action to improve MACRA and to stop the upcoming cuts to ensure Medicare patients continue to have access to high quality emergency care. Click here to learn more and send a message to Congress today.
CMS Releases Final 2020 Medicare Physician Fee Schedule
Recently, CMS released its final 2020 Medicare Physician Fee Schedule (PFS) rule that includes changes that will affect Medicare physician payments and MIPS starting Jan. 1. The Regs & Eggs blog breaks down the final rule, emphasizing policies that apply to EM.
New Surprise Billing Toolkit Helps You Advocate Against a Rushed Solution
ACEP believes patients need a real cure for surprise billing, not a hurried, band-aid solution. Please contact your legislators to urge them to be thoughtful about passing the best solution rather than rushing something through. Our member advocacy toolkit has been updated.
Do You Give-A-Shift?
The number one issue facing emergency medicine in Congress today is surprise medical billing. ACEP is working hard to make sure that your voice is heard in this debate and that Congress finds the right solution that takes patients out of the middle and levels the playing field between physicians and insurers. In this critical time in emergency medicine, political action is more important than ever. You can make a difference on this issue by joining the fight with NEMPAC. Help ACEP fix surprise billing the right way by supporting NEMPAC today.
New Member Benefit for Physician Wellness & Assistance
The ACEP Wellness & Assistance Program was rolled out during ACEP19. It offers ACEP members exclusive access to 3 FREE confidential counseling or wellness sessions. Support is available 24/7, and sessions can be face-to-face, over the phone, or via text and online messaging. Includes 30-minute consultations for individual legal/financial matters. Learn more.
ACEP Introduces Citizen First Responder Program
ACEP's new first responder training program, Until Help Arrives, was officially unveiled during ACEP19 in Denver with a series of events to highlight how emergency physicians can positively impact their communities by conducting training sessions to teach the public basic life-saving skills. Read more.
New Resources to Help Small Groups
ACEP has developed new resources specifically to benefit small groups. A new Small Group Advisory Group is a team of seasoned small group members who have volunteered to support the small group practice model by sharing their expertise with other small group members who are looking for guidance or wanting to tap into the experience of others as they face various challenges unique to small groups. If your small group is dealing with an issue that you'd like to ask the advisory group about, just send us an email at smallgroups@acep.org. ACEP has also developed an online community for small group members to share ideas and discuss issues. To joint that group and see the other small group resources available, go to www.acep.org/smallgroups
ACEP and ENA Team Up to Tackle Violence in the ED
ACEP and ENA have joined forces to combat violence in the emergency department through a new campaign entitled "No Silence on ED Violence."  The campaign is aimed at raising public awareness of the frequency and severity of assaults against emergency physicians and nurses, and to advocate for action by stakeholders and policymakers to meaningfully address this crisis. Learn more about the campaign and help us demonstrate how widespread this problem is by sharing your story at www.stopEDviolence.org. 
ACEP-Supported Bill to Prevent ED Violence Passes House
ACEP applauds the House passage of the bipartisan, "Workplace Violence Prevention for Health Care and Social Service Workers Act," sponsored by Rep. Joe Courtney (D-CT), which requires certain health care employers to implement plans to prevent violence against health care workers. "The epidemic of violence in our nation's emergency departments is unacceptable," said ACEP President Dr. Bill Jaquis. "ACEP appreciates Representative Courtney's unwavering leadership on this critical issue." 
Nominate an Outstanding Medical Student
The ACEP/EMRA National Outstanding Medical Student Award recognizes 4th-year EM-bound medical students who excel in professionalism, leadership, service, research and academic excellence. Nominate a deserving student by Jan. 1.
New online course on opioid use disorder is approved by ABEM for "Part IV"—and it's free
You already know that opioid-related deaths have risen to epidemic proportions. And that your emergency department is the only point of access many at-risk patients have to lifesaving interventions. A new ACEP course—free, thanks to a SAMHSA grant—can teach you how to provide better care, make an immediate impact, save lives, and satisfy your ABEM PI requirement. Learn more about the ABEM-approved pathway and the optional education module now. Approved for AMA PRA Category 1 CreditsTM
ACEP seeks task force members for a new Point of Care App: emPOC 
Now is your chance to get involved!  
Working with no network? Are you offline? This FREE, native app with helpful bedside tools can be accessed even with the absence of an internet connection. emPOC is available exclusively to ACEP Members as a benefit to membership. All tools can be accessed on our website. If you are interested in helping steer the direction of emPOC and giving expert advice on how ACEP's new and exciting app can be an even greater asset to our membership, please email Riane Gay at rgay@acep.org to receive more information on how you can get involved.
EMF Announces 2020/2021 Grant Opportunities
The Emergency Medicine Foundation (EMF) has announced its 2020/2021 research grant opportunities. Review the request for proposals and apply for funding by the February 7, 2020 deadline. Four new directed research grants are available on Nasal High Flow Therapy for Respiratory Compromised Patients in the ED, Reducing Burnout through ED Design, Better Prescribing Better Treatment Program, and Diagnostics Research, in addition to EMF partnered grants. 
Psych Coalition to Host Behavioral Emergencies Workshops
The Coalition on Psychiatric Emergencies is hosting an interactive pre-conference workshop Dec. 11 in Scottsdale, AZ in advance of the National Update on Behavioral Emergencies. The early bird rate ($179) expires Dec. 1.
Geriatric Emergency Department Accreditation: Delivering Geriatric Care Standardization
Older adults account for 46 percent of all emergency department visits resulting in hospitalization. Approximately one out of every 10 hospital admissions are potentially avoidable, and the majority (60 percent) of those admissions are for patients 65 and older. Read More about GEDA in the latest SAEM Pulse issue.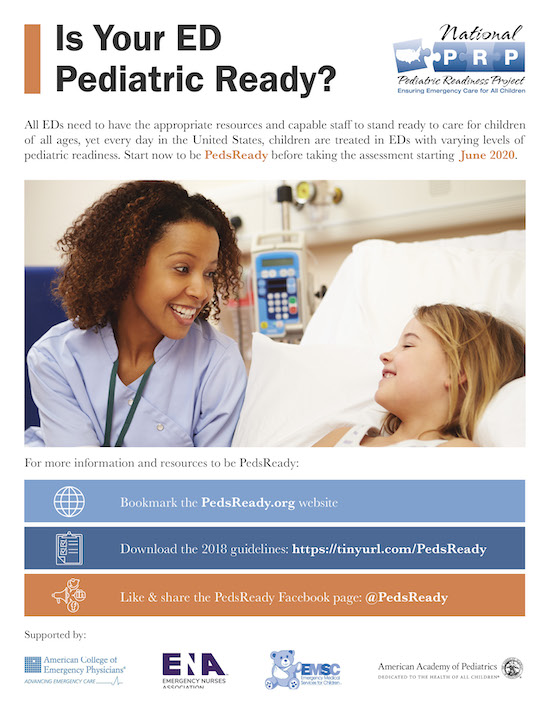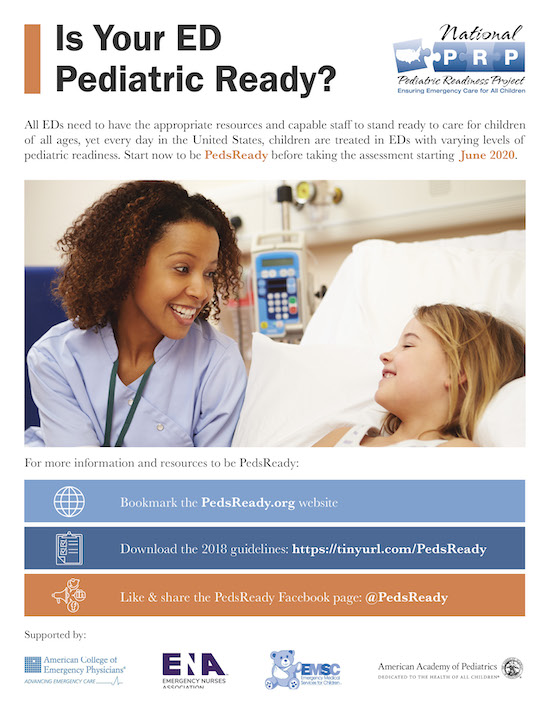 Oklahoma College of Emergency Physicians
44065 E. 221st Street S, Porter, OK 74454
© 2020 OCEP. All rights reserved.