Participants needed for seniors study
The department of psychology at the University of Saskatchewan is conducting a study entitled, "Building bridges to positive aging among seniors" for which they are recruiting volunteers. A recruitment graphic is available for download below.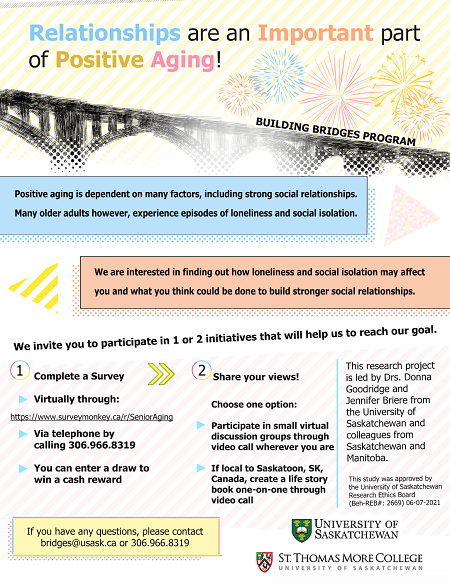 Participants aged 55+ are needed to help the research team learn about older adults' wellbeing, loneliness and social isolation.
Participate online
or call (306) 966-8319 to complete it over the phone! After completing the study, your name will be entered into a number of cash draws. Full information available in the consent form in the above link.

This looks to be a worthwhile particularly as it's relevant to all Sasatchewan members, done by a recognized university and has received approval from the University of Saskatchewan Research Ethics Board. 

Brian Harris
Director, Regina and Area Branch
The National Association of Federal Retirees
Doug Sutherland
President, Regina and Area Branch
The National Association of Federal Retirees