the CPR DateBook
October 16, 2020
Welcome to the "CPR DateBook," our weekly newsletter containing details on CPR's upcoming events in one place for easier planning purposes. These mailings will also contain helpful tips, highlights and links to breaking CPR news and initiatives, as well as CPR resources you may want to explore or revisit. CPR is always hard at work to provide information and other tools to help you advance your dispute resolution goals. To print the DateBook, first open it in your browser here.
MEET CPR DISTINGUISHED NEUTRALS BASED IN EUROPE
Gill Mansfield
The CPR European Advisory Board (EAB) continues its series, "Meet CPR's Distinguished Neutrals in Europe" and today it presents its next Q&A, with Gill Mansfield.
Gill is a UK qualified barrister and CEDR accredited commercial mediator with over 20+ years international legal and commercial experience the majority of which has been spent as in-house counsel. She has held Head of Legal, General Counsel & Company Secretary, and Senior Counsel roles across the media, entertainment, creative and digital/technology sectors, negotiating complex deals and resolving international commercial disputes. Her experience includes working with innovative new businesses and disruptive start-ups as well as award winning TV producers, multi-national corporations and household name brands.
Here is how she answered the question, "What advice would you give to the younger generation looking for a first appointment as neutral?"
"It's important to choose the right mediation training course but taking a five-day training in itself doesn't make you a mediator.  It's just the start of your journey.  So many people finish their training completely enamoured with the idea of mediation, passionate about the process and expecting the work to find them.  Sadly, it won't.  I spent the early part of my mediation career working with some the UK's most respected mediators first as an observer and then as an assistant.  In dispute resolution, as in any other field, learning your craft is vital.  Seek out people who you can learn from and opportunities to develop your mediation skills.  Working with community mediation organisations can be a great way to continue to build your skills (but don't be surprised to find that many other aspiring mediators are also seeking this experience too).  The likelihood is that your first paid mediation will come from within your own network and in order for that to happen you need to build credibility and expertise.  You also need to build your network both in the industry and amongst those who instruct mediators.  That takes time and commitment. It's not going to happen overnight and there is no silver bullet."
.
NOW ACCEPTING NOMINATIONS FOR CPR DIVERSITY AWARD
For contributions to diversity in ADR
In 2007, the National Task Force on Diversity in ADR created an Award for Outstanding Contribution to Diversity in ADR to recognize a person or organization who has contributed significantly to diversity in the alternative dispute resolution field. Submissions are reviewed by a panel consisting of past winners, along with CPR's Co-Chairs of the National Task Force on Diversity and CPR's President. The awards ceremony is held in conjunction with CPR's Annual Meeting.
Guidelines:
Send electronic file nominations (in PDF or Word format) by January 5, via email to Helena Tavares Erickson, Esq., SVP, Dispute Resolution Services & Corporate Secretary at herickson@cpradr.org. Please include a cover letter with your submission with your name, address, telephone, and fax number, and email address.  If you are nominating someone for an award, please supply their contact information as well.While it is expected that submissions will be in the English language (or accompanied by a translation), CPR reserves the right to consider submissions not in English. CPR also reserves the right to submit outstanding candidates that have not been nominated.
SUBMISSION PERIOD NOW OPEN FOR CPR 2020 ANNUAL AWARDS
For pieces published from
November 2019-October 2020
The CPR Institute's Awards Program honors outstanding scholarship and practical achievement in the field of alternative dispute resolution. Award criteria focuses on processes, techniques, systems, commitment, and scholarship which address the resolution, prevention or creative management of major disputes involving public or business institutions between corporations, between government and corporations, or among multiple parties. The review committee comprises judges and lawyers from leading corporations, top law firms and academic institutions across the U.S. This year's awards will include:
IN OUR LATEST ISSUE, OCT 2020
ADR Systems
"Hostility on Display: Why and When Corporations Aren't Really Big Fans of Arbitration" by Richard Frankel
Practice Skills
"Arbitrating Covid‐19 Contract Disputes Under Civil and Common Law Principles" by James R. Ferguson
Neutrals
"How 'Blind' Is a Mediator's Proposal?" by Norman Feit
Commentary
"Confessions and Redemption—and Politics—For an Un‐Neutral Person Who Mediates" by Marjorie Corman Aaron
ADR Process Design"'
In the Neighbourhood': Broader Schemes Start Locally" by Adam Samuel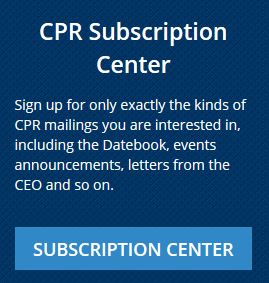 OTHER NEWS & DEVELOPMENTS
General Dynamics Chief Legal Counsel, Elisabeth Preston, and Dentons' Rachel Howie Assume Leadership of CPR's Canada Advisory Board
CPR Selects CVS Health and General Counsel Thomas Moriarty for 2021 Corporate Leadership Award
FOLLOW US ON SOCIAL
CPR INSTITUTE:
Twitter: @CPR_Institute
Facebook: @TheCPRInstitute
LinkedIn: https://www.linkedin.com/company/cpr-institute
CPR DISPUTE RESOLUTION:
Twitter: @CPR_Dispute_Res
Facebook: https://www.facebook.com/CPR-Dispute-Resolution-102065304843449/ (Username pending)
LinkedIn: https://www.linkedin.com/company/cpr-dispute-resolution
HEALTHCARE & LIFE SCIENCES FORUM
Hosted by CPR's Healthcare & Life Sciences Committee 
November 12 at 2:00 pm
OPEN TO THE PUBLIC
Please join the CPR Institute's Healthcare and Life Sciences Committee on Thursday, November 12th at 2:00 – 5:00PM EST, as it hosts its first meeting of the season. We will be joined by a diverse line up of in-house and outside counsel as well as neutrals to discuss an array of topics relating both to dispute prevention and dispute resolution in the life sciences area. See the agenda below.
CPR is also excited to welcome, as the new Co-Chairs of the Committee, Connie Matteo of Pfizer and Jonathan Wasserman of Hogan Lovells, along with the new Secretary to the Committee Samuel Zimmerman, also of Hogan Lovells.
Agenda
Mitigating Risk in Licensing Transactions
Moderated by Connie Matteo of Pfizer, this panel will discuss how to approach inter-company licensing transactions from the perspective of big Pharma, a biotech and a commercial litigator in an effort to mitigate risk of disruption.
Speakers:
Art Cohn, VP & Assistant General Counsel at Pfizer
Brian Stalter, General Counsel at Cabaletta Bio
David Colvin, Partner at Fox Rothschild
Uses of ADR to Resolve Life Science Disputes
Moderated by Allen Waxman, President & CEO of CPR, this panel will share perspectives on the use of ADR in life sciences.
Speakers:
Michael Freeman, Group Vice President at Walgreens
Conna Weiner, Independent Mediator and Arbitrator at Conna Weiner ADR
Arbitrating Life Science IP Disputes
Moderated by Jonathan Wasserman of Hogan Lovells, this panel will discuss the implications of resolving IP disputes through ADR.
Speakers:
Matthew P. Blischak, Partner, Intellectual Property at Roivant Sciences
Neal Dahiya, Assistant General Counsel at BMS
Grant Kim, Partner at LimNexus
THE FUNCTIONS & BENEFITS OF EXTERNAL OMBUDS PROGRAMS
Government & ADR Task Force Meeting
October 28, 2020 at 12:00 pm
Please join the CPR Government & ADR Task Force for our next meeting, featuring speakers from the Federal Reserve and International Association of Ombudsmen discussing the function and benefits of external Ombuds programs.
Speakers:
Moderator: 
Pete Swanson
Chief Practitioner,  Office of Conflict Management and Prevention
Federal Mediation and Conciliation Service (FMCS)
Panelists:
Chuck Howard
Executive Director of the International Ombudsman Association
Jean Whyte
Associate Ombudsman
Board of Governors of the Federal Reserve System
Amy Koontz
Assistant Ombudsman
Board of Governors of the Federal Reserve System
To register, email rmurphy@cpradr.org
THE RISE OF COVID-19-RELATED EMPLOYMENT CLAIMS
A Panel Presentation by the Employment Disputes Committee 
Thursday, October 22, 2020
12:00pm
Please join the CPR Employment Disputes Committee for a panel of in-house employment counsel, corporate defense attorneys and counsel from the plaintiff's bar discussing the rise of COVID-19-related employment claims being filed in federal and state courts.  The discussion will include the novel legal theories behind these claims, potential liability and best practices for preventing and resolving these disputes.
While CPR Committee events are normally reserved for CPR members, this event is OPEN TO THE PUBLIC.
Speakers Include: 
Rebecca Berkbile | Assistant General Counsel | Mount Sinai Health System
David L. Harris, Jr. | Vice President and Counsel, Employment Law | BNY Mellon
Dan A. Kadish | Associate | Morgan Lewis 
Kendall N. Onyendu | Associate | Outten & Golden
Robert Whitman | Partner | Seyfarth Shaw LLP (moderator)
To register, please contact Richard Murphy at rmurphy@cpradr.org
 

VICE-PRESIDENT OF GLOBAL DEVELOPMENT
Position Overview: The Vice-President of Global Development for Dispute Resolution Services will play a critical role at CPR, with primary responsibility for growing CPR's Dispute Resolution Services (DRS).  The person in this role must share a passionate commitment to our mission.  The position will report to the President and CEO, and will work closely with other senior leaders in the organization as well as the Board of Directors, providing strategic guidance and direction as well as execution against goals.  Finally, the person in this role must share our core values of Quality, Accountability and Collaboration. FOR MORE INFORMATION, VISIT OUR CAREERS PAGE HERE.
ADR EVENTS
Upcoming CPR Events and Trainings
*Unless otherwise specified, CPR Committee meetings are for CPR members only
UNITED STATES
October 20, 2020 at 12 pm (via Webinar) - CPR Dispute Prevention Committee Meeting
October 21, 2020 at 1 pm ET - "Moving a Case from the Trial Court to Arbitration in the Era of COVID-19." This is a complimentary Webinar sponsored by the IADC's Alternative Dispute Resolution Committee, Business Litigation Committee, In-House and Law Firm Management Committee and International Arbitration Committee. OPEN TO CPR MEMBERS ONLY. 
October 22, 2020 at 12 pm (via Webinar) - CPR Employment Disputes Committee Meeting, "The Rise in COVID-19-related Claims"
October 26, 2020 - CPR Employment Arbitrator Pathways Training Program
October 28, 2020 at 12 pm (via Webinar) - CPR Government & ADR Task Force Meeting (Task force membership, but not CPR membership, is required)
October 29. 2020 - "The Best Dispute Resolution is Prevention," presented by CPR Distinguished Neutral and CPR Institute SVP, Ellen Parker.
November 4, 2020 at 12 pm (via Webinar) - Diversity in ADR Task Force Meeting (Task force membership, but not CPR membership, is required)
November 12 at 12 pm (via Webinar) - CPR Construction Advisory Committee Meeting on ADR in the construction industry, 
NEW: November 12 at 12 pm (via Webinar) - CPR Healthcare & Life Sciences Meeting
November 18, 2020 at 1 pm - At New York Law School, Allen Waxman, President and CEO of the International Institute for Conflict Prevention and Resolution (CPR) shares lessons from an extensive career as a partner in law firms and as a general counsel and business executive in the life sciences industry, to discuss the proper role of one of the most influential ADR "think tanks" in modern legal and corporate practice.  
November 16-20, 2020 - New York Arbitration Week 2020 hosted by CIArbNY and NYIAC
January 27-29, 2021 - CPR's Annual Meeting, PREVENT! Resolution Without Dispute (virtual, but Austin, TX themed)
INTERNATIONAL
November 27, 2020 - Milan Chamber of Arbitration (CAM) Annual Conference 
December 3, 2020 - The 2020 CPR Latam Conference on Business Dispute Management, organized by CPR and its Brazil Advisory Board (BAB)
To unsubscribe or change your subscription preferences click HERE.
International Institute for ConflictPrevention & Resolution30 E 33rd Street, 6th Floor | New York, NY 10016 USAPhone: +1.212.949.6490 | Fax: +1.212.949.8859 | www.cpradr.org