the CPR DateBook
July 10, 2020
Welcome to the "CPR DateBook," our weekly newsletter containing details on CPR's upcoming events in one place for easier planning purposes. These mailings will also contain helpful tips, highlights and links to breaking CPR news and initiatives, as well as CPR resources you may want to explore or revisit. CPR is always hard at work to provide information and other tools to help you advance your dispute resolution goals. To print the DateBook, first open it in your browser here.
AT&T SVP & ASSISTANT GENERAL COUNSEL, BRUCE BYRD, JOINS CPR'S BOARD OF DIRECTORS
We are pleased to announce the addition of Bruce Byrd, Senior Vice President and Assistant General Counsel, AT&T, to CPR's Board of Directors. Bruce is responsible for legal affairs for AT&T Communications, AT&T's largest operating company, directing legal, compliance and privacy matters for a company that generates over $140 billion in annual revenue and has over 180,000 employees. He was appointed in August 2017.
"Bruce brings a diversity of legal experience, a passion for dispute prevention and resolution and past stewardship helping not-for-profits like ours grow," said CPR President & CEO, Allen Waxman. "Given the expanding scope of both our efforts and aspirations, we are fortunate to add Bruce to the talented and committed members of our governing and guiding body."
POSTED THIS WEEK ON OUR BLOG, CPR SPEAKS:
Russ Bleemer explored

"Will the U.S. Supreme Court Allow Discovery in Private International Arbitrations?" and followed his post up with a video interview with

 John B. Pinney of Graydon in Cincinnati (pictured above). The two discussed the prospects of the Supreme Court's having to decide to incorporate arbitral tribunals into the §1782 definition. Read the post and view the video interview HERE. 
Next, we introduced a new CPR Speaks video feature, the "CPR Europe Corporate Counsel Interview Series." For this first installment, EAB Secretary Elizabeth Chan (Three Crowns) conducted an interview of Isabelle Roux-Chenu, EVP – Head of Group Commercial & Contract Management, Senior Advisor to the Group Chairman at CapGemini (pictured below). Click HERE to watch this short video interview.
Finally, with the assistance of CPR Legal Intern Heather Cameron, we posted this compilation of diversity and anti-racism resources, recommendations and initiatives shared by CPR members and friends.  
IN OUR LATEST ISSUE, JULY/AUGUST 2020, NOW AVAILABLE:
ADR Systems Design "Corporate Dispute Resolution Strategies to Make Mediation and Arbitration Better Alternatives" by Norman Veasey
ADR Ethics "An Unquestionable Mediation Conflict of Interest—The MGM Mandalay Bay Shooting Settlement" by Art Hinshaw
Court Decisions "Will the Supreme Court Take Up Allowing Discovery Under Section 1782 for Private International Arbitrations?" by John B. Pinney
ADR Process Design "Arbitration Privacy and Confidentiality In the Age of (Coronavirus) Technology" by David C. Singer
Commentary "Complaint Handling: The Technique that (Almost) Nobody In the Conflict Resolution World Talks About" by Adam Samuel - Click below for a video interview with Adam, in which he expands upon the topic of his article, discussing the most common form of ADR on the planet: the processes emanating from a consumer complaint.
And, finally, congratulations to Alternatives, edited by Russ Bleemer, which has just been awarded its ninth Apex Award since 2005, totaling 15 such national communications awards in the same period. 
The award was granted for the article, "When the Techies Go Marching In: An Industry Updates Its Sexual Harassment Dispute Resolution Policy," 37 Alternatives 18 (February 2019), written by CPR Corporate Counsel and Vice President of Programs and Public Policy, Anna Hershenberg, and CPR Legal Intern, Molly O'Casey (the first intern to win since 2012). Congratulations to all!
CPR WEBSITE CHANGES 
Re-Registration Required
In order to provide a more convenient and user-friendly experience for our members and users in 2020 and beyond, CPR has updated our systems. This will require that all new and prior registrants on our website follow a quick and easy process to enter themselves into the updated system.
Users will still be able to access most of CPR's website and resources without registering but, in order to access certain members-only and other (portal) content, registration will be required.
(Note: All prior registrants should have received an email from "CPR Website Team" announcing these updates and providing a link to your customized code. We will resend this email periodically. If you do not receive this email and need a new link sent to you, contact csilva@cpradr.org. If you had previously registered for CPR's website, please do not try to re-register directly on the website—that is for new registrants only; you will need a code.) More information and instructions on how to register and re-register can be found on our website HERE.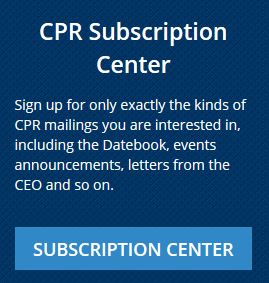 NEW FLAT FEE MEDIATION PROGRAM FOR COVID-19 RELATED DISPUTES MAKES EXPERT DISPUTE RESOLUTION SERVICES READILY AVAILABLE AND AFFORDABLE
In the current COVID-19 environment, the courts are either clogged or closed, and litigation is expensive, distracting or destructive, and slow. Mediation, conducted by skilled mediators, is a more efficient, creative and constructive process in arriving at cost-effective solutions.
In conjunction with Legal Innovators and FTI Consulting, we are therefore pleased to be offering a new COVID-19 Flat Fee Mediation Program, aimed at redressing the economic impact of the pandemic, particularly on small and mid-sized businesses.
The program applies to any kind of COVID-19 related disputes below $5 million at issue. Each participating organization in the Mediation Program contributes to the unique aspects of this comprehensive mediation program:
CPR appoints mediators from its Panel of Distinguished Neutrals pursuant to the Mediation Procedure for the CPR-FTI-Legal Innovators Flat Fee Mediation Program;

FTI provides neutral loss assessments to inform mediators and supports online mediation (or provides its offices to hold the mediation to the extent health, safety considerations and space permit);

Legal Innovators provides "bench" memos on relevant legal principles under applicable law to assist the mediators
The flat fee is $6,000 (to be split by the parties) for 10 hours of mediation and $350/ hour for any additional hour.
For more information click here or contact CPR at CPRNeutrals@cpradr.org.
MAKE CPR ONE OF YOUR "DISPUTE PREVENTION STEPS"
In a recent Expert Analysis piece for Law360, "6 Dispute Prevention Steps as Lawsuits Rise Amid Pandemic," author Janice Sperow (a Distinguished CPR Neutral) suggests that businesses deploy experts to assist with identifying issues and anti-conflict systems, in order to nip problems in the bud.
She mentions CPR as one such source of expertise, with the organization having "pioneered prevention as the ultimate resolution when it first began working on the issue over a decade ago."
In the article, Janice also discusses CPR's launch of its new Dispute Prevention Panel of Distinguished CPR Neutrals (of which she is a member), comprising practitioners skilled in facilitating conflict management and solving business problems before they become full-blown legal matters, as well as CPR's Dispute Prevention Committee -- which will soon launch a suite of model prevention clauses and contractual provisions "crafted to avoid problems and de-escalate conflict before the classic resolution phase."
Read the entire article on the Law360 site here (normally, a subscription is required, but COVID-19 content is provided for free).
ADR EVENTS
Upcoming CPR events and trainings
UNITED STATES
July 20, 21, 23, 24 9:00 a.m. – 1:00 p.m. and July 25 9:00 a.m. – 4:00 p.m. (Online) - INITIAL MEDIATION TRAINING by New York Law School's Alternative Dispute Resolution Skills Program
NEW: July 22, 2020 - State Bar Commercial Arbitration Training Program to be held via Zoom, CPR SVP, Dispute Resolution Services, Helena Tavares Erickson, will be presenting on the "Perspectives on Practice Development in the Arbitration World" panel  
October 21, 2020 - Philadelphia 2020 Regional Meeting, "Can We Save Arbitration from Itself?"
INTERNATIONAL
September 14, 2020 - CPR 2020 European Conference in collaboration with CEDR hosted by SwissRe at the Gherkin in London, UK 
December 3, 2020 - The 2020 CPR Latam Conference on Business Dispute Management, organized by CPR and its Brazil Advisory Board (BAB)
IMPORTANT CHANGES TO CPR FILING PROCEDURES
EFFECTIVE 3/16/2020 UNTIL FURTHER NOTICE, CPR WILL ONLY ACCEPT FILINGS ELECTRONICALLY AT cprneutrals@cpradr.org. PAPER FILINGS WILL NOT BE ACCEPTED.
TO SEND FILES VIA VOLTAGE ENCRYPTED EMAIL, PLEASE EMAIL herickson@cpradr.org TO BE AUTHORIZED.
PAYMENT WILL ONLY BE ACCEPTED VIA CREDIT CARD OR WIRE TRANSFER. PLEASE SPECIFY IN YOUR COVER EMAIL HOW YOU WOULD LIKE TO PAY.
OTHER NEWS & DEVELOPMENTS
AT&T Senior Vice President & Assistant General Counsel, Bruce Byrd, Joins CPR's Board of Director
CPR Mentioned in Law360's "Six Dispute Prevention Steps as Lawsuits Rise Amid Pandemic"
CPR Announces New Diversity Commitment
Judge Shira Scheindlin (Ret.) Mentions CPR's Model Procedural Order on Remote Video Proceedings in Law360's "2 Tested Alternatives To Unavoidable Court Delays" (Free access because COVID-19 topic)
CPR Announces New COVID-19 Flat Fee Mediation Program, in Collaboration with Legal Innovators and FTI Consulting, to Resolve Dsputes Below $5 Million
AEGIS Insurance Services, Inc. Senior Litigation Counsel, Steven J. Antunes, Names Co-Chair of CPR Council
IADC Names CPR as Recommended ADR Services Provider in Strategic Partnership
Disputing Blog Covers CPR's Annotated Model Procedural Order for Remote Video Arbitration Proceedings
CPR Launches Annotated Model Procedural Order for Remote Video Arbitration Proceedings
2020 CYBERSECURITY TRAINING VIDEOS NOW AVAILABLE ONLINE
All CPR Neutrals Encouraged to View and Obtain Your Certificate
CPR is pleased to collaborate with FTI Consulting to offer a complimentary "Cybersecurity in ADR" Training to its Distinguished Neutrals and Members. Offered on an annual basis. The training is designed to enable you to stay abreast of the latest developments in cybersecurity and to help you deal with cybersecurity issues you might be faced with when serving as an arbitrator and/or mediator.
The 2020 edition of the training took place via live webinars on May 12, 19, and 22, 2020. Recordings of the 2020 Cybersecurity Training are available here:
Module I – Current and Emerging Threats - Access this recording HERE
Module II – Practical Tips to Mitigate Risks - Access this recording HERE
Module III – CPR Data Security and the Protocol on Cybersecurity in International Arbitration - Access this recording HERE
Note: The recordings are password protected and can only be accessed by CPR Distinguished Neutrals and CPR Members. To receive the passwords, email Chris Silva at csilva@cpradr.org.
You also may access the recordings at your convenience from our website at https://www.cpradr.org/neutrals/cpr-fti-cybersecurity-training.
CPR Distinguished Neutrals who complete the 2020 Training will receive a Certificate of Completion.To obtain yours, email Chris Silva at csilva@cpradr.org once the three modules have been completed. In your email, please provide the codes provided during each of the modules.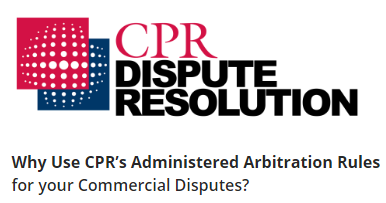 Accessibility - You do not need to be a member of CPR to avail yourself of CPR's numerous dispute resolution service offerings.
Quality - Not all rules are the same—ours have won awards for innovation. All neutrals aren't the same either—CPR's panel of almost 550 mediators, arbitrators and other neutrals is distinguished and dynamic, increasingly diverse and responsive, adjusting in real time to meet the continuously changing needs of our users. And CPR offers personalized, concierge-level consulting and case management services, by highly experienced, accessible and multilingual attorneys. LEARN MORE.
Efficiency and Lower Costs - You may have heard that arbitration isn't all that different from litigation—that it takes too long and costs almost as much. Well, not all arbitrations are the same. CPR has addressed many of the criticisms and concerns people may have about arbitration. LEARN MORE.
Integrity - CPR offers integrity, neutrality and a commitment to the rule of law, to ensure a fair and just process for all parties to the arbitration. Arbitrators must be independent and neutral—No exceptions. LEARN MORE.
CPR is actively recruiting additional arbitrators and mediators with experience in the arbitration of FLSA and classification issues for our Employment and Employment-Related Mass Claims Protocol Panels.
And, in an effort to expand and diversify its Panel, CPR has opened additional pathways for neutrals to become a part of the CPR Employment Arbitration Panels and Employment Related Mass Claims Master List. This is intended to streamline the process and accommodate a greater range of applicants. FIND MORE INFORMATION ON APPLYiNG FOR THESE PANELS HERE.
If you have such experience and would like to be considered, please contact csilva@cpradr.org.
International Institute for ConflictPrevention & Resolution30 E 33rd Street, 6th Floor | New York, NY 10016 USAPhone: +1.212.949.6490 | Fax: +1.212.949.8859 | www.cpradr.org