the CPR DateBook
May 29, 2020
Welcome to the "CPR DateBook," our weekly newsletter containing details on CPR's upcoming events in one place for easier planning purposes. These mailings will also contain helpful tips, highlights and links to breaking CPR news and initiatives, as well as CPR resources you may want to explore or revisit. CPR is always hard at work to provide information and other tools to help you advance your dispute resolution goals. To print the DateBook, first open it in your browser here.
THE CPR EUROPEAN ADVISORY BOARD (EAB) PRESENTS: "MEET CPR DISTINGUISHED NEUTRALS IN EUROPE"
Bart Neervoort
This week, the EAB presented the fourth interview in its series, "Meet CPR's Distinguished Neutrals in Europe," speaking to Bart Neervoort, from the perspective of a mediator.
Bart is an international trial lawyer turned full-time mediator and arbitrator, based in the Netherlands.  Over the last ten years he has handled disputes in diverse areas including construction, shipbuilding, professional negligence, medical malpractice and shareholder disputes.  He has been an arbitrator for NAI, ICC (Paris), UNUM (Rotterdam), LCIA (India) and CIETAC (China).  These days his practice focuses on mediation and he is a certified mediator for MfN, IMI, ICC (Paris), CEDR (London) as well as a CPR Distinguished Neutral. 
Here is just one of the topics on which Bart spoke: 
Q. What is the one piece of advice you would want to give to the younger generation looking for a first appointment as neutral?
A. Don't be too keen as a mediator on reaching resolution. When you start mediating, you tend to think settlement is your success and failing to reach agreement is your failure. My experience has been that one can overstretch your skills if you are too eager. Let the parties do the work. It is their process. You are there to guide them. Keep in mind, it is their resolution, not yours and their problem if they do not resolve their dispute.  Finally, don't boast about your success rate.  Remember, you are there for the parties.
CPR WELCOMES ITS SUMMER 2020 INTERNS!
Interns at CPR participate in the organization's research and activities to expose them to the organization's cutting-edge advocacy for the increased use of and development of commercial conflict resolution. CPR's work varies--no intern will have the same experience. Typically interns conduct research and compose content for CPR's website, CLE courses, publications and articles. Interns also conduct background research for programs by CPR's Industry and Practice Committees, and for Institute-wide surveys and studies, where appropriate.
Meet our Summer 2020 group:
Heather Cameron, who is in NYC and just completed her first year at Fordham University School of Law  

Seorae Ko, who just completed her first year at Harvard University Law School and will be working with us from her home in the Republic of Korea

Yixian Sun, another Harvard Law student who will be a second-year student this fall, and is working with CPR this summer from Cambridge, Massachusetts
You can learn more about CPR's legal internship opportunities HERE. 
IMPORTANT CHANGES TO CPR FILING PROCEDURES
EFFECTIVE 3/16/2020 UNTIL FURTHER NOTICE, CPR WILL ONLY ACCEPT FILINGS ELECTRONICALLY AT cprneutrals@cpradr.org. PAPER FILINGS WILL NOT BE ACCEPTED.
TO SEND FILES VIA VOLTAGE ENCRYPTED EMAIL, PLEASE EMAIL herickson@cpradr.org TO BE AUTHORIZED.
PAYMENT WILL ONLY BE ACCEPTED VIA CREDIT CARD OR WIRE TRANSFER. PLEASE SPECIFY IN YOUR COVER EMAIL HOW YOU WOULD LIKE TO PAY.
CPR WEBSITE CHANGES 
Re-Registration Required
In order to provide a more convenient and user-friendly experience for our members and users in 2020 and beyond, CPR has updated our systems. This will require that all new and prior registrants on our website follow a quick and easy process to enter themselves into the updated system.
Users will still be able to access most of CPR's website and resources without registering but, in order to access certain members-only and other (portal) content, registration will be required.
(Note: All prior registrants should have received an email from "CPR Website Team" announcing these updates and providing a link to your customized code. We will resend this email periodically. If you do not receive this email and need a new link sent to you, contact csilva@cpradr.org. If you had previously registered for CPR's website, please do not try to re-register directly on the website—that is for new registrants only; you will need a code.) More information and instructions on how to register and re-register can be found on our website HERE.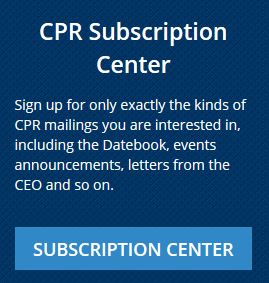 CPR COVID-19 RESOURCE CENTER
CPR OFFERING FORUMS FOR ITS DISTINGUISHED NEUTRALS
Over this past few weeks, CPR has continued its role of providing service to the ADR community by convening Neutrals Forums in different Time Zones to provide a space for the exchange of questions, learning and  practical best practices for remote proceedings during the time of COVID-19.
Participants were able to discuss issues that have arisen  or are anticipated to arise in such proceedings such as the potential for witness coaching and the handling of exhibits during such procedures. The CPR Annotated Model Procedural Order was circulated to attendees and several of its provisions highlighted. 
These forums will continue; CPR neutrals, please look for your invitations in your email inbox.
ADR EVENTS
Upcoming CPR events and trainings
UNITED STATES
June 4, 2020 - Dispute Prevention Committee Meeting
NEW: June 4, 2020 - Resolving Employment Disputes in Brazil: Myths, Facts and Opportunities. This webinar, organized by CPR, CPR's Brazil Advisory Board, CPR's Employment Committee and Mattos Filho, will provide an overview of employment disputes in Brazil and the current legal and ADR framework to resolve them. A panel of distinguished corporate counsel and practitioners will offer their views and practical insights on the recent labor and employment reform and how companies can take advantage of ADR as an option to resolve employment disputes. For more information and to register click HERE.
NEW: June 10, 9 am - Webcast - ADR Day: Dispute Resolution in the New Normal – Responsible ADR in the age of COVID, Keeping You & Your Clients Safe while Getting Results, and Proven Advice from the Experts in These Challenging Times
June 11, 2020 - Energy, Oil & Gas Committee Meeting
NEW: June 30, 2020 from 10 am to 5 pm - Employment Pathways Arbitration Training – for CPR Panel Invitees only – More information to follow.
October 21, 2020 - Philadelphia 2020 Regional Meeting, "Can We Save Arbitration from Itself?"
INTERNATIONAL
September 14, 2020 - CPR 2020 European Conference in collaboration with CEDR hosted by SwissRe at the Gherkin in London, UK 
December 3, 2020 - The 2020 CPR Latam Conference on Business Dispute Management, organized by CPR and its Brazil Advisory Board (BAB)
LET US PROMOTE YOU!
If you are a CPR member or neutral and have an idea for an original article about dispute prevention/resolution developments or best practices, we would be happy to consider it for publication in the CPR blog CPR Speaks - and then to promote that publication in the DateBook and on social media. This is an effective way to demonstrate your experience and thought leadership to a broader audience.
To explore any of these possibilities, please contact Tania Zamorsky at tzamorsky@cpradr.org.
NEWS & DEVELOPMENTS
CPR Announces New COVID-19 Flat Fee Mediation Program, in Collaboration with Legal Innovators and FTI Consulting, to Resolve Dsputes Below $5 Million
AEGIS Insurance Services, Inc. Senior Litigation Counsel, Steven J. Antunes, Names Co-Chair of CPR Council
IADC Names CPR as Recommended ADR Services Provider in Strategic Partnership
Disputing Blog Covers CPR's Annotated Model Procedural Order for Remote Video Arbitration Proceedings
CPR Launches Annotated Model Procedural Order for Remote Video Arbitration Proceedings
In Indisputably, John Lande Expands Upon his CPR AM20 Topic, Litigation Interest and Risk Assessment
CPR Continues to Pioneer in Diversity Space, with Launch of Diversity & Inclusion Model Clause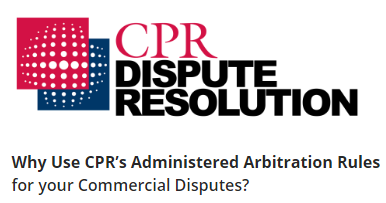 Accessibility - You do not need to be a member of CPR to avail yourself of CPR's numerous dispute resolution service offerings.
Quality - Not all rules are the same—ours have won awards for innovation. All neutrals aren't the same either—CPR's panel of almost 550 mediators, arbitrators and other neutrals is distinguished and dynamic, increasingly diverse and responsive, adjusting in real time to meet the continuously changing needs of our users. And CPR offers personalized, concierge-level consulting and case management services, by highly experienced, accessible and multilingual attorneys. LEARN MORE.
Efficiency and Lower Costs - You may have heard that arbitration isn't all that different from litigation—that it takes too long and costs almost as much. Well, not all arbitrations are the same. CPR has addressed many of the criticisms and concerns people may have about arbitration. LEARN MORE.
Integrity - CPR offers integrity, neutrality and a commitment to the rule of law, to ensure a fair and just process for all parties to the arbitration. Arbitrators must be independent and neutral—No exceptions. LEARN MORE.
CPR is actively recruiting additional arbitrators and mediators with experience in the arbitration of FLSA and classification issues for our Employment and Employment-Related Mass Claims Protocol Panels.
And, in an effort to expand and diversify its Panel, CPR has opened additional pathways for neutrals to become a part of the CPR Employment Arbitration Panels and Employment Related Mass Claims Master List. This is intended to streamline the process and accommodate a greater range of applicants. FIND MORE INFORMATION ON APPLYiNG FOR THESE PANELS HERE.
If you have such experience and would like to be considered, please contact csilva@cpradr.org.
International Institute for ConflictPrevention & Resolution30 E 33rd Street, 6th Floor | New York, NY 10016 USAPhone: +1.212.949.6490 | Fax: +1.212.949.8859 | www.cpradr.org