the CPR DateBook
April 2, 2019
Welcome to the "CPR DateBook," our weekly newsletter containing details on CPR's upcoming events in one place for easier planning purposes. These mailings will also contain helpful tips, highlights and links to breaking CPR news and initiatives, as well as CPR resources you may want to explore or revisit. CPR is always hard at work to provide information and other tools to help you advance your dispute resolution goals. To print the DateBook, first open it in your browser here.
CPR COVID-19 RESOURCE CENTER
RECENTLY ADDED:
IMPORTANT CHANGES TO CPR FILING PROCEDURES
EFFECTIVE 3/16/2020 UNTIL FURTHER NOTICE, CPR WILL ONLY ACCEPT FILINGS ELECTRONICALLY AT cprneutrals@cpradr.org. PAPER FILINGS WILL NOT BE ACCEPTED.
TO SEND FILES VIA VOLTAGE ENCRYPTED EMAIL, PLEASE EMAIL herickson@cpradr.org TO BE AUTHORIZED.
PAYMENT WILL ONLY BE ACCEPTED VIA CREDIT CARD OR WIRE TRANSFER. PLEASE SPECIFY IN YOUR COVER EMAIL HOW YOU WOULD LIKE TO PAY.
CPR WEBSITE CHANGES 
Re-Registration Required
In order to provide a more convenient and user-friendly experience for our members and users in 2020 and beyond, CPR has updated our systems. This will require that all new and prior registrants on our website follow a quick and easy process to enter themselves into the updated system.
Users will still be able to access most of CPR's website and resources without registering but, in order to access certain members-only and other (portal) content, registration will be required.
(Note: All prior registrants should have received an email from "CPR Website Team" announcing these updates and providing a link to your customized code. We will resend this email periodically. If you do not receive this email and need a new link sent to you, contact csilva@cpradr.org. If you had previously registered for CPR's website, please do not try to re-register directly on the website—that is for new registrants only; you will need a code.) More information and instructions on how to register and re-register can be found on our website HERE.
CPR IN THE NEWS
The media are taking note of how CPR is responding to the Coronavirus crisis.
The Recorder
In "How the COVID-19 Crisis Is Reshaping Alternative Dispute Resolution," CPR Distinguished Neutral Gilda Turitz, based in San Francisco, shared her enthusiasm over the prospect of online dispute resolution, and observed that remote tools could substantially change ADR and expand neutrals' reach. 
"It could open up opportunities to expand their ability to mediate and arbitrate out of areas where it wouldn't economically make sense to travel but they have a niche," she told The Recorder.
A member of CPR's Dispute Prevention panel, Turitz also described how CPR is looking ahead to how to potentially prevent disputes that come out of the coronavirus.
CPR SVP, Dispute Resolution Services, Helena Tavares Erickson, noted that CPR is currently seeing two to three times as many cases as they typically get, possibly as a result of people taking the opportunity over the last two weeks to get their matters filed.
READ THE FULL STORY ON THE RECORDER'S SITE HERE.
Securities Arbitration Commentator
In "Coronavirus and the ADR Providers – What You Need to Know," SAC, George Friedman interviewed leaders from the major national ADR institutions to gather information on how they are adjusting to COVID-19.
As CPR SVP, Dispute Resolution Services, Helena Tavares Erickson told SAC, "Cases are being administered by staff working from home. Most cases are non-administered, however, meaning relatively little staff participation after we assist the parties with neutral selection. Paper is no longer accepted, and documents must be filed online (we offer a secure, encrypted email option). Payments must be electronic."
"We are here for you," she added, speaking on behalf of CPR's entire Dispute Resolution Services staff. "Don't hesitate to reach out to us."
LET US PROMOTE YOU!
If you are a CPR member or neutral and have an idea for an original article about dispute prevention/resolution developments or best practices, we would be happy to consider it for publication in the CPR blog CPR Speaks - and then to promote that publication in the DateBook and on social media. This is an effective way to demonstrate your experience and thought leadership to a broader audience.
As another CPR member benefit, where possible we can also work to place your article with editors and outlets externally (and then promote your involvement with CPR in the author bio). One effective approach, if you are a law firm member, is to propose an article collaboration with a client (or, if you are in-house counsel, to co-author a byline with a partner from your outside law firm). This is just the kind of creative in-house/outside counsel collaboration that CPR champions.
To explore any of these possibilities, please contact Tania Zamorsky at tzamorsky@cpradr.org.


IN OUR LATEST ISSUE, APRIL 2020, NOW AVAILABLE:
Practice Skills"Exploring and Using Business Solutions In Mediation Settlement Agreements" by Roderick M. Thompson
Arbitration"Schein's Remand Decision Goes Back To the Supreme Court. What's Next?" by Philip J. Loree Jr.
The Master Mediator"Who Cares? Me and You, But Never 'I'" by Robert A. Creo
Arbitration"Tribunals, Providers, and Courts Must Help Protect Reasoned Awards"by John Burritt McArthur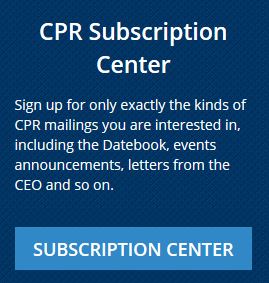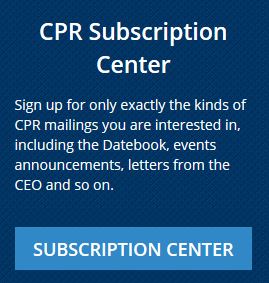 CPR LAUNCHES NEW DIVERSITY & INCLUSION MODEL CLAUSE
CPR continues to pioneer in the diversity and inclusion space, with the launch of its new Diversity & Inclusion Model Clause, now available to parties who wish to pre-commit to a diverse panel of neutrals.
The release of the new clause follows other efforts CPR has made to encourage the selection of diverse neutrals for ADR matters, including the addition of a diversity statement to its nomination letters, the option for neutrals to self-identify as diverse on slates of candidates being provided to parties, as well as the Young Lawyer Rule recently added to CPR's revised Rules for Non-Administered Arbitration of Domestic and International Disputes.
"While many are committed to diversity, improvement in selection of diverse neutrals for matters continues to be slow. The gap between good intentions and actual implementation may arise due to implicit bias or other obstacles," said CPR President & CEO, Allen Waxman. "It is our hope that, by encouraging parties to consider expressly committing in advance to select diverse neutrals, we create a practical process to help close that gap, and better ensure we are calling upon all of the talent available for dispute resolution."
In pertinent part, the new clause provides: "The parties agree that however the arbitrators are designated or selected, at least one member of any tribunal of three arbitrators shall be a member of a diverse group, such as women, persons of color, members of the LGBTQ community, disabled persons, or as otherwise agreed to by the parties to this Agreement at any time prior to appointment of the tribunal."
The clause was developed by CPR with the help of its Diversity in ADR Task Force, co-chaired by Hon. Timothy K. Lewis of Schnader Harrison Segal & Lewis LLP and Hon. Shira A. Scheindlin of Stroock & Stroock & Lavan LLP, along with a Diversity Model Clause subcommittee led by CPR Distinguished Neutral, Laura Kaster and Bennett Picker of Stradley Ronon.
According to Ben Picker "CPR's new clause will promote the selection of highly skilled diverse neutrals, a goal of every major company in America. The clause will also accomplish a second major corporate goal - better decisions - as it has been established by virtually every study that diverse groups make better decisions." 
Both Kaster and Picker were clear about the call to action that the clause can answer.  As Laura Kaster put it: "Please be part of a vivid and vital future and select this clause for your next arbitration agreement. This is a change worth fighting for. Thank you, CPR."
DISTINGUISHED CPR NEUTRAL, LAURA KASTER, DISCUSSES DIVERSITY
[CLICK IMAGE TO LAUNCH VIDEO]
Alternatives editor, Russ Bleemer, speaks with CPR Distinguished Neutral, Laura Kaster, of Appropriate Dispute Solutions, about both her work and CPR's efforts in diversity, as well as her AM20 presentation on implicit bias.
"The world of dispute resolution has lagged in diversification because ADR has not previously been specifically included in corporate diversity oversight," said Kaster, in conjunction with the release of CPR's new Diversity & Inclusion model clause (see above), which she and Ben Picker helped develop as leaders of the Diversity in ADR Task Force Diversity Model Clause subcommittee. "CPR's members are focused on moving the needle now. CPR's new diversity clause will mean real change is here."
ANNOUNCING CPR'S NEW DATA SECURITY RESOURCE
Data security is important to CPR, as we know it is to you. To keep us all following best practices, we have created a comprehensive online resource. 
On our website HERE, you will find information relating to communicating with CPR on case-related matters, cybersecurity in arbitration and other ADR proceedings – including information on the ICCA-NYC Bar-CPR Protocol on Cybersecurity in International Arbitration – data protection and on the CPR online dispute resolution platform, as well as other technology tools.
ADR EVENTS*
Upcoming CPR events and trainings
*Keep an eye on this space for any COVID-19-related scheduling changes
UNITED STATES
NEW: April 7, 2020, 12:30 pm (Webinar) - CPR Arbitration Committee Meeting, "Force Majeure in the Time of COVID-19: A Procedural and Substantive Examination"
NEW: April 9, 2020,  12:00 pm - 12:45 (e-program) - NYIAC Talks Podcast: Ingenuity in the Time of COVID19 - The Arbitral Institutions Respond. CPR SVP, Dispute Resolution Services, Helena Tavares Erickson, will be speaking.
April 27, 2020, 12:30 pm - Banking & Financial Services Committee Meeting (Webinar), featuring Tess Virmani, Associate General Counsel & Executive Vice President, Public Policy of the Loan Syndications and Trading Association and Michael Spafford, Partner, Paul Hastings, discussing issues relating to the phase out and the corresponding legal disputes that may result from LIBOR.
April 29, 2020,12:00 pm - CPR Environmental Committee Meeting (Webinar), discussing disputes related to the climate crisis.  
POSTPONED UNTIL JUNE 2021: June 15-19, 2020 - Columbia / CIArb Comprehensive Course on International Arbitration, June 15-19, 2020, at Hogan Lovells NY offices and CIArb Accelerated Route to Fellowship, June 22-25, 2020 - NYC
RESCHEDULED: Our previously scheduled May 5, 2020 CPR Philadelphia Regional Meeting, "How to Save Arbitration from Itself" has been rescheduled for October 29, 2020. 
INTERNATIONAL
SCHEDULING CHANGE: April 2, 2020 – The CPR European Advisory Board (EAB) in-person meeting originally scheduled to take place at Gide will now take place via conference call April 2 between 2:30-4:30pm CET (with an Executive Council Meeting between 2-2:30 pm CET for Executive Council Members).
TO BE RESCHEDULED: May 14, 2020 - CPR 2020 European Conference in collaboration with CEDR hosted by SwissRe at the Gherkin in London, UK will be rescheduled to a later date.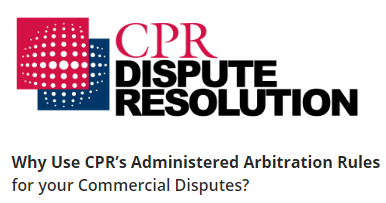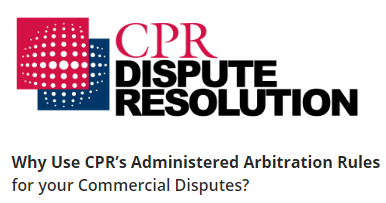 Accessibility - You do not need to be a member of CPR to avail yourself of CPR's numerous dispute resolution service offerings.
Quality - Not all rules are the same—ours have won awards for innovation. All neutrals aren't the same either—CPR's panel of almost 550 mediators, arbitrators and other neutrals is distinguished and dynamic, increasingly diverse and responsive, adjusting in real time to meet the continuously changing needs of our users. And CPR offers personalized, concierge-level consulting and case management services, by highly experienced, accessible and multilingual attorneys. LEARN MORE.
Efficiency and Lower Costs - You may have heard that arbitration isn't all that different from litigation—that it takes too long and costs almost as much. Well, not all arbitrations are the same. CPR has addressed many of the criticisms and concerns people may have about arbitration. LEARN MORE.
Integrity - CPR offers integrity, neutrality and a commitment to the rule of law, to ensure a fair and just process for all parties to the arbitration. Arbitrators must be independent and neutral—No exceptions. LEARN MORE.
NEWS & DEVELOPMENTS
CPR Continues to Pioneer in Diversity Space, with Launch of Diversity & Inclusion Model Clause
From The Recorder: How the COVID-19 Crisis is Reshaping Alternative Dispute Resolution
From Securities Arbitration Commentator: How CPR and Other ADR Providers Are Responding to the Coronovirus
Shell Oil General Counsel, Global Litigation, Kimberly R. Phillips Joins CPR's Board of Director
CPR Announces Winners of 2020 Awards for Contributions to Academia and Diversity in ADR
Update on CPR's Employment-Related Mass Claims Protocol
Former KPMG Principal and Associate General Counsel, Ellen Parker, to Consult for CPR
Alternatives Editor, Russ Bleemer published an article, "Listening for Mediators," for John Lande's Theory of Change symposium, on Indisputably.org.   


CPR is actively recruiting additional arbitrators and mediators with experience in the arbitration of FLSA and classification issues for our Employment and Employment-Related Mass Claims Protocol Panels.
If you have such experience and would like to be considered, please contact csilva@cpradr.org.
International Institute for ConflictPrevention & Resolution30 E 33rd Street, 6th Floor | New York, NY 10016 USAPhone: +1.212.949.6490 | Fax: +1.212.949.8859 | www.cpradr.org