Click here if you are having trouble viewing this message.
10 October: Senate Inquiry – Closing Loopholes Bill
Ai Group addresses Senate Inquiry into 'Closing Loopholes' Bill
Ai Group Chief Executive Innes Willox this week delivered our opening statement to the Senate Education and Employment Legislation Committee Inquiry into the Fair Work Amendment (Closing Loopholes) Bill 2023. It was an opportunity for us to raise our concerns and discuss the main points of our submission. Our approach is to identify what is wrong with the Bill while maintaining our position that it is a fatally flawed Bill that should not be passed. 
 
Read our opening statement
12 October 2023: Standards Development
Ai Group awards member contributions on World Standards Day
Ai Group yesterday celebrated the contributions of our members who sit on standards committees with our annual World Standards Day Award ceremony. We have almost 300 representatives sitting on Standards Australia's technical committees covering diverse topics from child restraints to artificial intelligence. The time our members contribute to standards development equates to more than one million dollars annually, magnified many times over with the economic impact of the standards they develop.
 
Find out more – including the winners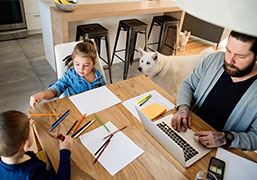 Also:
8 October 2023: Ai Group HR Hot Topics Review
Are your work from home guidelines up to date?
An appropriate 'working from home' policy has become essential, given nearly half of Australian employees now work remotely, Ai Group HR experts told a webinar last week. Employers need to set clear expectations, agreeing upfront on basics such as WHS, resources and inter-team communication – several employers have already ended up in court over these issues and others such as productivity monitoring. 
 
Read our Blog post to find out more
9 October 2023: Ai Group 150th Anniversary
150th anniversary festivities continue
Ai Group's Victorian Head, Tim Piper, hosted a 'state' celebration of our 150th anniversary with members, staff and special guests in Melbourne last Friday, with former Victorian Premier John Brumby and former Ai Group National and Victorian President Don Matthews joining as guest speakers. State-based anniversary events have already taken place in Brisbane and Adelaide while our NSW team will celebrate with special guests and members later this month in Sydney.
 
Read our Blog post to find out more
>>24 October: Ai Group CET Online Event
White Paper on Jobs and Opportunities: a blueprint for a working future
The long-awaited Employment White Paper released in September sits at the intersection of our social and economic goals – labour supply and the availability of suitable skills, as well as improving opportunity and social inclusion. Join us as we drill into the White Paper in the context of the Government's workplace relations agenda and the theme of education and training, which runs throughout the paper.
 
Find out more and register now
>>27 October: Ai Group Online Event
Business Credit Risk and how to 
address it
In this webinar we will provide members with an understanding of the financial health of the construction industry and how business managers may identify and effectively respond to credit risks that may impact their businesses. 
 
Find out more and register now
>>2 November: Ai Group Online Event
HR Fundamentals: Right of entry – rights and wrongs
A Union's right of entry to a workplace can be exercised independently and irrespective of any enterprise agreement bargaining process – but this statutory right is not unconditional and is subject to certain conditions and principal purposes which Union officials must comply with. This webinar will set out key definitions and principals, as well as provide practical guidance and key recommendations for employers.
 
Find out more and register now
Take part in our Annual CEO Outlook Survey for 2024
Your experiences and opinions matter to industry, governments, regulators, law and policy makers. Participating in our annual survey will help your voice be heard and will enable us to advocate on your behalf.
 
This year we are keen to hear about your experience regarding international trade, supply chains, employment, skills and investment.
 
As always, your response will be strictly confidential. Individual names, responses and details will never be published or shared. A summary of the aggregated and confidentialised results will be compiled in a report and will be available from our website in 2024. You can read our previous report for 2023 here.
 
We estimate the survey will take around 10 minutes and would be grateful if you could complete it by Thursday 30 November 2023.
 
Participate here 
 
 Copyright © 2023 - The Australian Industry Group.
This email has been sent to you as a member of Ai Group and forms part of our communications services to you.
Go to the Ai Group website change your Subscription Preferences, or click here to unsubscribe from this list.