Click here if you are having trouble viewing this message.

Thursday, 28 July 2022
Centre for Education and Training Newsletter: Edition 12
A strong voice for industry skills needs
Skilling Australia to lock in our digital future, a new report released by the Centre for Education and Training, sets out the scale of the digital transformation opportunity (and challenge) before us. We conducted interviews and case studies with 18 Australian companies drawn from a broad cross section of Ai Group's membership, developing a policy response as important as the transformation itself.

Read the full report 
Read the Policy Brief 
Read the Member Brief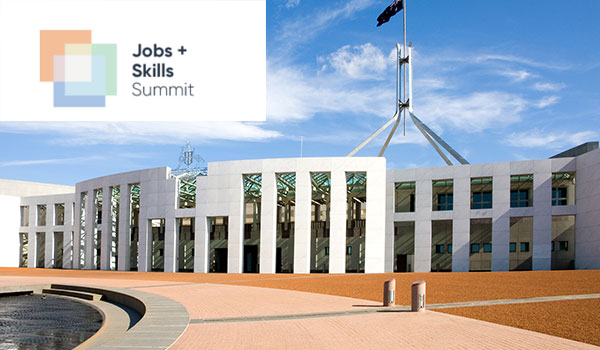 Jobs and Skills Summit: have your say
The Federal Government has announced its Jobs and Skills Summit for 1-2 September at Parliament House in Canberra. Represented at the Summit will be a select number of business groups, unions, civil society organisations, and government. Ai Group has stated that the Summit should have two key objectives: one is to get more people into work and more people skilled and work ready, and the second is to boost our productivity within the workplace which has been flatlining. 
  
Skills: what matters to you?
The best way to contribute to Ai Group's policy and advocacy on skills and the workforce is by telling us what matters to you and your business. Take our survey to share your experience and help shape our agenda with the new Government. This opportunity is only open until August 1.
Free technology workshops in Queensland
Ai Group is presenting a series of free workshops to enable Queensland manufacturers, supply chain partners and educators to learn from specialists in the fields of digital twinning, automation, mixed and virtual reality and data automation. The events will be hosted by Ai Group Policy Officer & Projects Lead Mel Ireland, with the support of the Department of Regional Development, Manufacturing and Water.
How digital transformation is changing supply chain relationships – Harvard Business Review
Digital transformation provides businesses with an incredible amount of data which presents opportunities to better collaborate with their supply chain. In order to maximise the potential of the data, leaders are required to adopt boundary-spanning mindsets that build trust across organisational boundaries.
EdTech start up helps students land their first job
EdTech start up InternMatch's program has seen over 10,000 students matched and placed in internships, with over 65 per cent of participants offered an ongoing role at the end of their placement. 
COMPANY INITIATIVES
Support for employers to recruit and keep tradeswomen
Tradeswomen Australia Group is a non-profit organisation working to increase the representation of women in skilled trade roles to more than the current 2%.
GLOBAL STORIES
New Brookings Institute report 
A new report from US Think Tank Brookings provides insight into the opportunities, risks and tensions that exist in the rapidly evolving digital credential and digital hiring platform space. 
UPCOMING WEBINAR: 18 August
Will Australia have the workforce for a clean economy?
As Australia transitions to a clean economy there are both known areas of change such as electrification and offshore wind and emerging areas such as renewable hydrogen and circular economy. Join Megan Lilly, Executive Director of the Centre for Education and Training and our panel of speakers as they explore how Australia can develop the workforce required for a clean economy.
WEBINAR RECORDING: 14 July
Digital transformation: Skilling Australia to lock in our digital future
This webinar followed the release of our latest research on digital transformation and skills. The Centre's Executive Director, Megan Lilly, was joined by David Chuter, CEO, Innovative Manufacturing CRC and a panel of experts to discuss how digital technology is transforming Australian businesses and their workforces.
Did you know that being a member of Ai Group also allows you free access to the Ai Group Centre for Education and Training's Member Network? 

What is the Member Network?
The Member Network is an Australia-wide community of practice of industry leaders and professionals with an interest in skills development, education and training. The Member Network regularly meets online to discuss issues important to members, with the agenda driven by members.
When's the next meeting?
The next meeting will take place on Tuesday, 16 August at 11am (AEST), with a special focus on the Jobs + Skills Summit. See our lead news story above
How do I join?
You can register your interest to join the Member Network via this link. It is free to join for any Ai Group member company or organisation. You will receive an invitation each month to join the monthly meetings, which you can join as and when you choose.
For enquiries about the Member Network please email:
 Copyright © 2022 - The Australian Industry Group.
This email has been sent to you as a member of Ai Group and forms part of our communications services to you.
Go to the Ai Group website change your Subscription Preferences, or click here to unsubscribe from this list.