Click here to view this email in your browser.
Last Thursday, we held our 2023 Installation and Awards Ceremony where we celebrated the installation of our 2023 Board of Directors, including Jerry Moscowitz, our 2023 President. We also announced our 2023 award and scholarship winners:
Lyndon Smith, Realtor

®

of the Year

Jackie Berry, Rising Star

Liz Fagen and Jonna Kosalko, Good Neighbors

Azureya Blair, Jean Leake Emerging Markets Scholarship

Catherine Kuria, Jean Leake Emerging Markets Scholarship

Missy Rotterdam, Ann Brockhouse Future Leaders Scholarship
Congratulations to all and thank you for a great night! Below, watch the video from Jerry's peers that played during his Installation.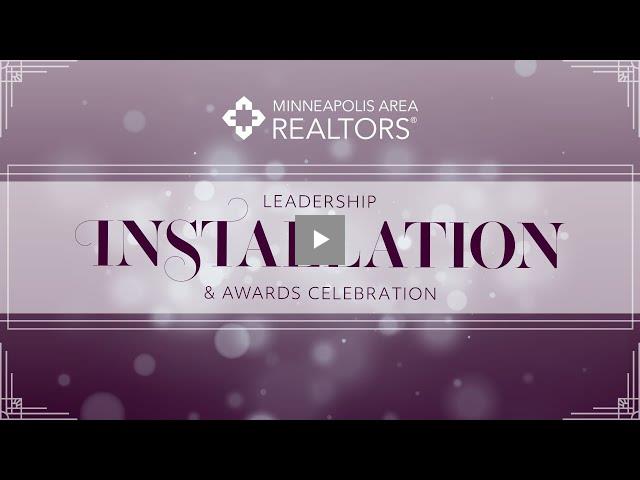 Last week, we released our joint annual report on the 2022 housing market with Saint Paul Association of Realtors® at a press conference at the North Regional Library in North Minneapolis. Five news outlets were present and our coverage is below, along with a link to the report!
"I went from sifting through more than 10 offers with my sellers to counseling them about being patient while on the market all within one year's time," said Jerry Moscowitz, President of Minneapolis Area Realtors®. "Inflation may be turning a corner and rates could moderate by summer. If that happens, pent-up demand will surface and we'll go right back to a competitive market with bidding wars where demand far exceeds supply."
KSTP
KARE 11
WCCO
CCX Media
MSP Business Journal
Twin Cities Business
StarTribune
AXIOS Twin Cities
Bring Me The News

Have you been a NAR member for 40 or more years? You may qualify for Emeritus status, which includes exemption from dues and COE requirements!
 
Have you been a member of the National Association of Realtors® since 1983?

Have you served on a national committee for at least one year? 
 
If so, you qualify for this distinct honor.
   
Want to apply for Emeritus status? Just reach out to us at info@mplsrealtor.com or 952-933-9020 and we'll verify your information and submit this application on your behalf. Just let us know which national committee you served on, and the year(s) you served. The deadline to apply is March 24, 2023. 
Learn more about the benefits of Emeritus status:
January 24 | 1:00 p.m.-4:00 p.m.
Staging a property for sale is a transformative process that showcases a listing in order to attract the highest number of potential buyers. Through a series of "before & after" studies, agents will be able to provide staging advice that is effective and on-trend and will be able to guide sellers who desire to engage the services of a professional stager.
3.0 CE | In-Person | Members $42
January 25 | 9:00 a.m.-11:30 a.m. | In-Person | 2.5 CE
January 26 | 9:00 a.m.-12:45 p.m. | In-Person | 3.75 CE

All members are welcome to join these committee meetings!
February 1 | 1:00 p.m.-2:30 p.m.
February 14 | 1:30 p.m.-3:00 p.m.
February 15 | 11:00 a.m.-12:45 p.m.
February 15 | 1:00 p.m.-3:00 p.m.

As a companion to our regular weekly report, these weekly and monthly charts go beyond some of the higher-level trends. Here's what the latest market data is telling us:
The only two price brackets with an increase in showings compared to last year were $500-600K and $800K-1M.

Listings between $250-300K made up 17.0 percent of all showings (18.3 percent last year) while listings over $1M made up 2.0 percent of all showings (1.6 percent last year).

Pending sales were down about 27.0 percent overall but listings priced between $500-750K saw only a 9.5 percent decrease in the number of accepted offers compared to the year prior.

5750 Lincoln Drive
Minneapolis, MN 55345
952.933.9020 | info@mplsrealtor.com
Monday - Friday: 8-4:30
Click here to unsubscribe.