Click here if you are having trouble viewing this message.

Thursday 25 March 2021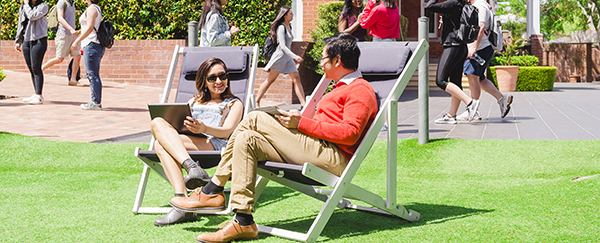 Message from the Chief Operating Officer
March, 2021
It has been a joyous thing to see students and staff return to our campuses this semester. The experience of the COVID-19 pandemic has made us all appreciate the ability to connect with each other in person – and it was particularly energising to again be amidst the collective enthusiasm and excitement of our commencing students at Orientation. 
UNIVERSITY NEWS
Postgraduate webinars and one-on-one consultations
OPPORTUNITIES
Are you considering undertaking postgraduate study at the end of your undergraduate degree? Join us for a series of webinars or book a 30-minute one-on-one consultation to chat about your options. 
Opening soon: ACU Medical Centre, North Sydney
STUDENT ENGAGEMENT AND SERVICES
ACU's newest medical centre is conveniently located on the North Sydney Campus. It offers comprehensive, high-quality health services including general medicine, immunisations, skin checks, wellness support, women's and men's health, clinical placement vaccinations and referrals.
KEY DATES
Census date
The census date is the last day you can make changes to your student enrolment before you become committed to your fees. There are academic and/or financial penalties if you change your enrolment after the census date.
STUDENT NEWS
Connect2Uni course withdrawal advice
CONNECT2UNI
Are you struggling with your current workload, feeling overwhelmed or just want to talk to someone to work through your options? Reach out to Connect2Uni for help or advice. 
Zero tolerance for sexual assault and harassment
RESPECT. NOW. ALWAYS
ACU has zero tolerance for any form of sexual assault or sexual harassment. If you have ever been made to feel uncomfortable, freighted, intimidated or threatened, help is available.
Accessing support for your studies
ACADEMIC SKILLS UNIT
Semester 1 is well underway. Have you accessed study support yet? The Academic Skills Unit can help in a range of areas related to your course requirements.
Active April
ACU SPORT
Active April is almost here, so let's get sweaty! This April, include 30 minutes of physical activity in your day, every day, to improve your physical and mental wellbeing.
Ally Network
STUDENT SERVICES
ACU has launched its Ally Network, a visible network of staff who support our commitment to the pastoral care of staff and students who identify as LGBTIQ+.
ACU Book of the Year showcase
LEARNING AND TEACHING CENTRE
This is My Song, by Richard Yaxley, was chosen as the 2019-2020 ACU Book of the Year. Students responded to the book by creating original works connected to the central themes and ideas of the novel. 
Calling the shots
STUDENT STORY
Eleni Glouftsis is a part-time teacher, part-time AFL field umpire and full-time force to be reckoned with. Here's how her lifelong love of football led to her breaking down all the barriers to lead the way.
Job of the month
STUDENT JOBS ON CAMPUS
Would you like to get to know more people on your campus and support your Aboriginal and Torres Strait Islander peers? Become a Study Assistant and earn where you learn.
Call for submissions
OPPORTUNITY
Do you work with or supervise undergraduate researchers? Or are you an undergraduate student undertaking research? Contribute to the Undergraduate Research Newsletter Australasia.
$500 up for grabs in the Pitch Plus Awards
ACU COLLABORATE PLUS
The Pitch Plus Awards, presented by Collaborate Plus, gives you the chance to win $500 for your idea for a product or service that represents this year's theme - The Common Good.

ACU RESEARCH NEWS
How personal archives uncover history's untold stories
Overloaded cupboard shelves, bending under the weight of old boxes filled with documents: faded photos and newspaper clippings, half-torn school report cards, dog-eared diaries and letters. Noah Riseman, Professor of History at ACU's National School of Arts, believes there's a good reason to hold onto these keepsakes. 
Copyright © Australian Catholic University 2021. ABN 15 050 192 660 CRICOS Reg: 00004G.

This correspondence is for the named person's use only. It may contain confidential or legally privileged information or both. No confidentiality or privilege is waived or lost by this transmission. If you receive this correspondence in error, please immediately delete it from your system and notify the sender. You must not disclose, copy or rely on any part of this correspondence if you are not the intended recipient.