TOURISM NT INDUSTRY UPDATE - KEEPING YOU INFORMED    ||   VIEW ONLINE
DARWIN ACCOMMODATION REPORT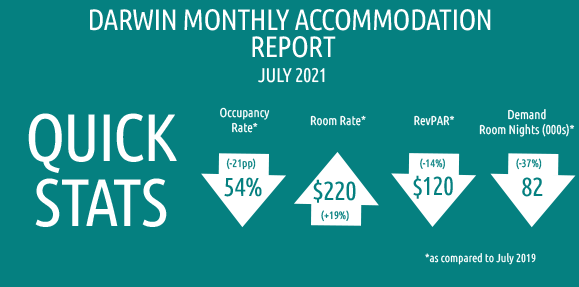 Occupancy rates were lower, down -21 percentage points (pp) to 54% in July 2021 and demand decreased by -37% to 82,000 room nights, compared to July 2019. Average room rates were up +19% to $220, while revenue per available room (RevPAR) decreased -14% to $120. The decreases during the month of July were mainly driven by cancellations due to lockdowns placed on Darwin area in late June and early July 2021; and due to the lockdowns of many interstate locations throughout the month of July 2021, due to COVID-19.
Supply was up 338 to 4,868 rooms in July 2021 compared to July 2020, with most suppliers coming back into operation. Supply was 677 rooms lower (down -12%) when comparing July 2021 to July 2019.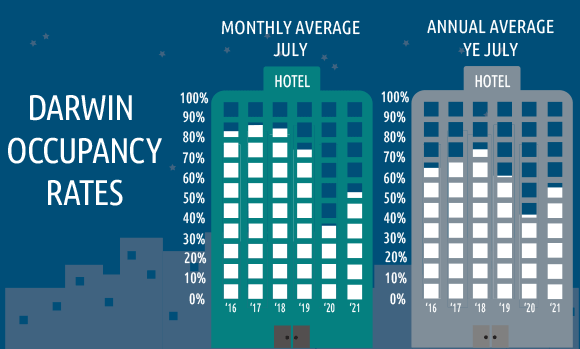 The year ending (YE) July 2021 results show a decrease in the average annual occupancy rate, down -3.9pp to 57% compared to the YE July 2019. The decrease in occupancy was due to a decrease in demand, which shifted down -20% to 1,000,000 room nights for the YE July 2021 compared to YE July 2019 due to COVID-19 impacts.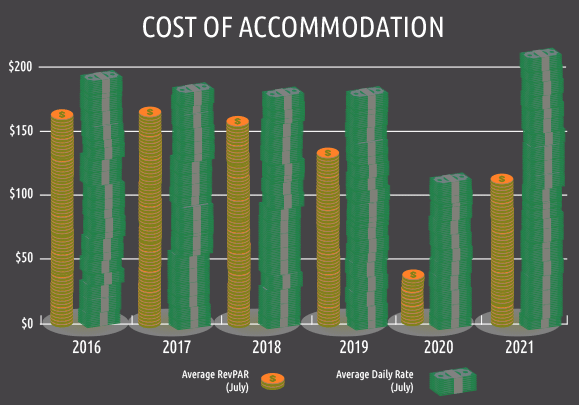 There was an increase in average daily rates by +19% (or +$35.40) to $220 for July 2021 compared to July 2019, while RevPAR decreased -14% (or -$19.50) to $120. The average daily rate and RevPAR for the YE July 2021 were $146 (up +1.9% or +$2.80) and $86 (down -5.9% or -$5.40) respectively compared to YE July 2019.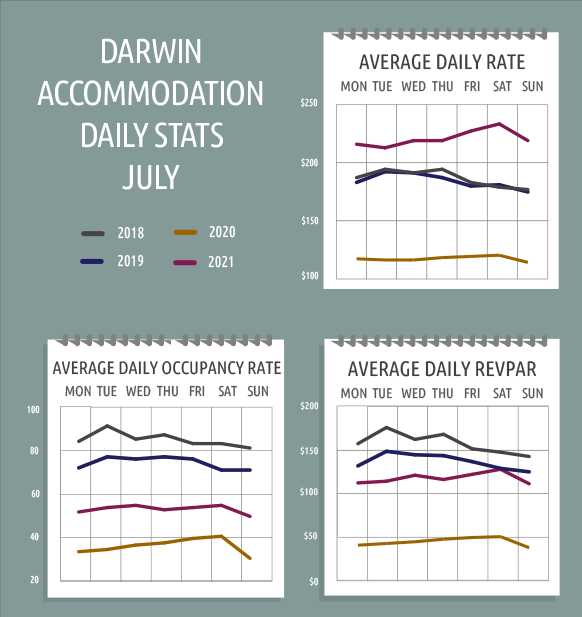 Average daily rates in July 2021 were higher than figures for July 2020, July 2019 and July 2018.
Occupancy and RevPAR were considerably lower for July 2021 compared to July 2019 and 2018, due to the impact of COVID-19 lockdowns in July 2021, but remained higher than July 2020 when travel restrictions were greater.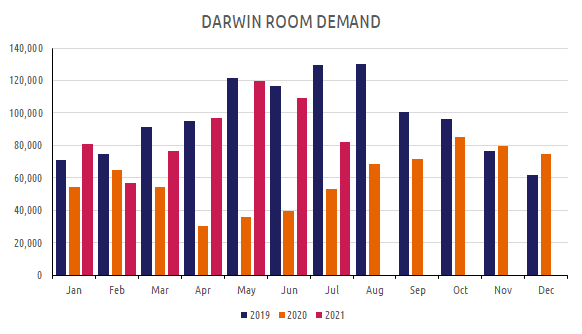 Room rates were higher in July 2021 compared to the same period in 2020 and 2019. Occupancy and demand were higher in July 2021 compared to 2020, but lower than July 2019.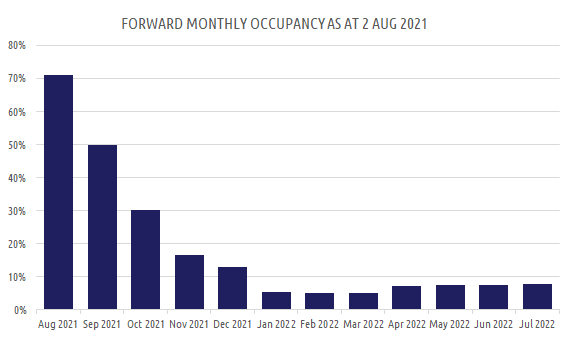 Forward occupancy for 2021 largely follows the seasonal trend in demand for rooms in the Darwin area, peaking in August. Forward occupancy for the month of August was 71%.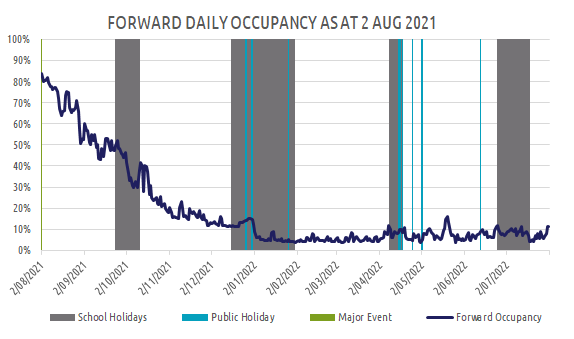 The forward daily occupancy rate for Darwin in the next 12 months shows a low level of demand, probably influenced by the high degree of consumer uncertainty at present due to interstate COVID-19 lockdowns.  There are presently plentiful hotel rooms available right throughout the next year in Darwin.
For more information on trends in the accommodation sector, please refer to the Alice Springs and NT accommodation reports on the TOURISM NT CORPORATE WEBSITE
METHODOLOGY
The data in this report is sourced from STR and is collected from a sample of 26 hotels with 10 or more rooms in Darwin. Data is collected daily and collated to represent the industry and includes data for leisure, business and other purposes of travel. This sample represents 58% of the establishments in Darwin and 76% of the room supply.
Disclaimer: The Department of Industry, Tourism and Trade, Tourism NT has taken due care and skill in preparing this information, however does not warrant that it is correct or suitable for the purpose for which it is intended to be used. The Department disclaims all liability associated with the use of this information.
This email has been sent by Tourism NT. You have received this email because you have subscribed to a Tourism NT mailing list.
Department of Industry, Tourism and Trade
GPO Box 1155, Darwin NT 0801
To change your Subscription Preferences to Tourism NT communications click here
Click here to unsubscribe from all communications from Tourism NT