TOURISM NT NEWS - KEEPING YOU INFORMED    ||   VIEW ONLINE
NT MONTHLY ACCOMMODATION REPORT
INSIGHTS
Holiday visitor numbers in the NT have been trending upwards from the September quarter 2018 due to Turbocharging Tourism activities, however, since January 2019 the STR reports have indicated that NT occupancy rates are down.  This could be attributed to a number of reasons including: declines in corporate and business visitors in hotels; and an increase in accommodation available as more properties are rented for short stay accommodation rather than for long term tenancy.  The STR report does not include accommodation properties at Yulara and therefore will not reflect the full impact of visitation changes resulting from the closure of the Uluru climb.
The ACT showed the largest drop in occupancy rate when comparing January 2019 to January 2020.  The fall in occupancy rates in the month of January 2020 was also experienced by NSW, VIC, WA and the NT, with the eastern states being affected by the bushfires. Queensland, South Australia and Tasmania reported increases in occupancy rate compared to January 2019.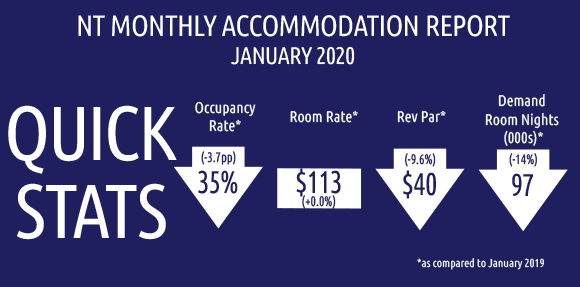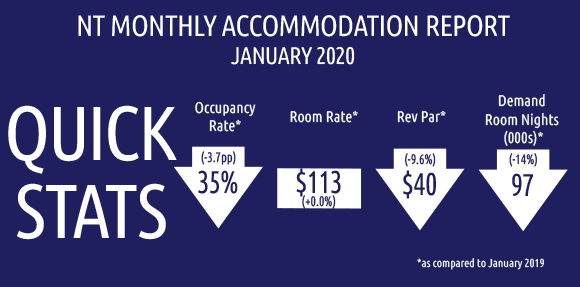 NT occupancy rates for January 2020 were lower compared to January last year, down -3.7 percentage points (pp) to 35%, with most of this decline being driven by a decrease in demand for rooms in Darwin. The average daily room rates were stable at $113 (±0.0%), while Revenue per Available Room (or RevPar) was lower at $40 (down -9.6% or -$4.20). Demand was lower decreasing -14% to 97,000 nights.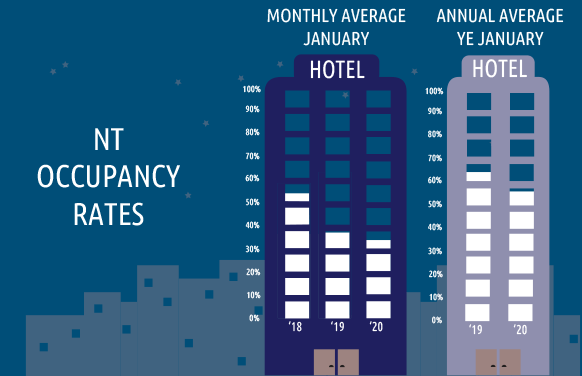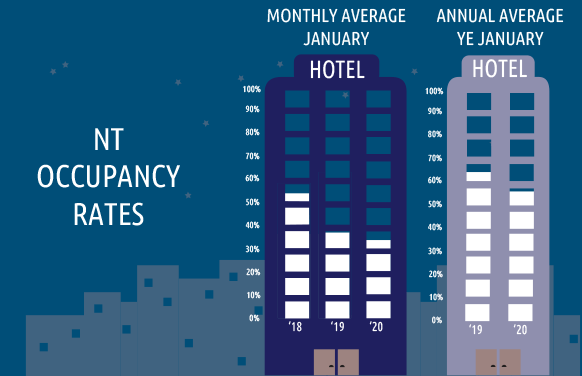 For the year ending (YE) January 2020, occupancy rates were -7.6pp lower at 58% compared to YE January 2019. The large decrease in occupancy occurred due a decline in room nights occupied (or demand) of -12% to 1.97 million room nights.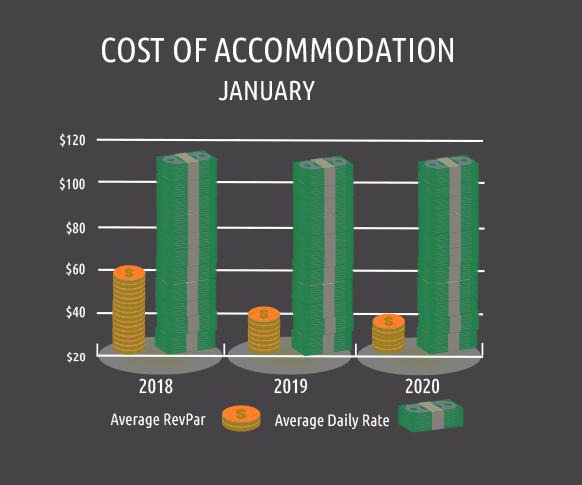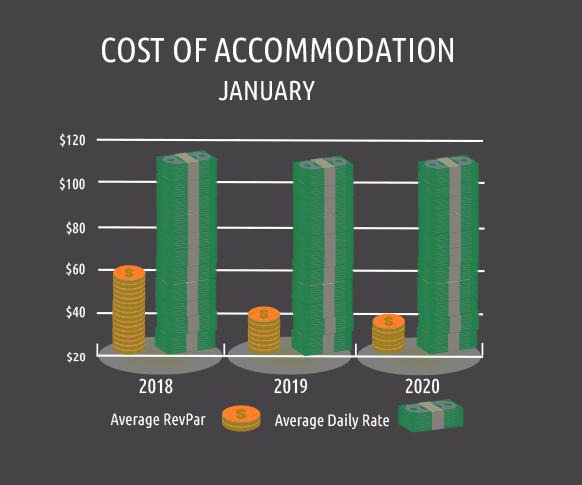 RevPar decreased compared to the month of January 2019, moving from $44 to $40 in January 2020. Average room rates (or Daily rates) were stable at $113. For the YE January 2020 the Daily rates decreased slightly by-0.8% to $137 compared to the previous year. RevPar was lower down -12% or $10.60 to $82 in the YE January 2020.
For more information on trends in the accommodation sector, please refer to the Darwin and Alice Springs accommodation reports on the TOURISM NT CORPORATE WEBSITE
METHODOLOGY
The data in this report is sourced from STR and is collected from a sample of 33 hotels with 10 or more rooms in the NT. Data is collected daily and collated to represent the industry. This sample represents 33% of the establishments in the NT and 50% of the room supply.
Disclaimer: The Department of Tourism, Sport and Culture, Tourism NT has taken due care and skill in preparing this information, however does not warrant that it is correct or suitable for the purpose for which it is intended to be used. The Department disclaims all liability associated with the use of this information.
This email has been sent by Tourism NT. You have received this email because you have subscribed to a Tourism NT mailing list.
Department of Tourism, Sport & Culture, Tourism NT
GPO Box 1155, Darwin NT 0801
Click here to change your Subscription Preferences or to unsubscribe.