Click here if you are having trouble viewing this message.

Your Weekly AAHOA Wrap-Up for Friday, March 18, 2022
Message from the Chair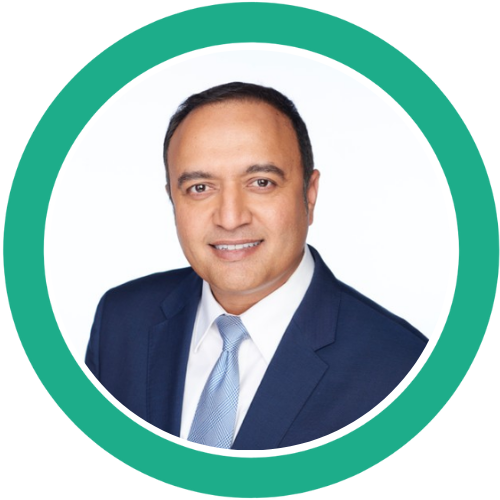 "AAHOA needs your voice. Make sure you are prepared and ready to vote in the 2022 Elections."
AAHOACON22 is just 25 days away. If you haven't registered yet, today is the last day to take advantage of the Early-Bird rate. You must register by 11:59 p.m. ET TODAY, March 18, to lock in the lowest rate available for AAHOACON22. 
With leading names in the industry, insights from experts you trust, and the chance to network, learn, and make deals on the Trade Show floor, you do not want to miss the convention in Baltimore next month.
I also am excited to announce that Jeffrey Iqbal will headline the Block Party at Power Plant Live! and Shaan is the musical guest for the Gala Reception at AAHOACON22. Iqbal, the first American-born Bollywood singer, has amassed millions of hits on social media platforms and has appeared on several highly rated reality shows. Indian superstar playback singer/actor Shaan has provided the voice for many of Bollywood's leading actors and has collaborated with singers worldwide. He has worked in the music industry for more than two decades and is currently the host of "Star Voice of India."
In addition, we're excited to announce today that we'll host our Welcome Reception at M&T Bank Stadium to celebrate the kickoff of AAHOACON22 with thousands of fellow hoteliers. 
2022 AAHOA Elections Are Entirely Online
As you may know, the 2022 AAHOA Elections are now entirely online. Just yesterday, AAHOA launched the new 2022 Elections Resource Center on AAHOA.com. This new resource contains all of the latest updates, a complete run-through on how to vote, Candidate profiles, FAQs, a new step-by-step infographic, and much more. I encourage you to visit today and familairize yourself with the content. 
The most important thing eligible voters can do right now is update your profile in MyAAHOA with your unique email address and mobile phone number. We will use this information to verify your identity during the credentialing process. If you do not provide a unique email address and mobile phone number, you will experience delays in credentialing.
AAHOA needs your voice. Make sure you are prepared and ready to vote in the 2022 Elections.
Vinay Patel
AAHOA Chair
10 

Harris Poll: After Two Long Years, COVID-19 Is No Longer No. 1 Concern for Americans

 

For what is likely the first time in two years, COVID-19 is no longer the primary concern among Americans, as the economy, inflation, and jobs (90%) and Russia's invasion of Ukraine (87%) are a higher concern than the virus (68%). Today, Americans find many daily activities not too, or not at all, risky anymore, such as eating or drinking inside a restaurant/bar (48%), working in-person without a mask (43%), shopping indoors with a mask (41%), and exercising maskless in a gym or a sports team (38%).
9

Business Traveller: 'Business Travel Already at 60%' – Delta CEO

 

Delta Air Lines CEO Ed Bastian says that demand for flights with the airline is at the highest level for several years, and that last week it had its largest booking day in the company's history. This comes as a welcome indicator that business travel is making its comeback. "I have never seen such strong demand in my career," Bastian said. 
8 

Business Travel News: As U.S. Business Travel Gets Busy in 2022, Expect Higher Costs

 

Pent-up demand for travel from two years of COVID-19 doldrums is bringing hotel rates in the United States within reach of – and often beyond – 2019 performance levels. Even with the unsteady start to 2022, thanks to what American Express Global Business Travel EVP David Reimer termed the "omicron hangover," travel demand revved up again around President's Day weekend in February. That said, leisure travel so far has driven the lion's share of travel recovery. But recovery won't be smooth for all North American markets.
7 

STR: Overall U.S. Hotel Performance Increases from the Previous Week

 

Overall U.S. hotel performance increased from the previous week, according to STR's latest data through March 12. March 6-12, 2022 (percentage change from comparable week in 2019*):
Occupancy: 63.2% (-9.8%)

ADR: $144.68 (+7.7%)

RevPAR: $91.45 (-2.8%)
While none of the Top 25 Markets showed an occupancy increase over 2019, Miami came closest to its 2019 comparable (-4.7% to 84.1%).
6 

CoStar Column: Hotel Owners Face New Reality in Updating Properties

 

From HNN columnist Alan Benjamin: "This time last year, I published an HNN column titled 'CapEx: Special Considerations for the COVID-19 Era' and the subtitle was 'Prepare for Inflation on Raw Materials, Logistics.' Now that we are in March of 2022, we have experienced the greatest inflation overall in the last 40 years, the largest cost increases for most of our industry's adult lifetime.

 

There is no magic wand, no panacea, to prevent all the budget and schedule impacts that any FF&E investment will experience. However, with rising demand for travel and increasing interest in hotels from the copious amount of capital looking to invest in our industry, many PIPs will be executed in this cycle. How does an owner mitigate these financial and schedule impacts on their project? Click below to find out.
5 

AAHOA Has Two New Webcasts Scheduled for March That You Don't Want to Miss

 

Did you know? AAHOA has two webcasts on the calendar for the month of March. Check out the lineup below, and secure your seat(s) today! 

 
4 

Hotel Management Sits Down with Biran Patel, AAHOA Past Chair (2020-2021) 

 

Biran Patel, national director of the hospitality division at Marcus & Millichap, is well-known throughout the hotel industry from his role as chairman of AAHOA through the pandemic and as an owner and operator through BHP Investments Co. Patel recently sat down with Hotel Management to share his thoughts about his new job and his history.

 

"The hospitality industry is in my blood, as I grew up working in the family business, operating hotels," Patel said. "The ability to continue within an industry that coexists with my values and upbringing is of utmost importance to me."
3 

SBA: Existing COVID Economic Injury Disaster Loan Program Borrowers to Receive an Additional Deferment

 

Earlier this week, SBA Administrator Isabella Casillas Guzman announced that the agency will provide additional deferment of principal and interest payments for EIDL program borrowers, extending deferment to 30 months from the loan's inception. 

 

"This extended principal and interest deferment will provide financial relief to millions of small business owners – particularly those hardest-hit by the pandemic and related marketplace challenges – so they can continue to pivot, adapt, and grow," Guzman said.

 

Deferment Need-to-Knows:

 
This deferment extension is effective for all COVID-EIDL approved in calendar years 2020, 2021, and 2022. Loans now have a total deferment of 30 months from the date of the Note. Interest will continue to accrue on the loans during the deferment. 

Borrowers may make partial or full payments during the deferment period but are not required to. The SBA recommends using www.pay.gov. 

Existing COVID EIDL Borrowers can find account balances and payment due dates in the SBA Capital Access Financial System and learn how to set up an account in the CAFS system by logging in at Capital Access Financial System (sba.gov).  
AAHOA welcomes this deferment period and will continue to work with our partners at the SBA. We strongly recommend that you read the release in its entirety. AAHOA will have more information in the coming days. 
2 

Congress Passes $1.5-Trillion Spending Bill, Biden Signs 

 

After months of negotiations and several continuing resolutions, Congress and the White House have approved a $1.5-trillion spending package that will fund the government through the rest of the fiscal year. President Biden signed the bill this week. AAHOA welcomes this essential and long-awaited spending package, notably the adjusted funding levels to the SBA's 504 loan program. Read the statement from House Small Business Committee Chairwoman Nydia M. Velázquez (D-NY) on the small business provisions included in the spending package. 
1 

AAHOA Applauds the Increased Funding for the SBA's 504 Loan Program

 

When America's hoteliers speak, Congress listens. AAHOA engages with legislators and decision-makers in Washington, D.C., and our policies to promote small business recovery continue to find bipartisan support. Earlier this week, AAHOA reported on the passage of the $1.5-trillion spending package that will fund the government through the rest of the fiscal year. In a major win for America's hoteliers, Congress boosted funding for a number of SBA loan programs, including the 504 loan program. 

 

Just one month ago, AAHOA Chair Vinay Patel penned a letter to the leadership of the Senate Committee on Small Business & Entrepreneurship and the House Committee on Small Business, urging the lawmakers to increase the cap on the SBA's 504 loan program. 

 

"I am writing on behalf of AAHOA to encourage you and your colleagues to increase the Small Business Administration's 504 loan cap. Without immediate action, many hotel owners will not have access to necessary capital. … The small-business demand for the 504 program, including from hotel owners, indicates that the 504 loan program will reach a $7.5-billion authorization level in early summer, likely as early as June. This amount is inadequate to meet the demand caused by a combination of historic events."
Was this email forwarded to you? You can opt in, or opt back in, to receive these directly by signing up at myaahoa.com.

Asian American Hotel Owners Association, Inc.
Atlanta Headquarters
1100 Abernathy Road, Suite 725
Atlanta, GA 30328
Washington D.C. Office
601 New Jersey Avenue NW, Suite 610
Washington DC 20001
To update your subscription preferences, please email info@aahoa.com..