Click here if you are having trouble viewing this message.


Your Daily AAHOA Update for Tuesday, March 1, 2022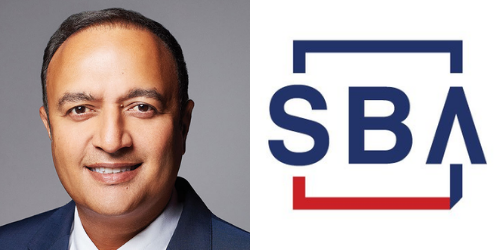 ICYMI: AAHOA Chair Vinay Patel Echoes SBA Administrator Isabel Guzman's Comments on the Biden Administration's Efforts to Strengthen America's Supply Chains
"Hoteliers, like any small business operators, depend on the influx of inventory to keep the lights on and the doors open. While grappling with the pandemic, labor shortages, and other compounding adversities, it is crucial to the basic functioning of small businesses nationwide that supply chains remain reliable. America's hoteliers applaud the Biden administration and SBA Administrator Isabel Guzman for their results-based actions over the past year to ensure Main Street stays stocked and loaded."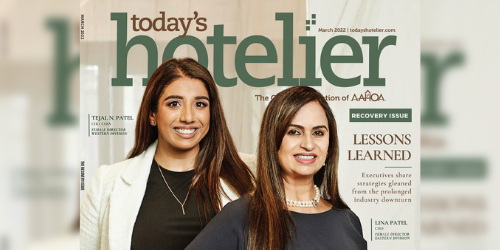 AAHOA Female Directors Tejal N. Patel and Lina Patel Grace the Cover of the March Issue of Today's Hotelier
The March issue of Today's Hotelier magazine is on newsstands everywhere, and in honor of Women's History Month, AAHOA Female Director Eastern Division Lina Patel and AAHOA Female Director Western Division Tejal N. Patel are featured on the cover. In the cover story, Lina and Tejal share their perspectives and insights on the strides women have made in the industry and the progress still to come for the association.
Also in the March issue, we explore the road to recovery, including a look at market factors and business choices that can help speed recovery. In addition, we discuss topics such as finding opportunity in a challenging economy, how offering better benefits could knock out your labor woes, utilizing new technologies to help a hotel's bottom line, and much more.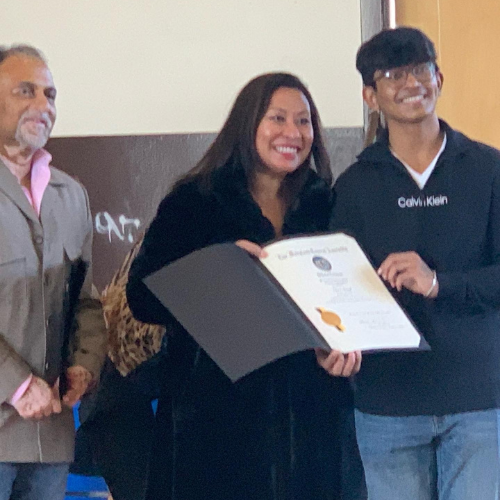 MD General Assembly Honors Future Hotelier Neev Saraf for Community Service
AAHOA Future Hotelier Neev Saraf recently received an official citation from the Maryland General Assembly for his community service efforts. Neev, the son of Lifetime Members Prakash and Manjila Saraf, has been involved in community service for the past nine years. He also was the recipient of the AAHOA Youth Volunteer Award. Congratulations, Neev! AAHOA is proud to call you a Future Hotelier.
ICYMI | Cornell Survey Invitation: Benchmarking Gender Diversity in Travel and Hospitality
Women Leading Travel & Hospitality and NAPCO Research have teamed up with the Center for Hospitality Research to conduct a study on gender diversity in the travel and hospitality industry. The survey should take about 10-15 minutes to complete, qualified respondents can enter to win one of 20 $20 Amazon gift cards.
Town Hall: North Carolina Town Hall Meeting, 5 p.m. Wednesday, March 2 - Greensboro, NC

Town Hall: Upper Midwest Town Hall Meeting, 5 p.m. Wednesday, March 2 - Omaha, NE

Town Hall: Arkansas Town Hall Meeting, 1 p.m. Thursday, March 3 - Fayetteville, AR

Town Hall: North Texas Town Hall Meeting, 5 p.m. Thursday, March 3 - Irving, TX

Town Hall: North Texas Town Hall Meeting, 5 p.m. Wednesday, March 9 - Amarillo, TX

Town Hall: North Texas Town Hall Meeting, 5 p.m. Thursday, March 10 - Midland, TX
All times are local.

AAHOA Webcast: A Revolution Is Occurring in Hotel Property Tax Valuation
We've added three new webcasts to our lineup! The first takes a look at the O'Connor Approach, which is changing the way hotels are being taxed. Join us as O'Connor & Associates' Andrew Choy, Director of National Hotel Tax, and Abraham Tiehl, Director of National Commercial Property, give insight into the new revolutionary approach that is proving to reduce hotel property taxes more than ever before.
1 p.m. EST Thursday, March 17
Join Us at the 2022 Hunter Hotel Investment Conference In Atlanta Next Month
The 2022 Hunter Hotel Investment Conference is scheduled for March 22-24 at the Atlanta Marriott Marquis. This top industry event brings together the nation's most influential leaders and investors in the hotel industry to analyze trends, network, and turn prospective opportunities into business transactions. Don't miss it!
March 22-24

"I thank you for taking my phone call and working this late on Sunday night. I do really appreciate your help and feel proud to be an AAHOA Lifetime Member who has a professionally dedicated staff. Thank you again."
– AAHOA Lifetime Member, KY
Was this email forwarded to you? You can opt in, or opt back in, to receive these directly by signing up at myaahoa.com.

Asian American Hotel Owners Association, Inc.
Atlanta Headquarters
1100 Abernathy Road, Suite 725
Atlanta, GA 30328
Washington D.C. Office
601 New Jersey Avenue NW, Suite 610
Washington DC 20001
To update your subscription preferences, please email info@aahoa.com..