No images? Click here

Retail industry news
June 2019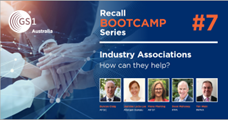 Standards in action across Retail
Welcome to the latest issue of the GS1 Australia monthly Retail news, offering all stakeholders in the retail sector the opportunity to find out more about market trends, events and latest industry initiatives.
Working with Woolworths to trial 2D barcodes
Woolworths is set to become the first Australian supermarket to trial GS1 data embedded 2D barcodes in stores from August 2019. This trial has the potential to help reduce millions of tonnes of food waste generated in Australia each year, and will eliminate the risk of customers purchasing expired products.
OpenPEPPOL and GS1 join forces
OpenPEPPOL and GS1 have formally signed a Memorandum of Understanding. Both organisations play an important role in enabling electronic business around the world and are confident about the added value that their collaboration can create for end users of their respective standards.
GS1 Australia turns 40
On 03 April 1973, leaders of the American grocery industry selected a single standard for product identification that the world now knows as the GS1 barcode. The decision created a global language of business. 
Six years later Mr. Bill Pratt, Australian head of Safeway Supermarkets and representative of the Australian Retailers Association (ARA) formed the Australian Product Numbering Association (APNA) and became its first Chairman. This was the beginning of GS1 Australia.
Nexus 2019 wrap up
Nexus, GS1 Australia's supply chain conference, provided an opportunity to share industry insights and help shape supply chain networks in the digital age. Over 600 delegates attended both Melbourne and Sydney with key speakers from more than 45 companies including Coles, Woolworths, Amazon and Google.
New technology is the answer for
in-store engagement
All brands face similar issues when connecting with consumers in retail environments. Whether it be getting lost on the shelf in a sea of products or 'old school' marketing tactics being less effective, more and more brands are having a tough time standing out, particularly in-store. However, some brands are leading the way and embracing new technology to drive engagement with their customers in brick and mortar retail stores. Here's how you can make a difference to your in-store engagement this year.

CONFIDENTIALITY DISCLAIMER: The contents of this e-mail may be confidential or privileged and unless specifically stated are not to be regarded as a contractual offer or acceptance by GS1 Australia. If you are not the intended recipient, or if this email has been copied or sent to you in error, please advise the sender by return email, do not disclose the contents, and delete the message and any attachments from your system. GS1 disclaims liability for accuracy or completeness, and any opinions expressed are those of the author alone. GS1 may monitor communications. All rights reserved, third party rights acknowledged.
© 2019 GS1 Australia T 1300 BARCODE
GS1 Australia
8 Nexus Court
Mulgrave VIC 3170
1300 BARCODE
www.gs1au.org
If you wish to unsubscribe from this communications list, select the 'Preferences' link below and update your preference list.