A Newsletter for the Members of the Rhode Island Chapter - Summer 2019 


Otis Warren, MD, FACEP
President
Marc Bialek
Executive Director
401.331.1337 | Website
Make sure you check out RI ACEP out on the web and social media!
Website | Facebook | Twitter | 
EngagED – The RI ACEP E Community just for Members
State of RI ACEP
Otis Warren, MD
President, RI ACEP
Dear RI ACEP Members,
I am very excited to serve as RI ACEP's new President, and wanted to give you a "State of RI ACEP" update. For those who don't know me, a quick bio: I grew up on Cape Cod, did residency in California and have been back in Rhode Island for the past 10 years. I spend the bulk of my clinical days and evenings at The Miriam Hospital, and have been involved with RI ACEP for the past 6 years as the chairman of the PAC. I am very excited about where RI ACEP is now and where we are going. 
RI ACEP is strong!  We have almost 250 members in our small state. We are a political and advocacy presence on capitol hill. Did you know that we are one of only 4 medical specialties in the state that operates its own PAC? This gives us great leverage when addressing EM specific issues as they arise, and allows us to be at the table when policies are made at the state and local level. We have robust EMS, education and toxicology divisions. We are sound financially. We run 4 annual meetings that are a great time to meet and discuss issues as they arise (not to mention some great food).
Much of this strength is due to the leadership of our past presidents, and in particularly Catherine Cummings, our immediate past president. Her leadership guided us, and every EM physician in the state through stormy seas and landed us in the fruitful harbor we are now.  If I can do a fraction of what Dr. Cummings did during her tenure, I will consider my presidency a success. 
But RI ACEP needs you to grow and continue our efforts. My first agenda item is to make RI ACEP truly representative of every ED doc and in the state. This means you becoming involved in our activities. There are many ways to do this. Our next Membership Meeting is September 18 at 6:00 PM at the Marriott Providence Downtown, and all are invited. View invitation here.. You can always reach out to me personally by email or connect with me on ACEP's engagED portal if you have issues. Consider joining one of our committees, or running for a Board position in two years. Other important ways include making a donation to our PAC, which can be done easily online. 
I will be updating everyone fairly regularly on important issues affecting RI ACEP and your practice. This will be done through ACEP's engagED portal. If you haven't done so, I would encourage you to play around with it, you can join RI ACEPs community and communicate with the group as a whole, or start your own groups. Just go to your ACEP log in and it will be easy to find. I am a professed technophobe, and was skeptical of this at first, but have found it very useful in communication with the group. I promise I will keep the spam to a minimum.
I look forward to the next two years, and hope to hear from you soon.
PAC Update
July is the start of a new leadership cycle for RI ACEP, and we have a new PAC Chair! Otis Warren (PAC Chair for the past 10 years) has moved up to be RI ACEP President and Scott Pasichow is taking over the PAC. He is a co-founder of RI ACEP's Emergency Medicine Advocacy Day, and a recent graduate of Brown's EM residency. July is also the end of one legislative cycle, and the start of a new year of fund raising for next year's elections. The work of the PAC allows us to be at the table when important decisions are made, and our work depends upon your support. Donate Now so we can have a strong showing this upcoming election cycle.
EMRA Update
Know any residents who are looking to be leaders in emergency medicine? The EMRA Board is holding elections at ACEP19 and those interested can apply here. Please reach out to Scott Pasichow with any questions.
AMA Update
June was the annual meeting of the AMA, and RI ACEP had a big showing. Scott Pasichow was elected as the Resident and Fellow Sections new speaker, and three emergency medicine focused policies were passed by the house of delegates (on scholarly activity, faculty protected time, and evaluations of changes to the residency and fellowship application process).
Scott H. Pasichow, MD, MPH
Alpert Medical School of Brown University
Emergency Medicine Services Fellow
EMRA Representative to AMA-RFS
AMA-RFS Speaker
(c) 401-218-0090
Legislative Update
This year had a lot of legislative action taken at the state level. We were able to pass a fix to the Goldner act that allows us to legally contact family for victims of opioid overdose. We were also able to squash an attempt to legislate limitations on EM training. A full list of passed legislation of interest to RI ACEP and the medical society can be found here.
Education Committee Update
Jeffrey Feden, MD, FACEP
Chair, Education Committee
We hope everyone is enjoying a fun-filled and restful summer. The Education Committee is actively planning the November 2019 CME event with a focus on critical and ultrasound-guided procedures. This will be a hands-on workshop with dinner included. Save the date for Thursday, November 14th, 2019. More details forthcoming soon.
In the meantime, the next educational opportunity from RIACEP will be a special Fall meeting on Wednesday, September 18th featuring guest speaker John Holstein from Zotec Partners as he speaks to issues concerning revenue cycle management.
The Education Committee is also planning to organize the 2nd annual IGNITE session in March 2020. We will be announcing a call for proposals from the general membership later this year, but now is the time to start brainstorming some ideas for a 5-minute, high-impact clinical talk!
As always, please feel free to contact me with any suggestions or feedback for Education Committee, or if you have interest in joining this committee.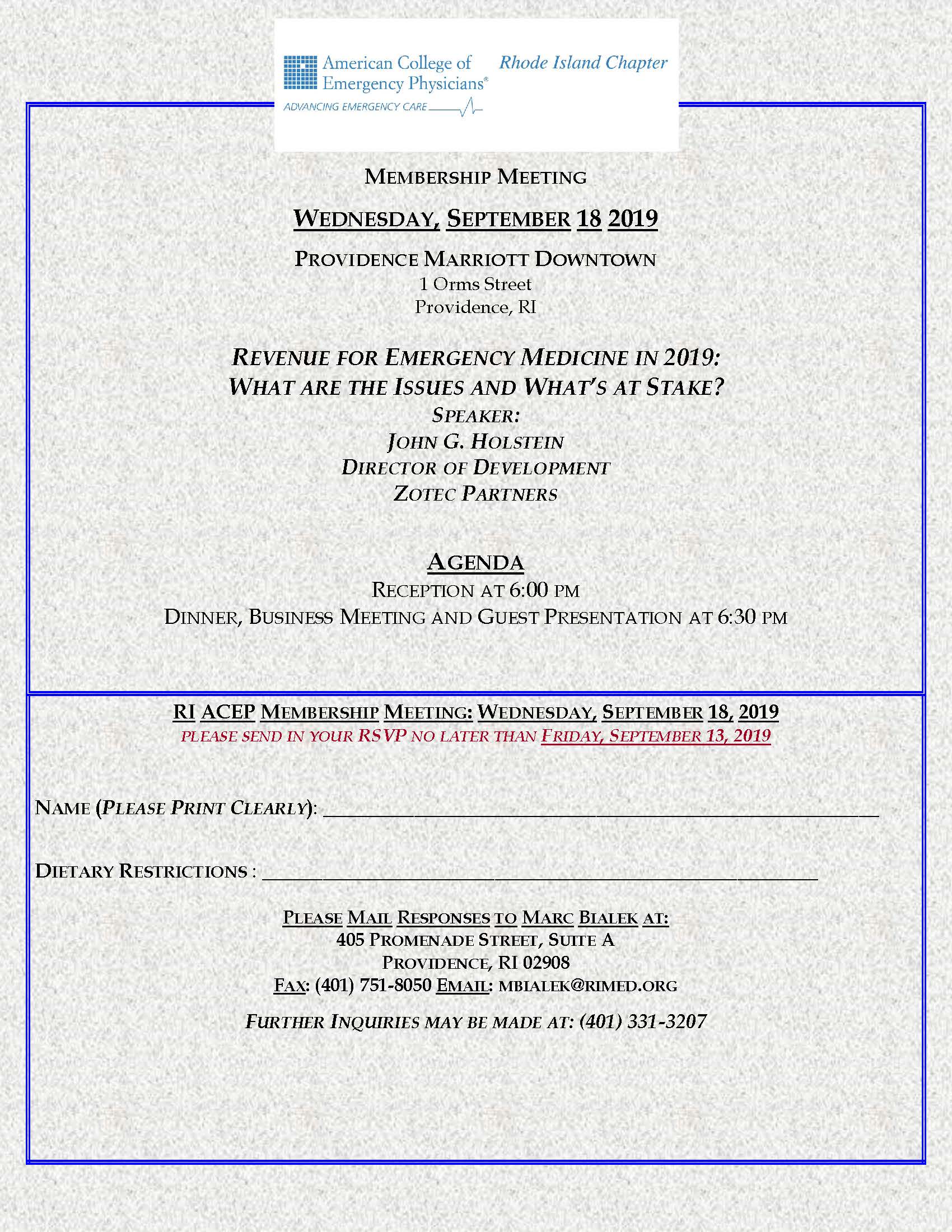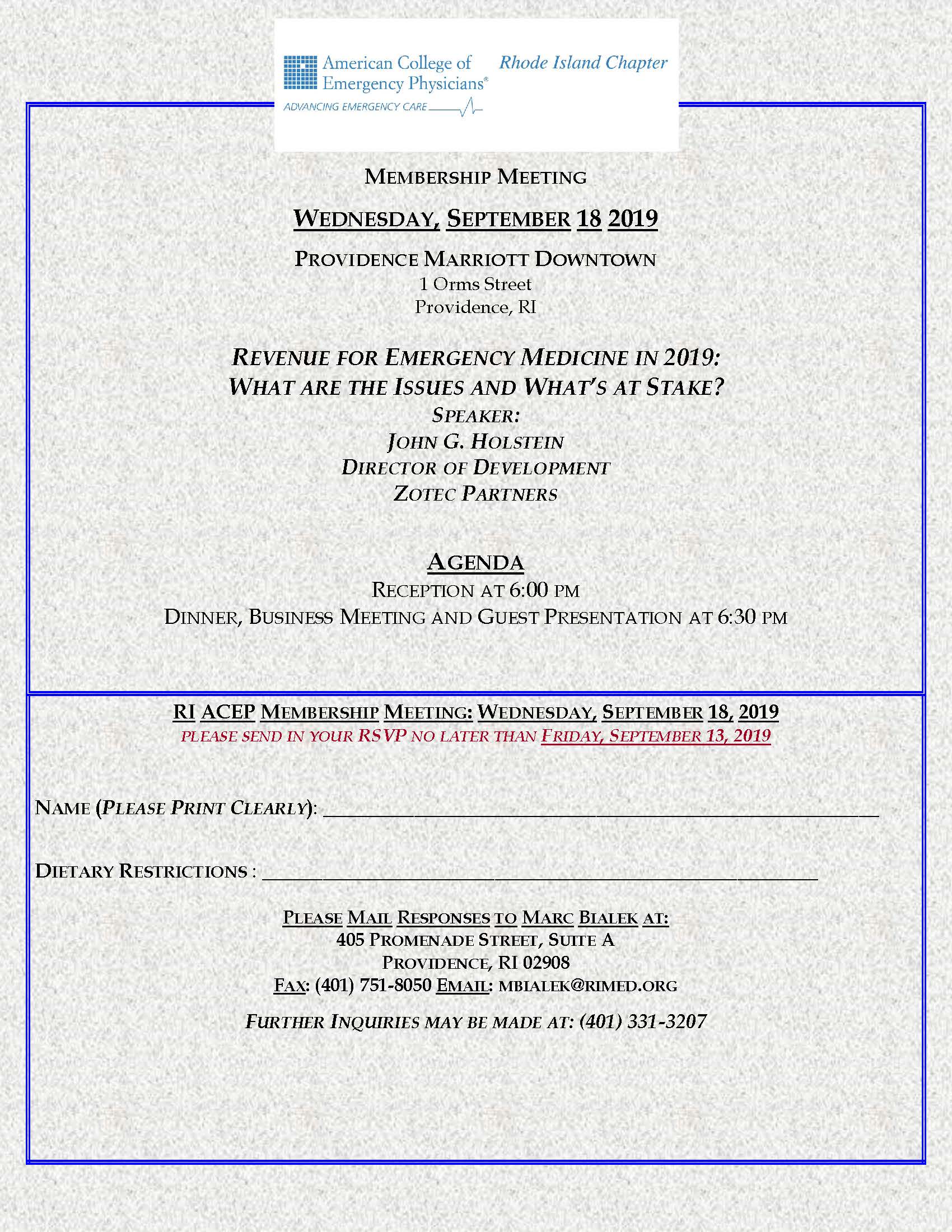 Annual Meeting 2019 - Summary and Photos
At the Annual Meeting at the Ocean Cliff in Newport, Rhode Island on June 19th 2019, RI ACEP confirmed a new Board of Directors which included: 
President (2 Year Term): Otis Warren, MD
Immediate Past President (2 Year Term): Catherine A. Cummings, MD, FACEP
Vice President (2 Year Term): Nadine Himelfarb, MD
Secretary-Treasurer (2 Year Term): Neal Madhani, MD
Councillors (3 year Terms): Jessica Smith, MD, FACEP; Nadine Himelfarb, MD; Achyut Kamat, MD, FACEP
Alternate Councillors (3 Year Terms): Michael Siclari, MD, FACEP; Christopher P. Zabbo, MD, FACEP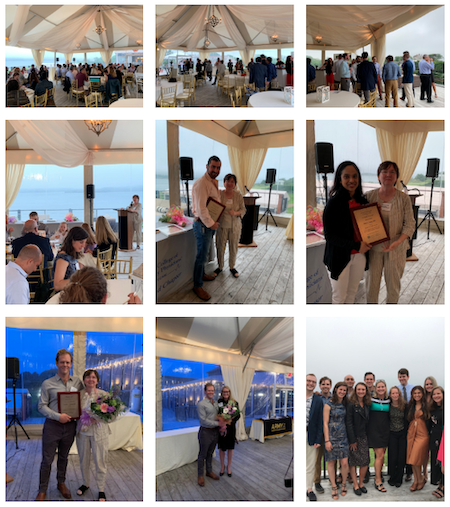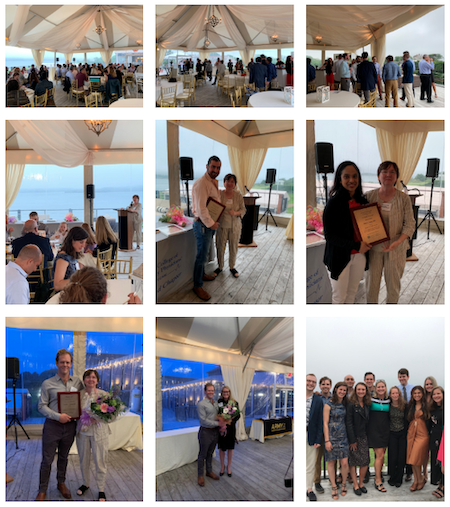 Update from the RIACEP EMS 
Joseph R. Lauro MD, FACEP
Clinical Associate Professor of Emergency Medicine, Brown University-Warren Alpert Medical School
Chair EMS Medical Directors Committee, RIACEP
EMS Medical Director: The Miriam Hospital/Newport Hospital/Cumberland EMS
RIACEP Representative: Ambulance Service Advisory Board,  RIDOH
What a productive year so far! Thanks to all the active members of the committee who further our commitment to improve EMS care and EMS Medical Direction. 
As an appetizer, members of the EMS Committee have served up strong advocacy for Emergency Medical Dispatch (EMD) at the RI 911 center. To date Drs Rybasack-Smith, Asselin, Lauro and Pasichow provided testimony at the State House in support of a bill requiring EMD. The bill did not pass BUT our voices were recognized throughout the state. The 911 center has received funding to support implementation of full EMD at the center. This is a huge step in improving out of hospital care whereby bystanders will be instructed by the emergency dispatcher to provide life saving measures such as CPR and bleeding control. No doubt this will save lives in Rhode Island. READ MORE. 
Welcome New Members! 
Julia C Capacci, DO
Hannah Chason, MD
Giovanna Satoyuki Deluca, MD
Nick Gallagher, DO
Stephanie M Hess, MD
Geoffrey Hogan
Meredith Horton, MD
Brendan Innes, MD
Paul S Jansson, MD, MS
Stefan Jung
Alexis Siobhan Kearney, MD, MPH
Anita Knopov, MD
Derek Lubetkin, MD
Sarah Michael, DO
Kathleen Helen Miller, MD
Katelyn Moretti, MD
Michelle L Myles, MD
Sonya Naganathan, MD
Christiana Kathleen Prucnal
Sean Reid, MD
Alex M Schmidt, MD
Michael Tcheyan, MD
Camila Tyminski, MD
FROM NATIONAL ACEP


Congress Needs to Hear from Emergency Physicians about Surprise Billing
The ACEP DC office hosted an ACEP members only Surprise Billing Advocacy townhall on August 5th. Laura Wooster, Associate Executive Director, ACEP Public Affairs, provided an update on Congressional activity and spoke about the importance of utilizing the August congressional recess while legislators are back home to advocate for emergency physicians and patients. ACEP offered tips to effectively engage your legislators and a toolkit with resources to facilitate effective outreach. A link to the archived townhall is available here. And, you can login here to access the ACEP members-only surprise billing advocacy toolkit. Related resources are available to view and share here. For updates on ACEP's federal advocacy activities, join the ACEP 911 Grassroots Network here. 
Explaining the AUC Exemption
We've heard that some of your hospitals are already implementing the 2020 AUC requirements, so we drafted a sample letter you can personalize to help you explain the emergency exemption to your administrators. Download it on the AUC section of our EHR advocacy page.
FACEP Deadline Extended to Sept. 1
More than 4,000 ACEP members meet minimum membership requirements – three years of continuous membership post-training – to become a Fellow of the College. Is that you? Apply today, and be recognized at a ceremony on Oct. 26, the day before ACEP19 in Denver. If you can't make it to ACEP19, no worries. You will be included in the program and can start using your new FACEP credential immediately. Learn More Here!
Point-of-Care Tools - 3 New Smart Phrases
3 new Smart Phrases are available on the ACEP Website on Suicide Prevention, Tobacco Cessation and Why Antibiotics Were Not Prescribed for a Viral Infection. Smart Phrases are blocks of text that can be copied and pasted into a hospital's electronic health record (EHR) system to automatically create discharge papers for common ED presentations. We've created these smart phrases to help you seamlessly disseminate the most important information your patients will need to manage their conditions after leaving the ED. View all Smart Phrases. 
Articles of Interest in Annals of Emergency Medicine - Summer 2019
Sam Shahid, MBBS, MPH
Practice Management Manager, ACEP
ACEP would like to provide you with very brief synopses of the latest articles and articles coming soon to Annals of Emergency Medicine. Some of these have not appeared in print. These synopses are not meant to be thorough analyses of the articles, simply brief introductions. Before incorporating into your practice, you should read the entire articles and interpret them for your specific patient population. View synopses here.
New Policy Statements and Information Papers
During their June 2019 meeting, the ACEP Board of Directors approved the following new policy statements and Information papers. For a full list of the College's current policy statements, consult the ACEP Policy Compendium. 
New Policy Statements: 
Advanced Practice Provider Point-of-Care Ultrasound Guidelines
Compensated Time for Faculty Academic Administration and Teaching Involvement
Safe Discharge from the Emergency Department
Separation of Children from Caregivers
The Role of Emergency Physicians in the Completion of Death Certificates
New Information Papers: 
Best Practices in Testing Adults and Adolescents for Chlamydia and Gonorrhea in the Emergency Department
Models for Addressing Transitions of Care for Patients with Opioid Use Disorder


Care Under Fire: EDs, Gun Violence and Threat Assessment
ACEP19 Pre-Conference
Saturday October 26th from 1:00 – 5:00 PM
Threat management is an evidence-based, multidisciplinary team approach to identifying people at risk of engaging in targeted violence – including mass shootings – and intervening before they attack. Cost: $250. Learn More Here!  
Approved for AMA PRA Category 1 CreditTM
ACEP EM Specific X-Waiver COURSE
ACEP19 Pre-Conference
Saturday October 26th from 8:00 AM – 5:30 PM
This course will provide the tools to turn lives around with best practice addiction treatments and satisfies 8 hours of training required by federal law to prescribe buprenorphine, the most effective treatment for opioid use disorder.
While most "X Waiver" training courses are developed for and led by psychiatrists and office-based addiction specialists, this recently approved version of the course was written by a team of EM docs, specifically for EM Docs. The MAT-EM course minimizes lecture in favor of case-based discussion and participants will emerge from the course not only credentialed to register for their DATA 2000 (X) waiver but prepared to manage all aspects of emergency care of OUD patients.
Approved for AMA PRA Category 1 CreditTM
ACEP Members: $70 | Residents: $50 | Non-Members: $100. Register Here.
Funding for this initiative was made possible (in part) by grant no. 1H79TI081968 from SAMHSA. The views expressed in written conference materials or publications and by speakers and moderators do not necessarily reflect the official policies of the Department of Health and Human Services; nor does mention of trade names, commercial practices, or organizations imply endorsement by the U.S. Government.


Registration Open for the EMBRS Course
Interested in research but not sure where to start? The Emergency Medicine Basic Research Skills (EMBRS) is a 9-day, 2-session program where participants learn how to identify clinical research opportunities and become familiar with clinical research and outcomes. Participants are also eligible to receive an EMF/EMBRS grant based on their research grant application. This course targets: Junior faculty with limited research experience; Physicians in academic and community centers who are interested in research basics; Physicians who have as part of their duties involvement in research, including mentoring young researchers; Fellows in non-research fellowships. Click here to learn more and to register. The next course will take place Dec. 2-7th, 2019 (session 1) and April 14-16, 2020 (session 2).
News from the American Board of Emergency Medicine
August 2010
ABEM Security Systems Enhancements
ABEM takes the protection of all our users' data and information seriously. We will soon be undertaking system enhancements to help maintain the security of your data. The change most users will notice is the need to reset their password the first time they sign in. 
See You at ACEP19!
ABEM will be attending ACEP19, and will have a booth in the exhibit hall. Visit booth # 2012 and have an ABEM director or staff member answer your questions. Hope to see you there!
Nominations to the Board of Directors
Do you know someone who would be a great addition to the ABEM Board of Directors? Then nominate the ABEM-certified physician of your choice! The physician must be clinically active. Click here to view nominee requirements and required documentation. Nominations are due December 1, 2019, and the Board will elect two new members at its February 2020 meeting. 
Rhode Island Chapter ACEP
Rhode Island Medical Society
405 Promenade St, Suite A
Providence, RI 02908
© 2020 Rhode Island Chapter ACEP. All rights reserved.