A Newsletter for the Members of the West Virginia Chapter - Summer 2019 


Adam Thomas Crawford, DO
President
Darby Copeland, Ed.D, RN, NRP, Executive Director
Jared Estock, PT, DPT, CIDN, Deputy Executive Director
866.498.2237 | info@wvacep.org | Website
Follow us on Twitter @WVERdocs
From the Immediate Past President
State of the Union 
Erica Shaver, MD, FACEP
Greetings Everyone!
I hope that everyone has been soaking up the last bit of summer before fall sneaks upon us. I know I have been enjoying every minute I can with my family before the children start back to school for the year. An evening around the campfire with a yummy smore in hand is certainly therapeutic and offers a great time to reflect on the little things in life that are so important to maintaining wellness and longevity in our chosen careers. 
As I write my final "President's message", I reflect upon what an amazingly productive and awe-inspiring year that WV ACEP has had as a chapter. Our 2018 national meeting in San Diego allowed us to gather together with all members from the various chapters to set the tone for the upcoming chapter year. Before we know it, it will be time to gather together again as a large and powerful change-making group of stakeholders in Denver, CO in October 2019. Our chapter will be represented well by our Councilors, and the future of health care certainly depends on powerful, intelligent, passionate leaders within our organization. Our educational mission within the chapter has been advanced in miraculous and innovative ways this year. From the successful WV ACEP EM Summit last fall, to the 2nd annual WV ACEP Residency Education Day in the Spring with our first ever partnership with WV David and Jo Ann Shaw Center for Simulation Training and Education for Patient Safety (STEPS) center to host our inaugural Sim Wars competition, to our extremely well attended 2019 WV ACEP Summit during which we hosted a hands-on advanced Ultrasound Workshop incorporating ultrasound leaders in our state from Charleston and WVU. Our educational innovation has grown to new heights in terms of innovation, quality of educational offerings, and the number of learners we have been able to impact as an organization. The future is bright for the educational mission of our chapter!
Strategically speaking, this year was huge for the chapter in terms of planning for the future. Given that our chapter has become increasingly financially stable over the past several years, it seemed like the perfect time to start developing a strategy for the maintenance and growth of financial security, while utilizing our funds to spread the impact that our organization has on Emergency Care providers in WV. The first ever WV ACEP Strategic Planning Committee meeting was held in February 2019 and culminated in the development of our AMES (Advocacy, Membership, Education, and Sustainability) for the future. We now have a 5-year vision and plans for ongoing and strategic chapter growth in the areas of advocacy, membership, education, and sustainability, and we are undoubtedly going to continue to carry these plans forward as we enter our new year. 
Power comes in strength and strength through collaboration. WVACEP entered into partnership with West Virginia Partnership for Health Innovation (WVPHI) in the establishment of the Choose Wisely Guidelines. Most recently, we have also started our own state chapter of NAEMSP, to coordinate pre-hospital care and better the collaboration of all health care professionals, specifically EM, by improving educational opportunities, changing policy, keeping standards of care up to date, and offering support to EMS medical directors throughout the state. 
Our political advocacy continues to be ever-present as an organization to support bills and political change makers working to make decisions that are in line with the needs of our specialty. We were able to sponsor more EM residents throughout our state in their attendance at the ACEP Leadership and Advocacy conference this Spring in Washington DC. Our political action committee continues to keep a close eye on rising issues needing our impact and organizational support, with particularly important recent topics focusing on tackling the opiate abuse problem that is pervasive in our nation, particularly in our home state. 
As my term as Chapter President has ended, I want to thank the Chapter for giving me the opportunity to serve in my role as President. It has truly been an honor. I have learned so much about the inner workings of our organization and just how much change can be made when wise, passionate, and committed leaders put their minds to it. This organization is uniquely poised and in firm position to continue to grow under its executive leadership and Board of Directors as Adam Crawford has now taken the reigns as Chapter President for the 2019-2020 year. I look forward to being a part of this organization for years to come and continue to watch proudly and humbly as we make our dreams reality.
Interested in free CME?
Check out WVACEP's website and click on Education and Resources.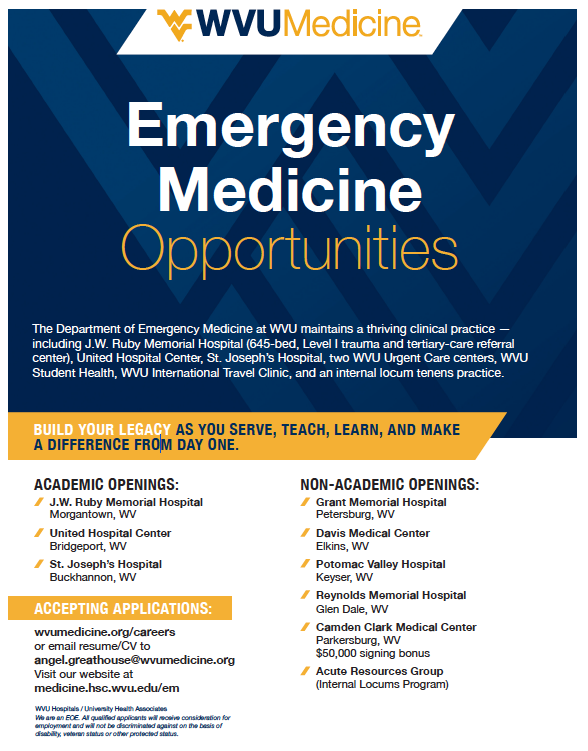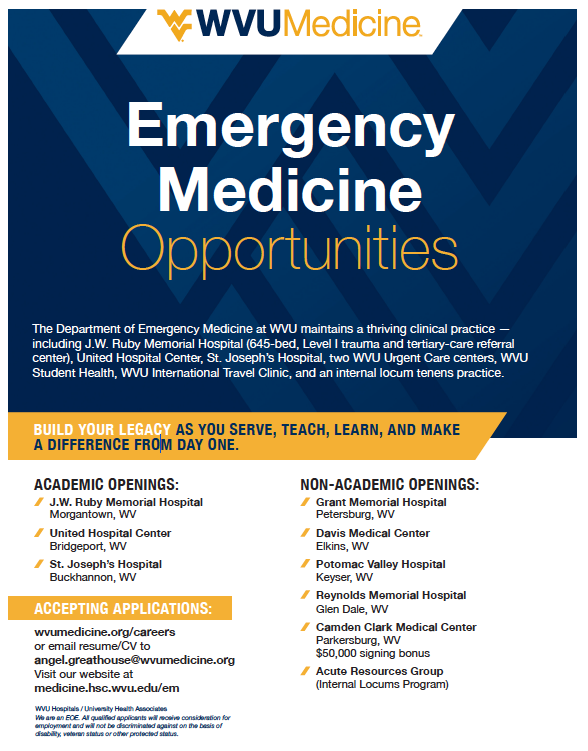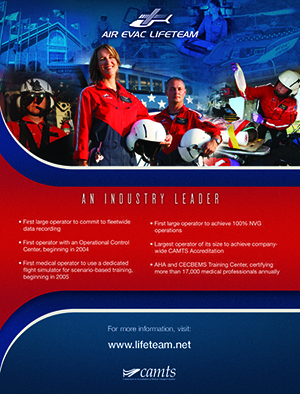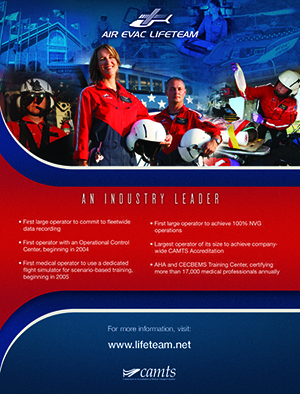 INTERNATIONAL TRAUMA LIFE SUPPORT ROLE OF TXA IN MANAGEMENT OF TRAUMATIC HEMORRHAGE IN THE FIELD
Roy Alson, MD, PhD, FACEP, FAAEM and Sabina Braithwaite, MD, MPH, FACEP
The guidelines and references contained in this document are current as of the date of publication and in no way replace physician medical oversight. Original Publication Date: July 2014. Updated October 2016. 
INTRODUCTION Hemorrhagic shock remains a serious problem for the multiple trauma patient. It is the leading cause of preventable trauma deaths after loss of airway. Rapid and effective control of exsanguinating hemorrhage has been demonstrated to markedly improve survival and outcome, especially in the combat environment. Increased use of tourniquets has reduced death from hemorrhagic shock in the most recent wars fought by U.S. and NATO forces. The tactical and military environment is associated with a higher percentage of penetrating trauma and external hemorrhage than is seen with the civilian sector, in which blunt trauma predominates. This leads to the situation of ongoing hemorrhage that is difficult to control. Prompt recognition of this with transport to the appropriate facility (Trauma Center) and limiting fluid resuscitation to the level of restoring perfusion (hypotensive resuscitation) have been shown to result in improved survival for the trauma patient. 
BACKGROUND Tranexamic acid (TXA) is an antifibrinolytic that has been used for many years to assist with the management of spontaneous hemorrhaging in the hemophilia patient. The use of this agent for management of hemorrhage in combat wounds has been reported in several papers. One of the most significant findings in the CRASH-2 study is that the use of TXA is associated with a 1.5 absolute risk reduction for death from hemorrhage. Other studies show that TXA is most effective if given within 3 hours of the injury and may be detrimental if given after that time. TXA Resource Document © International Trauma Life Support – 2014, 2016 
CONSIDERATIONS The side effects of the agent are minimal and the contraindications are few. It is administered as a simple IV infusion, does not require refrigeration or extensive laboratory studies to allow administration (as is seen with blood products) and is inexpensive. (NOTE: Use for traumatic hemorrhage is an off label use per FDA in the United States.)
PROCEDURE Based on local protocols and clearance, TXA should be considered in those patients who show signs of hemorrhagic shock, including tachycardia (>110 BPM) and hypotension (SBP<100) and are less than three hours from injury. Do not give TXA through the same line as blood products.
MEDICAL OVERSIGHT Medical oversight should review current literature and develop pre-hospital EMS protocols in regard to appropriate use of TXA. Implementation of this protocol should be monitored and supervised through a quality assurance program. 
CONCLUSION ITLS believes that there is sufficient evidence to support the use of TXA in the management of traumatic hemorrhage in the adult patient, pursuant to system medical control approval. Following initial resuscitation including control of external bleeding and stabilization of airway, consideration should be given to administration of TXA during early stages of transport. 
UPDATES – OCTOBER 2016 While there is no current dispute on the merits of TXA in patients with severe extracranial hemorrhage as stated above, a 2015 systematic review was undertaken of two relevant completed randomized trials looking at the effectiveness and safety of TXA in polytrauma with traumatic brain injury. In a meta-analysis there is a statistically significant reduction in intracranial hemorrhage. However because the confidence intervals are wide, the quality of this evidence is low. Therefore, the effectiveness and safety of TXA in traumatic brain injury are uncertain although randomized trials are underway to investigate the problem. The authors recommend that patients with isolated traumatic brain injury should not receive TXA outside the context of a randomized trial. TXA Resource Document © International Trauma Life Support – 2014, 2016 
REFERENCES 
Morrison JJ, et al. Military application of tranexamic acid in trauma emergency resuscitation (MATTERs) study. Arch Surg, 2012 Feb; 147(2): 113—9.
Shakur H et al, Effects of tranexamic acid on death, vascular occlusive events, and blood transfusion in trauma patients with significant hemorrhage (CRASH-2): a randomized, placebo-controlled trial. Lancet, 2010 Jul 3; 376(9734): 23–32.
Kobayashi L, Costantini TW, Coimbra R. Hypovolemic shock resuscitation. The Surgical clinics of North America. 2012;92(6):1403-23. 
Rappold JF, Pusateri AE. Tranexamic acid in remote damage control resuscitation. Transfusion. 2013;53 Suppl 1:96S-9S.
Collaborators C-. Effect of tranexamic acid in traumatic brain injury: a nested randomised, placebo controlled trial (CRASH-2 Intracranial Bleeding Study). British Med Journal. 2011;343:d3795. 
Ker K, Edwards P, Perel P, Shakur H, Roberts I. Effect of tranexamic acid on surgical bleeding: systematic review and cumulative meta-analysis. British Med Journal. 2012;344:e3054
Lockey DJ, Weaver AE, Davies GE. Practical translation of hemorrhage control techniques to the civilian trauma scene. Transfusion. 2013;53 Suppl 1:17S-22S.
Cap AP, Baer DG, Orman JA, Aden J, Ryan K, Blackbourne LH. Tranexamic Acid for Trauma Patients: A Critical Review of the Literature. Journal of Trauma-Injury Infection & Critical Care. 2011;71(1 Supplemental):S9-S14. 
Mahmood A, Roberts I, Shakur H, Harris T, Belli A. Does tranexamic acid improve outcomes in traumatic brain injury? British Med Journal. 2016:354:i4814.
The Future of West Virginia Emergency Medicine!
Below you will find a list of residents from our Emergency Medicine Residencies in West Virginia.
EORH and OVMC
PGy 1: Lee Gillespie, Connel Stinogel, Julian Hughart, Saumil Patel, Shannon Altazan, Barklay Walter
PGy 2: Andrew Glickman, Cody Grace, Megan Hoffer, Tyler Sieron 
PGy 3: Brittany Speed, Jarryd Reed, Craig Jones, Stephanie Thomas, Katelyn Bailey 
IM/EM pgy 5: Glen Hayes
CAMC
PGy 1: Kyle Wilson, Brandon Wilkinson, Caitlin Thomas, Gretchen Newman, Caleb Judy, Kenneth Hyden
PGy 2: Collin Smith, Elvis Njere, Brandon Murphy, Joshua Burg, Hythem Abad
PGy 3: Taylor Simmerman, Stanley Guertal, W. Brent Brash
PGy 4: Zachary Sheorn, Andrew "Dru" Morgan, Daniel Howerton, Suhaib Ased
WVU
Darcy Autry, Makenzie Bartsch, Hansol Chung, Norman Scott Davis, Jonathan Grammer, Isaac Hayward, Catherine Kirbos, Cody Moore, Mark Schoenborn, Stephanie Van Alsten
Welcome New Members! 
Priya Arumuganathan
Makenzie Bartsch, MD
Austin Bennett
Scott Bingaman
Collin M Burke
Lucy Chisler
Hansol Chung, MD
Thomas B Cortellesi, DO
Bradley Matthew End, MD
Julia Allison Gallo
Kenneth L Hyden, Jr, DO
Caleb Tyler Judy, DO
Nelson Lorenzo
Julia Martinez
Cody J Moore, MD
John Daniel Murchison, DO
Gretchen Newman, DO
Mark Schoenborn, MD
Matthew Slack
Steven Veselsky, MPH
Brandon K Wilkinson, DO
Kyle David Wilson, MD, PhD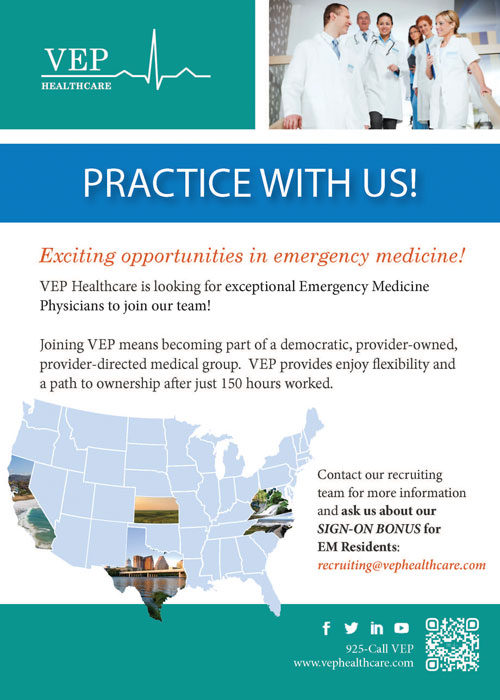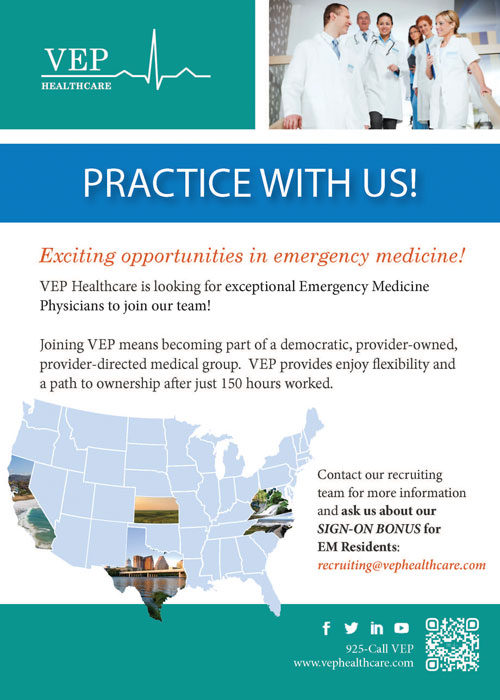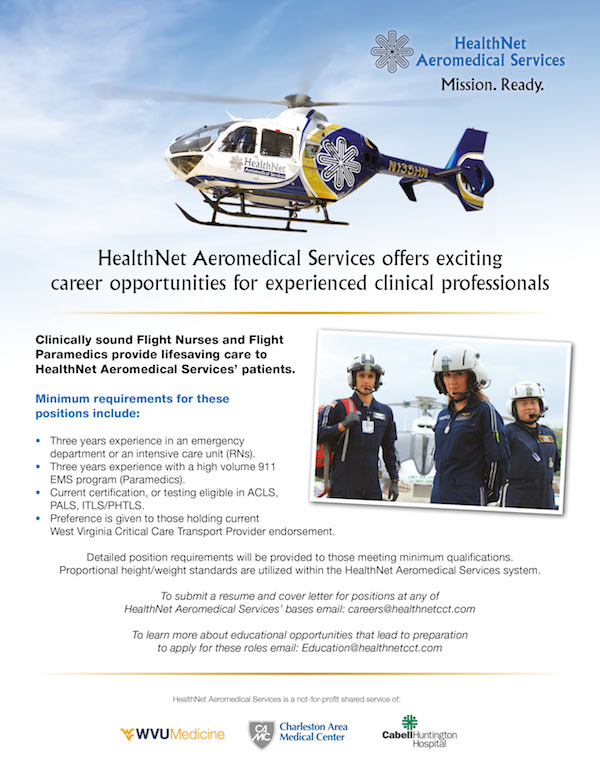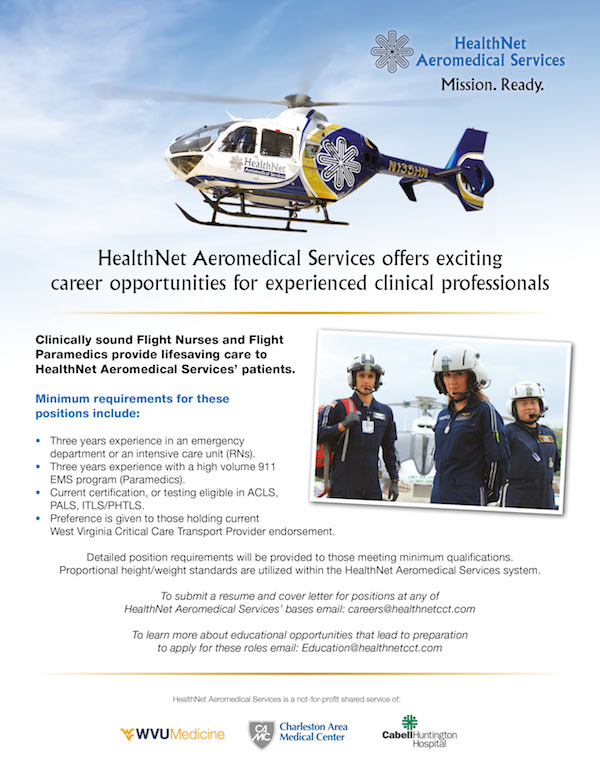 FROM NATIONAL ACEP


Congress Needs to Hear from Emergency Physicians about Surprise Billing
The ACEP DC office hosted an ACEP members only Surprise Billing Advocacy townhall on August 5th. Laura Wooster, Associate Executive Director, ACEP Public Affairs, provided an update on Congressional activity and spoke about the importance of utilizing the August congressional recess while legislators are back home to advocate for emergency physicians and patients. ACEP offered tips to effectively engage your legislators and a toolkit with resources to facilitate effective outreach. A link to the archived townhall is available here. And, you can login here to access the ACEP members-only surprise billing advocacy toolkit. Related resources are available to view and share here. For updates on ACEP's federal advocacy activities, join the ACEP 911 Grassroots Network here. 
Financial Pearls for EM Physicians
An Evening with The White Coat Investor
FREE for ACEP members: Financial expert and EM physician James Dahle, MD, FACEP, known as The White Coat Investor, is hosting another ACEP webinar at 7 p.m. on Tuesday, Sept. 17. Dr. Dahle will take questions on 401Ks, IRAs and anything else that comes up related to emergency physician financial well-being. Register now!
Explaining the AUC Exemption
We've heard that some of your hospitals are already implementing the 2020 AUC requirements, so we drafted a sample letter you can personalize to help you explain the emergency exemption to your administrators. Download it on the AUC section of our EHR advocacy page.
FACEP Deadline Extended to Sept. 1
More than 4,000 ACEP members meet minimum membership requirements – three years of continuous membership post-training – to become a Fellow of the College. Is that you? Apply today, and be recognized at a ceremony on Oct. 26, the day before ACEP19 in Denver. If you can't make it to ACEP19, no worries. You will be included in the program and can start using your new FACEP credential immediately. Learn More Here!
Point-of-Care Tools - 3 New Smart Phrases
3 new Smart Phrases are available on the ACEP Website on Suicide Prevention, Tobacco Cessation and Why Antibiotics Were Not Prescribed for a Viral Infection. Smart Phrases are blocks of text that can be copied and pasted into a hospital's electronic health record (EHR) system to automatically create discharge papers for common ED presentations. We've created these smart phrases to help you seamlessly disseminate the most important information your patients will need to manage their conditions after leaving the ED. View all Smart Phrases. 
Articles of Interest in Annals of Emergency Medicine - Summer 2019
Sam Shahid, MBBS, MPH
Practice Management Manager, ACEP
ACEP would like to provide you with very brief synopses of the latest articles and articles coming soon to Annals of Emergency Medicine. Some of these have not appeared in print. These synopses are not meant to be thorough analyses of the articles, simply brief introductions. Before incorporating into your practice, you should read the entire articles and interpret them for your specific patient population. View synopses here.
New Policy Statements and Information Papers
During their June 2019 meeting, the ACEP Board of Directors approved the following new policy statements and Information papers. For a full list of the College's current policy statements, consult the ACEP Policy Compendium. 
New Policy Statements: 
Advanced Practice Provider Point-of-Care Ultrasound Guidelines
Compensated Time for Faculty Academic Administration and Teaching Involvement
Safe Discharge from the Emergency Department
Separation of Children from Caregivers
The Role of Emergency Physicians in the Completion of Death Certificates
New Information Papers: 
Best Practices in Testing Adults and Adolescents for Chlamydia and Gonorrhea in the Emergency Department
Models for Addressing Transitions of Care for Patients with Opioid Use Disorder


Care Under Fire: EDs, Gun Violence and Threat Assessment
ACEP19 Pre-Conference
Saturday October 26th from 1:00 – 5:00 PM
Threat management is an evidence-based, multidisciplinary team approach to identifying people at risk of engaging in targeted violence – including mass shootings – and intervening before they attack. Cost: $250. Learn More Here!  
Approved for AMA PRA Category 1 CreditTM
ACEP EM Specific X-Waiver COURSE
ACEP19 Pre-Conference
Saturday October 26th from 8:00 AM – 5:30 PM
This course will provide the tools to turn lives around with best practice addiction treatments and satisfies 8 hours of training required by federal law to prescribe buprenorphine, the most effective treatment for opioid use disorder.
While most "X Waiver" training courses are developed for and led by psychiatrists and office-based addiction specialists, this recently approved version of the course was written by a team of EM docs, specifically for EM Docs. The MAT-EM course minimizes lecture in favor of case-based discussion and participants will emerge from the course not only credentialed to register for their DATA 2000 (X) waiver but prepared to manage all aspects of emergency care of OUD patients.
Approved for AMA PRA Category 1 CreditTM
ACEP Members: $70 | Residents: $50 | Non-Members: $100. Register Here.
Funding for this initiative was made possible (in part) by grant no. 1H79TI081968 from SAMHSA. The views expressed in written conference materials or publications and by speakers and moderators do not necessarily reflect the official policies of the Department of Health and Human Services; nor does mention of trade names, commercial practices, or organizations imply endorsement by the U.S. Government.


Registration Open for the EMBRS Course
Interested in research but not sure where to start? The Emergency Medicine Basic Research Skills (EMBRS) is a 9-day, 2-session program where participants learn how to identify clinical research opportunities and become familiar with clinical research and outcomes. Participants are also eligible to receive an EMF/EMBRS grant based on their research grant application. This course targets: Junior faculty with limited research experience; Physicians in academic and community centers who are interested in research basics; Physicians who have as part of their duties involvement in research, including mentoring young researchers; Fellows in non-research fellowships. Click here to learn more and to register. The next course will take place Dec. 2-7th, 2019 (session 1) and April 14-16, 2020 (session 2).
News from the American Board of Emergency Medicine
August 2010
ABEM Security Systems Enhancements
ABEM takes the protection of all our users' data and information seriously. We will soon be undertaking system enhancements to help maintain the security of your data. The change most users will notice is the need to reset their password the first time they sign in. 
See You at ACEP19!
ABEM will be attending ACEP19, and will have a booth in the exhibit hall. Visit booth # 2012 and have an ABEM director or staff member answer your questions. Hope to see you there!
Nominations to the Board of Directors
Do you know someone who would be a great addition to the ABEM Board of Directors? Then nominate the ABEM-certified physician of your choice! The physician must be clinically active. Click here to view nominee requirements and required documentation. Nominations are due December 1, 2019, and the Board will elect two new members at its February 2020 meeting. 
West Virginia Chapter ACEP
2000 Eoff Street 
Wheeling, WV 26003
© 2020 West Virginia Chapter ACEP. All rights reserved.