A Newsletter for the Members of the Maine Chapter - Summer 2019 


Garreth Debiegun, MD, FACEP, FACS
President
Cathryn R. Stratton
Executive Director
207-592-5725 | Website
August 2019 President's Address
Garreth Debiegun, MD, FACEP, FACS
MEACEP President
It's summer here in Maine and it's easy to get lost in our own serene corner of the country where vacationland feels perpetually safe and isolated from the craziness around the country. But we are a piece of the American pie and are reminded so by the news. As the safety net system and the front line of any disaster or major event it feels as though emergency physicians are often highly involved with any major happenings. There are two significant things worth mentioning right now.  
First is the recurrent senseless and tragic mass shootings. Emergency physicians come from across the political spectrum and have a variety of opinions on how to address these problems, but we all know we will be the ones caring for victims of any gun injury and we all feel a deep need to protect our patients from needless physical and emotional injury. ACEP actively participates with and supports the American Foundation for Firearm Injury Reduction in Medicine (AFFIRM)-a non-profit organization founded and led by emergency physicians working to end the epidemic of gun violence through research, innovation and evidence-based practice. Furthermore, ACEP supports legislation that... READ MORE. 
Introducing Buprenorphine in the ED – What is Happening in Maine 
Ranjiv Advani, MD, FACEP and Kayla Cole, CSP-SM
In 2015, Gail D'Onofrio published the first paper describing a program to initiate buprenorphine treatment to Emergency Department patients with Opiate Use Disorder (OUD), using meds in the ED and a warm handoff to a treatment program. The results were quite compelling, but the concept seemed bold at the time, and attempts at initiation of similar programs in other Emergency Departments initially met with quite a bit of resistance.  Now, only a few years later, while not quite "mainstream", these programs are now gaining more widespread acceptance. READ MORE. 
Questions regarding the RISE program, and to help troubleshoot your programs as you launch and begin down this road can be directed to Kayla Cole (kcole@qualidigm.org) or to Ranjiv Advani (radvani@bluewateremergency.com). 
Understanding Wellness: MMA Summit for Maine Healthcare Providers and Systems
Cathy Stratton, MEACEP Executive Director
In the past five years, awareness, understanding and concern regarding the scale and depth of clinician burnout and depression in our healthcare workplaces has escalated. When Robert Schlager, MD became President of the Maine Medical Association (MMA) in 2018, he wanted to help the association take on a greater role in addressing wellness issues impacting those caring for patients in Maine. On April 10, 2019, a group of medical professionals from across the state met for a Wellness Summit to facilitate collaboration in order to improve the wellbeing of healthcare clinicians. In small discussions, attendees identified the root causes of burnout, obstacles to care, and assets that can be leveraged by clinicians. 
The group concluded that responsibility for burnout does not rest solely on the workplace nor does it rest solely on the shoulders of the physician. Some solutions that were discussed focused on expanding the availability and accessibility of resources, while other issues needed to be addressed at the organizational level. Michael Tutty, PhD of the American Medical Association stressed that the impact and benefit of organizational change is profound, having "more potential to reduce burnout in Physicians." If you are interested in participating in upcoming efforts and/or follow-up discussions, please contact Sarah Lepoff at the Maine Medical Association (slepoff@mainemed.com).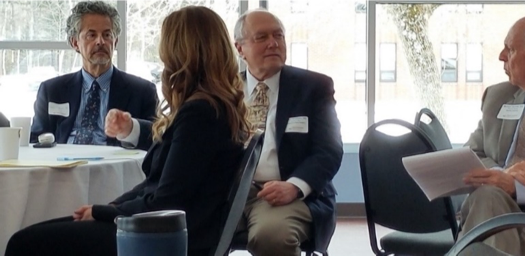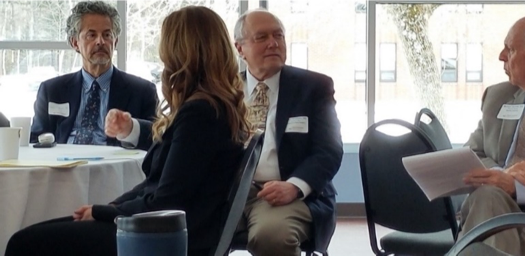 Charles Pattavina, MD, FACEP and Robert Schlager, MD discuss with other attendees the different resources available and how collaboration among healthcare leaders can facilitate change and wellness for Maine clinicians.
State Legislative Update
Peter Michaud, JD
This was a banner year for bills in the Maine State Legislature that were of particular interest to healthcare providers. The bills were carefully considered by the legislature after hours of bipartisan testimony from citizens, healthcare professionals and health organizations, including Maine ACEP and the Maine Medical Association. Many were highly contested public health issues, including strong anti-tobacco laws and expansion of telehealth. 
The bill eliminating non-medical exemptions to school vaccine requirements was passed over significant opposition from vaccine skeptics and is now the subject of a "people's veto" drive. Signature gatherers have been canvasing public events (farmers' markets, fairs, civic events, outdoor concerts, etc.) to raise over 63,000 signatures needed for their initiative to appear on upcoming general election ballot. When asked to sign one of these petitions, ask questions and consider the petitions carefully. They are being presented as issues of "medical freedom", religious freedom, and personal liberty, and circulators are obscuring the fact that the petition is about repealing the vaccine bill. We don't anticipate broad support, but if one of these initiatives receives the necessary confirmed signatures, the resulting referendum will require significant time and financial resources to ensure that the public is educated and mobilized to vote at the next statewide election (expected to be the March presidential primary). READ MORE. 
If you have questions or for more information , you can contact Peter Michaud (pmichaud@mainemed.com). 
Upcoming Meetings:
September 7, 2019 - Harborside Hotel, Bar Harbor 3:00pm – Visit the Maine ACEP website to register or REGISTER NOW
December 11, 2019 – Regency Hotel, Portland
Welcome New Members! 
Peter P. Bertolozzi, DO
Cheryl ML Colbenson, DO
Ethan Collins
Gwendolyn Downs, MD
Christopher A Ewing, MD, FACEP
Brandon E Giberson, DO
Kelly R Klein, FACEP, FACEP
Michael Mozer
Paul Pukurdpol, MD
Kathleen C Root, MD
Jennifer Sears, DO
Rebecca Brinn Siegel
Patricia Abigail Weems, MD
FROM NATIONAL ACEP


Congress Needs to Hear from Emergency Physicians about Surprise Billing
The ACEP DC office hosted an ACEP members only Surprise Billing Advocacy townhall on August 5th. Laura Wooster, Associate Executive Director, ACEP Public Affairs, provided an update on Congressional activity and spoke about the importance of utilizing the August congressional recess while legislators are back home to advocate for emergency physicians and patients. ACEP offered tips to effectively engage your legislators and a toolkit with resources to facilitate effective outreach. A link to the archived townhall is available here. And, you can login here to access the ACEP members-only surprise billing advocacy toolkit. Related resources are available to view and share here. For updates on ACEP's federal advocacy activities, join the ACEP 911 Grassroots Network here. 
Financial Pearls for EM Physicians
An Evening with The White Coat Investor
FREE for ACEP members: Financial expert and EM physician James Dahle, MD, FACEP, known as The White Coat Investor, is hosting another ACEP webinar at 7 p.m. on Tuesday, Sept. 17. Dr. Dahle will take questions on 401Ks, IRAs and anything else that comes up related to emergency physician financial well-being. Register now!
Explaining the AUC Exemption
We've heard that some of your hospitals are already implementing the 2020 AUC requirements, so we drafted a sample letter you can personalize to help you explain the emergency exemption to your administrators. Download it on the AUC section of our EHR advocacy page.
FACEP Deadline Extended to Sept. 1
More than 4,000 ACEP members meet minimum membership requirements – three years of continuous membership post-training – to become a Fellow of the College. Is that you? Apply today, and be recognized at a ceremony on Oct. 26, the day before ACEP19 in Denver. If you can't make it to ACEP19, no worries. You will be included in the program and can start using your new FACEP credential immediately. Learn More Here!
Point-of-Care Tools - 3 New Smart Phrases
3 new Smart Phrases are available on the ACEP Website on Suicide Prevention, Tobacco Cessation and Why Antibiotics Were Not Prescribed for a Viral Infection. Smart Phrases are blocks of text that can be copied and pasted into a hospital's electronic health record (EHR) system to automatically create discharge papers for common ED presentations. We've created these smart phrases to help you seamlessly disseminate the most important information your patients will need to manage their conditions after leaving the ED. View all Smart Phrases. 
Articles of Interest in Annals of Emergency Medicine - Summer 2019
Sam Shahid, MBBS, MPH
Practice Management Manager, ACEP
ACEP would like to provide you with very brief synopses of the latest articles and articles coming soon to Annals of Emergency Medicine. Some of these have not appeared in print. These synopses are not meant to be thorough analyses of the articles, simply brief introductions. Before incorporating into your practice, you should read the entire articles and interpret them for your specific patient population. View synopses here.
New Policy Statements and Information Papers
During their June 2019 meeting, the ACEP Board of Directors approved the following new policy statements and Information papers. For a full list of the College's current policy statements, consult the ACEP Policy Compendium. 
New Policy Statements: 
Advanced Practice Provider Point-of-Care Ultrasound Guidelines
Compensated Time for Faculty Academic Administration and Teaching Involvement
Safe Discharge from the Emergency Department
Separation of Children from Caregivers
The Role of Emergency Physicians in the Completion of Death Certificates
New Information Papers: 
Best Practices in Testing Adults and Adolescents for Chlamydia and Gonorrhea in the Emergency Department
Models for Addressing Transitions of Care for Patients with Opioid Use Disorder


Care Under Fire: EDs, Gun Violence and Threat Assessment
ACEP19 Pre-Conference
Saturday October 26th from 1:00 – 5:00 PM
Threat management is an evidence-based, multidisciplinary team approach to identifying people at risk of engaging in targeted violence – including mass shootings – and intervening before they attack. Cost: $250. Learn More Here!  
Approved for AMA PRA Category 1 CreditTM
ACEP EM Specific X-Waiver COURSE
ACEP19 Pre-Conference
Saturday October 26th from 8:00 AM – 5:30 PM
This course will provide the tools to turn lives around with best practice addiction treatments and satisfies 8 hours of training required by federal law to prescribe buprenorphine, the most effective treatment for opioid use disorder.
While most "X Waiver" training courses are developed for and led by psychiatrists and office-based addiction specialists, this recently approved version of the course was written by a team of EM docs, specifically for EM Docs. The MAT-EM course minimizes lecture in favor of case-based discussion and participants will emerge from the course not only credentialed to register for their DATA 2000 (X) waiver but prepared to manage all aspects of emergency care of OUD patients.
Approved for AMA PRA Category 1 CreditTM
ACEP Members: $70 | Residents: $50 | Non-Members: $100. Register Here.
Funding for this initiative was made possible (in part) by grant no. 1H79TI081968 from SAMHSA. The views expressed in written conference materials or publications and by speakers and moderators do not necessarily reflect the official policies of the Department of Health and Human Services; nor does mention of trade names, commercial practices, or organizations imply endorsement by the U.S. Government.


Registration Open for the EMBRS Course
Interested in research but not sure where to start? The Emergency Medicine Basic Research Skills (EMBRS) is a 9-day, 2-session program where participants learn how to identify clinical research opportunities and become familiar with clinical research and outcomes. Participants are also eligible to receive an EMF/EMBRS grant based on their research grant application. This course targets: Junior faculty with limited research experience; Physicians in academic and community centers who are interested in research basics; Physicians who have as part of their duties involvement in research, including mentoring young researchers; Fellows in non-research fellowships. Click here to learn more and to register. The next course will take place Dec. 2-7th, 2019 (session 1) and April 14-16, 2020 (session 2).
News from the American Board of Emergency Medicine
August 2010
ABEM Security Systems Enhancements
ABEM takes the protection of all our users' data and information seriously. We will soon be undertaking system enhancements to help maintain the security of your data. The change most users will notice is the need to reset their password the first time they sign in. 
See You at ACEP19!
ABEM will be attending ACEP19, and will have a booth in the exhibit hall. Visit booth # 2012 and have an ABEM director or staff member answer your questions. Hope to see you there!
Nominations to the Board of Directors
Do you know someone who would be a great addition to the ABEM Board of Directors? Then nominate the ABEM-certified physician of your choice! The physician must be clinically active. Click here to view nominee requirements and required documentation. Nominations are due December 1, 2019, and the Board will elect two new members at its February 2020 meeting. 
Maine Chapter ACEP, P. O. Box 190
Manchester, ME 04351-0190
© 2020 Maine Chapter ACEP. All rights reserved.