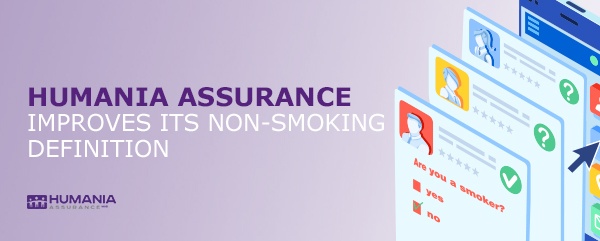 New at
Humania Assurance
Effective immediately, Humania Assurance is making changes to its non-smoking definition. Clients who use marijuana and haschich will no longer be charged smoker rates, unless they also use any form of tobacco.

Products
HuGO Life, HuGO Critical Illness, HuGO Debt, Assure-dettes, Paire,
Prodige, Term Life Insurance and Term Critical Illness Insurance.

For our paper products, details regarding the client's consumption will be asked during the tele-interview. If the client qualifies for non-smoking rates, a declaration will be added at policy delivery.
These changes will not be applied to any inforce policies. A formal policy change request to a non-smoker rate is required to change the smoking status for inforce policies.

Suivez-nous  

1555, Girouard Street West, P.O. Box 10000, Saint-Hyacinthe, Quebec  J2S 7C8
1 877 569-3120 • www.humania.ca
To manage your subscription or to unsubscribe click here repinfo@humania.ca.
http://elink.clickdimensions.com/uu/2/1cla%3AMjczMzEzNDQ%3AMDItYjE5MzA1LTFjZWUxM2U3ZGI0ZDQ0MmFiNTYzMGM4MGViODU4ZTVm%3AbWd1Z2xpb3R0aUBjb3BvbG9mZi5jb20%3AbGVhZC0xZDlmZmRkY2UyZWNlODExYTk3MzAwMGQzYWY0OTIxMS03MDAxYjFiYzBlNjE0YjYyYWJkNWUzNjlhNjc2MTdkNg%3An%3An%3AH682ztyvcIEh4UGhQwUu6A?m=true