Click here if you are having trouble viewing this message.
The York University Brief
June 2019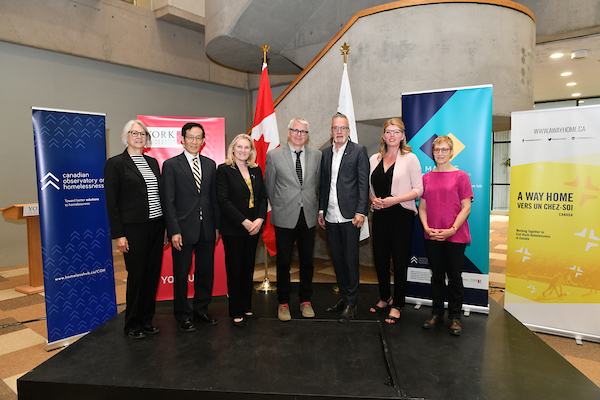 New initiative aims to address youth homelessness by emphasizing prevention

A new initiative led by the Canadian Observatory on Homelessness (COH) at York University in partnership with A Way Home Canada aims to create a change in Canada – and potentially internationally – to how we respond to youth homelessness.


The Making the Shift – Youth Homelessness Social Innovation Lab (MtS) will use its $17.9-million commitment from the Government of Canada, granted earlier this year through the Networks of Centres of Excellence program, to combine academic research and community expertise to inform solutions and prevention strategies for youth homelessness
.


COH conducts and mobilizes homelessness research from across Canada and beyond. A Way Home Canada is a national coalition that is reimagining solutions to youth homelessness through transformations in policy, planning and practice. Working as a collaborative partnership, the two organizations will research the challenges in addressing youth homelessness, design policy and practice that is driven by evidence, and – within five years – provide communities with the tools they need to prevent youth homelessness.
Read more…
New donation from the TD Bank Group will enhance skills training and education for Black Creek community

On June 10, York University together with the TD Bank Group celebrated a decade of impact at the TD

Community Engagement Centre (

CEC) and announced a significant infusion of $1 million to the centre from the TD Bank Group.

Located in the heart of the Black Creek community at Yorkgate Mall, the centre is a satellite office of York University that strives for academic innovation through community building, fosters post-secondary attainment for Black Creek community members and seeks collaborative research and partnerships. Since the TD CEC opened its doors in 2008, it has served nearly 70,000 people from the Black Creek Community and has become a catalyst for breaking barriers and changing stereotypes. 

When Abena Offeh-Gyimah dreamed of a small business serving the Black Creek community, the first place she turned for support was the TD CEC. Offeh-Gyimah's business, Adda Blooms, offers the community native foods from Africa while building ethical relationships with farmers, cooperatives and collectives that enhance food sovereignty. And for her, the support she received from the TD CEC was the key to her success. Read more…

Researchers awarded a $1.89M grant to search for AI solution to infant pain assessment

A team of York University researchers led by psychology Professor Rebecca Pillai Riddell, associate vice-president research and the director of the Opportunities to Understand Childhood Hurt (O.U.C.H.) Lab, was awarded a $1.5-million grant from the Canadian Institutes of Health Research, the Social Sciences & Humanities Research Council, and the Natural Sciences & Engineering Research Council of Canada – plus $387,000 in-kind contributions from community partners.

Unmanaged pain in hospitalized infants has serious long-term complications. However, to manage pain, one must have accurate infant pain assessment. Infants cannot self-report their pain and current infant pain assessment tools used by health professionals have major problems because of the lack of specificity of current tools and bias in the caregivers who use these scales.

The project being funded, "Rebooting Infant Pain Assessment," could give voice to preterm infants' subjective experiences of pain, despite their inability to speak. The study will use machine learning to exponentially improve neonatal intensive care unit practice. Read more…
York University designated a Canadian SHAD campus

York University has been designated as a Canadian SHAD campus, joining 16 other SHAD campuses in Canada. Every July, approximately 950 of Canada's best and brightest high-school students come together to experience SHAD's unique experiential learning program rooted in the STEAM (science, technology, engineering, art and mathematics) fields. 

As part of the SHAD experience, participants are given a complex issue and are tasked with finding innovative solutions collaboratively over the course of the 27-day enrichment program that happens over the summer months. This experience echoes the experiential education York University aims to deliver its students, instilling self-confidence, entrepreneurial and workforce skills, and a network for life into all participating students.

A further link between SHAD and York University is Lassonde's Bergeron Entrepreneurs in Science & Technology (BEST) program, which, while based at Lassonde, has links with the Schulich School of Business, Osgoode Hall Law School, Innovation York, and faculty and students across campus. As a program, BEST offers a unique evidence-based approach to entrepreneurial engineering, building multidisciplinary teams and a culture that embraces and learns from failure. Read more…




York researchers to lead five-year project addressing youth and teen dating violence

The Public Health Agency of Canada (PHAC) has awarded close to $1 million in funding to York University, Planned Parenthood Ottawa and the Ottawa Coalition to End Violence Against Women to support a Planned Parenthood Ottawa project aimed at preventing teen dating violence by teaching new skills with a focus on increasing awareness and understanding of healthy relationships.

The project will be supported by York University and implemented in partnership with the Ottawa Coalition to End Violence Against Women. The project will support approximately 950 students aged 12 to 14 directly, and an additional 1,260 people indirectly (450 parents or guardians, 90 school staff and an additional 720 students). Read more…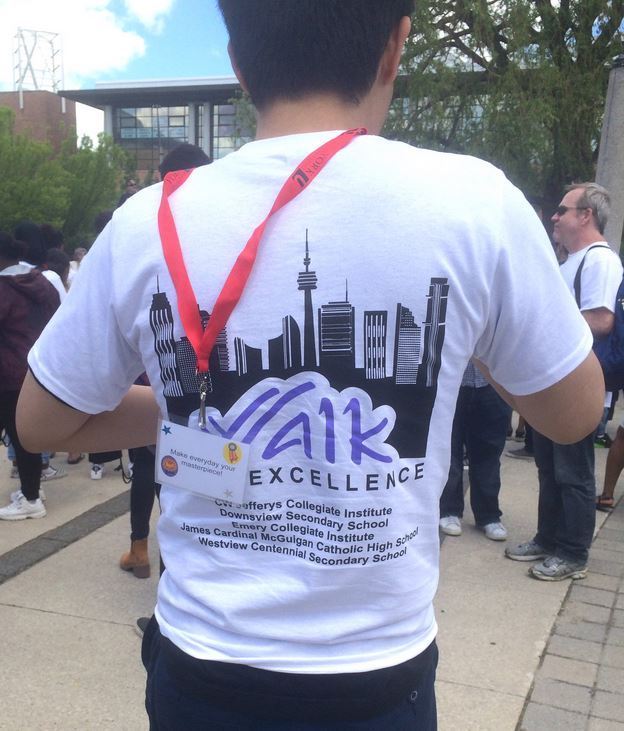 Area high-school students take part in Walk with Excellence to Keele Campus


More than 500 recent high-school graduates from five area schools took part in the 2019 Walk with Excellence on June 11. The event is an annual celebration of their achievements along with the efforts of their key educators, including school principals, teachers and partners.

Organizers describe the walk as representing a public showcase of the energy, commitment and enthusiasm of the students.
The students gathered first thing in the morning at C.W. Jefferys Collegiate Institute and then walked along Sentinel Road to York University's Keele Campus.

When the group arrived at the Keele Campus, they were greeted by members of the York University Faculty Association (YUFA) at the Lorna R. Marsden Welcome Centre. YUFA members handed out freezies. From there, the students paraded to Vari Hall, where they received the official welcome delivered by Professor Alice Pitt, vice-provost academic. Students were given non-plastic, reusable straws by York faculty and staff volunteers. They then heard from their principals and the recipients of bursaries were announced and applauded. Read more…
---
The York University Brief is York University's monthly newsletter that showcases some of our latest research and institutional news. Although anyone can subscribe, our readership primarily consists of our government and community partners and is meant to provide insight into the work done at the University and its potential links to work done in government and in the community. The York University Brief is typically published monthly from September to June. 

If you would like more information on any of the stories in this edition, please find the contact information for the members of our Government and Community Relations team listed below. 
Ijade Maxwell Rodrigues

Chief of Government and Community Relations
ijade@yorku.ca