Click here if you are having trouble viewing this message.
The York University Brief
May 2019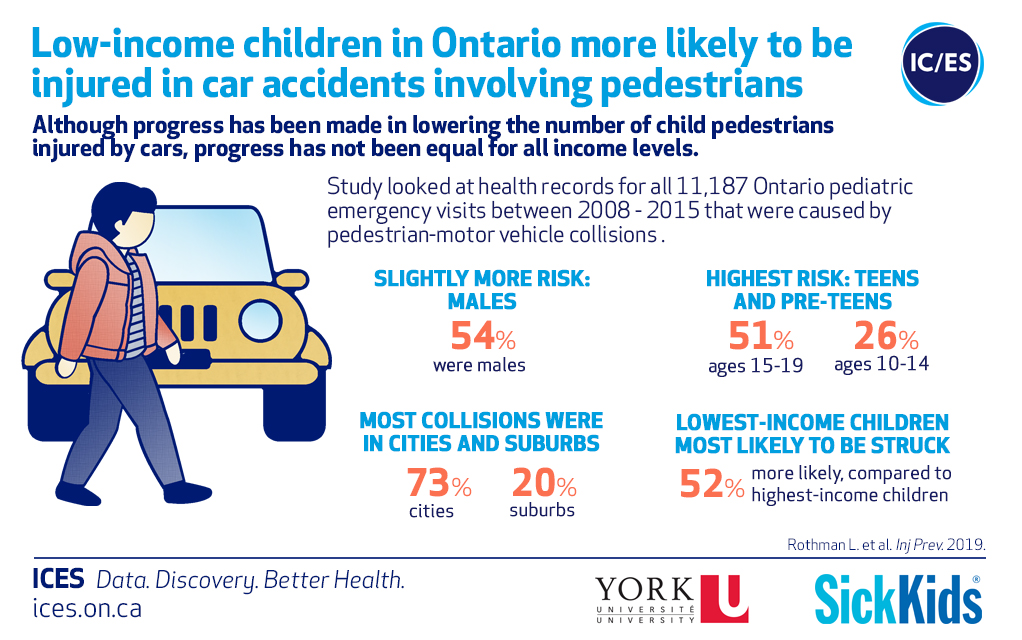 Study finds Ontario children in low-income areas at higher risk of being hit by cars


Children in lower-income areas are at a higher risk of being injured by motor vehicles than those living in higher-income neighbourhoods in Ontario, according to a new study from the Hospital for Sick Children (SickKids), York University and ICES.


This is the first study to analyze household income and rates of pedestrian-motor vehicle collisions in Ontario. The data indicates that, across Ontario, the total number of pediatric emergency department visits due to pedestrian-motor vehicle collisions decreased by 18 per cent from 2008 to 2015. Overall, children in the highest income level areas had a 48 per cent lower rate of visits than children in the lowest-income level areas.


The team's findings highlight the potential to reduce child pedestrian-motor vehicle rates in lower-income areas by focusing on roadway changes that slow traffic such as the installation of speed humps, road narrowings or fixed objects in the middle of the street. The researchers suggest that implementing these traffic changes in lower-income areas could benefit pedestrians of all ages.
Read more…
York students step up to help Markham earn 'Canada's Most Active Community' designation

York University's School of Kinesiology and Health Science in the Faculty of Health will support an initiative to make the City of Markham "Canada's Most Active Community".

Kinesiology students will lead the ParticipACTION Community Better Challenge, a brand-new physical activity challenge that calls for Canadians to be more active and incorporate physical activity in their daily lives. During the 16-day challenge, students will be distributed throughout the city, primarily at community centres, to support residents in recording and improving their physical activity levels.

The challenge will kick off on May 31 and run until June 16, when the community with the most achievements – including greatest participation rate by residents and the number of community expert partners and events – will be recognized as ParticipACTION's designate for Canada's Most Active Community.

The City of Markham, the Markham Pan Am Centre and the KIN Kids program with York's School of Kinesiology & Health Science will partner to support the program. Read more…

Toronto has twice as many urban Indigenous people than previously believed

New research co-led by York University and

funded by the Canadian Institutes of Health Research

sought to alleviate a major problem in methodology: the undercounting of urban Indigenous peoples.

"Our Toronto-based study is a cautionary note on the shortfall of national census data on hard-to-reach populations in Canada. We saw that when the short-form Canadian census is combined with data from the National Household Survey (NHS) to obtain estimates of the size of the Indigenous community, the result was a severe undercount of the Indigenous population in Toronto," says Faculty of Health Professor Michael Rotondi, who initiated the research.

Using advanced statistical modelling, the researchers found that the most recent Canadian census grossly underestimated the size of the Indigenous population in Toronto. The

advanced statistical modelling methods that the research team used to secure an accurate estimate of the size of the urban Indigenous community may have potential implications for the enumeration of other impoverished or marginalized groups.  Read more…


Universities can act as facilitators to tackle society's toughest challenges

York University President and Vice-Chancellor Rhonda L. Lenton wrote an op-ed for the Toronto Star earlier this month:

"The global knowledge economy, fueled by automation and technologies like artificial intelligence, is changing the way we work and the skills we need to succeed. At the same time, we face serious, and in some cases existential, challenges – poverty, providing accessible healthcare to all, and climate change, to name just a few. It has become clear that no single actor can address these issues alone – not government, or the private sector, or universities by themselves."

What universities can do is play a crucial role as facilitators. We are uniquely positioned to bring together experts, government, policymakers, community organizations and business leaders to tackle our toughest challenges. 

One example is the Vision: Science to Applications (VISTA) program – a $120 million partnership between five York faculties and more than 50 academic, non-profit, and commercial partners. Vision is our most important medium for perceiving and interacting with the surrounding world, so vision research has important implications both for human health and for the technologies that we use to extend our abilities."

Read more…

New NSERC investment in research at York University could help speed up drug development

A grant of more than $900,000 from the Natural Sciences & Engineering Research Council of Canada (NSERC) will fund a new research project that is attempting to design new ways to automate key processes of pre-clinical, early-stage drug development, facilitating faster routes to clinical testing, making treatments for illness available sooner.

Developing small-molecule drugs from original idea to the launch of a finished product is a complex endeavour that takes an average of 10 years to reach the open market. The early stages of drug development are slow, expensive and prone to failure, and they can take up to half of the total time required for drug development.

The researchers are working on the development of new technologies that, if successful, will facilitate automating key processes that make up early stages of drug development. Automating these processes will provide more efficient and faster routes through the risky initial stages and enable faster entry into the later testing stages.

Read more…
University students in Toronto face greater challenges due to unaffordable housing, long commutes

The presidents of Ryerson University, OCAD University, the University of Toronto and York University launched StudentDwellTO in 2017 to examine the housing challenges their 180,000 students were facing, and to gather data that will be used to navigate a path forward. Preliminary findings were discussed in May at a panel held at York University.

University students in Toronto find housing options on their campuses, or nearby, to be limited and expensive, leaving them vulnerable to predatory landlords or feeling isolated by long commutes, as noted in the preliminary findings of the joint project.

Key preliminary findings from the student focus groups show that students feel there is limited space available in residence beyond their first year in university, and that residence and mandatory meal plans are not worth what they cost.

The primary cause of students' dissatisfaction was rent, with students in the focus groups paying an average of $924 per month. To learn about what students are asking for,

read more…

Students from Lassonde School of Engineering head to Canadian Space Agency to design and build satellite

As part of the Canadian CubeSat Project, students Chonggang Du, Vidushi Jain and David Dobrzanski, visited the Canadian Space Agency (CSA) from May 6 to 10 to take part in training workshops to learn about designing a miniature satellite, known as a CubeSat.

Announced in 2017, the Canadian CubeSat Project provides students the opportunity to explore science, technology, engineering and mathematics (STEM) fields, particularly in the space domain. The program is an opportunity to gain valuable, hands-on experience.

The group from Lassonde is one of 15 teams selected by the CSA to design a satellite that will be put into orbit in 2021. As part of the project, the students will have the opportunity to experience operating satellites and conducting science experiments in space. Read more…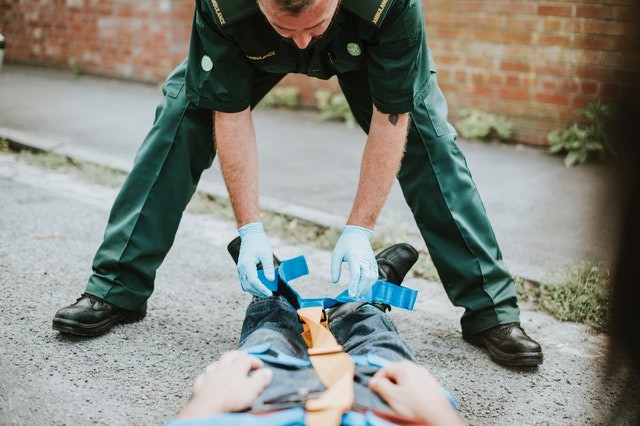 New research project to address safety of first responders

A York University research team led by Professors from the Lassonde School of Engineering and the Advanced Disaster, Emergency and Rapid-response Simulation Facility (ADERSIM) at the Faculty of Liberal Arts & Professional Studies, has partnered with Airborne Underwater Geophysical Signals (AUG Signals Ltd.), a signal, image and data processing company and secured $2.2 Million in funding to undertake a radar-based roadway safety project.


The project will address an urgent need: annually, a significant number of first responders are killed or injured attending to roadway emergencies. While many factors present dangers, such as poor weather, impaired driving and speeding, it is believed that most casualties can be avoided if the first responders were better equipped to detect the threat of oncoming vehicles and warn them before a collision.


The objective of this three-year, collaborative project titled "ARGUS: Radar-based All-Weather Roadway Safety System," is to demonstrate an effective and affordable all-weather solution to increase roadway safety for first responders. ARGUS will be a unique solution offering a vehicle-mounted radar with automated setup; 360-degree monitoring and target/threat classification; customized warnings to individual first responders, as well as a driver warning.
Read more…